J&K Troop Build-up: Preparing for Delimitation, Trifurcation or Scrapping Article 35A?
In addition to the deployment of over 35,000 troops in a week, the government has also put the Air Force and Army on high operational alert in the state and the Amarnath Yatra has been put on hold, as per reports.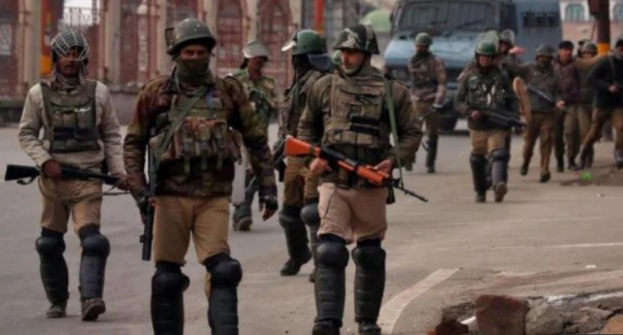 Representational Image. Image Courtesy: India Today
Jammu: In an unprecedented turn of events, an additional 25,000 troops have been dispatched to the valley, a week after 10,000 troops were deployed. This huge number is an addition to the already existing 40,000 troops who were deployed to guard the Amarnath Yatra. By Friday, August 2, the entire valley will be under the cover of the military, a top police source told NewsClick on condition of anonymity. The police official also said that some major announcement is in the offing and it might be announced on Saturday. As per the reports, the troops were partly dispatched on Thursday and are being inducted in various parts of Kashmir.
In another sudden development, the government has put the Air Force and Army on high operational alert. As per ANI, "For the rapid induction of CRPF and other paramilitary troops into the Kashmir valley, the government has pressed Indian Air Force aircraft including the C-17 heavy lift plane into service." The development has elicited varying reactions from the political parties, with Omar Abdullah tweeting, "What "on going situation" in Kashmir would require the army AND the Air Force to be put on alert? This isn't about 35A or delimitation. This sort of alert, if actually issued, would be about something very different."
The news of this sudden deployment and alert has fuelled a fresh wave of uncertainty in the valley with residents panicking and speculating the next move. Meanwhile, political parties are equally perturbed. It has been speculated that there might be an announcement regarding the delimitation ahead of elections or trifurcation of the state. The trifurcation of Jammu and Kashmir would mean granting statehood to Jammu, Union Territory status to Ladakh and separate statehood to Kashmir. "Trifurcation is on the list. I can't reveal much," a top police official told NewsClick.
Also read: Kashmir Edgy as Panic Spreads Over Additional Troop Deployment
The right-wing Rashtriya Swayamsevak Sangh (RSS) has always favoured trifurcation of Jammu and Kashmir, which, political analysts believe, would be on communal lines with Hindu (Jammu), Muslim(Kashmir) and Buddhist (Ladakh). The reason given for trifurcation has been that it will help to contain violence in the valley. AG Noorani, writing in Frontline in 2001, said, "Presumably, the Muslim-majority areas can then become one huge concentration camp with licence to the security forces to kill."
Last year, in October 2018, Governor Satya Pal Malik said that trifurcation would be a disaster for Jammu and Kashmir. "The day this state will trifurcate, it will be a disaster. The state of J&K is a reality and it should remain so," Malik was quoted by Economic Times. An activist, who wished to remain anonymous, told NewsClick, "Deployment of troops in such large numbers is certainly not a joke. August 15th (independence day celebrations) are not happening for the first time. There are two possibilities, either they will abrogate Article 35A, or they will announce trifurcation of the state."
Political analysts believe that if the government rakes up the issue of abrogating 35 A, it will work for the Bharatiya Janata Party as the regional political parties will not contest elections as a mark of protest. And just like the Urban Local Body (ULB) polls, the right-wing party will pump in money and would contest on all the Assembly seats. Yesterday, in a press conference, Ram Madhav, national general secretary of BJP told that his party will not form any alliance this time and would contest the elections solo.
Some analysts are of the view that they might not abrogate the article but would put regional political parties a t bay by raking up the issue.
Meanwhile, Satya Pal Malik said on Thursday that there is no plan to abrogate Article 35A and people should not pay much heed to the rumours. This comment by the Governor is further leading to speculations about trifurcation. Commentators say that for trifurcation, a presidential order would be passed. Basically, as per the powers granted by clause (1) of Article 370 of the Constitution, the President, with the concurrence of state government can pass a series of orders.
Meanwhile, Amarnath Yatra has been suspended till August 4, citing inclement weather conditions.
Govt Asks Yatris, Tourists to Return: Oppn Questions 'Sudden' Move
The Jammu and Kashmir government on Friday asked Amarnath Yatris and tourists to immediately make necessary arrangements to cut short their stay in the Valley and return as soon as possible in the wake of intelligence inputs of "specific terror threats" to the pilgrimage, PTI reports.
 The Principal Secretary (Home) issued a security advisory, saying:  "Keeping in view the latest intelligence inputs of terror threats, with specific targeting of the Amarnath Yatra, and given the prevailing security situation in the Kashmir Valley, in the interest of safety and security of the tourists and Amarnath Yatris, it is advised that they may curtail their stay in the Valley immediately and take necessary measures to return as soon as possible," it said.
However, some Opposition leaders questioned the government on this "sudden" advisory.
CPI(M) general secretary Sitaram Yechury asked why Parliament , which was in session, was not taken into confidence before sending out such a missive.
In a tweet, the Left leader also alleged that rumours were being allowed to fester in J&K.
"Parliament is in session. Why isn't the PM taking the House into confidence? The panic and rumours allowed to fester in J&K are helping nobody," Yechury said in the tweet.
People's Democratic Party leader and former J&K chief minister Mehbooba Mufti tweeted: "The economy is in free fall but I hope like always Kashmir isn't used as a red herring to distract masses from the real issues. Such a move will have catastrophic consequences & push Kashmiris to the brink."
National Conference leader and former state CM Omar Abdullah, who met the PM yesterday, in a tweet also wondered about the "sudden" move.
He wrote: " What I don't get is that the government has spent money flying in team of journalists, foreign & Indian, to brief them about how good the situation is, about how well the yatra has been going & then this order is issued ordering yatris & tourists to leave immediately!"
Get the latest reports & analysis with people's perspective on Protests, movements & deep analytical videos, discussions of the current affairs in your Telegram app. Subscribe to NewsClick's Telegram channel & get Real-Time updates on stories, as they get published on our website.
Subscribe Newsclick On Telegram