Kashmir: Where Boys Are 'Being Rowed Through Paradise on a River of Hell'
In Hirpora village in Shopian, stories of alleged unbearable torture after midnight arrests leave families fearful and scarred.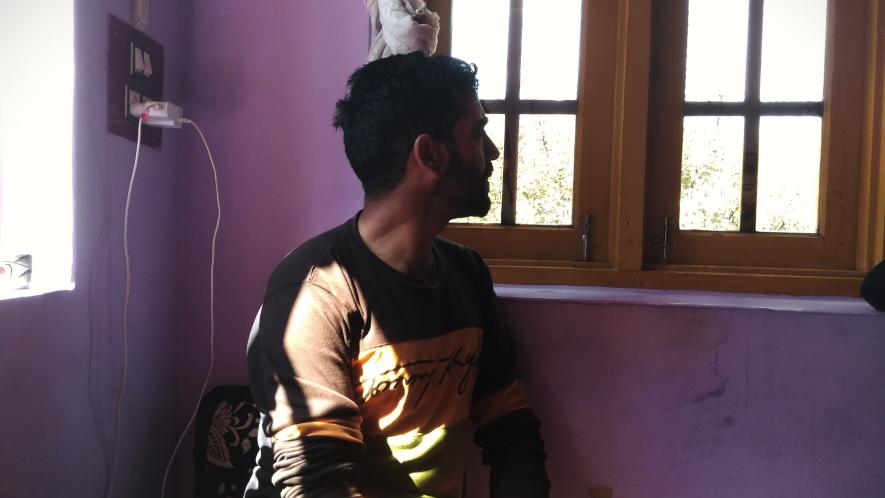 Portrait picture of Aqib Khan.
Shopian: It was pitch dark in the middle of the night when they came looking for Suhail. Both he and his older brother, Aqib, were blindfolded and dragged away from the house. A little ahead, towards the main road, Suhail says he was asked to stand up against an Army vehicle and was given electric shocks. He couldn't bear it, so he passed out. It ended there for him. But, for Aqib, a long dreadful night had just begun.
A resident of South Kashmir's Hirpora village in Shopian district, 29-year-old Aqib Hussain Khan was married a month ago before this incident on August 13, whne he alleges he was tortured.
"I was questioned for about half an hour. They took me somewhere through the orchards, but I couldn't see. Then they began by four electric shocks on my forehead and pushed me into water," Aqib recalls.
Aqib alleges he was completely undressed inside the Chowgam Army camp in the area and then after a brief walk, was forced to drink something. "They made me drink about 4 liters of water which was so dirty that even its smell was unbearable," he says.
After suspending him, they started beating him up. They were four of them, he says, but they did not take turns. "All of them hit me at once. I was vomiting the water back and pissing at the same time," he recalls.
Aqib claims that while 'torturing' him, the jawans kept asking him about the about the hideout of Naveed Babu, the district commander of Hizbul Mujahideen. But during the questioning, he says he was being forced to confess that he was an overground worker for militants.
"They were asking for my confession that I was working for militants and that on my wedding I had invited militants and my house is a militant hideout," he adds.
Even after a month after Aqib's alleged torture, his eyes are still blood-red. When he removes his trousers, there are visible marks of thrashing, most of the bruises due to sticks and ropes haven't healed yet. But more than physical pain, Aqib appears mentally traumatised. He is reluctant to visit a doctor.
Aqib claims they even hurt his private parts. "They threatened to make me impotent but one of them told the others not destroy my penis completely for the sake of my wife," he says.
Along with Aqib, who is from Hirpora village, around 60 km from Srinagar city and located on way to Mughal Road, half a dozen other boys were also allegedly picked up by the local Army camp.
The locals say they avoid going to mosques for morning or evening prayers. "We could move freely before this even in the night, but now we are afraid to venture out after sundown," a local says.
Many in the village are afraid of moving out of the village as they wish to avoid the Chowgam camp, which they now dread, mainly the women. Detentions, arrests, night raids, torture and crackdown have instilled deep fear among people in several parts of South Kashmir.
To prevent any upsurge in the region, the government on August 5 imposed a massive clampdown on people, restricting movement, shutting all modes of communication and connectivity to abrogate Article 370 and bifurcate Jammu and Kashmir into two Union territories. Since then, there has been an enormous security build-up across the region and hundreds, including politicians, lawyers, businessmen and political activists have been arrested uncharged, which the government terms as 'preventive detentions.'
Aqib is not the only one who narrates his horrifying experience. Another youth from Shopian, who lives a little over 12 km from Aqib's village, was also reportedly picked up by the Chowgam camp. Mohammad Idrees says he was also questioned and 'tortured' for alleged militant links, which he, too, denied.
Idrees alleges he was tied to a pole, suspended, beaten, stretched, and also had to undergo waterboarding.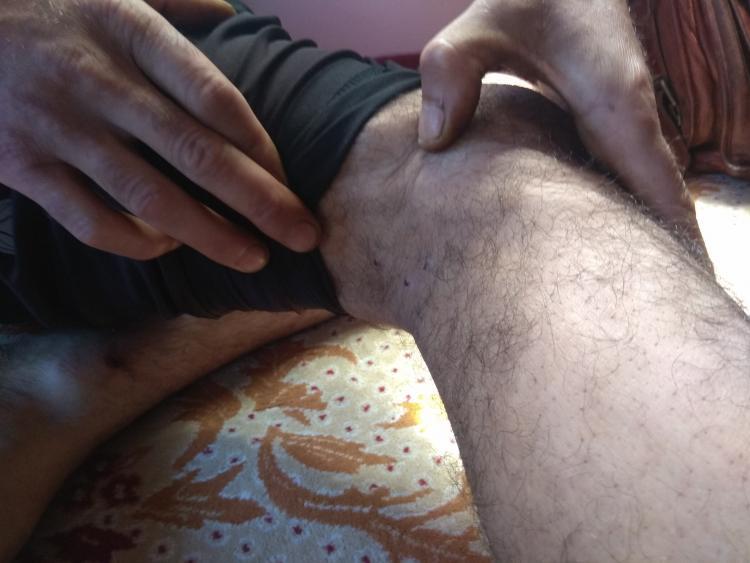 Idrees shows  electric shock marks on his leg. 
Idrees, 27, who works in a courier service agency, says he was picked up during a raid at about 10:30 p.m on September 7. This was the second time he has been detained since July, after militant posters directing locals to observe shutdown emerged in the area. As he narrates his 'torture' details, his family members, especially his old father, weeps silently in a corner, struggling for words.
"They put a cloth on my face and then spilled water on my face continuously until I choked," Idrees says, adding that he was beaten with ropes and bamboo sticks and claimed that the Army men threatened him with a dog's leash. "For hours in the night they tied me to a rope and beat me up. Then next day, they gave me tea and after that I was hung upside down, and the beating began for hours," he says.
His burns and bruises are still fresh. Beneath his knees are three holes, where he says he was given electric shocks. On his ankles are fresh marks left by ropes that were used to hang him down. Idrees says he doesn't go out much now. "I was made to stare at the sun for hours and they even thrust a wooden rod in my mouth," he says.
Idrees was released after spending two nights and two days, while Aqib says he was let off the next day. Both say they were unable to walk and reached home only after others helped them. They added that before the release, they were attended by Army doctors and claim to have been given an injection following which their "bodies became numb." They were also told not to visit other doctors, they claim.
Such incidents have not only affected the victims or their families, but their relatives and locals in the entire villages. Some of them have even abandoned their homes for the time being, while many others stay confined to their rooms. Neither the men nor the women stay at home alone or move in the villages alone. They always move in groups. But despite being in groups, there aren't many conversations, only half moist eyes.
All attempts to reach the Army spokesperson for comments on this story failed due to connectivity issues.
Get the latest reports & analysis with people's perspective on Protests, movements & deep analytical videos, discussions of the current affairs in your Telegram app. Subscribe to NewsClick's Telegram channel & get Real-Time updates on stories, as they get published on our website.
Subscribe Newsclick On Telegram