'Stan Swamy's Death was an Institutional Murder': Co-inmates write to Uddhav Thackeray
The letter holds the superintendent of Taloja Prison, Kaustubh Kurlekar, responsible for Swamy's death, and accuses him of purposely emasculating Swamy's physical health and mental resolve.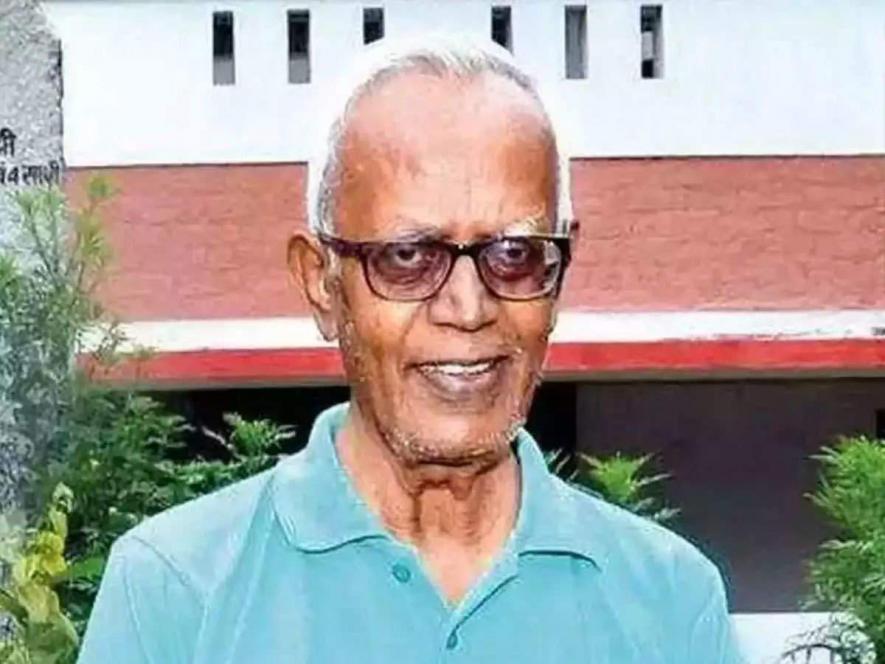 Image Courtesy: Times of India
Three political prisoners arrested in the Bhima Koregaon-Elgar Parishad case have written a letter to the Chief Minister of Maharashtra, Uddhav Thackeray. The letter claims that father Stan Swamy, a tribal rights activist based in Jharkhand, did not die a natural death. "It was an institutional murder," says the letter, signed by human rights lawyer Surendra Gadling, and cultural activists Ramesh Gaichor and Sagar Gorkhe, who were eyewitnesses to the treatment meted out to Swamy in prison.
Arrested in October 2020 under the draconian anti-terror law of UAPA, Swamy, aged 84, spent over eight months in prison before succumbing to a heart attack in July 2021. He was the oldest among the 16 prisoners arrested in the case, where they are accused of being linked with Maoists, plotting the assassination of Prime Minister Narendra Modi and triggering violent clashes at Bhima Koregaon war memorial -- 40 kilometres from Pune.
The allegations against them have allegedly been planted, according to reports.
Every year on January 1, tens of thousands of dalit-bahujan pilgrims gather at the war memorial of Bhima Koregoan. It commemorates the historic battle won by the British Army, which had a significant contingent of dalit soldiers, against the peshwas. For the dalit community, the battle signifies their fight against untouchability. Therefore, in 2018, on the 200th anniversary of the event, the crowd at the Bhima Koregaon war memorial was larger than usual. However, the gathering was assaulted allegedly by upper caste mobs belonging to Right-wing groups.
A day after the riots, Pune-based anti-caste activist Anita Sawale filed a complaint naming Hindutva leaders Milind Ekbote and Sambhaji Bhide as the "masterminds" of the attack.
Instead, the investigating agencies turned their focus towards the Elgar Parishad, an event held in Pune city a day before the violence, where several groups and activists vowed to "not vote for communal forces".
The urban wing of Pune Police and NIA subsequently raided and arrested reputed human rights lawyers, scholars and activists.
Once arrested, Swamy's health deteriorated rapidly in jail, where he died waiting for bail on medical grounds. Commentators, human rights defenders and political leaders had vehemently condemned his death, even calling it a judicial murder.
However, The Indian government, after Swamy's death, said, "Authorities in India act against violations of law and not against legitimate exercise of rights. Because of the specific nature of charges against him, his bail applications were rejected by the courts."
Now, as eyewitnesses to what went on inside the prison, three of his co-inmates at the Taloja Central Prison, located in the outskirts of Mumbai, have detailed the treatment meted out to Swamy in a letter to Thackeray. It is also copied to the home minister of Maharashtra, Dilip Walse Patil, Chief Justice of Bombay High Court and Human Rights Commission of the state.
"We are father's co-accused in the case, and eyewitnesses to the conspiracy against him," the letter, written two days after his death on July 5, 2021, says. "In our book, he didn't die a natural death. It was a well-planned institutional murder. We are disturbed and sad at father's death. And we have decided to fast for a day as a mark of protest."
The letter holds the superintendent of Taloja Prison, Kaustubh Kurlekar, responsible for Swamy's death, and accuses him of purposely emasculating Swamy's physical health and mental resolve by denying him proper treatment, keeping him in isolation when he needed help and stripping him nude in front of the whole staff while frisking him at the prison entrance.
"Father already had Parkinson's and a few other ailments when he was arrested," the letter says. "His health seriously deteriorated in custody because Kurlekar ensured he didn't get proper treatment in prison."
Even when Swamy's health had worsened, the letter says, there were restrictions imposed to transfer him to the hospital outside the prison. "He was denied necessary medicines and a straw-sipper to drink water," the letter elaborates. "He desperately needed a helper due to Parkinson's. To ensure he doesn't get any help from his co-inmates, he was kept in isolation. It was Kurlekar's conscious attempt to emasculate him physically and mentally. To keep him away from his co-accused activists, there were three attempts made in four months to transfer him to Arthur Road Prison."
When Swamy was brought to the prison from a medical check-up, he "was made to remove all his clothes in front of the entire staff" while being frisked at the gate. "It was an attempt to humiliate him," the letter says.
The letter further states that Swamy's stroke was a result of this harassment and he died due to negligence and lack of medical treatment, with demands of Kurlekar be charged with murder, and a judicial probe into Swamy's death. It ends with a pledge: We request you to consider our demands so we and our co-accused don't meet the same fate as father did.
At Swamy's posthumous bail hearing shortly after his death, the high court bench said, "We have great respect for his work." However, critics wondered why he couldn't get bail if that was the case. In what turned out to be his final bail hearing, Swamy had, in fact, predicted his own death. "I would rather suffer, possibly die here very shortly if this were to go on," he had told the judges.
Kurlekar did not respond to this reporter when asked for a comment.
Get the latest reports & analysis with people's perspective on Protests, movements & deep analytical videos, discussions of the current affairs in your Telegram app. Subscribe to NewsClick's Telegram channel & get Real-Time updates on stories, as they get published on our website.
Subscribe Newsclick On Telegram