Farmers' Protests: Distrust of Corporates and the Government Runs Deep
It is correct that there is always scope for negotiation in every talk, but that stage has now passed and the ministry failed itself by shoving the laws down the throats of farmers. It failed itself and has nobody to blame.'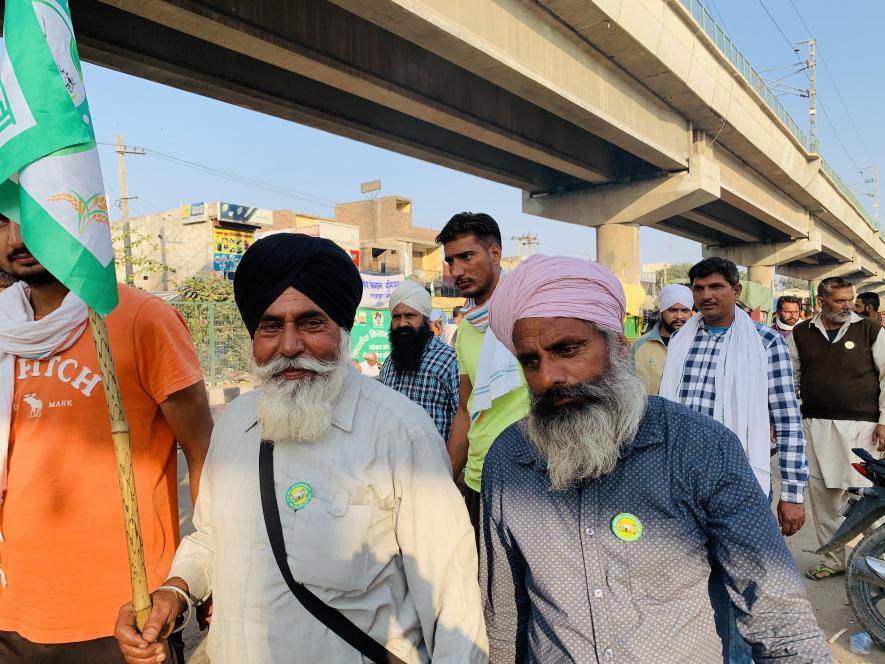 Farmers' protest at Delhi-Haryana border.
Kulwinder Singh Mahal devours the rice distributed at one of the langars while talking about the government proposals rejected by the farmers' organisations due to the lack of "substance" in them. Mahal has travelled from the town of Ajnala in Amritsar with his family to Delhi to register his protest against the recently-enacted Farm Laws. "It is just an eyewash. They have nothing to offer. When we made it clear that the farmers do not want these laws, why are they insisting on implementing them," he told NewsClick.
Mahal, a wheat farmer who owns six-acres of farmland, said that it is the common people who will suffer if the big corporates and agri-based companies are allowed hoard grain. "In times of distress, we sold our maize at even Rs 2 per kg whereas flour from the same maize is sold at Rs 80 per kilo in big malls and stores run by Reliance," he said.
In the proposal handed out to the farmers' organisations, the Centre promised the right of registration of traders to be given to state governments, that the existing system of payment of electricity bills would continue, land would not to be attached along with contract instruments and a written assurance was given about the minimum support price.
Harpreet Singh, who has been siting beside Mahal, argued: "The laws need to protect the weak and vulnerable, not the mighty and rich. We have many laws about stopping atrocities against the weak but are they really followed? The Centre is pitting the mighties [like] Reliance against small farmers and expects a level playing field. It's a joke. Our incomes are reducing but expenditure is rising. It is the clear opposite in their case. Last year I sold my produce from 15 acres for six lakhs but this year, it yielded only Rs 4.5 lakhs."
When asked about the Centre's view that private traders would lead to greater competition and yield better prices, Singh said that they "may get a better price in the first year, but once the monopoly of private players is established, it will be their wishes and their prices. We saw it with sugarcane. Sugar mills offered free fuel to farmers in the initial years of operations and we were happy about it. But today our payments have been delayed for more than two years. Even Reliance Jio gave away lifetime validity for consumers initially. Now, it is the only player. So this is an old game and we have had enough of it."
Harjinder Singh, who has made his way to Delhi from Kapurthala, maintained that the appeal to boycott Reliance products is already underway in Punjab where fellow farmers have gheraoed the toll plaza, malls and mobile outlets run by Reliance. "As far as blocking the highways are concerned, we made sure that the local population does not suffer for essential supplies. However, we will see if a complete blockade is necessary," he added.
Harjinder's friend Sarabhjeet Singh explained how private players bought land with concessions from the government, but local farmers still wait for their share of the profit. "In my district, India Tobbaco Company Limited, popularly known as ITC, established a huge mill spread across hectares. In 2019, it procured wheat from farmers at a good price and we were happy about it; but the next year it merely procured 1,500 trolleys. Now we hear that it is buying wheat from Madhya Pradesh, Uttar Pradesh and Bihar, because the produce is much cheaper there. Something similar is happening with other brands. If you look at the map of Punjab, you would find a strip from Jalandhar to Sangrur which grows potatoes in abundance. However, it is hardly procured by the brands which makes chips and other products. The potato comes from West Bengal. So, this is an outright lie that private investment will increase farmers' income," he said.
He is also miffed at the fine imposed for stubble burning, saying that the farmers do it with no viable alternative from the government. "For clearing the stubble, a farmer needs a tractor of 65 horsepower which alone costs around Rs 11 lakh. You need its tools which come to around Rs 2.5 lakh. Our tractor literally consumes 50 litres of diesel per acre. Can a common farmer think about spending Rs 13.5 lakh on a tractor alone when the returns are minimal. On the top of that we consistently live in the fear of getting fined or jailed."
Major Singh Punnawal, Secretary, All India Kisan Sabha Punjab said that the refusal to entertain the rhetoric of the Ministry of Agriculture should be seen in the wider context. "The farmers have not only lost patience, but trust too. They tried every means necessary to convince government officials in the three-month long agitation, and they were cheated each time. Yes, it is correct that there is always scope for negotiation in every talk, but that stage has now passed and the ministry failed itself by shoving the laws down the throats of farmers. It failed itself and has nobody to blame."
Get the latest reports & analysis with people's perspective on Protests, movements & deep analytical videos, discussions of the current affairs in your Telegram app. Subscribe to NewsClick's Telegram channel & get Real-Time updates on stories, as they get published on our website.
Subscribe Newsclick On Telegram