India's Tryst With COVID Destiny
With cumulative cases at 3 million and daily new cases the highest in the world, can people be reassured by saying that the 'peak' is coming?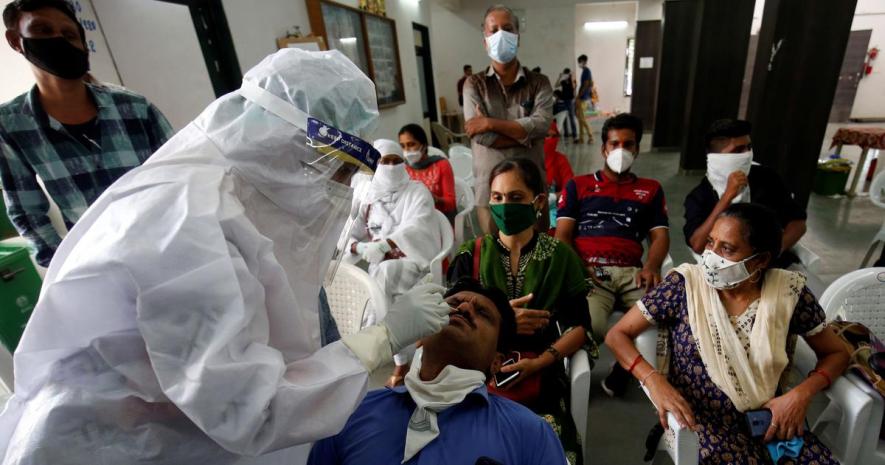 Representational image. | Image Courtesy: Scroll.in
Newspaper headlines are in the grip of a macabre schizophrenia. They talk about how recoveries per day are a record, the recovery rate has reached nearly 75%, as many as 22 lakh people have recovered so far, the country is now doing a million tests a day, and vaccine arrangements are going swimmingly, with 50 lakh doses (of a yet to be produced vaccine) being ordered, and so on. That's the bright side, for thinking 'positive'.
The same newspapers rather reluctantly also report that: total cases since the pandemic began have now just about hit 30 lakh (3 million), new cases are hovering around 70,000 per day (see chart below), which is the highest in the world, the last million cases happened in just 16 days, and so on.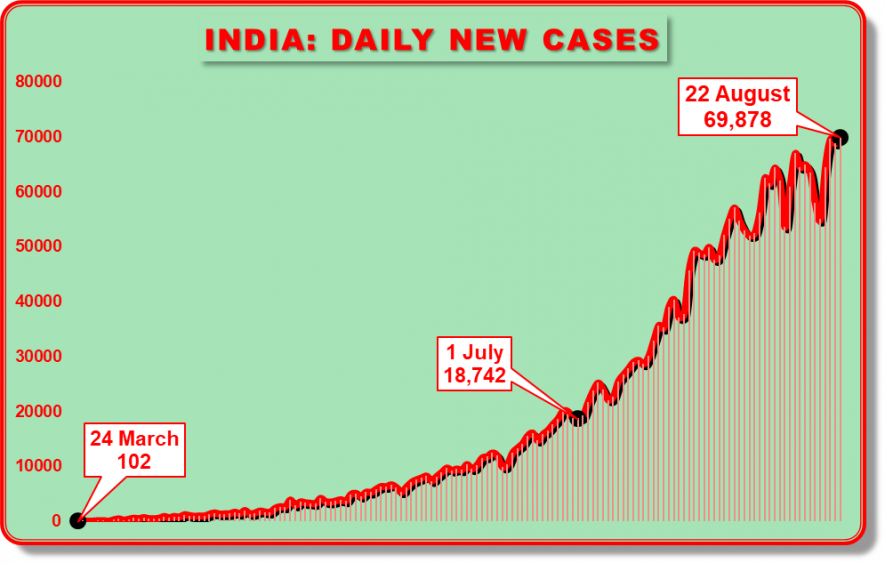 Does Reaching the 'Peak' Help?
Periodically, a new balloon is sent up to stoke 'positive' thinking. The latest is this series, deriving from a State Bank of India (SBI) report, is that India may be nearing the peak of the pandemic, likely to happen when the recovery rate reaches 75%. That means that daily new cases will reach a peak and then start declining. The connection between recovery rate and daily new cases is unexplained, and appears to be not a 'cause and effect' relationship. It's just a statistical correlation, which is what a bank's economists would be expected to do. They are not epidemiologists.
There is no cause and effect relationship between recovery rate and spread of the pandemic. In Brazil, the second most affected country of the world, the recovery rate was 69.9% on July 29, when the maximum daily new cases (70,869) were reported. In Malaysia, the recovery rate was 79.5% when peak of new cases happened on June 4. In China, peak cases were reached on February 12, when the recovery rate was 71.5%. But the breathless speculation goes on, as if reaching the peak is the end of the pandemic.
In Brazil, 9.8 lakh cases have been added since the 'peak' was reached in July-end. So, there is little consolation of reaching a 'peak' in any case. The spread continues, maybe at a slower pace than the peak, but it continues.
In India, with 22 out of 27 states still to reach their peak, according to the SBI evaluation, and 54% of the cases now being located in rural areas, going by calculations done on the basis of district-wise data, the spread of pandemic will likely continue for several months after reaching the 'peak'.
The lack of correlation between the 'peak' in daily cases and the spread of the virus is not difficult to understand. In fact, trying to find a correlation is what is erroneous. If the peak is found to be, say, 80,000 cases per day, then a continuing daily report of say, 50,000 cases per day, is no great measure of either success or relief, especially, if the lower number continues for a month.
Then, there is the issue of resurgence. A country may reach a peak, see a happy decline, and then again go through resurgence, or what is called a second wave. This has happened in many countries, such as the US, South Korea, Australia, etc. So, in any case, the peak of today is meaningless.
India Continues to Suffer
Meanwhile, as things stand, India continues to weather the storm that this pandemic has unleashed. A younger population has seen to it that the death rate is not too high. But those who are infected are suffering seriously from the disease – besides the pain and physical suffering, the disease is causing grim destruction of family budgets and livelihoods.
It is also likely that those once infected will continue to suffer from side effects for weeks, if not months. These include memory lapses, coordination dysfunction, besides possibility of damage to kidneys, brain, and other organs. It is well established now that COVID-19 causes gastrointestinal, neurological, renal, cardiovascular and other complications, besides the well-known respiratory effects.
But the other effect of the pandemic is turning out to be equally devastating, if not more. This is the impact on the economy. Joblessness is at over 8%, according to latest CMIE (Centre for Monitoring Indian Economy) data. The SBI report itself reportedly predicts a double-digit contraction in GDP (gross domestic product) growth. Imports and exports are down. Bank credit is stagnating. Industrial production has contracted precipitously. Though agricultural production is at record levels but farmers don't seem to be getting any benefits, while food stocks are piled up in government godowns. Wages are stagnating or have suffered a decline. All this has pushed the Indian economy into a nosedive that has had extremely destructive effects on the living standards of people.
What is most disheartening is that in the face of the pandemic, the Narendra Modi government has failed to respond with adequate care for the people. It first imposed a harsh and unplanned lockdown in the third week of March, thus giving the already sinking economy a further downward push. Then it presided over a disorderly easing of the lockdown right when pandemic cases were rising.
The Modi government failed to provide basic income support to the people whose livelihoods and wages were finished off. As a result, with no purchasing power in their hands, the people have been cutting down on consumption spending, including on food. The economy is faced with both, a demand crash and a supply slump. But, instead of giving a boost by putting money in the hands of the people, the government has merely been helping out the distressed corporate entities, who are worried about their profits. This strategy was a recipe for disaster that is now playing out in India.
What is heartening in this otherwise dismal scenario is that over the past two months, a growing unity of working people – from farmers and agricultural workers to factory workers and service sector employees – is evolving and a series of massive protests have emerged, mobilising people for demands for better income support, more jobs, more foodgrain, and reversal of pro-corporate policies. These protests, initially led by the Left, have been joined by trade unions affiliated to other political streams too. This will hopefully pave the way for forcing the government to reconsider its priorities and shift towards better attention to the people.
[Data collated by Pulkit Sharma of the Newsclick Data Analytics team]
Get the latest reports & analysis with people's perspective on Protests, movements & deep analytical videos, discussions of the current affairs in your Telegram app. Subscribe to NewsClick's Telegram channel & get Real-Time updates on stories, as they get published on our website.
Subscribe Newsclick On Telegram