ASHAs in West Bengal's Bankura Serve Despite Challenges, Meagre Salaries
The Accredited Social Health Activists in Bankura's Jangal Mahal area are paid a monthly salary and incentives of only Rs 7,000.
ASHAs demand job security and salary increase before the Bankura's chief medical officer's office.
Community health workers, known as Accredited Social Health Activists (ASHAs), in Bankura's Jangal Mahal in West Bengal are finding it increasingly tough to perform due to poor salaries, incentives and working conditions.
The workers, mostly from poor and marginalised families in rural areas, work tirelessly to serve people by going from house to house despite the adverse working conditions. The love and respect of villagers keeps the ASHAs going.
Malati Hembram (40) preferred duty over personal obligations when her mother-in-law Sundari Hembram (80) died. A few moments after the death, Malati's phone rang. "Didi, please come quickly. I can't bear the pain anymore. Take me to the hospital so that my baby can survive," said the distressed voice of a pregnant woman on the other side.
Recalling that fateful night in Bagdubi village, surrounded by the dense forests of the tribal-dominated Ranibandh block, two years ago, Malati said that Manami Hembram (22) had repeatedly called for an ambulance but to no avail. "I thought I might not survive to see my child's face," Manami said.
The next morning was worse. The ambulance couldn't enter the village due to the broken roads. Finally, Malati and the neighbours carried Manami to the ambulance on a cot. Manami's child was born after reaching Ranibandh Hospital, 22 km away.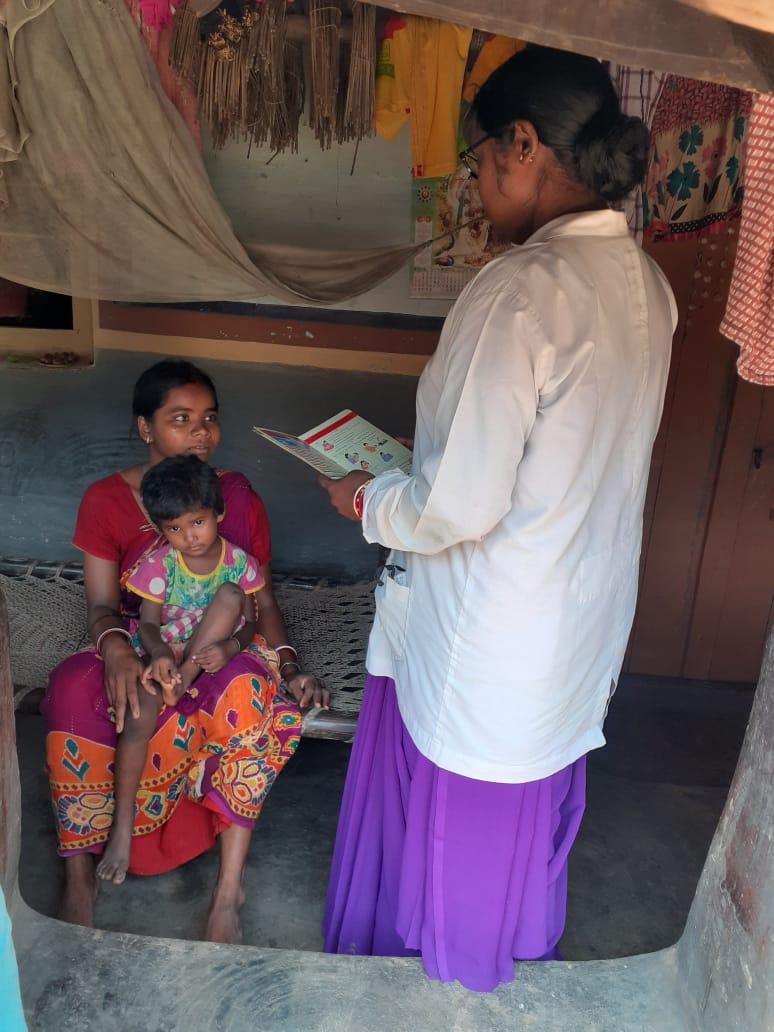 ASHA worker Malati Hembram routine visits the house of Mamani   Hembram in Bagdubi village, Ranibandh  to check the health of the mother and child.
"Didi stood bravely by my side all night," the wife of a migrant worker recalled expressing her gratitude to Malati, whose prompt initiative saved both the mother and the child.
A humble Malati, who belongs to a poor family with her husband a contractual Railways worker, said, "The amount of money I receive as an ASHA is not a significant concern. I am striving to be a beacon of hope for people."
According to state government sources, out of 65,664 posts for ASHAs, 55,634 are filled. In Jangal Mahal, nearly 2,100 ASHAs serve under the health department. Their responsibilities include maternal and child health services, family planning, health and nutrition education, helping maintain environmental sanitation, immunisation for communicable disease control and involvement in disaster response.
Health worker Jahima Khatun (27) is nothing less than a doctor for Sajifun Bibi Khan, an impoverished farm labourer and housewife from Punisol village, Onda block.
"I never thought that I would be able to give birth to a healthy child. Two years ago, my unborn baby died as my family tried the delivery at home," Sajifun, whose husband is a street hawker, said.
ASHA worker Jahima Khatun is checking the health of mother and child at punisol village, onda
During the second pregnancy, her name was registered at the Punisol health centre at Jahima's intervention. Tests were conducted regularly and she took the prescribed medication under her supervision.
"She [Jahima] frequently emphasised that a child shouldn't be delivered at home under any circumstances. My husband Motiyar Rahoman and other family members understood this. My child was born at the Bankura Medical College and Hospital. We are in good health and my son received the recommended vaccines," Sajifun said recalling Jahima's contribution.
Villagers like Golam Khaja Khan, retired librarian Jalil Khan and housewife Salema Dalal vouch for the ASHAs and confirm the challenges they face daily—superstitions and unfounded beliefs in many families and numerous quacks and midwives who discourage seeking hospital care for childbirth.
Jahima Khatun, a BA (Hons) in Bengali, said that due to the persistent efforts of ASHAs in this village, located 12 km from the Bankura district headquarters, both child and maternal mortality rates have decreased.
"Women are increasingly participating in family planning programmes. But more efforts are needed. This is a challenge for us. The panchayat should also step up its efforts," Jahima, whose husband is a construction worker, added.
Gorachand Mandal (53), a labourer from Dabra village, 8 km from Bankura town, "owes his life" to ASHA and neighbour Mithu Choudhury (45). "I would have succumbed to tuberculosis a year ago. She gave me a second chance," he said.
Mandal's wife Roma recounted how he was diagnosed with tuberculosis two years ago with his condition deteriorating to the point where the family had lost hope.
ASHA Mithu Choudhury talks to Gorachand Mandal, of Dabra village, Bankura.
"In this dire situation, our neighbour and ASHA Mithu Choudhury took me to the Anchuri health centre (15 km far), where I was treated. She continued visiting us and providing regular medication. I have fully recovered," Mandal said.
Mithu's contribution to Mandal's well-being was beyond her duty. She spoke to a brick kiln owner who employed Mandal, helping him to get back on his feet. Her husband, employed at a nearby grocery shop, explained that ASHAs also visit brick kilns and stone crushers to provide healthcare to worker and their children.
Local auxiliary nurse midwife (ANM) Sumita Mandal highlighted that ASHAs operate in rural areas as part of the Directly Observed Therapy (DOT) programme. Their prompt actions have significantly reduced the tuberculosis mortality rate and raised awareness about the disease.
LESS SALARY FOR MORE WORK
Malati, Mithu and other ASHAs receive a monthly salary of only Rs 4,500 and meagre, delayed incentives paid for multiple tasks.
Mentioning the varied responsibilities, Jahima said. "After delivery, the mother's name is registered at the nearest health subcentre, her health is monitored regularly, the newborn receives multiple vaccines (polio, tetanus, pneumonia and diarrhoea) in eight stages from one-and-a-half months to 16 years."
Additionally, ASHAs are responsible for organising monthly public meetings for teenage girls and pregnant mothers to raise awareness about public health, she added.
ASHAs told this reporter that they were recently asked to identify people above 30 years with diabetes, high blood pressure or drug addiction at home and take them to the hospital if necessary. They also identify leprosy patients and facilitate their treatment and arrange for blood tests for those in fever-prone areas.
After providing the data to the subcentre ANM every Wednesday, ASHAs receive a monthly incentive of Rs 2,500. Mithu said that the Rs 100 incentive for providing regular medication to tuberculosis patients has been discontinued.
Yamuna Tudu, from Sarenga, whose husband is paralysed, said that Rs 5,000 was provided to first-time mothers in the Below Poverty Line (BPL) category under the Pradhan Mantri Matru Vandana Yojana (PMMVY) scheme. "However, the government announced on April 1 that the benefit would be provided to only a girl child," she said.
"Despite conducting surveys for about a year-and-a-half as per the government's direction, no first-time mothers have received the amount. The mothers blame us. Health workers from various areas have raised this concern but to no avail," she added.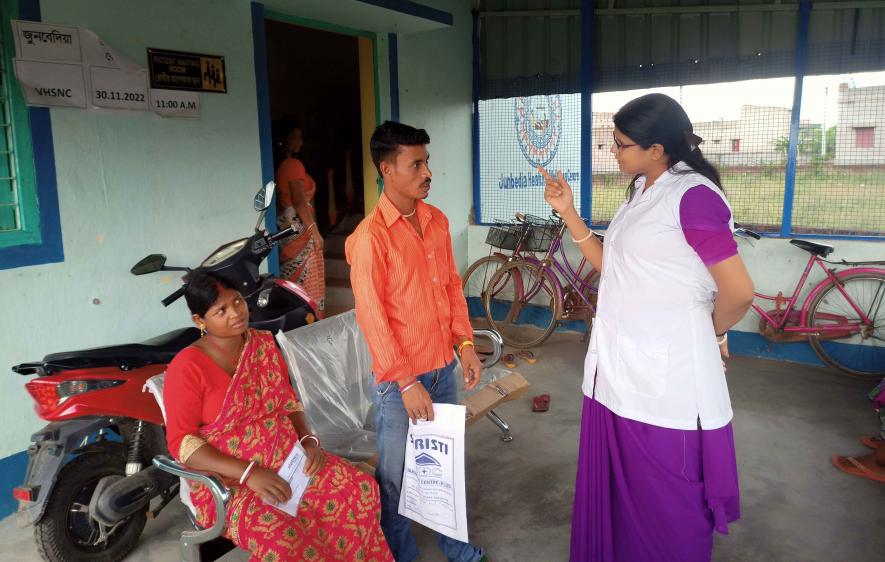 ASHA Mithu Chatait talks to a patient at Junbedia subcentre.
Several ASHAs, including Mithu Chatait (from Junbedia) and Nabanita Choudhuri (from Onda), said that chief minister Mamata Banerjee had announced a compensation of Rs 1 lakh for any ASHA worker infected with COVID-19. However, several ASHAs who were at the frontline during the pandemic were infected but none of them were compensated, ASHAs alleged.
Purnima Bishoyi (from Kotulpur), Nomita Dutta (from Chhatna) and several other ASHAs alleged that the state government had promised them smartphones but never provided them. Even the free Rs 100 recharge is not provided consistently.
Numerous health workers alleged humiliation by block-level to higher-ranking officers. They are also humiliated if they question the inadequate infrastructure of a maternity ward of a hospital.
Several ASHAs like Namita Mondal (Hirbandh), Yamuna Das (Taldangra) and Sanchita Karmakar (Bishnupur) and many others rued the lack of proper income, the demanding nature of their job and the less time they spend with their families.  
ASHAs are required to work till 60 years old yet lack the facility of provident fund, pension or other retirement benefits.
Indrani Mukherjee, district convener of Paschimbanga Asha Kormi Union and a CITU leader, said that ASHAs aren't paid minimum wages. "They are burdened with work. They should be paid a salary of Rs 26,000. It is inhuman to make them work 24 hours a day for project works and only pay them Rs 7,000," she said.
Bankura chief medical officer of health Shyamal Saren said that the government tries to support ASHAs, who operate in extremely challenging conditions. "These workers continue to provide health services to communities with unwavering dedication," he said.
The writer covers the Jangal Mahal region for 'Ganashakti' newspaper in West Bengal. The views are personal.
Get the latest reports & analysis with people's perspective on Protests, movements & deep analytical videos, discussions of the current affairs in your Telegram app. Subscribe to NewsClick's Telegram channel & get Real-Time updates on stories, as they get published on our website.
Subscribe Newsclick On Telegram