The Daily Struggles of Kashmir's Disabled Community in a World of Inaccessible Structures
Most public and private buildings lack ramps, lifts, and other accessibility features like audio or visual navigation that would make it simpler for people like Shafi to reach the top floors.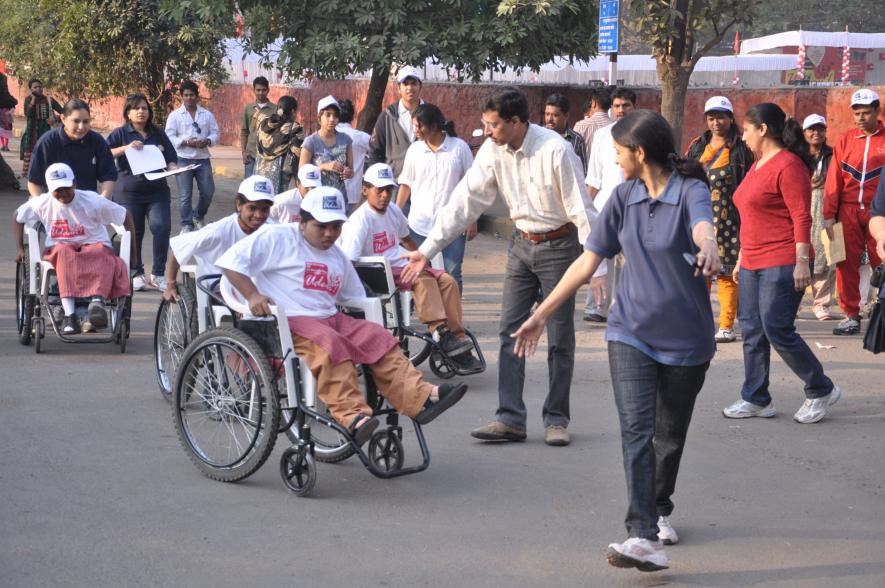 Representational Image. Image Courtesy: Wikimedia Commons
Mohammad Shafi Dar, a 40-year-old resident of South Kashmir's Pulwama, has been struggling to complete some paperwork at the nearby social welfare office for the past two weeks. Unfortunately, he has not had much success because the government facility does not have enough accessibility for those with disabilities.
At 15, a carpenter apprentice, Dar lost his lower limbs after falling from a roof. Since then, he has encountered several challenges in his day-to-day activities, such as going to banks, government buildings, and other significant institutions. His battle with accessibility problems has come to represent a common experience for many disabled people in the area.
Disabled people still encounter many difficulties in public facilities despite government efforts to make them accessible to everyone. Most public and private buildings lack ramps, lifts, and other accessibility features like audio or visual navigation that would make it simpler for people like Shafi to reach the top floors. As a result, people with disabilities are frequently required to rely on others or stay at home.
Around the world, according to the World Health Organisation, there are more than a billion people with disabilities, and they face a number of challenges that limit their participation in society. In the Union territory of Kashmir alone, there are about 7.5 lakh disabled individuals registered in 21 categories under the Rights of Persons with Disability Act-2016, with the majority of them (4.5–5 lakh) residing in the valley.
The head of the Disability Association in Kashmir, Rashid Ahmad, has advocated for the rights of people with disabilities. He asserts that he never uses a wheelchair and instead prefers to use his hands to propel him around because most of the buildings in the valley lack ramps, rendering wheelchairs useless in such circumstances.
"People frequently inquire about my preference for using my hands over a wheelchair. I do not use one because they are useless in Kashmir and often make getting around more challenging than beneficial," he said.
Rashid Ahmad claims that despite having to visit nearly every government agency, including the old civil secretariat, which houses all government agencies, the deputy commissioner's offices, and the Department of Power Development, none are wheelchair accessible. He argues that it is ironic that the offices of the Department of Social Welfare, which cater to their needs, lack a ramp or elevator, making it impossible for them to access.
"How can we expect private or small town structures to be accessible when all these government offices are inaccessible?" he asks. According to him, extensive construction projects are being carried out in Srinagar as part of the smart city concept, but they are not taking the requirements of people with disabilities into account.
"I do not believe that people like us can access the footpaths and other infrastructure being built," he said.
Rashid Ahmad draws attention to the fact that the government has approved buildings without first ensuring they are accessible to people with disabilities. "There are laws, and the government in other states is serious about it, but here they do not bother," he said.
Abrar Ahmad, a visually impaired 34-year-old resident of Srinagar's Solina neighbourhood, has been restricted to his home for the past few months due to ongoing smart city development work that has made it difficult for him to walk around.
Abrar Ahmad said that visually impaired people in Kashmir have significant trouble entering public venues such as buildings, parks, and hospitals because there is no audio navigation system to assist them.
"I have been having issues with everything from crossing the street to getting on a bus to going to a hospital or anywhere else because there is not an audio navigation system. Similarly, Kashmir has no visual navigation systems for deaf and mute people," he said.
Despite these challenges, Ahmad is committed to raising the standard of living for the local blind population. He works as a sub-staffer at the Punjab National Bank of Kashmir and also manages a computer institution for people with vision impairments in the city's Nowpora neighbourhood.
Abrar Ahmad believes that offering blind people skills can help them live more respectable lives because the government has not been sensitive to their demands.
"I wish to teach visually impaired people different skills to help them live a respectable life because the government is unsympathetic to us," Ahmad said.
Legal professionals warn that a lack of accessibility is seriously limiting the participation of individuals with disabilities in social, economic, and community activities. They are denied their fundamental rights and equitable access to opportunities and services.
India passed the Rights of Persons with Disabilities Act in 2016 to promote equal access to opportunities and full participation in society, recognising the critical role of accessibility for individuals with impairments.
Shabir Ahmad, a labour lawyer, notes that despite these measures, authorities frequently use legal loopholes to deny disabled people their rights. He contends that an amendment to the constitution is urgently required in order to define and classify these rights as fundamental and non-discretionary.
He emphasises, "It is the responsibility of the state to ensure that the special rights of persons with disabilities are met".
According to Shabir Ahmad, a person's handicap is a natural and unavoidable part of life, and in order for them to participate fully in society, they need support and adjustments that are both constant and deliberate.
"We can contribute to the development of a more inclusive and fair society by creating an environment that enables people with disabilities to make the most of their skills," he said.
An official from the social welfare department, Zaffar Ahmad, recognised that accessibility continues to be a problem for those with impairments. However, he added, the department has been making improvements to accessibility through the centrally supported Accessible India Programme (SIPDA). With regard to access to buildings in schools, colleges, and public buildings, the SIPDA Scheme seeks to offer a barrier-free environment for people with disabilities.
Zaffar Ahmad said that as part of the Accessible India programme, the department has already built approach ramps with railings and guide rails at numerous buildings. Additionally, two lifts are now being built at the municipal office and the headquarters of the Social Welfare Office.
"More buildings will be covered in the second phase of the plan after the first phase is finished. The first part of the plan is finished, and the second phase will cover more buildings," he said.
Suhail Bhat is an independent journalist. All views are personal.
Get the latest reports & analysis with people's perspective on Protests, movements & deep analytical videos, discussions of the current affairs in your Telegram app. Subscribe to NewsClick's Telegram channel & get Real-Time updates on stories, as they get published on our website.
Subscribe Newsclick On Telegram