Far-right Libertarian Javier Milei is the Next President of Argentina
Milei won a resounding victory with an over 10 point margin over the center-left peronist candidate Sergio Massa.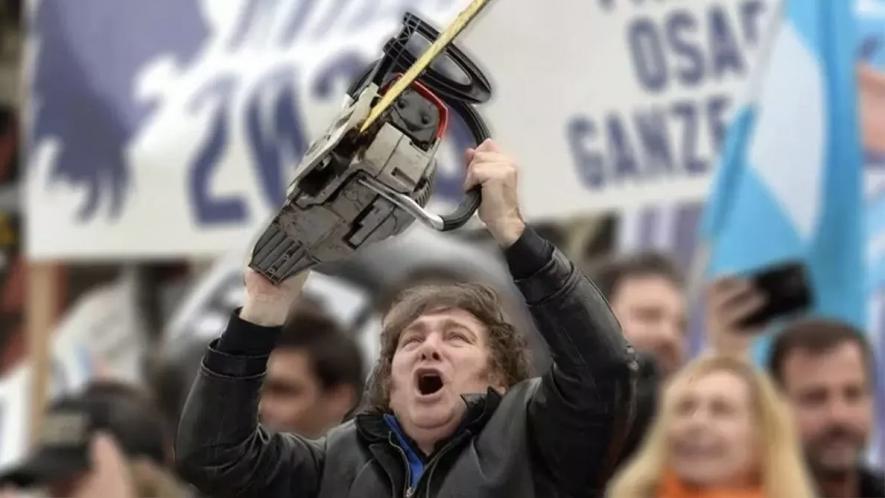 Javier Milei, the candidate of the Liberty Advances far-right libertarian party, was victorious in the second round presidential elections in Argentina held on November 19. With 99.3% of the votes counted, Milei had scored 55.7% of the vote, while his opponent, center-left peronist Sergio Massa of the Union for the Homeland coalition, trailed behind with 44.3%. Milei will take office as president on December 10.
In his victory speech, Milei told supporters, "The situation in Argentina is critical. There is no space for gradualisms nor for lukewarmness or ambiguities…If we don't advance rapidly with the structural changes that Argentina needs, we will face the worst crisis in our history."
He added, "Our commitment is with democracy, with free trade, and with peace. We will work elbow to elbow with all of the nations of the free world."
Massa addressed supporters at the Union for the Homeland bunker after congratulating Milei on his victory. He stated, "There were two paths: we chose to promote and defend education and public health, security and the State, the national industry, work, SMEs, workers with their rights, and national unity. I continue to believe that Argentina needs to agree on state policies."
Milei's victory has sent a shockwave across Argentina's progressive and left movements who fear that many of the country's hard won conquests including free healthcare and higher education will be under attack with a Milei government. Furthermore, Milei's determination to cut to public spending in addition to his promise to dollarize the economy and dissolve the central bank, will send Argentina's already struggling economy into a tailspin. In 2022, Argentina registered over 100% inflation and the poverty rate currently stands at 40%.
A letter was signed by over 100 economists from across the world ahead of the elections, warning of the impacts of Milei's proposed economic reforms. They wrote, "In short, Javier Milei's dollarization and fiscal austerity proposals overlook the complexities of modern economies, ignore lessons from historical crises, and open the door for accentuating already severe inequalities. As Argentina navigates its complex economic landscape, it is crucial to approach policy making with balanced, empirically grounded strategies that are not only appealing in the short run but also sustainable, equitable, and enabling in the long run."
Human rights defenders as well as victims and survivors of the country's last civic-military dictatorship had also warned about his open and vehement denialist attitude about the dictatorship. In a presidential debate ahead of the first round, he claimed that the widely accepted number of 30,000 detained and disappeared was incorrect and that it was actually 8,753. He had also stated that there is "a twisted view of history", and accused people of using human rights "ideology" "to make money and carry out shady deals". His running mate Victoria Villarruel, held an event in September in honor of the victims of the left-wing guerrilla groups and to contest the "lie" of human rights organizations of the 30,000 detained and disappeared.
After the results were released, social leader and pre-presidential candidate Juan Grabois wrote, "Face adversity with fortitude, sustain our organization with wisdom and firmly maintain our convictions because, stronger than ever, with the Constitution in our hands and the People in our hearts, we are going to return… much, much better. No one gives up here, if persecution touches us it will be the forging of the future… and may the dream of a just, free and sovereign country with land, shelter and work for everyone live forever."
Colombian President Gustavo Petro saluted Milei's victory but added, "The extreme right has won in Argentina; It is the decision of your society. Sad for Latin America and we'll see… neoliberalism no longer has a proposal for society, it cannot respond to humanity's current problems."
Milei has vowed to cut all relations with China, Brazil, and leave MercoSur, stating "I don't make deals with communists." Meanwhile at a recent campaign rally Milei waved the Israeli flag and months ago had stated "Should I assume the presidency, I will align with the United States and Israel as key allies. The level of alliance with Israel is so profound that I intend to relocate the Argentine embassy from Tel Aviv to Jerusalem."
Billionaire, Tesla CEO, and owner of X, Elon Musk, commented on Milei's victory saying: "Prosperity is ahead for Argentina."
This year marks the 40th anniversary of the return of democracy.
Get the latest reports & analysis with people's perspective on Protests, movements & deep analytical videos, discussions of the current affairs in your Telegram app. Subscribe to NewsClick's Telegram channel & get Real-Time updates on stories, as they get published on our website.
Subscribe Newsclick On Telegram