India: Why are Doctors Performing Needless Hysterectomies?
Doctors and private clinics in India are tricking vulnerable women into unnecessary hysterectomies, critics say.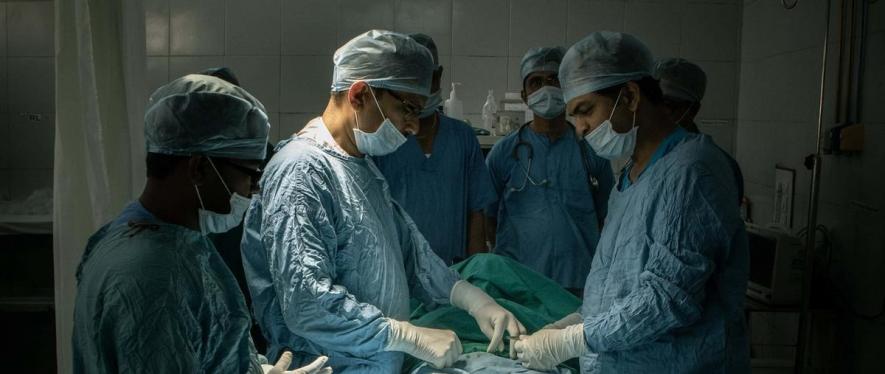 The number of hysterectomies has recorded a rise in parts of India in recent years
India's Supreme Court has recently directed the government to take stringent action against doctors and hospitals performing unnecessary hysterectomies.  
Hysterectomy is a surgical procedure that involves the removal of the uterus and the cervix, and sometimes other parts of the reproductive system like the fallopian tubes.
It is generally performed to treat various gynecological conditions such as fibroids, endometriosis, abnormal bleeding, and pelvic inflammatory disease. It is also used as part of cancer treatment to remove tumorous tissues.
The procedure should be used a last resort when all other treatments have failed. 
But the number of these surgeries has recorded a rise in parts of India in recent years.
According to the latest National Family Health Survey, about 3.3%  of all women aged 15 to 49 in the South Asian country have undergone a hysterectomy.
Making a fast buck
But there are vast regional disparities. In some states, like Andhra Pradesh and Telangana in southern India, over 8% of women and girls in this age group had the surgery, whereas in places like Sikkim and Meghalaya in northeastern India, that figure is less than 1%.  
Also, the report revealed that around 70% of the women underwent hysterectomies in private clinics.
Some say unscrupulous doctors and private clinics are engaging in blatant malpractices by frightening poor and illiterate women from marginalized communities into surgery, as they view it as an opportunity to make "a quick buck" by claiming higher insurance fees under various government health care schemes for poor people.
"Women in some places are being misled by private practitioners into undergoing invasive and unnecessary surgeries to the detriment of their health," Narendra Gupta, of the health charity Prayas, told DW.
"We noticed a high number of uterus removal cases, even among much younger women, which inflicts a physical, social and mental health burden on them," he added.
"I hope action is initiated and such hospitals are blacklisted."
It was Gupta's lawsuit brought before the nation's top court in April that forced the government to act by setting up multiple monitoring committees to stop this practice, especially by doctors who were exploiting women from lower socio-economic backgrounds.
Rampant in private hospitals
Puneet Bedi, a renowned gynecologist in Delhi, said hysterectomies are rampant in private hospitals in big cities.
"The biggest problem came when the government started giving money for the national rural health mission, which covered procedures like hysterectomy and that is when the rates skyrocketed," Bedi told DW.
Jaya Velankar, director of Jagori, an NGO working on women's issues, blames the private medical care sector for the problem.
"There is virtually no monitoring of this sector. Also, hysterectomy is perceived to be and marketed as getting rid of a 'useless symptom producing organ' — a patriarchal reductionist logic to say the least," she told DW.
Severe health and financial complications
This is not the first time the problem has drawn authorities' attention.
In the sugar-growing region of Beed, in western Maharashtra state, an unusually high number of hysterectomies were reported in 2019, particularly among women working in sugarcane plantations.
In 2015, a major racket involving removal of the uterus of nearly 2,200 women belonging to disadvantaged communities in southern Karnataka state came to light, with four hospitals involved in carrying out the procedures. A report filed by the health department then said the hysterectomies were unnecessarily done.
The loss of the uterus has serious medical and financial consequences.
Unnecessary hysterectomies not only burden the women's families with heavy debts, they also lead to premature menopause, often leaving the women debilitated and unable to work. 
Studies investigating an association between hysterectomy and an increased risk of health problems like heart disease and diabetes have shown mixed results, with some suggesting possible links, while others concluding that more research is needed to establish conclusive evidence.
Women generally also tend to gain weight after hysterectomy, and many of them will have had their ovaries removed in addition to the uterus, resulting in severe post-menopausal symptoms.
Lack of widespread awareness
Despite the potential for causing adverse health effects, there is a lack of widespread public awareness on the subject.
And authorities had done little to enforce the health guidelines drafted by the federal Health Ministry to monitor and prevent unnecessary surgeries.
But the top court now ordered all state governments to enforce these guidelines within three months.
"Medical audits are important," Vandana Prasad, a community pediatrician and public health professional, told DW.
"There has to be oversight mechanisms, especially in rural swathes of the country where we hear of such practices. This should only be conducted after at least two doctors certify the course of action."
Edited by: Srinivas Mazumdaru
Get the latest reports & analysis with people's perspective on Protests, movements & deep analytical videos, discussions of the current affairs in your Telegram app. Subscribe to NewsClick's Telegram channel & get Real-Time updates on stories, as they get published on our website.
Subscribe Newsclick On Telegram