No Care, No Medicines: Koiripur PHC Reroutes Patients to Private Facilities
With ceilings that may collapse at any time, admitting patients is a strict no; even pills that are given free of cost at PHCs have to be bought from outside pharmacies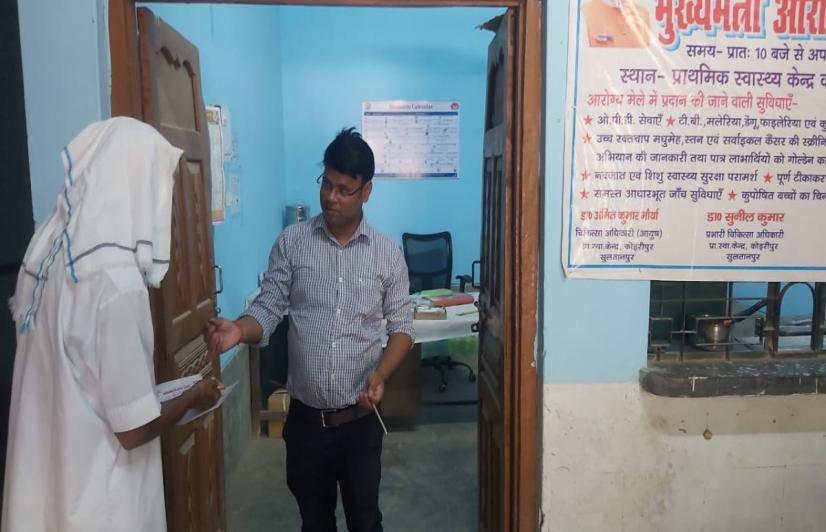 Sultanpur, Uttar Pradesh: "He won the election and disappeared. We never saw him in our village, leave alone doing something for our betterment."
A resident of Koiripur Nagar panchayat in Sultanpur district of Uttar Pradesh, Rauchi Devi (42) did not mince words when narrating the tale of neglect that haunted a local Primary Health Centre (PHC). Her anger was directed against former nagar panchayat chairman Sudhir Sahu, whose tenure ended recently.
Rauchi's daughter-in-law Zriya Devi (19), recently faced a pregnancy-related complication, and the lack of facilities at the PHC exacerbated the ordeal. She had to be rushed to the Community Health Centre (CHC) in Chanda, 8 km away. Though Zriya delivered a baby boy there, further issues made them visit a private hospital.
"The doctors in the CHC said the newborn had water in the belly. The CHC was not equipped to treat the condition, so we had no choice but to rely on a private hospital in Chanda," said Rauchi, whose husband and son work as labourers.
A poll plank
According to the 2011 Census, Koiripur Nagar panchayat has a population of 8,927. Sahu, who once again stood for the chairman's post in the election held on May 10 and 11, said the electoral rolls had 7,800 voters this time.
His contender and newly elected chairman Kasim Raeen told 101Reporters that the majority of the population in Koiripur town lived below the poverty line. "They are the ones who have been suffering badly due to the poor state of affairs at the PHC for over a decade now," he said.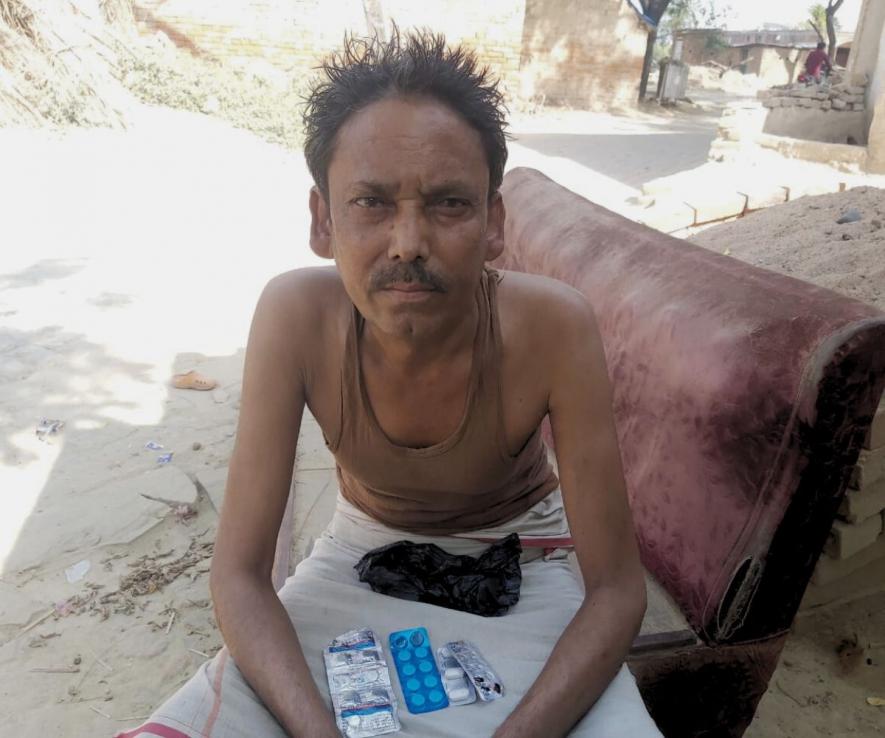 No wonder why the issue played out during the Nagar panchayat polls this time. "We were all fed up with the PHC issue. Since we realised that Sahu would not do anything, we ditched him. What is the point in giving the vote to a person who does not care for the people," Rauchi asked.
Ideally, a PHC should have one MBBS doctor, two to three female staff to treat women, especially those pregnant, hospital beds, facilities for essential check-ups and an outpatient department. Per the Indian Public Health Standards (IPHS) guidelines, a PHC caters to a population of 20,000 in hilly, tribal or difficult areas and 30,000 in plain areas. One MBBS medical officer and six indoor/observation beds are required. It acts as a referral unit to the CHC for six sub-centres also. 
In Koiripur, however, the PHC building is so shabby that doctors are scared of working there. Portions of the ceiling may come off at any time. "We have medicines for basic issues, say colds, coughs and wounds. Equipment for medical check-ups are not available," Dr Sunil Kumar, the medical officer at the facility since September 2022, told 101Reporters.
The PHC has a large room with a few beds to admit patients, but there is no facility for treatment. "Even if things were in place, no patient would be admitted here because of the ramshackle building. Parts of the ceiling fall off quite often," added Dr Kumar, a Bahraich native.
He claimed lack of amenities affected the doctors equally and that he had written to the competent authorities about the issues. "There is no drinking water facility. We buy it on our own. The toilet is so bad that we cannot use it." Along with Dr Kumar, a homoeopathic doctor also works there.
"Healthcare is a big issue here, and people have been demanding that the PHC be equipped. But I do not think that was the reason for my defeat," said Sahu when asked whether he lost the election due to the poor condition of the PHC.
Elaborating further, he said the PHC building was a private property with a monthly rent of Rs 1. Consequently, even the government could not do anything to improve its condition. It took me almost a year to make it a non-rental property and hand it over to the government."
Sahu informed that the health department was in the process of initiating repair works. "I have been in contact with the authorities concerned earlier. Though I am not the chairman now, I am from the Bharatiya Janata Party, which is in power in the state. I will continue to make efforts to make the PHC facilities better," he said.
District Chief Medical Officer Dr DK Tripathi was aware of the condition of Koiripur PHC, but did not comment on the timeframe for repairs or the expenses involved. "The building needs reconstruction. We have asked the junior engineer concerned to make an estimate. I cannot say how long it will take to resolve the issue," Tripathi said. Meanwhile, Sahu estimated that around Rs 1 crore would be required to repair and equip the PHC with necessary medical facilities.  
Few and far
At present, the people of Koiripur have no choice but to visit Chanda CHC for medical care. Many try to avoid treatment as expenses are high. Mithailal has been facing respiratory issues for the last three years but has visited the CHC only twice. Neither did he think about getting better treatment elsewhere as he could not afford the medical expenses.
"The doctor at the CHC suggested medicines for 10 days. It should have been given free of cost to the patients, but there was no stock. When I went to a private pharmacy, I found the medicine would cost Rs 3,000 for 10 days. It was not at all affordable. So, I ended up consulting a local doctor (quack), who suggested a medicine costing Rs 500 to 700 a month," he said.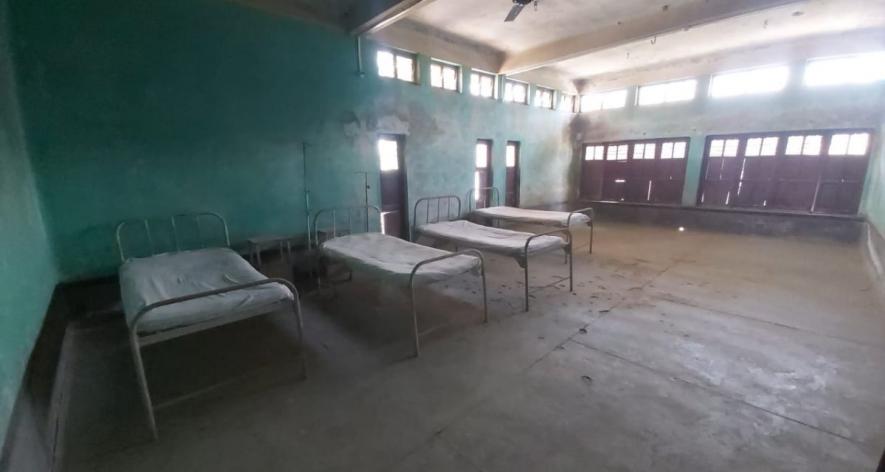 Mithailal does not breathe normally and cannot stand for 10 to 15 minutes as his legs shake. "I have not been working for the last three years. My sons are in their early twenties; they do earn a little through construction labour. Both could study only up to class 8," he lamented. 
Saroj Kumari did not follow the treatment suggested by the doctor at the CHC when she learnt that the medicine would cost Rs 700 a week. "My son had mucus build-up in his throat. The PHC doctor referred us to the CHC, where medicines were not available at the pharmacy. Since I did not have Rs 700 to buy medicine from outside, we avoided treatment."
"We are seven members in the family and there is only one breadwinner," added Saroj, whose son Tirbahavan Kumar (21) seemed weak and malnourished.
If private pharmacies are not affordable, how can private hospitals be? Rauchi claimed her grandson was admitted in the private hospital in Chanda for three days, and the bill came to Rs 16,000. "For us, having this much money at once is a luxury in itself. What my husband and son earn is barely sufficient to put food on the table for all seven in our family. We had no option but to borrow money. We do not know when we will repay it," exclaimed Rauchi.
Asked why they did not visit the district hospital in Sultanpur, she said it was 40 km away and would involve similar expenses. "Admitting the baby in the district hospital means we have to arrange accommodation for three to four days. We also have to buy food thrice a day. We have children at home too."  
Pinning hopes on the new chairman Raeen, Rauchi said, "We have high expectations from him. He was once in that post, and he did a lot for us."  
Meanwhile, Raeen said he had raised the PHC issue during the poll campaign. "Now that people have elected me, my foremost priority will be to get the PHC fully functional. I will talk to the authorities concerned and request them to expedite the process."  
(Bilal A Khan is a Sultanpur-based freelance journalist and a member of 101Reporters, a pan-India network of grassroots reporters
Get the latest reports & analysis with people's perspective on Protests, movements & deep analytical videos, discussions of the current affairs in your Telegram app. Subscribe to NewsClick's Telegram channel & get Real-Time updates on stories, as they get published on our website.
Subscribe Newsclick On Telegram