The Climate Cloud and a Thin Silver Lining
As many as 45 countries, among them 24 high-emission nations, announced additional cuts than those in their PA commitments by 2030, either at the summit, or over the past few months, despite the sharp economic downturn precipitated by COVID-19.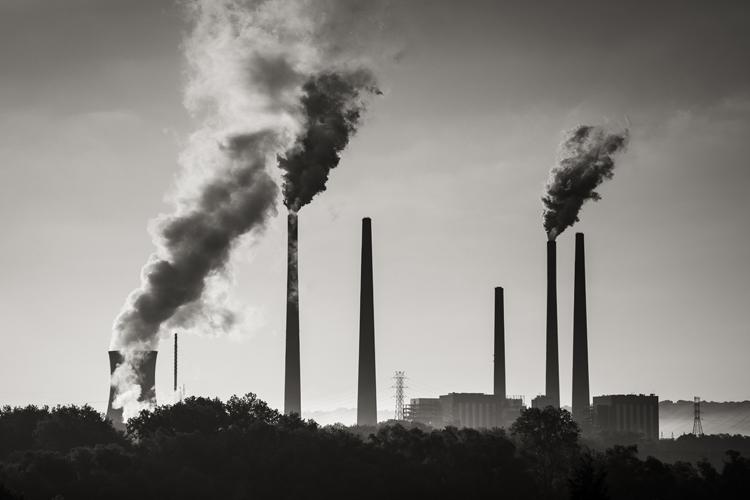 On December 12, the virtual 'Climate Ambition Summit 2000', attended by around 70 government leaders was held on the fifth anniversary of the Paris Agreement (PA). The summit, organized by the UN, France and the UK, was expected to push governments to declare deeper emission cuts than their commitments under the PA in the lead up to the next Conference of Parties (COP 26) in Glasgow next December.
The good news is that as many as 45 countries, among them 24 high-emission nations, announced additional cuts than those in their PA commitments by 2030, either at the summit, or over the past few months, despite the sharp economic downturn precipitated by the COVID-19 pandemic. This reveals the greater political and public support in many parts of the world for a more urgent and sharper response to the threat of climate change.
Many countries committed to achieving net-zero emissions – greenhouse gases being equal to their absorption in sinks like forests, land, water bodies etc or by other means –  by 2050, or a little later. This is in line with scientific estimates that, in order to meet the global goal of keeping average temperature rise to under two degrees centigrade by the year 2100, global emissions need to be reduced by 50% by 2030 and reach net-zero by 2050. 
Major Declarations
Net-zero commitments were made by many nations, including several low- and middle-income countries such as Barbados, Fiji, Malawi, Nepal and Argentina. Most of the serious impact, however, would be made by net-zero pledges by large emitters such as China, the EU and other high-income countries in Europe and Asia.
In his address to the UN General Assembly in September, President Xi Jinping repeated China's (the world's largest emitter) commitment of China to net-zero emissions by 2060. China also stepped up other NDC targets by pledging to cut emissions intensity (EI) or emissions per unit of GDP by 65%, and to add 1,200 Gigawatts of (1 GW = 1000 MW) installed capacity of solar and wind energy by 2030.
The EU, the world's third largest emitter, promised to cut emissions by 55% compared to 1990 levels by 2030, up from its PA commitment of 40%, widely seen as highly inadequate. The EU Commission laid out a blueprint in September this year for achieving this target, including renewable energy (RE) generation capacity of 66% from 40% at the moment and reducing fossil-fuel generation capacity to 20% from the 34% it is at now, involving the annual investment of 350 billion euros in energy, about 30% of the EU long-term budget being spent on climate-related actions, and financial assistance to coal-dependent Poland.
The UK announced an even higher target of reducing GHG emissions, by 68% below 1990 levels by 2030. The UK's Business, Industry and Energy Minister Alok Sharma as "co-host" and Chair of COP-26, while appreciating the raised levels of ambition at the summit, called for commitments of even deeper cuts at COP-26. In his speech, PM Boris Johnson declared the UK would become the "Saudi Arabia of wind power," sufficient to "power all homes in the UK," and was home to aggressive effort for hydrogen power.
Japan, South Korea, Canada and South Africa also committed to being net-zero by 2050, even though Canada and South Africa have a mixed track record in sticking to commitments and emissions higher than their per capita "fair share." 
In any case, with this, a total of 127 countries accounting for 63% of global emissions have either committed to, or are actively considering, net-zero targets. But this is only half the story, as we shall see further below.
US and Other Laggards
The big unspoken hope around the summit is the likelier, more positive role of the US under the incoming Biden-Harris administration, which has promised to rejoin the PA "on the first day." Biden has often emphasised that climate action would be a significant part of his agenda, and had promised a $1.7 trillion clean energy plan, an electricity grid free of fossil fuel energy by 2035, and a major push for electric vehicles. Importantly, he too has put forward a target of taking the US to net-zero emissions by 2050. 
This is certainly an advance over its PA NDC aim to strive for 80% reduction of emissions by 2050 (baseline unspecified but likely to be 2005) and its pathetic commitment to cut emissions by between 26% to 28% by 2025 compared to 2005 levels (as against the 1990 baseline adopted by the EU and most other developed countries), which effectively amounted to a mere nine to eleven per cent reduction from 1990 levels as compared to the EU's 40%.
A formal upward revision may present domestic political challenges to Biden-Harris due to a likely Republican majority in the Senate; higher emission reductions should not be difficult to achieve as seen during the Obama years via regulatory measures and executive orders, as well as substantial mitigation action by several states and cities. Several states in the US adopting "green growth" policies have also shown higher growth and employment rates, encouraging others.  
While enhanced emission cuts under a Biden-Harris administration would take the world closer to the two degree goal, its larger significance may lie in other laggards no longer having the powerful climate-denying influence of the US to hide behind. There is also the faint hope that the US may resume at least some part of its Obama-era climate financing pledge of three billion dollars, which many LDCs and island nations were relying on.
Some major laggards are still active though. Besides Russia and Saudi Arabia, there is Brazil under the right-wing Jair Bolsonaro, under whose rule huge tracts of the Amazon rain-forest has been mercilessly cleared for plantations. Another outlier is the conservative government of Australia, which was denied a speaking position at the Virtual Summit because it offered no advance over its poor PA NDC emission cuts.
Global Goal Nearer or a Mirage?
The UN Environmental Programme's authoritative Emissions Gap Report 2020 released in September this year, estimates that its PA projection of an end-century temperature rise of 3.5 degrees centigrade may have come down to around 2.9 degrees C. 
Another somewhat more optimistic projection comes from the reputed Climate Action Tracker. In November, it had estimated the temperature rise in 2100 to be about 2.6 degrees C. After the Virtual Summit, CAT has revised this down to 2.1 degrees C, within touching distance of the two degrees C global goal, although still far away from the aspirational 1.5 degrees C. Since EGR and CAT use slightly different methodologies, if the CAT projection were normalised to the EGR methodology, CAT's projection for 2100 would be 2.3 degrees C. 
These studies show that the downward trend of emissions has improved since the PA NDCs, largely because countries had performed better or, to put it another way, nations had submitted more modest NDCs than they were actually capable of.
However, the much harder challenge now is to get countries, especially the US and other developed nations, to re-align their medium-term 2030 emissions reduction goals with the 2050 net-zero target. If deep emission cuts are not spelled out now, achieving net-zero by 2050 would require a much sharper drop in emissions after 2030, at higher costs which countries might back out from. Without this, the net-zero 2050 or similar medium-term goals would remain distant dreams with few realistic policy drivers or action programmes. 
India's stand
India was probably lucky to escape Australia's fate since the PM's speech contained few concrete enhanced commitments over and above its PA NDC. In fact, Modi's speech reflected underwhelming achievement or under performance on important NDC targets and a vague promise to expand renewable energy (RE) installed capacity to 450GW from its current target of 175GW by 2022. 
The PM noted that India has reduced its Emissions Intensity (EI) by 21% since 2005, compared to India's NDC promise of between 33% to 35% EI reduction by 2030, roughly at 1.4% per year. At this rate, India would just about reach its target by 2030. However, India's NDC submitted in 2015 had stated that EI had fallen by 12.5% between 2005 and 2010, or at about 2.5% per year, indicating both a weaker GDP growth and a slower emissions decline in recent years.
India's NDC had adopted the BJP government's earlier promise of 175 GW of RE, of which 100GW was to be solar, by 2022. The PM's speech notes that India has now reached only 36GW of RE, which is far short of its commitment. Given the slowdown in new Solar Energy capacity after an initial spurt, the PM's claim of achieving 450 GW by 2030 appears boastful and without foundation.
The PM's other claim of making good progress on the NDC target of increasing forest cover to 33%, from the present about 24%, is also not supported by robust evidence. This is partly because the Government has often used the ruse of speaking of "forest/tree cover," including tree plantation along highways etc, even though a bunch of trees does not make a forest and also does not provide the ecological services a forest does such as soil and water conservation, biodiversity, fuel, fodder and other life and livelihood support. With the Government now systematically ignoring Environment Impact Assessments and going on a reckless spree of granting mining, industrial and infrastructure projects in forest areas, the claim of improved forest cover calls for deep scrutiny. 
Critiques of India's NDC and broader approach to domestic climate policy, including in these columns, have often pointed to the huge limitations of restricting low-carbon trajectories to only RE and green cover. Many opportunities, which could yield not only mitigation, but also benefits in other economic, environmental and social dimensions, are being missed. Mass public transport, especially electrically-powered, would not only reduce emissions but also reduce air pollution and provide greater access for low-income groups. Similarly, re-designed urban spaces to encourage pedestrianisation and non-motorised transport, scientific treatment of both solid and liquid municipal wastes, green construction including in residential building and so on would bring multiple benefits. Further, not even small beginnings have been made in the huge challenges of adaptation and climate resilience, such as in urban flooding, sea-level rise and coastal erosion, and agriculture, which will only cost more the later they are undertaken.  
India needs to seriously work out and put in place very different equitable low-carbon development pathways, not just for consumption of the international community, but for the sake of our own people and their future well-being.  
Get the latest reports & analysis with people's perspective on Protests, movements & deep analytical videos, discussions of the current affairs in your Telegram app. Subscribe to NewsClick's Telegram channel & get Real-Time updates on stories, as they get published on our website.
Subscribe Newsclick On Telegram