Why Farmers in 6 Maharashtra Villages Ditched High-yielding Varieties for Native Paddy
They sourced 23 indigenous seeds during the COVID-19 period, formed six SHGs that would cultivate and market five to six of these varieties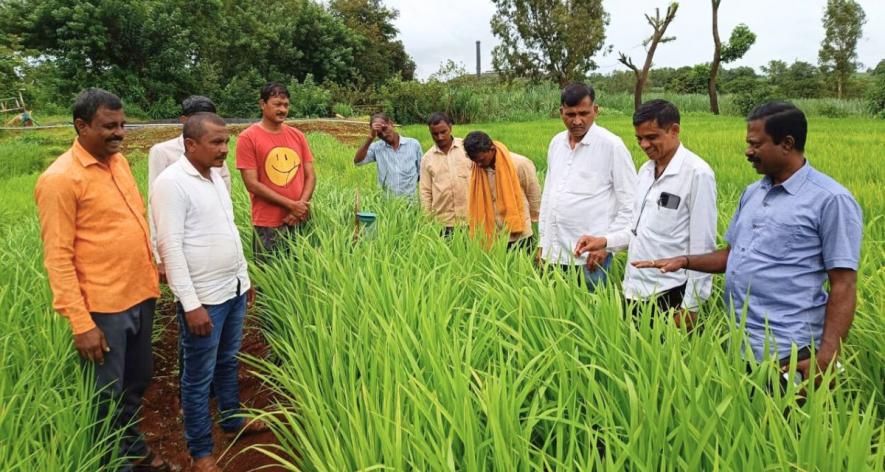 Sangli, Maharashtra: "We have cultivated high-yielding varieties [HYVs] for decades, but now grow only folk rice varieties," says farmer Dhanaji Patil (29) of Patwarun village in Sangli's Shirala taluka, off the State Highway 58. "Grown organically, the folk varieties have not only given us good yields but also assured us good returns," he adds.
Patil began to grow 11 desi baan (folk varieties) in a three-acre plot at the peak of the second wave of COVID-19 outbreak. Soon, others joined in. At present, rice growers spread in six villages of the taluka – five km from Chandoli National Park – grow only folk varieties.
"We collectively grow 23 varieties during the kharif season. Some are scented, and the rest have nutritional and medicinal properties," says Sujay Deshpande (37), a farmer from Arla village growing Gobindobhog on 30 gunthas (0.75 acre) for three years now with a yield of 22 to 23 quintals per year.
Most paddy cultivators in Sangli limit themselves to growing at most two to three varieties, of which HYV rice, namely Indrayani, Sonam and Kolam, are preferred, followed by Tulas, Bakasul, Varangala, Jondhala Jirga, Tak Pandhar, Masad Bhat and Shirala Jada — all indigenous varieties grown mainly for self-consumption.
Shirala taluka was once home to 45 native rice varieties, of which Jirasal and Tamsal have become extinct. Besides being a part of the staple diet, they were used to prepare bhakri (rice chapati), poha (beaten rice), phuglela bhat (puffed rice), tandulacha kheer (sweetened rice) and murmure (rice bubbles).
Folk varieties, adapted to local ecologies over centuries, have proven hardier against pests and droughts, unlike modern varieties designed for intensive agriculture and large doses of chemical fertilisers. In fact, in 2012, two researchers from Kolhapur-based DAB Naik Arts and Science College identified nine native varieties still grown in the villages of Shirala.
"Over the years and lured by HYVs, farmers have confined themselves to a handful of races and ceased cultivating folk or local varieties due to poor yield and lesser market demand, despite the scarce inputs needed to grow them," Sudhir Mahajan, Assistant Professor of Plant Pathology, Dr Panjabrao Deshmukh Krishi Vidyapeeth, Akola, tells 101Reporters. "But farmers in Shirala are now bucking the trend with the folk varieties spread over 200 acres and involving over 2,000 households."
Humble beginnings
When paddy seeds and chemical fertilisers were scarce during the second wave of COVID-19, the Sangli district agriculture department officials held a series of meetings with farmers elaborating on the benefits of growing indigenous varieties by adopting organic methods. At the end of the three months, farmers spread over six villages decided to embrace the folk varieties. "Growing native varieties was new for us. We took up the challenge because these varieties are nutritionally rich and can be grown with fewer inputs," Deshpande informs.
A lot has been written about the nutritional benefits of folk varieties. Antioxidant-rich Gobindobhog helps boost metabolism, keeps digestion smooth and supports good health. Rich in anthocyanin, Kala Namak rice contains 11% protein, which is almost double that of common rice varieties and has a low Glycemic Index (49% to 52%). Considered the first food for babies, Ghansal nourishes body tissues and is easy to digest. The Shashtika Shali rice has proved its efficacy against muscular and neurological disorders.
At present, farmer groups with 15 members each grow five to six varieties in plots ranging from 20 gunthas to three acres each. Besides paddy, they continue to grow sugarcane, millets and pulses. They have adopted cultivation techniques such as the System of Rice Intensification (SRI) and the Saguna Regenerative Technique (SRT).
The SRI uses fewer resources and reduces environmental impacts while increasing rice yield. The SRT is a zero-till method for cultivating rice and other rotation crops without ploughing, puddling or transplanting.
"A lot of logistics were involved. It took us close to three months to collect the native seeds. By the time sowing season dawned in June 2021, we had collected 23 varieties," Shirala's Agriculture Supervisor Ganesh Kshirsagar tells 101Reporters. He had motivated the farmers to take up cultivation of indigenous varieties and guided them through the entire process — from sourcing paddy seeds to marketing the harvest.
Elaborating on the process, he adds, "Kala Namak, a scented black rice variety, came from Uttar Pradesh's Siddharth University. Also known as Buddha Rice, legend has it that Lord Buddha gifted the variety to the locals during his visit to Kapilavastu. We sourced Gobindobhog from Bardhaman in West Bengal, Champakali from Manipur, and Raktashali and Shashtika Shali from Kolhapur's Kaneri Math."
The GI-certified Ghansal also came from Kolhapur and Ambemohor from Maval in Pune, he says. "The improved rice varieties, Ratna 7 is from Dr Balasaheb Sawant Konkan Krishi Vidyapeeth and Madhuraj 55 is from Raipur-based Indira Gandhi Krishi Viswavidyalaya. We added nine local varieties to the list, which are grown by a handful of farmers."
Besides having medicinal and nutritional properties, they also possess several stress-tolerant properties, which act as positive factors in the retention of rice landraces in the face of increasing propaganda for cultivating HYVs. Traditional rice varieties, therefore, represent important genetic reservoirs with valuable traits.
The participating farmers were introduced to organic agronomic practices popularised by Maharashtra's agriculturists Subhash Palekar, PV Jadhav and Haridas Kousdikar. "We were instructed on making non-chemical fertiliser with composted cow dung and urine as its base. Also, we were taught the basics of vermicomposting and provided with earthworms," says Deshpande.
From SHGs to Own Brand
Six farmers' self-help groups (SHGs) have been formed to market the produce under the brand name Chirayu Healthstop. "We pool our resources. Be it preparing the field, sowing, harvesting the crop or removing the weeds, everything is done jointly. We do not hire any labour, which brings down our costs," says Deshpande.
The first-of-its-kind rice festival was held in Patwarun village during the rabi season in December 2021. Two tonnes (20 quintals) of rice were sold at prices ranging between Rs 4,500 and Rs 10,000 per quintal, unlike in the past when HYVs like Sonam and Kolam fetched Rs 1,200 to Rs 1,500 per quintal.
The cost of growing HYVs is between Rs 5,000 to Rs 6,000 per acre, while it is between Rs 2,500 to Rs 3,000 per acre for native varieties. While the native varieties mature between 120 and 145 days and yield 30 quintals per acre, the HYVs are short-duration, harvested within 90 days, and yielding a maximum of 40 quintals per acre.
Purchasing new seeds each year is not mandatory for native varieties or open-pollinated ones. Seeds of HYVs cost Rs 30 to Rs 80 per kg, while native varieties are priced between Rs 100 and Rs 150 a kg. Seed companies produce hybrids because they have to be replaced yearly, providing them with business. Moreover, the open-pollinated seeds do not have a significant market size.
In Maharashtra, the market for exclusive hard-to-find varieties such as Ambemohar, Champakali, Ghansal and Jondhala Jirga is growing. Wealthy, health-conscious urbanites living in Mumbai, Pune, Kolhapur, Sangli, Satara, Nagpur and other places are now willing to pay a hefty premium for desi varieties. These forgotten rice varieties —remnants of India's rich agricultural heritage — have become premium food items and are sold in eye-catching packages for Rs 80 to Rs 200 a kg.
As farmers from other districts queue up for native seeds, the endangered and ignored paddy varieties are getting a new lease of life. "We have sold around seven quintals of seeds to farmers belonging to Kolhapur and Satara, and have received queries from Nashik, Nagar, Konkan, Palghar and Vidarbha," says Kshirsagar. "We have reached out to 20 more villages and will share the seeds of native varieties."
The farmers have established a demonstration plot in Arla village, which they address as a "beej sangrahalya", i.e. seed museum, for it has all 23 varieties growing on a 20-guntha plot.
Hailing the role played by the farmers in bringing extant native varieties to the dining table, Kshirsagar adds, "Their efforts provide us with the opportunity to tap into its germplasm to develop new varieties that can mitigate climate change and address issues like erratic increase/decrease in temperature and humidity, resulting in the appearance of new pests and diseases."
(Hiren Kumar Bose is a Maharashtra-based freelance journalist and a member of 101Reporters, a pan-India network of grassroots reporters.)
Get the latest reports & analysis with people's perspective on Protests, movements & deep analytical videos, discussions of the current affairs in your Telegram app. Subscribe to NewsClick's Telegram channel & get Real-Time updates on stories, as they get published on our website.
Subscribe Newsclick On Telegram