'Prisoner of Conscience': Committee for G N Saibaba's Defence Seeks His Immediate Release
The committee stressed on Saibaba's failing health and paucity of information regarding his medical condition from the jail as grounds for his immediate release.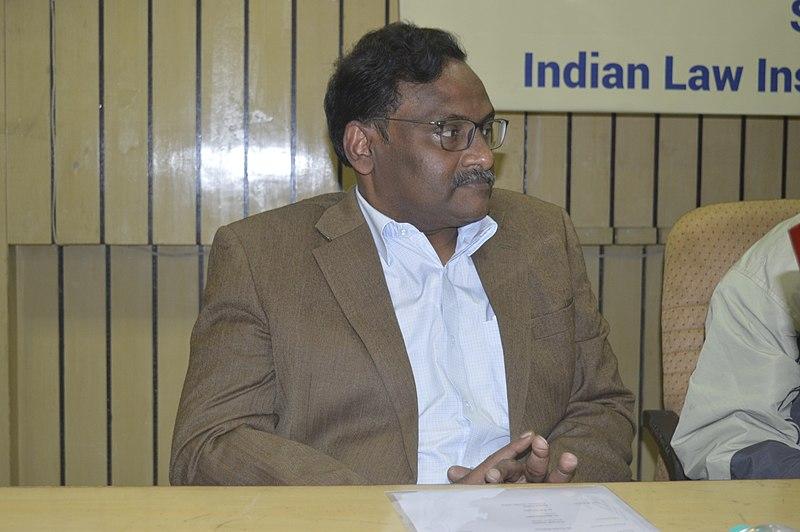 Image Courtesy: Wikimedia Commons
Last month when former Delhi University (DU) Professor G N Saibaba tested positive for COVID-19, he was not released or even granted parole on medical grounds in keeping with his declining health amid demands for his release. Almost a month later, once again, the Committee for Defence and Release of Prof. G.N Saibaba has sought his immediate release from Nagpur Central Prison citing his deteriorating medical condition with his blood pressure dropping to "dangerous levels".
"When people like Pragya Thakur and Babu Bajrangi can get bail on medical grounds, why my husband, who is 90 per cent disabled not being granted bail? Why is the state afraid of a disabled man?," asked Vasantha Kumari, wife of the wheel chair bound Professor convicted for alleged Maoist links.
The Committee comprised of writer Arundhati Roy, advocate Prashant Bhushan, filmmaker Sanjay Kak, Communist Party of India leader D Raja, Muralidharan from the National Platform for the Rights of the Disabled (NPRD), and professor Parminder Singh from the Association for Democratic Rights (ADR). They stressed on Saibaba's failing health and paucity of information regarding his medical condition from the jail as grounds for his immediate release.
Underlining that his party has been consistently demanding the jailed professors release, CPI leader D Raja said, "They are not afraid of his body, they are afraid of his brain. They are afraid of the people raised by Saibaba."
Speaking on the incarceration of the wheel-bound professor, Advocate Prashant Bhushan said that Saibaba's crime was that he raised questions. "He has been relentlessly raising questions about the actions and policies of the government," Bhushan said, adding that there are "no charges of terror or violent activity against him" except for his association to a banned organisation.
Calling him a "comrade," Roy said that "every day something irreversible is happening to his body".
"This man, a personal friend of mine, a comrade of mine, is being tortured in judicial custody. He is so grievously physically challenged. Every single day something irreversible is happening to his body. This is not a life sentence for a normal being. This is every day slowly, slowly taking something away from him."
Commenting on the political situation of the country, the writer said that it is "pathology and not politics."
"An alternate reality has been created. A mythological character has been built called Narendra Modi who is trying to become a godman. The nation is hypnotised and we can't let it happen. All our best activists are in the jail, even Saibaba's lawyer. Whosoever speaks for Saibaba is the next one in line."
In its statement, the Committee said, "It is crucial that Dr. Saibaba be examined for all his medical issues at the earliest, particularly for the impact of the COVID-19 on his brain and internal organs, at a hospital with adequate facilities to treat a person with such co-morbidities. His immediate family should be allowed to access and provide assistance to him… Furthermore, the jail authorities should be directed to provide his medical records to the family to ensure appropriate treatment is provided to him at the earliest."
Describing the treatment meted out to Saibaba as "torture, indignity and cruelty," NPRD's Muralidharan said, "Disability is not a disease, it is a condition. Even if the government wants us to believe that it is a disease, they are acknowledging that disabled people are more vulnerable. Then why are they not releasing Saibaba?"
As per the United Nations Convention on the Rights of People with Disability, of which India is also a signatory, the ongoing treatment of Saibaba in the prison constitutes torture,  Muralidharan said.
Calling him a "prisoner of conscience," filmmaker Sanjay Kak said, "Through Saibaba, the state is trying to send out a message that those who speak of people's right will be punished similarly."
Appealing everyone to get together to defend the rights of people, Prof. Singh said, "Today is the time to defend the rights of Indian people. We need to raise our voice against BJP for incarcerating those who stand by the people of this country."
Get the latest reports & analysis with people's perspective on Protests, movements & deep analytical videos, discussions of the current affairs in your Telegram app. Subscribe to NewsClick's Telegram channel & get Real-Time updates on stories, as they get published on our website.
Subscribe Newsclick On Telegram