Monsoon Anomalies Impacting India's Growth
Localised extreme rainfall events and displayed variability in patterns of rainfall dispersal are likely to increase in future, assessments warn.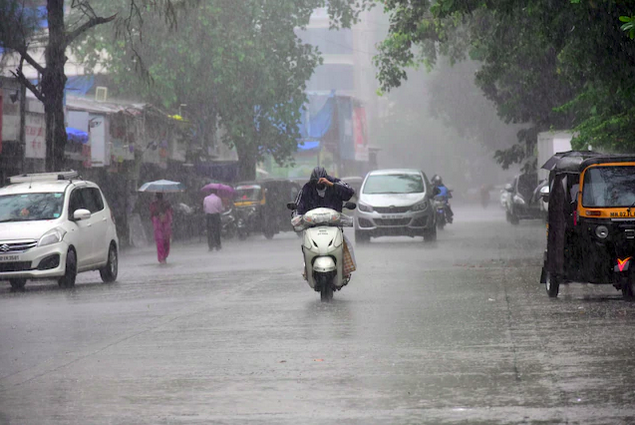 Image Courtesy: Business Standard
Monsoon has been the centre of discussions for scientists and experts from the very start of the current season. Its erratic behaviour is coming to the fore. As it was predicted by meteorologists, the monsoon made a promising start on May 29, though on a weak note, it somehow got better by June 10. Still, the gap made has put it behind schedule. It has registered a high rainfall deficiency, despite swaying over the eastern part of India.
Dr RK Jenamani, Senior Scientist, National Weather Forecast Division, India Meteorological Department (IMD), said, "Easterly winds, which are responsible for bridging onsoon rains, have been completely absent so far in June. We are witnessing southwesterly winds, which have taken rains from Odisha, West Bengal and Jharkhand to Northeast India. We are not expecting easterly winds for the next 4-5 days as well, which is a cause of worry for the northern region."
He further added that the intensity and duration of extreme weather events are increasing on account of climate change. "What happened in Northeast India is an example of the same. Monsoon rainfall variability is very high as we can see that northwestern plains, along with central and southern states, are in deficit by large margins, while northeastern regions are in large surplus," he added.
If we take into account the monsoon trend, the number of dry days has increased in comparison to the rainy days during the four-month-long season. Top of it all, the extreme weather events have increased.
Although, in the last three years (2019-2021), India has recorded normal to above-average rainfall, variability in the dispersal of monsoon rains has been ever high. This year's monsoon is also expected to bring normal rainfall, but it is the spatial distribution of rains which will be keenly observed.
If we closely look at the way extremely heavy rainfall events occurred over the last two monsoon periods, which may give the perception that India's summer monsoon rainfall has increased, but it has, in fact, decreased by 6%. Such localised extreme rainfall events and displayed variability in patterns of rainfall dispersal are likely to increase in future, the assessments warn.
According to India Meteorological Department (IMD), India recorded 870 mm of rainfall, against a long period average (LPA; 1961-2010) of 880 mm by September end of the 2021 monsoon season.
The incidence of localised extremely heavy rainfall events in July and September last year, especially on the western coast, was among the highest in the past five years. Hundreds had died in floods triggered by extreme rain in Maharashtra in July and in Gujarat in September. A cloud burst on October 9 and flooded the twin cities of Hyderabad and Secunderabad in two hours. Cyclones like Tauktae and Gulab, which bookended the summer monsoon in 2021, have increased and are set to increase further, according to a report published in IndiaSpend last year.
It must be noted, as of October 8 last year, the Indian Institute of Technology's Drought Monitor showed high levels of drought over most of the North East and parts of the Indo-Gangetic plain.
The climate change assessments claim that such uncertainties in the monsoon will only increase, which also projected that climate change will lead to an increase in overall monsoon rainfall by the end of this century. The monsoon trends have stipulated that these projected increases in the variability of rainfall patterns and extreme rainfall events have already begun.
Argha Banerjee, Glaciologist, Earth and Climate Science, Indian Institute of Science Education and Research-Pune, said, "Majority of the snow over the glaciers is brought by the monsoon season. Snow is the only source for nourishing the glaciers. It has been established that because of higher temperatures due to climate change and global warming, we see more rain than snow. If there is less snowfall, there will be less accumulation of snow over the glaciers. Also, in the absence of precipitation, the spring melting season is also likely to begin early. Glaciers would be exposed to solar radiation quite early in the season, which tends to melt at a much faster rate on account of already high temperatures. And, this melting season would also be a prolonged one."
The 6th Assessment report of the Intergovernmental Panel on Climate Change's Working Group pointed out, "There has been a noticeable declining trend in rainfall with monsoon deficits occurring with higher frequency in different regions in South Asia. Concurrently the frequency of heavy precipitation events has increased over India while the frequency of moderate rain events has decreased since 1950."
The IPCC's assessment also projected increased monsoon rainfall and intensifying monsoon extremes in India and South Asia towards the end of the 21st century. Even a 0.5-degree centigrade increase in warming would imply increased precipitation of 3%, it said.
Adaptation and creating climate-resilient policy are the need of the hour. With the world set to get hotter, monsoon variability will be higher in the coming times, resulting in more socio-economic impacts.
Dr Anjal Prakash, Research Director, Bharti Institute of Public Policy, Indian School of Business and Lead Author for the IPCC WGII report, said, "The problem is so huge, and the response of the government is minuscule and fragmented. There are enough policies, but the information is not reaching people. They are adapting on their own, whether it is adaptation or maladaptation. We need a separate ministry for climate change. The new age information available and skills required to combat climate change are not available in the current set up of the ministry where climate change is one of 20 departments."
Estimates show that more than $ 89.7 billion could have been saved if India had better preparedness and good adaptive capacity. Similarly, 60-70% of the infrastructure is also at risk, and that is a big problem in India's aim to become a $ 5 trillion economy. The International Energy Agency estimated that 80% of the country's infrastructure will be built by 2030, leaving scope for India to integrate resilience and save on damages from climate-related disasters.
Abinash Mohanty, programme lead, Risks & Adaptation, Council for Energy Environment & Water, said, "Agriculture will be impacted as we fail to ready our adaptive capacity, but the other soft sectors will also be impacted. A 1% change in monsoon rainfall will result in a 0.34% change in India's agriculture-driven GDP that year. A normal monsoon can increase GDP from the transport, storage, trade and communication sectors by 1% and 3% in the agri-dominated states. Our electricity generation can decrease by 13% in case of weakened monsoon."
He said that hydroelectric power, which constitutes 40% of the power sources, would also be impacted. These figures present the grim situation and remind us that we need to build resilience through systems, technology and financial innovations. "System innovations can help improve the state's capacity to predict, prepare and respond to extreme events. Our approach needs to be changed from relief centric to response centric. This will only happen when we provide granular climate information that can inform a farmer on the impact it will have on crops and the steps that need to be taken in the short, medium and long term," he said while advising that in order to mitigate the problem at a policy level, our disaster or climate action plans must include nature-based solutions so that we can tackle hazards which can restrict our ecosystem from being damaged.
Climate change triggered alterations in the sowing windows, and, in some cases, farmers are replacing traditional yields with cash crops. In the absence of adequate rain but increased humidity due to global warming, there is an increase in the number of crop diseases and different types of pests.
"Country is only concerned about production level, but we should also see farmer welfare in terms of income and their food security. There is a need for an adequate policy approach so that we do not end up victimising the farmers," said Devinder Sharma, Agriculture Trade policy analyst.
"War between Russia and Ukraine has given us a clear message, becoming food self-sufficient is the priority for every country. Monsoon deficiency is further going to increase pressure on food prices going up, which are already high. We need to build capacity to produce rather than worrying about the food security chains." He said, adding, "There is a need for climate-smart technology, but it should be in sync with agriculture which accounts for one-third of greenhouse gas emissions. We need to assess what could be the best fit for climate resilience. Disaster relief is a major component we need to work on with extreme weather events on the rise."
Get the latest reports & analysis with people's perspective on Protests, movements & deep analytical videos, discussions of the current affairs in your Telegram app. Subscribe to NewsClick's Telegram channel & get Real-Time updates on stories, as they get published on our website.
Subscribe Newsclick On Telegram