UP: 10 Farmers Sent to Jail, 20 Booked for Stubble Burning, Rs 1 Lakh Fine Collected
Farmers alleged the government was covering up own lapses, question why no industry or owner has been booked for contributing to air pollution.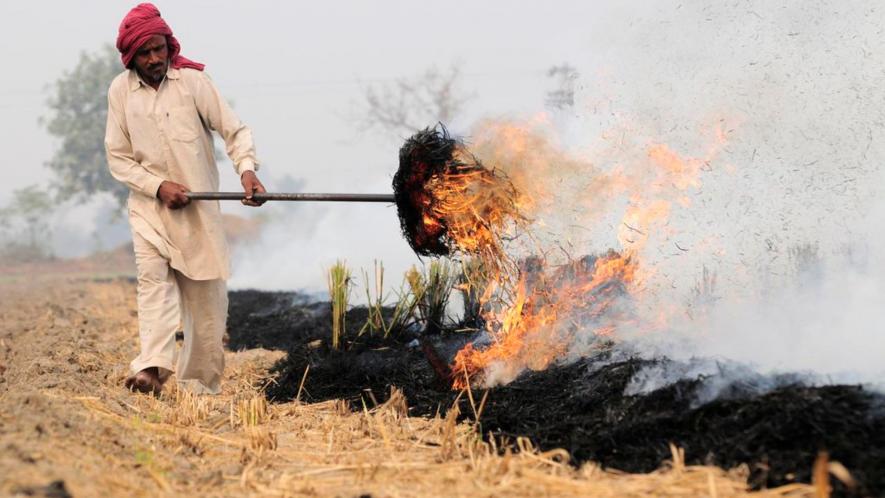 Representational Image. Image Courtesy: Flickr
Lucknow: The Maharajganj district authorities in Uttar Pradesh tightened the noose around farmers by sending 10 farmers to jail and taking action against 28 farmers for burning crop residue or stubble (parali) in their agricultural fields, suspending three lekhpals for their failure to check stubble burning that was causing air pollution, district administration officials said on Tuesday. A fine of Rs 1 lakh has also been collected from the farmers so far.
The farmers alleged that they were not burning stubble and the district authorities, in order to cover up their lapses, had sent them to jail, while the district magistrate said that none would be spared for violating the norms.
According to officials, the burning of stubble in the district is being closely monitored by the district administration.
"Despite repeated requests and awareness, farmers are burning stubble in Maharajganj. Therefore, we took action against farmers found burning stubble. At least 10 farmers were arrested and more than 20 booked for violating Supreme Court guidelines. We have constituted a committee to monitor satellite pictures and monitor farmers. Anyone found guilty will be punished as per law," SDM (sub-divisional magistrate) Ramesh Kumar told NewsClick, adding that action was taken against farmers on the basis of evidence. 
The district magistrate has suspended three lekhpals, ordered departmental inquiry against several other lekhpals and served showcause notices to others lekhpals. Besides, a police sub-inspector and two police constables have been sent to the police lines and the district magistrate himself is visiting the stubble burning-prone areas and asking the farmers not to burn their agriculture waste.
"There is a clear order of the Supreme Court against burning of stubble and the government has also issued various instructions in this regard from time to time. The administration has also made arrangements to transport the stubble to the cow sheds. Despite this, many people are clearly violating the law by burning stubble and polluting the environment. The district administration was forced to take strict action," District Magistrate Anunay Jha said, adding that instead of burning the stubble, farmers should collect it on the ridges of their fields or at any public place. Parali can be sent to cow shelters through the village head, he added.
Meanwhile, a first information report (FIR) has been registered against 50 farmers in Maharajganj district and a fine of Rs 5 lakh has been imposed on them. The district authorities have already collected Rs 1 lakh of this fine so far.
Harish, a farmer in Maharajganj, also a member of CPI (ML), who has been mobilising farmers for a protest against the arrests told NewsClick, "Farmers are being unnecessarily defamed over stubble burning issue. Everybody knows that only 8% pollution is caused by agriculture or stubble burning but rest 92% air is being polluted by industry and the government never takes any action against any industry or businessmen because farmers are poor and an easy target."
"The same promptness with which the government is taking action against farmers regarding stubble burning, should have been taken on paddy procurement as well, against those not buying paddy as per rate fixed by the government. The price of Rs 2,160 per quintal has been fixed for paddy but farmers are being forced to sell at Rs 1,600 per quintal, a loss of Rs 550 per quintal. But who cares?" he added.
Harish reminded the authorities that the Supreme Court had asked the state government to pay farmers Rs 100/quintal to dispose of stubble.
Another farmer told NewsClick: "What are the options left farmers if not burning crop residue? The government and administration should provide an adequate number of machines for stubble management, otherwise farmers will be forced to burn the stubble. The Rs 2,500 fine slapped by the administration is cheaper than a machine. The government should understand that farmers cannot afford to buy stubble removal machines."
Last month, three farmers, including the farm owner, were arrested and 15 others from four villages in Bulandshahr district were booked for allegedly contributing to air pollution by burning crop residue. A fine of Rs 2,500 was also slapped on each of the offenders. 
More than 100 cases have been registered against farmers in Bareilly division alone. 
Talking about the cases lodged against farmers, Bharatiya Kisan Union leader Rakesh Tikait said the government cannot control the environment by intimidating farmers, collecting fines or sending them to jail. "The government should explain how paddy can be produced without stubble and how it should be disposed of. If the government buys rice, where will the stubble go? It is the responsibility of the government and scientists to solve this problem. Arresting farmers will not provide any solution or stop air pollution. The government should come up with equipment so that the farmer's field can be emptied and this problem can also be solved," Tikait told NewsClick over phone.
The BKU leader further added, "There is severe pollution in Delhi, there is no stubble burning there, so who is responsible for it? What type of fuel is being used in the industry, the amount of medical waste, rubber, plastic, shoes and slippers, all this is being used in fuel and this is causing more pollution than stubble burning. Where are those waste from hospitals and plastic going? They are doing more harm to air pollution than farmers, but the government won't take any action against industry."  
Read Also: 9 UP Farmers Warned of Freeze on PM-Kisan Samman Nidhi for Burning Stubble
Acting tough on farmers flouting the ban on stubble burning in Uttar Pradesh, the Yogi Adityanath government has warned that it will stop providing benefits of the PM-Kisan Samman Nidhi (PM-KSN) to them.
The agriculture department has also threatened a permanent ban on other facilities provided to such farmers. 
Get the latest reports & analysis with people's perspective on Protests, movements & deep analytical videos, discussions of the current affairs in your Telegram app. Subscribe to NewsClick's Telegram channel & get Real-Time updates on stories, as they get published on our website.
Subscribe Newsclick On Telegram