10 Years After Muzaffarnagar Riots: Muslims Miss Home, Hindus Cheap Labour 
Muslim villagers who fled the violence are reluctant to return due to fear.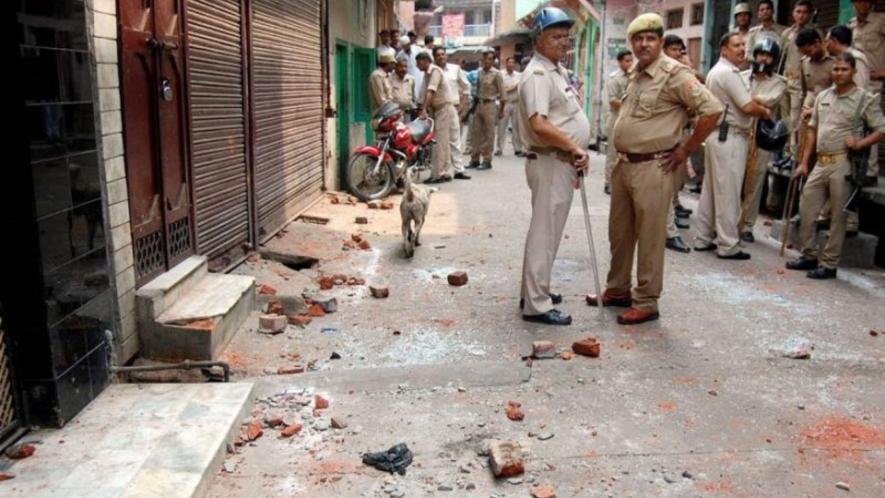 Policemen standing in strret of riot-affected Muzaffarnagar in 2013. Image Courtesy: PTI
Muzaffarnagar/Shamli/New Delhi: Smoke billowing from burnt houses, sobbing faces, helpless people in relief camps, panic in every heart and fear in every eye. It was the aftermath of the communal violence in Muzaffarnagar and surrounding areas of western Uttar Pradesh in August–September 2013. 
Sixty-two people (42 Muslims and 20 Hindus) were killed, around 93 injured and more than 50,000 left homeless in one of the bloodiest communal violence after the 2002 Gujarat riots. 
The Muzaffarnagar riots ruptured the centuries-old mutual trust among people and the communal amity of the region.
The violence was not spontaneous. After the Samajwadi Party dethroned the Bahujan Samaj Party in Uttar Pradesh in 2012, communal tension was building up due to minor and major incidents often in the sugarcane belt, which has a mixed population.
A criminal incident in Kawal village on August 27, 2013, brought this tension to the surface.
Sachin and Gaurav, two Hindu youths from the dominant Jat community, allegedly killed a Muslim youth named Shahnawaz.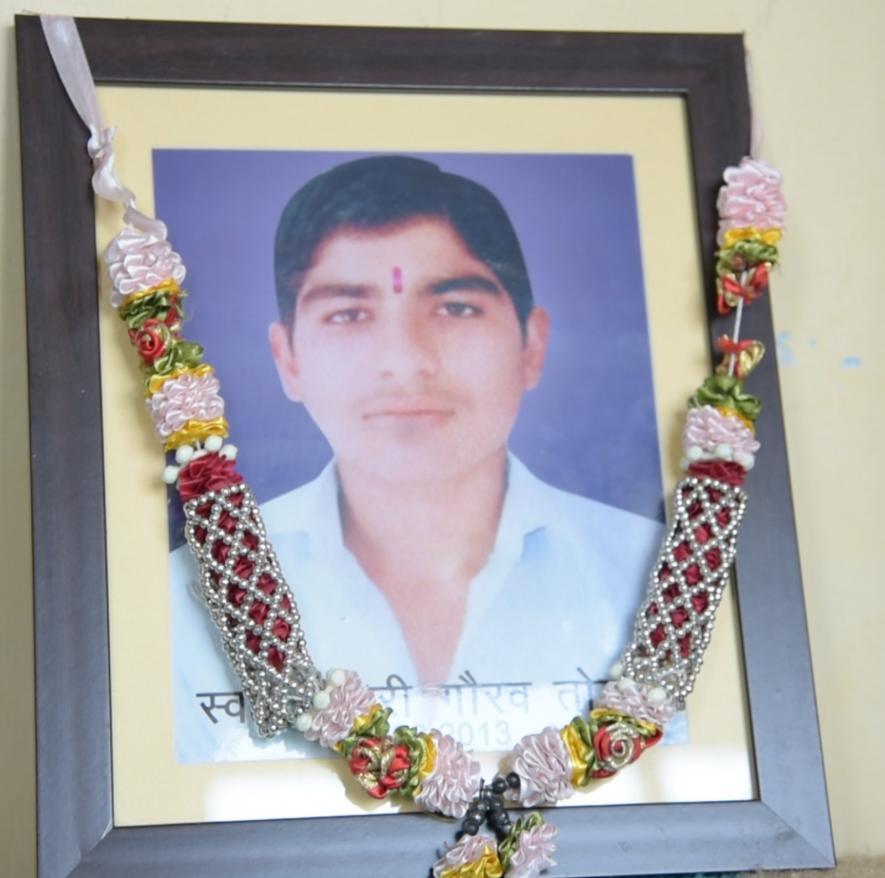 The duo were caught by a mob at the spot and beaten to death. The incident was highlighted as a story of "brothers sacrificing their lives to save the honour of their Hindu sister". It later turned out to be a fake story.
Fake and gory videos of the two youths' "lynching" were made viral on WhatsApp and other social media platforms to incite people.
The FIR filed following the murder of Sachin and Gaurav mentioned that "an altercation after a bicycle-motorbike collision" triggered the gruesome incident. The FIR, registered against their family members for allegedly killing Shahnawaz, further increased the palpable anger of the majority Jats against minority Muslims.
When chief minister Akhilesh Yadav transferred the district magistrate and superintendent of police overnight for failing to prevent the situation's escalation, the Jat community saw it as "unilateral action".
The Jats started uniting. A series of  Panchayats was held. Heated statements were made and provocative slogans raised. Religious frenzy was at its peak and the atmosphere was tense. 
Full-scale violence broke out after a Mahapanchayat was held in Nagla Mandaur village on September 7 with direct conflict between Hindus and Muslims in many villages.
Rumours, distrust and resentment turned the conflict into a major communal riot.
By evening, Muzaffarnagar was burning. The violence spread to villages where Hindus and Muslims lived together for centuries.
The state government had to request the Centre for security forces to control the situation.
When the fire of the riots subsided, several Hindus and Muslims had been killed—more others were killed but are not part of the records.
Thousands of Muslims left everything and fled for their lives, most never returning to their villages.
More than 60 relief camps were set up overnight in Muslim-concentrated settlements. People lived in tents in spine-chilling cold for the next several months. Deaths of children born in the camps started making headlines.
The deaths of people forced to live in extremely inhuman conditions never became part of the official statistics. 
In one of its reports, the Tata Institute of Social Science claimed that, at least, 100 people, including children, died due to the poor living conditions in the relief camps.
DEMOGRAPHICS CHANGED FOREVER
Palda village is just five km from the twin villages of Kutba-Kutbi. But it is difficult for Shamshad and hundreds of others like him to cover this distance. 
His father, grandfather and several generations before him were born in Kutba and are buried there. But, perhaps, Shamshad and Muslims like him who left their homes may no longer get a grave in their ancestral village.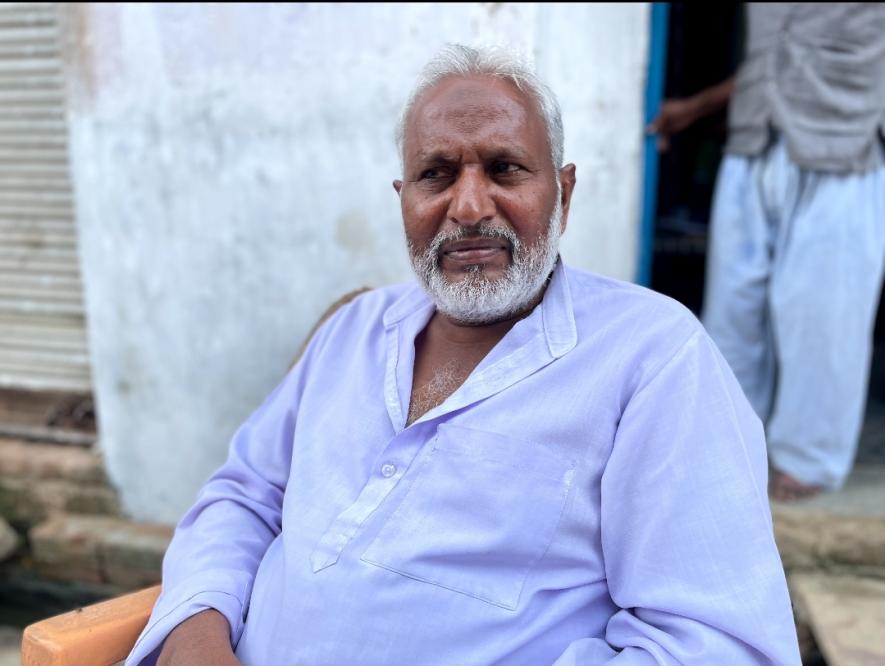 Kutba, home to Union minister Sanjeev Balyan, is one of the most affected villages.
Before the riots, about 2,500 Muslims lived here. Only a deserted mosque and an Eidgah are the remaining symbols of the Muslims who once stayed there.
The village starts from the graveyard with the Eidgah adjacent to it. But it's not easy to spot graves as tall grass and bushes envelop the cemetery. 
The Eidgah has piles of cow dung and heaps of garbage, moss-covered walls and bushes in many places.
Shamshad is saddened as he enters the graveyard. Pointing towards the graves hidden in the bushes, he says, "My father and grandfather are resting in peace there."
Tears well up when he steps into the Eidgah. "I have offered several Eid prayers here with my loved ones. There used to be happiness. It's all memory now," he says walking down memory lane.
Eight people—all Muslims—were killed in Kutba and their houses set ablaze. The entire minority population, which fled the village during the riots, never returned.
Most of the Muslim villagers sold their houses. But some like Mausam want to preserve their house as a symbol of their ancestors.
A visibly sad Mausam enters his abandoned house. When his former neighbours, who gathered there on his visit, enquire about his well-being, he dejectedly says, "Everything is fine."
However, after being uprooted from his village, Mausam's life was never normal. "We never imagined that our house would be attacked. We somehow managed to escape and save ourselves. The bullet marks on the walls stand testimony of the violence we witnessed," he says with his eyes wet.
Recollecting the happy days, Mausam says he and most of his Muslim fellow villagers were ironsmiths earning a good living. "Even after 10 years, our work is not the same as before."
Mausam replies after a long silence when asked whether he would sell his house. "This is the land of our ancestors. We will not sell it; it will remain like this."
People were seen playing cards in small groups here and there. When Shamshad and Mausam step towards the mosque, 
a small group at a Chaupal asks them about their well-being.
Asked whether he ever thought of returning to his village, Shamshad says, "It is not easy to forget that fear."
WHAT ABOUT THOSE WHO RETURNED?
Lisadh village (Shamli district), about 25 km from Kutba, had about 3,000 Muslims before the riots. Now, only one Muslim family remains. 
Israr Saifi, an ironsmith and the only remaining Muslim, also thinks of leaving one day. His house is in the middle of the village. The houses of his relatives are deserted.
Saifi lives a private life and doesn't participate in village affairs. His younger brother and sister, who are studying, interact with their neighbours only when necessary. 
One of his Hindu neighbours ties his buffaloes in the empty house of Saifi's uncle.
Saifi's family had also migrated but returned. He has some agricultural land. "Whoever sold his house and land after the riots got a meager price. We have preserved our ancestral land," he says.
How does he feel in the village? "I feel nothing. There is no fear now. But we feel lonely and miss our loved ones. My entire extended family was here."
Does he also plan to leave? "One day, I will have to leave the village, but not under pressure or fear. Whenever I leave, I will leave of my own free will," he says.
Lisadh had three big mosques. One is locked and the other's door is broken with liquor bottles near its minbar (a pulpit in the form of a staircase on which the prayer leader stands to deliver a sermon).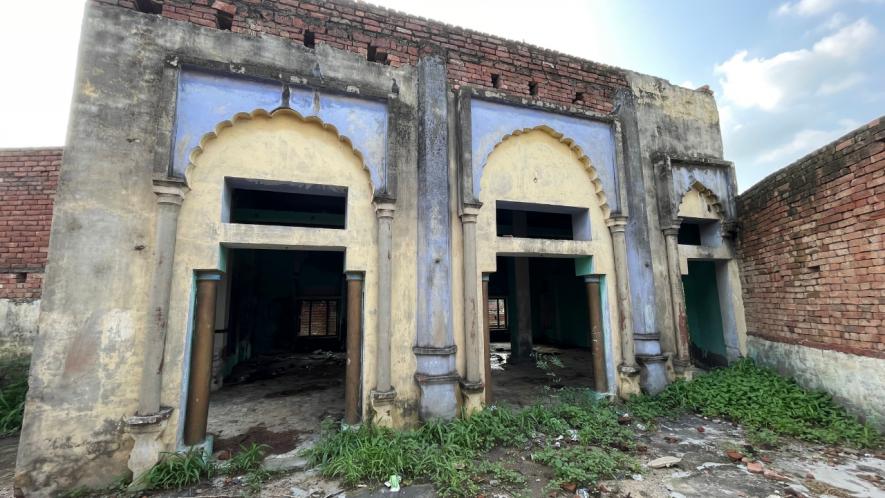 The deserted mosque at Lisadh.
The third mosque is surrounded by Hindus who purchased the land and houses once owned by their fellow Muslim villagers. This mosque is clean. 
A Hindu family which purchased a Muslim house routinely cleans and maintains the mosque. "This is a sacred place. You will feel bad if it remains dirty. My daughters sweep it," says the Hindu woman who cleans it. 
WILL THE DISPLACED EVER BE ABLE TO RETURN?
An estimate suggests that around 40,000 people fled their villages during the Muzaffarnagar riots—all were Muslims living in Hindu-dominated villages.
Some Hindu families also fled during the riots but returned to their homes within a few days.
The displaced still live in various settlements in different parts of the district.
Abdul Basit, who left Lisadh, lives in a colony in Kandhla. Even 10 years after the riots, his life has not changed. Basit was the mosque's imam in Lisadh and had decent earnings.
The government provided Rs 5 lakh assistance each to the families that suffered losses and fled. Most people who migrated used this money to buy land and build houses in new places.
Basit also purchased a little piece of land and built an incomplete house.
"I have a temporary house; the roof leaks when it rains. I can feed my children only once a day and sometimes nothing. Most of the people who left the village live in the same condition as they don't have jobs," he narrates the ordeal.
According to Basit, it is difficult for the people who migrated to establish their identity and settle in a new place. "Neither they adopt new places nor are fully adopted," he says.
"Everyone in the village understood us and we understood them. Everyone knew what work we did. The people here do not consider us anything. For them, we are just migrants," he adds.
Neither the village's memory nor the fear of riots has gone from the hearts of these people.
"I miss the village a lot. I miss everything—the madrasas and the mosques. But I don't want to return. Whenever I pass from the area, I get flashbacks of the terror we witnessed during the riots," Basit says.
The Hindu residents of Kutba and Lisadh are reluctant to talk about those who died in the violence and those who fled to save their lives. Many regret not getting cheap agricultural labourers, their fellow Muslim villagers.
An elderly person from Lisadh says, "I sympathise with those who fled. They used to feed our cattle, make buggies and work in the fields. With their migration, the village has suffered a huge loss as we don't get labourers."
Many Panchayats were also held to bring back those who fled after the riots. But they lack the courage to return.
Balyan, who belongs to Kutba, tells Newsclick that he wants the people who left the village to return.
"Initially, we tried to ensure that no one bought the houses of those who fled the village out of fear. But it did not work out as it could only be done socially, not legally," he says claiming that he keeps meeting people who have left his village every last five to six months. 
"I also ask them to return. I share an emotional relationship with them. Many of these people helped in my upbringing when I was a child. I don't look at these relations through religious or political lens," he claims.
Though Balyan claims he wants to bring these people back, they don't want to return because of fear. 
Get the latest reports & analysis with people's perspective on Protests, movements & deep analytical videos, discussions of the current affairs in your Telegram app. Subscribe to NewsClick's Telegram channel & get Real-Time updates on stories, as they get published on our website.
Subscribe Newsclick On Telegram