2 Women Protest Half-Naked After Manhandled by Police in Guwahati Eviction Drive
The Assam government claims that evicting the residents of Silsako Beel (Lake) is necessary for ecological restoration.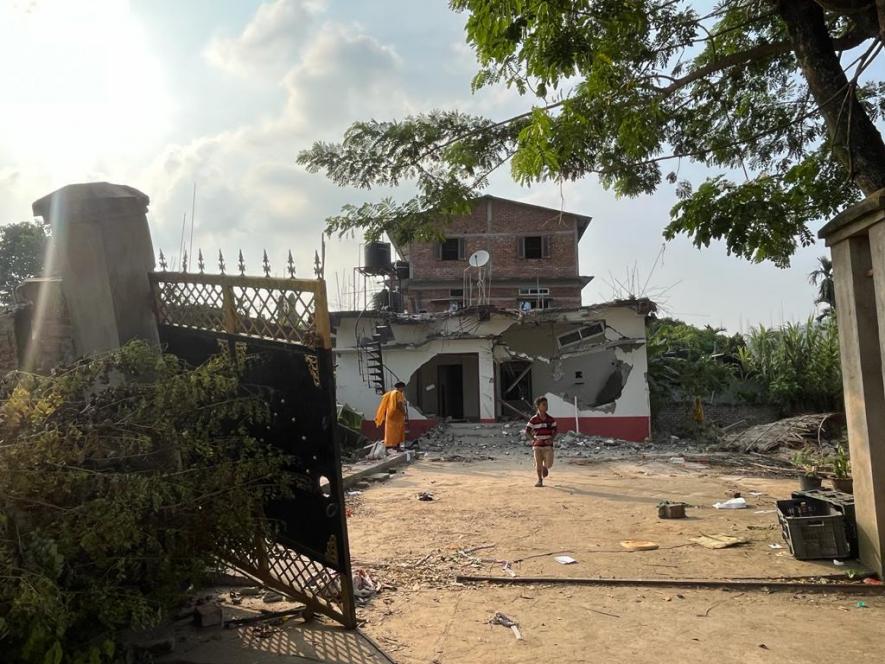 Several houses in Silsako Beel (lake) in Guwahati were demolished in a two-day eviction drive last week.
Decades ago, a few people started settling on a swathe of land near an ecologically sensitive wetland engaged in agriculture and fishing. Over time, the population grew and a law was enacted to prevent any further destruction of the eco-sensitive wetland. As time passed, a new government in the name of ecological restoration suddenly started evicting the people, including those residing there before the law's enactment. These people have become homeless and landless and stare at a dark future. 
This is not a fiction novel but the reality of thousands of people in the Silsako Beel (lake) area, in Assam's capital Guwahati. The latest massive eviction drive, from September 1 to 2, with the police's and the CRPF's help was firmly protested by the residents.
On September 1, the protest turned ugly when two women protesters "manhandled" by the police started removing their clothes.
More than 3000 policemen created a war zone bulldozing their homes, intimidating the women & kids alike, kicking women in their bellies & faces. Is this how you treat indigenous Assamese women Mr @himantabiswa?

HOW MUCH MONEY DO YOU NEED???https://t.co/xoYWxgRgcz

— Assam Congress (@INCAssam) September 2, 2023
"They were manhandled by the police. They tried to protect their land and home half-naked," one of the protestors requesting anonymity told Newsclick. 
#VIDEO | Situation at #Silsako took a distressing turn when two women chose to symbolise their desperation by disrobing in protest. This act aimed to draw attention to the dire circumstances faced by the residents due to the eviction drive. pic.twitter.com/tXWo59HIoX

— G Plus (@guwahatiplus) September 1, 2023
Moments later, the two women and seven other protesters, including Krishak Mukti Sangram Samit secretary Bidyut Saikia and member Akash Doley, two other women and three other men, were arrested for rioting or obstructing a public servant in the discharge of duties. They were granted bail at the Chief Judicial Magistrate court in Guwahati the next day. 
Besides, 34 other protesters, including women, were detained and released at midnight.
"Five male cops dragged me to the police van. My shoulders still hurt. There were no female cops. Other women protestors were treated similarly," Sharifa Begum told Newsclick narrating her experience.
"We were ferried to the 4th Assam Police Battalion in Kahilpara, which is very far, and kept in an isolated room with a poor mobile network. We were cut off from the world. During the afternoon, we were asked if we were hungry. We refused to eat," she added.
"The police dropped us near Borbari at midnight. We walked a long distance to reach our broken houses."
TRAGIC TALES
Rubi Basumatary, whose husband died two years ago, and her two daughters have stayed in Silsako since 2005. "We had bought the plot in 2002."
"No, we didn't receive an eviction notice," a weeping Basumatary told Newsclick amid the ruins of her demolished house, her shelter for more than a decade.
"Yesterday (September 1) they arrived to tell us that only our gate and a small room will be demolished. However, bulldozers razed our entire house today," she alleged.
Silsako's residents are insecure and scared with drones checking whether any structure remains.
Kalpana Terang and Ritubh Hazarika had similar stories to narrate. They still can't understand how people settled there even before the Guwahati Water Bodies (Preservation and Conservation) Act was enacted in 2008 could be evicted.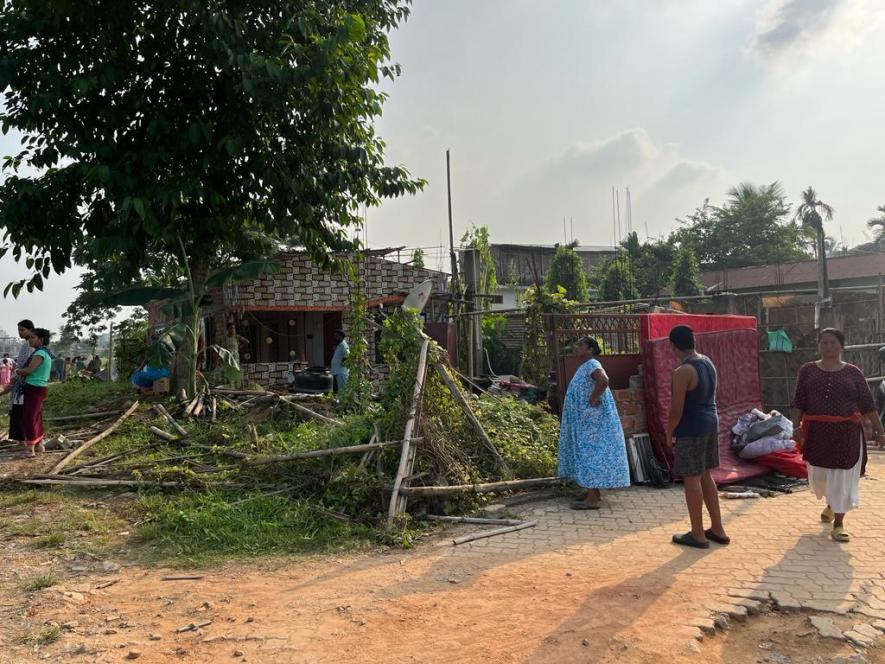 The residents said that they regret voting for the BJP.
"We are not illegal immigrants but indigenous. We voted for the BJP and never imagined even in our wildest dreams that they could do this to us. We committed a sin by trusting [chief minister] Himanta [Biswa Sarma] when he announced in his election campaign that everyone would be allotted pattas," one of the residents requesting anonymity said.
A policeman guarding the bulldozers requesting anonymity said, "What the government is doing is a crime. We are helplessly performing our duty; we have no option. People should not be tortured like this."
A female cop who resides in Silsako lost her house and livestock as well.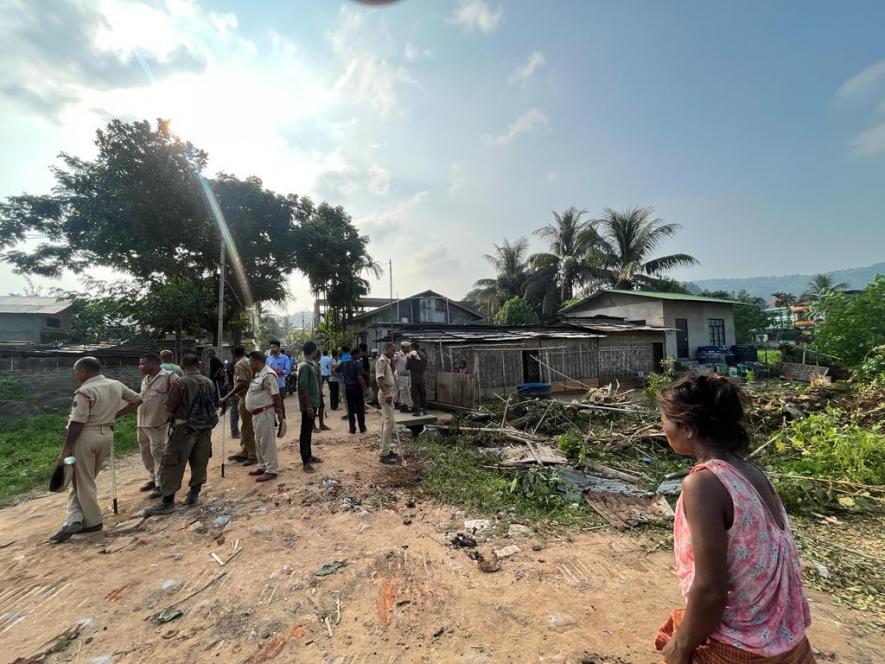 The homeless residents after their houses were demolished.
"We have been here for the past 30 years. We saw paddy cultivation here. Can anyone grow rice in a wetland?"
ask Wahida Begum and Shaira Begum.
"We received electricity bills mentioning the house numbers allotted by the Guwahati Municipal Corporation. How can they say we are illegal?"
Wahida and Shaira told Newsclick that the population grew there after 2008. "During Prafulla Mahanta's time, a wall was erected and we were told that a new MLA hostel would be developed here. But the wall is far away from our house and so is the beel (the wetland)."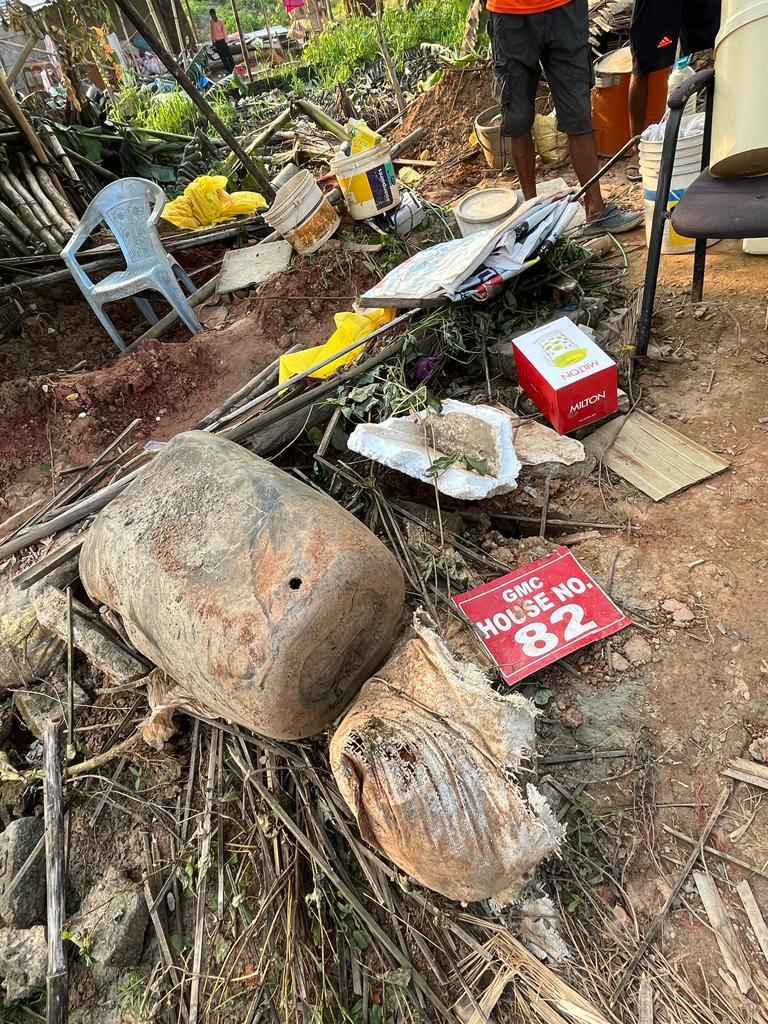 A Guwahati Municipal Corporation house number plate lies amid the ruins of a demolished house.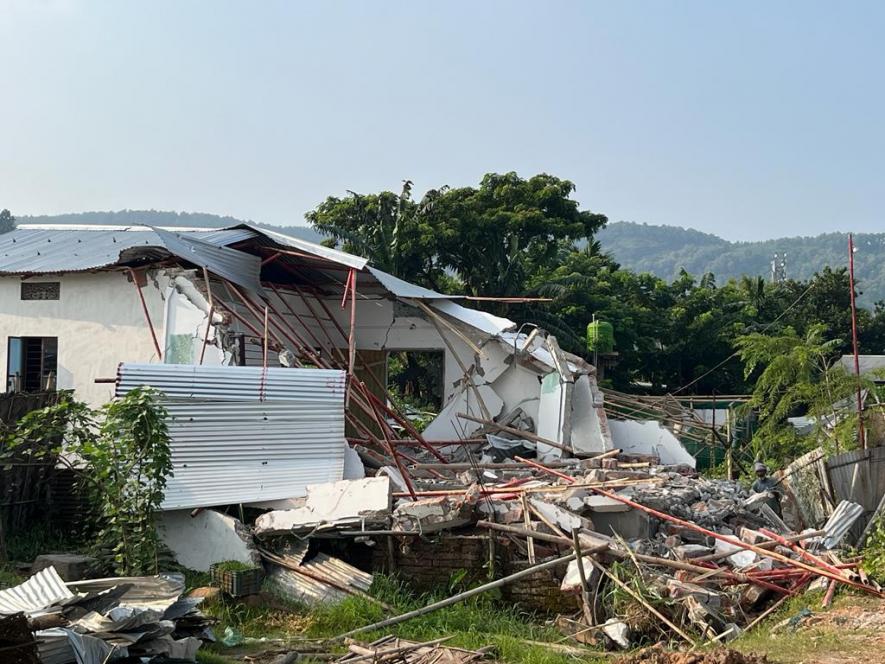 Several residents claimed to have received electricity bills with their house numbers allotted by the Guwahati Municipal Corporation.
The eviction was a nightmare for Jasula Brahma, his wife and their school-going son. A contractual driver with the health department, he has stayed there for 15 years. "No notice was served before the demolition drive. I too have electricity bills mentioning my address and the GMC house plate and holding numbers."
Moved by the tragedy, Jamuna Bala Dutta (92), who stays far from the area, came to meet the evicted residents. "I could not stop myself from visiting these troubled people. Do governments ever do any good work? These people are being tortured," she told Newsclick.
GOVERNMENT'S CLAIMS, RESIDENTS' FEARS
Newsclick had earlier reported that the government claimed that removing the residents is necessary for ecological restoration and to address Guwahati's artificial flood issues under the 'Mission Flood Free Guwahati'. 
However, the residents fear that the cleared land might be handed over to big corporate lobbies in the name of developing infrastructure. They also questioned why Ginger Hotel, Himatsingka building, Badruddin Ajmal's building and Assam minister Jayanta Malla Baruah's house, allegedly obstructing the wetland, remain intact. 
Akhil Gogoi, president of Raijor Dal and MLA from Sibasagar, alleged that the state government is "evicting indigenous people but safeguarding Badruddin Ajmal, Himatsingka and the Ginger Hotel".
Assam Jatiya Parishad president Lurinjyoti Gogoi aid in a statement: "While people of Assam are evicted from their houses, Baba Ramdev is given lakhs of bighas. This shows how the BJP is anti-indigenous and anti-people."
He also alleged that Sarma and his family own huge swathes of land. "Himanta Biswa Sarma and his family cannot realise the agony of the evictees as they possess huge swathes of lands," he was quoted in a media statement. 
In the previous Newsclick report, Supreme Court lawyer Upamanyu Hazarika raised some critical questions regarding the eviction drive and the lack of clear demarcation for the boundary of the protected wetland.
Naina Begum, an evictee and a vocal youth against the eviction, told Newsclick, "A few days back, revenue minister Jogen Mahan said at a meeting that no project has been planned in the area."
She alleged that the land will be "probably handed over to some big building lobbies who will construct housing complexes here".
Most residents believe that the drive is motivated towards handing over the huge swath of land to big corporate lobbies.
Get the latest reports & analysis with people's perspective on Protests, movements & deep analytical videos, discussions of the current affairs in your Telegram app. Subscribe to NewsClick's Telegram channel & get Real-Time updates on stories, as they get published on our website.
Subscribe Newsclick On Telegram