3 Militants, Woman Killed During an Encounter in Srinagar
The family of 45-year-old Kousar Riyaz has alleged that it was a "targeted killing" and the police has refused to release her body due to the situation being "tense".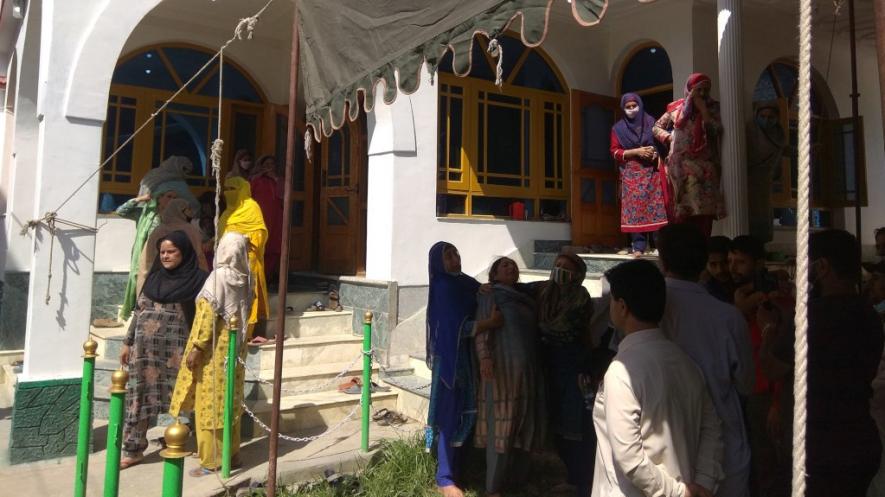 Kousar Riyaz's residence.
Srinagar: At about 4 am, 45-year-old Kousar Riyaz and her son Aqib were driving to their bakery when they saw armed forces ahead. Sensing danger ahead, Kousar asked her son to return, but after they made the turn, Kousar was hit by bullets which killed her instantly.
Aqib stopped his car – bearing the number JKO1W 7**8 – and that saw his mother had been shot in the back of her head. "When she saw the forces, my mother got scared and told me to turn back. We even drove a bit and then we fired at. The bullets had pierced through the rear wind-shield and killed my mother," the 25-year-old told NewsClick.
"I told the forces my mother has been shot dead but there was no reaction from them. Then some personnel in a Rakshak (armoured police van) took us to the police control room where I brought her out," Aqib said.
The family runs a bakery in the area and leaves their home at around the same time everyday to prepare bread for the locals. Aqib had been married just two weeks ago after they shifted to a newly-constructed home in the area. After two back-to-back celebrations, relatives had now gathered in the new home to mourn Kousar's death.
"This is a targeted killing," the family said.
When Kousar was killed, her husband was working on a night shift at the Government Chest Disease Hospital in Srinagar. "After informing his father, Aqib called me from the spot and we went to the police control room but they have not returned even after 10 hours," a relative, Mohammad Amin, said. The relatives claimed that no police or administrative official has visited the family so far and that they had been left on their own.
"They are saying we cant give you the body as the situation is tense," another relative added.
The Jammu and Kashmir police and paramilitary personnel in the area had been carrying out an operation since 2 am in the early hours of the day. The operation ended with the killing of three militants – all locals from South Kashmir – and Kousar.
Director General of Police (DGP) Dilbagh Singh said that Kousar was killed during an "exchange of fire". A CRPF deputy commandant who led the operation was also injured in the gunfight, the police chief said. The deputy commandant is currently being treated at the military base hospital.
"A woman Kousar Riyaz was unfortunately also killed near the encounter site. We are saddened that a civilian's life was lost during the incident," Singh said.
Pertinently, on July 1, a 65-year-old civilian Bashir Ahmad Khan, was killed during a militant attack. The family of Bashir, who was travelling with his three-year-old grandson, alleged that he was targeted and killed after being dragged out from his vehicle, a claim the police and paramilitary forces refuted.
According to the police, as many as 177 militants have been killed in the region so far this year, in which 16 militants have been killed in seven operations carried out in Srinagar city alone. Among them, seven militants were locals of Srinagar.
The Batamaloo encounter started at around 2 am on Thursday in a densely populated locality close to the police control room. Armed forces cordoned the home of Abdul Majeed Ganie, a retired bank employee.
"The forces knocked on our door and asked us to leave. They took all of our six mobile phones and detained my children. They asked us to stay on the road. We were not aware of what was happening. No one other than my family was at home that time," Abdul Majeed told NewsClick.
The police have detained Ganie's three sons, Izhar-ul-Islam, who is a BUMS doctor, Idrees-ul-Islam, a dentist, and Shaheem-ul-Islam, a post graduate who runs a polyclinic. Ganie also has two daughters, one of whom is currently pursuing MBBS.
The operation has left his single-storey house damaged and its members alleged that gold jewellery worth lakhs of rupees and Rs 45,000 in cash has also been stolen from their house during the operation.
Locals living near encounter sites, or those caught in the middle of a gunfight between militants and armed forces, have long since alleged that the police personnel have stolen their gold and cash during counter-insurgency operations, a claim which the police denies.
According to the locals, the firing stopped at around 7:30 am, following which clashes broke out in the area. The police fired various tear-gas canisters and flashes to disperse the protesters. The locals have since blocked various alleys and roads in Batamaloo and burned tyres to stop the movement of transport as a mark of protest against the killing of Kousar.
The incident comes a day after a family in Sopore alleged that a 23-year-old youth Irfan Ahmad Dar was killed by the J&K police in their "custody", following which protests have broken out in the area. Internet services have been snapped in the area. According to DGP Dilbagh Singh, the police had recovered hand-grenades from Irfan' and he was leading them towards another recovery when he tried to "escape." His body was later recovered close to a stone quarry in Sopore's Tujjar Sharief area.
The police has ordered a magisterial probe into the incident.
Get the latest reports & analysis with people's perspective on Protests, movements & deep analytical videos, discussions of the current affairs in your Telegram app. Subscribe to NewsClick's Telegram channel & get Real-Time updates on stories, as they get published on our website.
Subscribe Newsclick On Telegram