3 Years of the Aam Aadmi Party in Delhi
The performance of the AAP government in Delhi has to be looked at in relative terms rather than an absolute.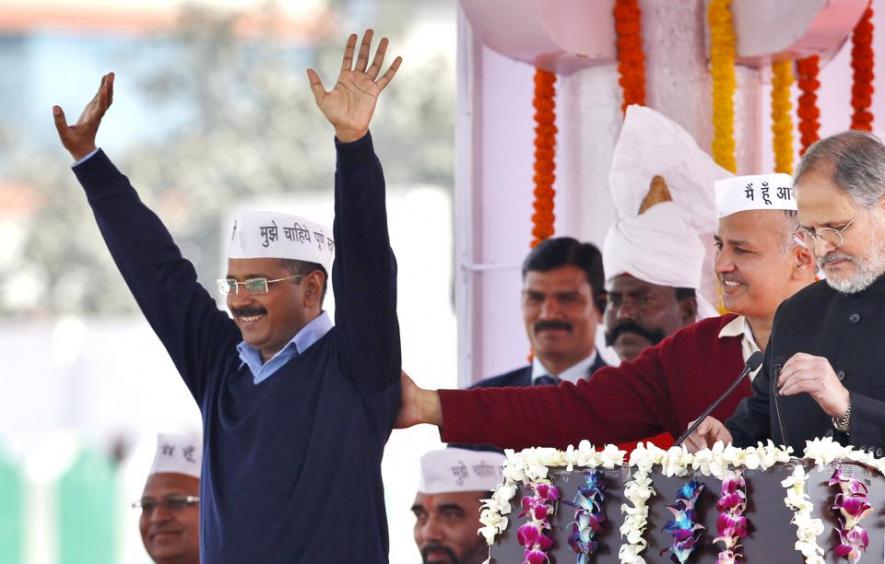 Image Courtesy: Hindustan Times | For representational purposes only
The past three years have been a roller-coaster ride for the Aam Aadmi Party(AAP) in Delhi. The popular perception around AAP has shifted from 'Kejriwal is always shouting and complaining', to 'Kejriwal has gone silent', but beyond rhetoric there has also been substantive change on ground in Delhi, despite the Modi Government being a constant hurdle.
The performance has to be looked at in relative terms rather than an absolute. In that respect, Delhi has done great in terms of basics like health, education, electricity and water. It has done fairly in terms of transport, vigilance, safety and service delivery. The one front, on which it seems to be failing, is the 'progressive' front by falling into the populist trap.
Let's get an overview of it.
On the policy front, Delhi has seen changes which can be viewed as benchmark changes. They have managed to bring about improvement in Education, Health, Water, Electricity as well as reduction in corruption. The kind of policy decisions and implementations that AAP has been able to implement in 3 years of governance in Delhi are rare in the Indian context.
When it comes to Education,the AAP government in Delhi is spending 24% of the total Budget outlay, which is the highest in the country. The only other state which spends a similar amount is Kerala (19-20%).
In the past one year, ten early childhood education centres have been started across the city and 156 government schools have introduced nursery and KG classes. This is in addition to the grand transformation of not just the infrastructure of Government schools, but the quality of education under Manish Sisodia. He is a man with a mission to transform education in Delhi and make it a model for the country. He is one of the few people who has a vision and the courage to experiment, try out new things, new studies, and find the best, creative solution for education in Delhi. India must have seen very rare passionate people like him. Private school fee regulation too was a big step taken by the AAP government: another 1st for India.
In terms of Health, a 3 tier health system has been setup in Delhi comprising of Mohalla clinic - Poly Clinic - Super-speciality hospitals. Twenty six lakh people of Delhi are getting the benefits of 110 mohalla clinics, which provide services free of cost. The principle followed by AAP in this context is very basic and another first in the country. They believe that when people already pay taxes, they should not have to pay additionally for basic healthcare consultations. This, accompanied by learned doctors and good facilities, has made mohalla clinic a world renowned model for basic healthcare.
With the plan to set up 1,000 mohalla clinics for consultation, medicines and tests free of cost underway, Delhi will soon witness its own small revolution in terms of healthcare.
As promised by AAP before elections, they have made Water almost free and reduced Electricity rates by 50%. Surprisingly, after that, Delhi Jal Board revenue is up by Rs 178 lakh even with 12 lakh households availing the free water scheme. This is exactly what Kejriwal keeps saying, when the government is honest, money is saved.
When it comes to the lower strata of society, AAP has its mind where its heart is. Workers have received 150% increase in daily wages while farmers received Rs. 50,000/hector as compensation, one of the best in the country.
Some major reforms which would have made the lives of citizens of the capital easy, and safer in terms of 'Home delivery of Public service', 'Law and order', 'Anti-corruption', are stuck because of the LG, who clearly serves the interest of the Central government. The central government has acted as a permanent hurdle in the way of the Delhi Government. Clearly, politically, it is would be harmful for the central government if AAP performs too well. That would invoke clear comparison with the on ground impact of the Modi government in comparison to AAP's Delhi Government, and it doesn't take a rocket scientist to see how terribly the central government would fail.
Though overall the Delhi Government seems to be doing well, the picture is not as rosy as that.We must remember, the Metro fare hike which the Delhi government is opposing now, is something they had not done the 1st time when fares were hiked. Given that the Delhi government has 50% stakes in the DMRC, it is hard to believe that they missed the fare hike.
On top of that, the Delhi Government has not been able to implement the promise of  10,000 buses, which would have been a blessing for the working class especially given the inconvenience caused by metro fare hike. With the metro fares being hiked and the scarce availability of buses, poor and lower middle class people are really in a fix.
I won't go into the popular 'promise failures' of putting Sheila Dixit in jail and stopping rapes and assault on women in Delhi, because anti-corruption and police are not under the Delhi Government. The division between MCD and Delhi Government is too tangled up and because the mainstream media is in BJPs pockets, the anti-AAP perception is widely spread, which is totally baseless. This is for people to understand and also for AAP to do more to clear these distinctions.
Delhi government has saved over 350 crores in the construction of 3 flyovers. They have repeatedly shown a clear path for being non-corrupt and how it automatically leads to increased efficiency.These kinds of things are unheard in India, showing how an honest government can function.
Overall, the performance of the AAP government is good, and given the plans in place to setup 1.4 lakh CCTV cameras and free WiFi in Delhi, before the term ends, looks like it would be the 1st party to complete all its election promises.
Although everything is going as planned for AAP, it is important to note their opportunistic approach to politics. There is a clear lack of ideology. Even in terms opposing the PIL for the decriminalisation of the 'Beef ban' in Delhi by the Delhi Government. It is nothing but towing the soft hindutva line, which is totally not what the AAP stands for. AAP did well when it was on the front foot, when it opposed the age old corrupt practices and showed new hope to people. They made sure they won't tow any line, just because it was a populist one. But, with this recent decision to oppose the 'petition decriminalising beef ban', AAP seems to have lost its way. It might be a populist position and might appease some voters, but in the long run it will prove to be harmful. They have to realise and remember, the principles on which their party was formed and elected to power.
The question now is, will Kejriwal follow the 'party born out of a revolution' model, and do his aggressive, out of the box campaigning, planning and execution in terms of policies, which are progressive in principle? Or will he fall into the trap of 'vote bank politics' and takes decisions such as opposing decriminalisation of beef ban and take a 'soft hindutva' stance, to appeal to the 'larger nationalistic sentiment thereby losing sight of the principles that AAP stood for?
Get the latest reports & analysis with people's perspective on Protests, movements & deep analytical videos, discussions of the current affairs in your Telegram app. Subscribe to NewsClick's Telegram channel & get Real-Time updates on stories, as they get published on our website.
Subscribe Newsclick On Telegram