35 Injured as Israel Sets Out to Demolish Palestinian Village
Activists and villagers staged protests to stop the demolition of Khan al-Ahmar near occupied East Jerusalem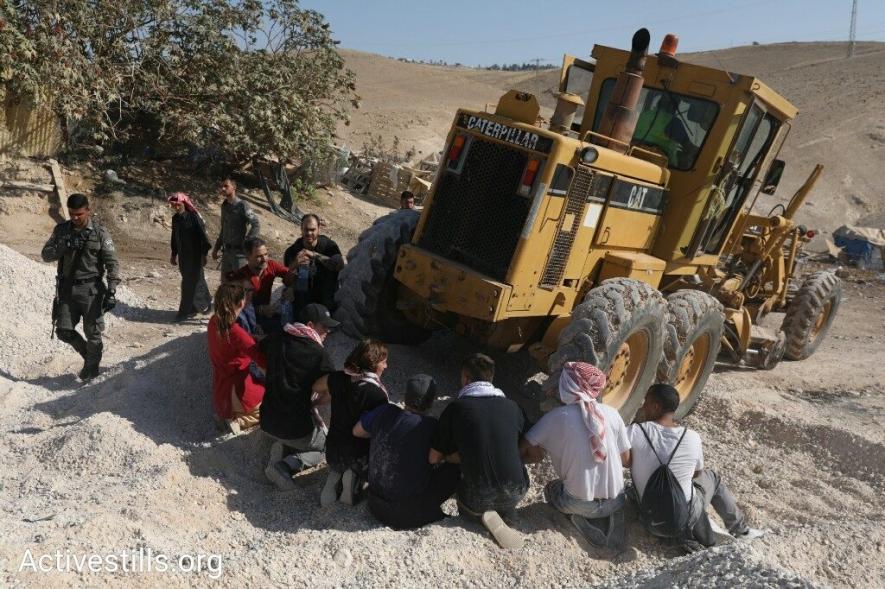 Israel plans to bring down the village to extend its illegal settlement, Kfar Adumim: Credit Oren Ziv/Activestills
35 Palestinian protesters were injured while protesting the Israel plan to demolish the Bedouin village of Khan al-Ahmar near occupied East Jerusalem on Wednesday, July 4th. Four of the protesters had to be hospitalised. The injured included one Palestinian journalist while another Palestinian journalist's camera lens was also broken. Israeli police also arrested 11 protesters, including three Palestinian activists, a 20-year-old Khan al-Ahmar resident and her aunt.
Videos showed Israeli forces beating and trying to arrest men, women and even children. One video showed Israeli forces physically assaulting a Palestinian woman by pulling off her headscarf and pushing her to the ground.
Protesters waved Palestinian flags and climbed on top of the bulldozers in an attempt to stop them from proceeding with the demolition. The Israeli military had arrived with three bulldozers and other heavy construction equipment early on Wednesday morning to build an access road to facilitate the evacuation and demolition of the village. Israel plans to expand the illegal West Bank settlement of Kfar Adumim in its place.
Earlier on the same day, Israeli forces also demolished nine houses and three other farming buildings in the village of Abu Nawwar, near the West Bank settlement of Ma'ale Adumim. As a result, 62 Palestinians, half of them children, became homeless. A school was also demolished on the pretext that it was illegally constructed. Abu Nawwar village is home to 687 Palestinians, and 65% of the population are children. International humanitarian law prohibits the forced transfer of the population of an occupied territory.
Also Watch: Trump's New West Asia Proposal is a Formal Burial of the Two-state Solution
Khan al-Ahmar is home to over 180 Palestinians, including 90 children, and is situated in Area C of the occupied West Bank, under full Israeli military control, between the two illegal Israeli Jewish settlements of Kfar Adumim and Ma'ale Adumim. The residents of Khan al-Ahmar belong to the Bedouin clan of Al-Jahhalin, and have been living there since being expelled from the Negev in 1951 and resettled in the hills east of Jerusalem. Israel had offered to relocate the village's residents to Al Jabel, a village near the Abu Dis garbage dump.
Israeli authorities on Tuesday closed the area to the general public and declared it a "closed military zone" until the end of July. Israel considers the village and its sole school as an illegal construction because it was built without obtaining the necessary Israeli building permits, even though the land is registered as owned by Palestinian citizens from the nearby town of Anata. Israel had issued a notice to the residents of Khan al-Ahmar on Tuesday night asking them to leave the village by Friday or face eviction, on account of the impending demolition.
Activists have repeatedly pointed out that Palestinians are more often than not denied construction permits by the Israeli authorities. According to UN figures, between 2010-2014, only 1.5% of Palestinian requests for building permits were approved by Israel.
Israeli authorities had told the High Court of Israel that they planned to seize the land in that area. On May 24th,The Israeli High Court ruled that the Israeli civil administration in the West Bank could demolish the homes and other structures - many of them funded by the EU and its member states - in the village, rendering its residents homeless. Israel's Supreme Court later upheld that verdict and authorised the demolition of the village despite several European governments urging the court not to approve the planned demolition.
The UN condemned the demolitions in a tweet from the office of Nikolay Mladenov, the UN Special Coordinator for the Middle East Peace Process, which said, "UN envoy Nikolay Mladenov condemns Israeli actions against Bedouin village #UN Envoy @nmladenov condemns the demolitions at #AbuNuwar & preparations to demolish #KhanAlAhmar. #Israel should stop such actions & plans for relocating Bedouin communities in occupied #WestBank. Such actions are contrary to international law & undermine the two-state solution."
The EU also released a statement on Thursday opposing Israel's actions, saying ""In line with our long-standing position on Israel's settlement policy, illegal under international law, and actions taken in that context, such as forced transfers, evictions, demolitions and confiscations of homes, the EU expects the Israeli authorities to reverse these decisions and fully meet its obligations as an occupying power under International Humanitarian Law." The EU statement also said that these actions, coupled with settlement expansion, threatened the peace process by jeopardising the two-state solution.
Also Read: Israeli Forces Kill Three More Palestinians, Including a 11-Year-Old
The Palestinian Authority (PA), Britain, France and Ireland issued similar condemnations in response to the demolitions. The PA statement called the demolition an act of ethnic cleansing which intended to replace Palestinian citizens with illegal Jewish settlers.
Several Israeli and International human rights groups issued strong condemnations in response to the demolitions as well.
Angela Godfrey-Goldstein from the Jahalin Solidarity told Mondoweiss, "This demolition is Trump's gift to Netanyahu for July Fourth. But it has backfired. I don't think Trump understands what he has set in motion, which is why it's so dangerous." She warned the eviction would move Israel on to a path of "full fledged apartheid statehood, with no sustainable future ahead. So it's suicidal."
Israeli human rights group B'Tselem spokesperson Amit Gilutz said in a statement that "demolishing the Bedouin towns and then moving them to another location constitutes forcible transfer, a violation of international law."
"No military order or court ruling can make the transfer of these residents lawful or moral. Forcible transfer of Palestinian communities is a war crime, and all who are involved in approving or implementing it bear personal liability," Gilutz said.
Get the latest reports & analysis with people's perspective on Protests, movements & deep analytical videos, discussions of the current affairs in your Telegram app. Subscribe to NewsClick's Telegram channel & get Real-Time updates on stories, as they get published on our website.
Subscribe Newsclick On Telegram