4 Manual Scavenging Deaths in 4 Days, TN Govt Takes No Onus
As per a list made by the Safai Karmachari Andolan, the state ranks number one in the list of manual scavenging deaths over the last five years, followed by Uttar Pradesh which has apparently reported 55 deaths.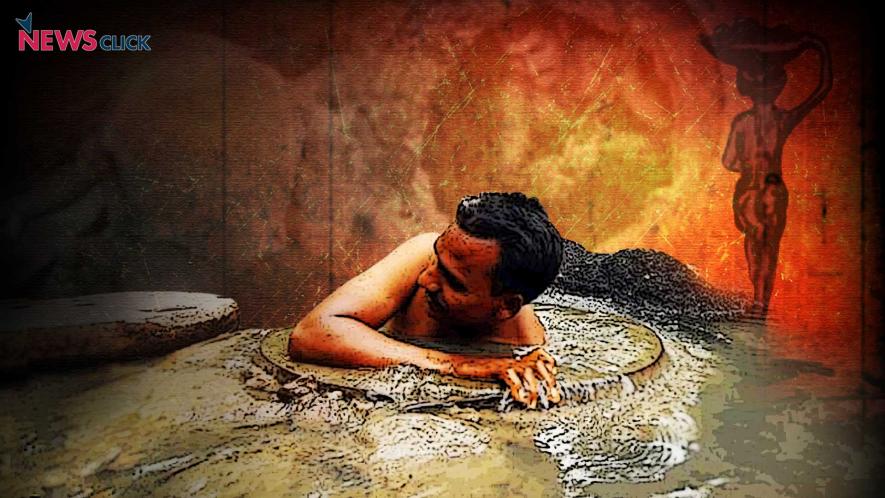 Asphyxiation from sewage cleaning has claimed four lives in a matter of four days in Tamil Nadu. Three continuous deaths occurred in a single site in Kancheepuram district on February 14, and three days later one more was killed in Chennai on February 17.
Soon after the Kancheepuram tragedy, the Tamil Nadu Chief Minister announced ex-gratia of Rs 10 lakh each to the kin of the victims and assured strict action against those responsible.
But, dalit rights activists voice out that the government should take steps to end this cruel practice, and merely providing relief after tragic incidents is not sufficient.
As per the Prohibition of Employment as Manual Scavengers and their Rehabilitation Act, 2013, the "state government has a significant role to play in the implementation of the act" and to put an end to the dehumanising practice.
THE CRUEL DEATHS
The three men who were cleaning a septic tank of a catering firm in Kancheepuram lost their lives one after the other. When Murugan, who entered the septic tank stopped responding to calls, Bhagyaraj and Arumugam stepped into the tank to rescue him. But, all three men passed away inhaling the toxic fumes.
The recent death in Chennai was also from asphyxiation, but the worker was hired to clean a 30-feet well at a residence, the water of which was mixed with sewage due to leakage from a sewerage pipeline. The workers, Ravi and Kasi, inhaled the fumes and fell unconscious. Ravi succumbed to suffocation and passed away.
Also read: Three Manual Scavengers Die While Cleaning Septic Tank in Coimbatore
Twenty-eight years after manual scavenging was officially banned in India with the passing of the Employment of Manual Scavengers and Construction of Dry Latrines (Prohibition) Act 1993, the practice continues to be prevalent in Tamil Nadu, and many lives are lost every year. 
TN TOPS MANUAL SCAVENGING DEATHS
As per the Union government, Tamil Nadu ranks second in the country in terms of number of people losing their lives due to manual scavenging. While the Union government data pegs the death toll due to manual scavenging in the last five years at 43, Safai Karamchari Andolan (SKA), an organisation working on ground for the rehabilitation of manual scavengers, reports that the number is higher than what's being cited by the government. It is 69 for the past five years, according to SKA tally.
Thereby, as per the list made by SKA, Tamil Nadu ranks number one in the list of manual scavenging deaths over the last five years, followed by Uttar Pradesh which has apparently reported 55 deaths.
NO RELIABLE DATA
The lack of authentic numbers with respect to people engaged in manual scavenging and deaths from doing this work undermine the spread of this practice. It is also a means for the state government to wash their hands off their responsibility.
Talking about the continuing deaths, Samuel Raj, the secretary of the Tamil Nadu Untouchability Eradication Front (TNUEF), told NewsClick, "Every year at least 20 manual scavenging deaths are witnessed in Tamil Nadu, but this figure is only from the cases that reach our ears, many more go unreported and are unheard of." TNUEF is said to have filed the first case in Tamil Nadu under the 2013 Act following a manual scavenging death in Kallu Kuttai slum, Chennai, in 2014.
The 2013 Act presses for surveys to be undertaken if "any Municipality has reason to believe that some persons are engaged or employed in manual scavenging within its jurisdiction". But, no news of such efforts in the state are available.
Also read: Manual Scavengers: Only 2% Got Cash Assistance Under Rehab Scheme
D Samuel Velanganni, the Tamil Nadu state convener of Safai Karamchari Andolan (SKA), speaking to NewsClick said, "The state government is yet to carry out a survey to get the actual number of people employed as manual scavengers. But, the government has gone the extra mile of declaring the state free of manual scavenging even though so many people from the dalit community are dying from doing this work."
A survey conducted by SKA in 2019 identified 3,000 persons engaged in manual scavenging in just eight cities in eight districts of Tamil Nadu.
Evidence, an NGO working for the rights of people from the scheduled caste and scheduled tribe communities, has recently urged the National Human Rights Commission (NHRC) to conduct a probe on manual scavenging in Tamil Nadu and give recommendations to the government based on the actual findings.
NO REHABILITATION HAPPENING
The 1993 Act banned manual scavenging, but the 2013 Act also provides for their rehabilitation.
Samuel Raj said, "The government is not doing anything. The 2013 Act talks about many things, page after page on how to prevent manual scavenging, what measures the government must take... but nothing is being done."
As of 2019, under the Self Employment Scheme for Rehabilitation of Manual Scavengers (SRMS), only 6% of the total identified manual scavengers in India have been imparted with skill development training of up to two years with a stipend of Rs 3,000 per month. Similarly, one time cash assistance of Rs 40,000 has been provided to only 2% of them. 
Samuel Vellangani said that the first step towards rehabilitation is declaring acceptance of the practice. "Door-to-door survey has to be conducted, self-declaration forms must be taken from manual scavengers who willingly let go of their work, and the government should receive them with dignity and rehabilitate them," he added.
G K Vasan, the leader of Tamil Manila Congress party, an alliance partner of the ruling All India Annatra Dravida Munnetra Kazhagam (AIADMK), himself stressed on the need for steps to be taken to prevent deaths caused by manual scavenging.
Also read: Tuticorin: Four Youths Die of Asphyxiation while Cleaning Septic Tank
Get the latest reports & analysis with people's perspective on Protests, movements & deep analytical videos, discussions of the current affairs in your Telegram app. Subscribe to NewsClick's Telegram channel & get Real-Time updates on stories, as they get published on our website.
Subscribe Newsclick On Telegram