5 Sept Workers-Peasants Rally: Against Dismantling of Labour Laws
The 'Mazdoor Kisan Sangharsh Rally' will mark a new stage in the struggle of working people of India for a better life and just future.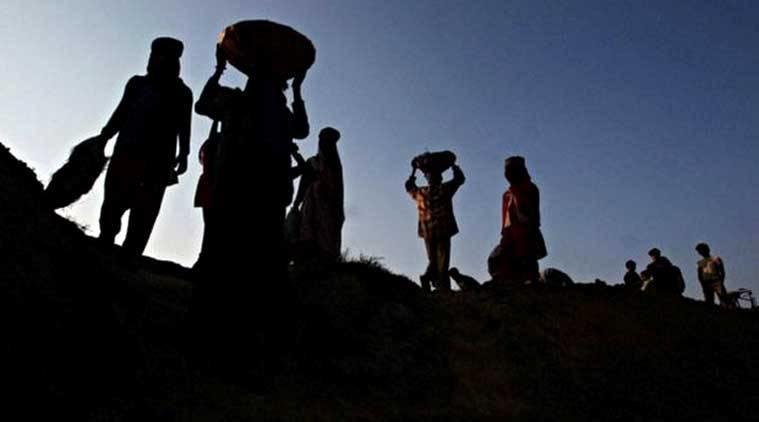 On 5 September 2018, a historic rally of industrial workers, farmers and agricultural labourers will storm the country's Capital demanding better wages, more jobs, better prices for farm produce, end to privatisation, stopping changes in labour laws, ending the contract labour system, etc. The 'Mazdoor Kisan Sangharsh Rally' will mark a new stage in the struggle of working people of India for a better life and just future. In the runup to this massive protest, Newsclick is publishing a series focussing on the demands being raised. In Part 3 of this series, read about how the Modi govt. and most state govts. are dismantling labour laws.
One of the key demands of industrial workers heading for Delhi to participate in the historic 5 September rally of workers and peasants is the roll back of the labour law 'reforms' initiated by the Modi govt. 
Industrial workers in India have, over the years, forced successive govts. to provide some legal protection to them from the greedy exploitation by industrialists and other employers. These include eight-hour working day, minimum wages, equal remuneration, maternity benefit, bonus, social security benefits, the right to form trade unions etc. 
All these years, the industrialists and employers have been lamenting that these labour laws are unsuitable and prevent them from freely working. What they mean by this is that these laws prevent them from extracting more profits from workers and get the right to hire and fire at will. So, periodically there are vociferous demands to 'reform' (that is, dilute) labour laws.
Also Read: Ensure Jobs for All
With the Modi govt. coming to power in 2014, this chorus became all the more strident and the new BJP-led govt. quickly moved to assuage the industrialists. It pressed the accelerator on 'labour reforms' – something that was also attempted by the previous Congress regime. 
New Labour Codes
The Modi govt. declared that 44 central labour laws will be merged into 4 Labour Codes: on Wages, on Industrial Relations, on Social Security and on Occupational Safety, Health and Working Conditions. The Code on Wages Bill has been introduced in the Lok Sabha and the Code on Industrial Relations Bill is ready for introduction. The two remaining Draft Codes have been placed in public domain. 
Hidden under the cloak of simplifying and rationalising the large number of labour laws, the real intent of the govt. becomes clear if you read these Codes and compare them with what was there in the earlier laws. It is to cut wages and benefits, give freedom to hire and fire at will and restrict basic trade union rights.
A detailed critique of these Codes by CITU, one of India's leading trade unions, has this to say:
The Code on Wages is totally silent on the formula for fixation of minimum wages as unanimously recommended by the 15th Indian Labour Conference (ILC) along with the Supreme Court judgment in the Raptakos and Brett case, which was reiterated in the 44thand 46thILCs; it does not give the option to the workers on the method of payment of their wages, in cash or by other methods. Enforcement provisions including the system of inspection have been totally diluted in favour of the employers; definition of employees and workers in the Bill are so designed as to facilitate misinterpretation by employers to squeeze the workers and their rights
The Code on Industrial Relations is intended to impose slave like conditions on workers. Employers in establishments with up to 300 workers can retrench them at will, they need not take formal permission from the government; they can 'hire and fire' according to their needs. The Code makes forming trade unions by workers next to impossible; and going on struggles and strikes on their genuine demands almost impossible. A virtual ban on right to strike has been imposed along with heavy penalty for joining and organising a strike. The Bill empowers the employers to unilaterally change the service conditions of the workers; the right of the workers to oppose or dispute the same has been severely curtailed.Even people supporting workers' struggles will be punishable with huge fines and imprisonment. At the same time employers are let off with no punishment or very light punishments for any violations on their part. 
The government's claim of 'universal social security protection' through the Code on Social Security is highly deceptive and fraudulent. It proposes not a single specific social security measure for the workers. What it specifies is that all the funds with EPFO, ESI, Construction Workers Welfare Cess etc. will be merged and brought under the control of a national advisory board to be set up under the chairmanship of the Prime Minister. Obviously, this huge fund will be made available to the share market.
The recently released draft Code on Occupational Safety, Health and Working Conditions is in similar vein. It curtails the rights of workers in securing better working conditions and safety measures and destroys protective provisions related to migrant workers and other vulnerable sections of working class. 
Other Direct Changes
Besides these wholesale changes enshrined in the four Codes, a slew of other amendments brought in by the Modi govt. have already been enacted or are pending enactment. Some of the important ones are:    
Apprentices Act: It has been amended so that apprentices can be made to work for years together without payment of statutory minimum wages and social security benefits.  The definition of 'workers' has been changed to include contract, casual and daily rated workers. Now the employers can deploy 30% of the total of such 'workers' as apprentices; pay them nominal amounts and increase their profits. As a follow up, the Govt has launched the 'National Employability Enhancement Mission' (NEEM), designed to pave the way for gradually replacing regular workers by trainees/apprentices. NEEM regulation 2017 provides 3 years period of 'training' with minimum wage paid as consolidated amount without any statutory benefit or increment.
Also Read: Agri-Workers Demand Land Reforms & Better Wages 
Labour Law (Amendments) Act: This change exempts any establishment employing 19-40 workers from filing returns and maintaining registers related to 16 major labour laws including Factories Act, Payment of Wages Act, Minimum Wages Act, Weekly Holidays Act, Contract Labour (R&A) Act, Equal Remuneration Act, etc. With today's technology most of the establishments having large capital investment and huge profits employ less than 40 workers. It is estimated that over 72% factories in this country will now find it easier to evade all these 16 labour laws. 
Factories Act (Amendment) Bill: Partially passed by Parliament, envisages factories employing less than 40 workers (operating without power) and less than 20 workers (with power) to be pushed out of the coverage of the Factories Act. This means 70 per cent factory workers in the country will be thrown out of the purview of the Act. There will be no regulation on working hours, overtime wages, overtime hours, safety at workplace, etc. for these workers - they will be at the mercy of the employers.  
Contract Labour Act: An amendment has been mooted to this Act to legalise deployment of contract workers in permanent perennial jobs, a practice that was widespreadbut illegal till now. Workers deployed by contractor for jobs outsourced by the Principal Employers will not be treated as contract workers. They will henceforth be out of the purview of the Act. The contractors employing less than 50 workers will not be required to obtain license and thereby freed from all regulatory inspections. 
Fixed Term Employment: Through an executive order, the Central Rules under Industrial Employment Standing Order Act were changed to allow "fixed term employment" in all establishments. Such workers can be thrown out after the end of their term without notice or compensation. 
Labour Law 'Reforms' in States
Since 'labour' is on the Concurrent List of the Constitution (that is, both state and central govts. can legislate on it), states have been told by the Modi govt. to amend the labour laws. The model suggested was the one adopted by the BJP led state government of Rajasthan. Many have adopted these changes and others are in the process. Here's a summary, based on an earlier Newsclick report: 
Reforms affecting job security: In Madhya Pradesh, Maharashtra, Rajasthan, Haryana, the threshold of the minimum number of workers in a factory required so that an employer is obliged to seek permission from the government to retrench workers, has been increased from 100 to 300. Since 93% of factories in India have less than 300 workers, it is now very convenient for employers to fire workers. 
Reforms affecting working conditions: In Rajasthan another amendment allows up to 49 workers to be employed through a contractor without a license, in both public and private undertakings. Existing laws grants contract workers the same rights as regular workers including wages, social security, and other facilities such as a canteen, sitting area, bathroom etc. By allowing unlicensed contractors, the govt. is allowing the principal employer to evade all these laws. This would encourage employers to hire more contract employees and lead to poor service and working conditions for the workers. The amendment to the Factories Act passed in MP, AP, Rajasthan has increased the threshold limit of workers from 10 to 20 (with power) and 20 to 40(without power) for Factories Act to be applicable. This means that workers will now be deprived of various benefits available under the Act like proper drainage system, ventilation, cleanliness, water facilities, healthcare provisions etc. A large number of workers will now be legally condemned to toil in inhuman conditions.
Reforms affecting democratic rights of workers: In Gujarat, a controversial amendment has been passed, that calls for "out of court settlement" of disputes between workers and the management ostensibly to reduce "endless litigation". This in effect would mean that the protective nature of labour laws will be destroyed and employers will insist on taking the option of arriving at an out of court settlement thus ensuring that they neither have to give the workers their due, nor face legal action for not doing so. An amendment passed in Rajasthan has increased the minimum percentage of the workers of a factory in a trade union, for it to be registered from 15% to 30%. This will make it more difficult for workers to form a union and collectively bargain with their employers. In AP, Assam, Goa, Gujarat, Haryana, Karnataka, Kerala, MP, Maharashtra, Punjab, Rajasthan, Tamil Nadu, Uttarakhand, the Trade Union Act has been changed to allow disposal of the application for the registration of a trade union within a period of 15 days to 4 months. While this may look like a reasonable provision, in practice it is a bureaucratic weapon to dismiss the application for registration of a new trade union since often various procedural obstructions are put up when an application is received and workers need some time to comply with all these. 
Workers in India have responded to this wave of attacks robustly by mass protests, strikes and other forms of agitation. Ten major central trade unions have jointly organised two successful all India strikes in 2015 and 2016, followed by a massive sit-in (mahapadav) at Delhi in 2017. This has forced the govt. to tread cautiously although it is still trying out all tricks to get the 'reforms' passed. But the struggle continues.
Get the latest reports & analysis with people's perspective on Protests, movements & deep analytical videos, discussions of the current affairs in your Telegram app. Subscribe to NewsClick's Telegram channel & get Real-Time updates on stories, as they get published on our website.
Subscribe Newsclick On Telegram