690 Internet Shutdowns In India Since 2012, Kashmir Most Impacted
India has suffered a loss of $174.6 million this year alone due to 75 Internet shutdowns.
The number of Internet shutdowns in India increased exponentially in the last decade to 690, out of which 101 were imposed in 2021.
So far, 75 shutdowns have been imposed this year, according to the Software Freedom Law Center (SFLC), a donor-supported legal services organisation that brings together lawyers, policy analysts, technologists and students to protect freedom in the digital world.
According to SFLC.in's report 'Let The Net Work: Internet Shutdowns in India 2022', the government shut down the Internet 75 times this year for reasons that ranged from the prevention of cheating in exams to countering communal tensions and terrorism.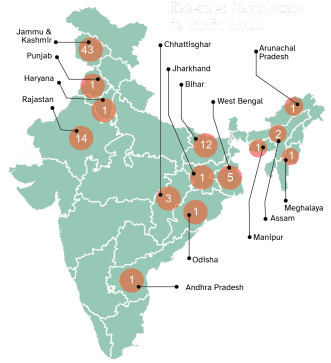 Region-wise Internet shutdowns in 2022. Kashmir suffered the harshest of Internet shutdowns for 522 consecutive days.
SFLC.in, which has been granted Special Consultative Status with the Economic and Social Council of the United Nations, analysed the impact of Internet shutdowns from a human rights and economical perspective, and how they affect access to basic essential services, such as education and healthcare, using its Internet Shutdowns Tracker (IST).
The IST, which can be accessed at https://internetshutdowns.in/ and is notably the only real-time database of its kind in the country, documents every single Internet shutdown since 2012, starting with the first imposed in Jammu and Kashmir on January 26.
SFLC sources its information through news and publicly available Internet shutdown orders issued by respective state governments. All reports are put through a rigorous cross-verification process by the team to verify their authenticity. It also files routine applications under the Right to Information Act, 2005, to obtain details about shutdowns.
India has suffered a loss of $174.6 million this year alone, according to the Top 10VP report for 2022, due to Internet shutdowns with long-term shutdowns leading to a drastic impact on the livelihood of people, directly contributing to the loss of employment, the report states.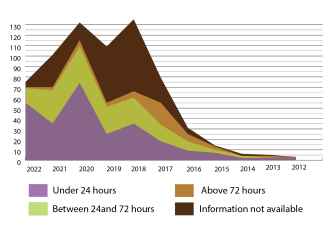 The duration of shutdowns.
In order to study the impact of Internet shutdowns on citizens, SFLC.in also maintains empirical records in the form of testimonials by those who have been affected by them. Through this project, called Lost Voices, Kashmir suffered the harshest of Internet shutdowns for 522 consecutive days.
Kashmir, which lost access to the Internet for more than 18 months, was the worst hit economically. According to a report by the Kashmir Chamber of Commerce and Industries, businesses have suffered losses worth Rs 40,000 crore from August 5, 2019, to July 2020.
Till November 2020, at least, 5,000 salesmen in tourism and mobile services were not paid salaries in August, September and October. Further, 4.96 lakh people lost their jobs in Kashmir.
The Chamber said that the Internet shutdown added to losses due to the disruption in online shopping and transactions after August 5. Start-ups, the telecommunications sector and courier services are among the worst-hit businesses in Kashmir.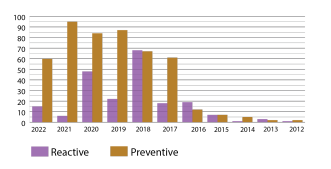 Preventive and reactive Internet shutdowns in 2022.
In an SFLC.in report titled 'Living in Digital Darkness-A Handbook on Internet Shutdowns in India', it was observed that Internet shutdowns affect not only big traders, e-commerce or big companies but even the smallest business which has any form of Internet dependence.
An operator at a service centre in Mutnur village of Adilabad district, Telangana, said, "Various business areas suffered when there was no Internet for 30-45 days in our region. Our work includes filling out online applications and generating certificates like birth certificates, OBC certificates, etc. Since we couldn't do any bank transactions, our customers also faced a lot of inconvenience."
The impact on gig workers (food app delivery partners and cab aggregator drivers), who rely on the Internet entirely to perform their services for their wages, suffer severely. Shutdowns prevent them from being able to render their services entirely. 
Internet shutdowns also affect healthcare services, as per an Indian Council for Research on International Economic Relations report. With the increased digitisation of health records and facilities, many doctors rely on the Internet for consultation with their peers, and patients also use the Internet to consult doctors.
The SFLC report14 identified database access difficulties faced by a doctor in Manipur during an Internet shutdown. Apart from being able to access their server, issues were also faced in making payments, tracking shipments of medical supplies, and engaging in other essential medicare activities essential for delivering healthcare services seamlessly.
Many government-provided health schemes for the poor and vulnerable are affected. In early 2020, it was reported that many Ayushman Bharat beneficiaries were not able to access healthcare as hospitals were unable to deal with these cases due to an Internet blockade in Kashmir. Doctors stated that they were unable to process Ayushman Bharat cases for 25 days consecutively after which they resorted to offline processes, which caused issues of efficiency and hampered the delivery of services to beneficiaries.
Internet shutdowns severely impact education as well. The importance of access to the Internet for the education sector became obvious with the online delivery of classes and administration of examinations during the pandemic across the world.
More than 96.33% of Internet users in India are mobile Internet users and around 75% Internet shutdowns affect mobile internet services. This worsens the digital divide that already exists in the country.
With respect to long-term Internet shutdowns, some students dropped out of school or missed an entire year of schooling. In Kashmir, due to low Internet speed and connectivity, the syllabus for the academic year had to be reduced by 40%.
Parents of children reported that students have been discouraged from attending classes due to low speed. It also caused emotional and mental health issues for many students who were not able to access education.
In some cases, students were unable to appear in important government-held examinations for entrance into colleges for higher education and government jobs.
The observations made in the report make emphatically clear the failings of the current legal framework in defending human rights in the context of access to the Internet. As seen in the report, the disruption of access to the Internet is triggered in the most menial of instances, including for reasons where alternatives to Internet shutdowns are available. The glaring absence of necessity, rationality, proportionality and due process in the exercise of shutdown powers has attracted significant disrepute to the state of democracy in India.
Get the latest reports & analysis with people's perspective on Protests, movements & deep analytical videos, discussions of the current affairs in your Telegram app. Subscribe to NewsClick's Telegram channel & get Real-Time updates on stories, as they get published on our website.
Subscribe Newsclick On Telegram