7 Sangh-Linked US Groups Spent $159m on Sangh Parivar in 2001-19: Report
Hindu nationalists in the US fund Sangh groups in India and finance friendly politicians and target their critics, report shows.
Sangh Parivar-affiliated groups in the United States play a critical role in funding its cultural-nationalism war, political strategies, hate campaigns against minorities and critics, mythologised history-based information ecosystem.
According to a report released through the South Asia Citizen Web titled 'Hindu Nationalist Influence in the United States, 2014-2021: The Infrastructure of Hindutva Mobilising', seven Sangh-affiliated charitable groups reportedly spent, at least, $158.9 million (Rs 1,227 crore) on different programmes, sending much of it to groups in India, in 2001-2019.
The seven groups included All India Movement for Seva, Ekal Vidyalaya Foundation of America (EVFA), India Development and Relief Fund, Param Shakti Peeth, PYP Yog Foundation, Vishwa Hindu Parishad of America (VHPA) and Sewa International.
Using tax records, government filings, public statements, websites and news reporting, the report shows the Hindu nationalist ecosystem in the US, and evidence of the Sangh's affiliation with selected groups and individuals, funding flows between different groups, and possible strategies and areas of influence in American social, educational, and political institutions from 2014 to 2021.
The Hindu nationalists in the US portray "Sangh groups as cultural gatekeepers and representatives of Hindus; fund Sangh groups in India; insert support for Hindutva histories into US academic institutions and textbooks; shift US domestic and foreign policy pertaining to South Asia; finance Sangh friendly politicians and target their critics", the report states.
The apparatus includes "diasporic Sangh-implemented family and youth programmes, cultural events, temple-related conferences, charitable funders of education and health projects and political pressure groups that appear to provide social and political support to Hindutva".
Sangh groups in the diaspora are "important to the enterprise because these entities operate as influence groups on the more powerful middle-class and wealthy communities, disseminating and amplifying shared supremacist worldviews that appear to result in greater financial and social support for Sangh groups", the report further states.
The report recognises the following actions (Figure 1 below), as reported by the media, civil society groups and human rights bodies, from other nationalist and authoritarian movements across the world and throughout history:
Lynching and criminalising minorities (especially Muslims, Dalits, and Christians);

Work, education and housing discrimination against religious and caste minorities;

Police brutality against Muslims and caste-oppressed communities;

Religion- and caste-based segregation and the targeting interfaith families;

Attacking, destroying and shutting down non-Hindu places of worship;

Targeting movement leaders, journalists and watchdog groups;

Disintegrating the independence of the judiciary;

Assassinating high-profile critics of Hindu nationalism;

Citizenship law changes that target certain minorities, especially Muslims;

Building "foreigner" detention camps;

Chilling of the freedom of speech and freedom of the press; and Forms of ethnic cleansing in Assam and genocidal actions against Muslim-majority Kashmir.
Figure 1. Building a Hindu Nation in India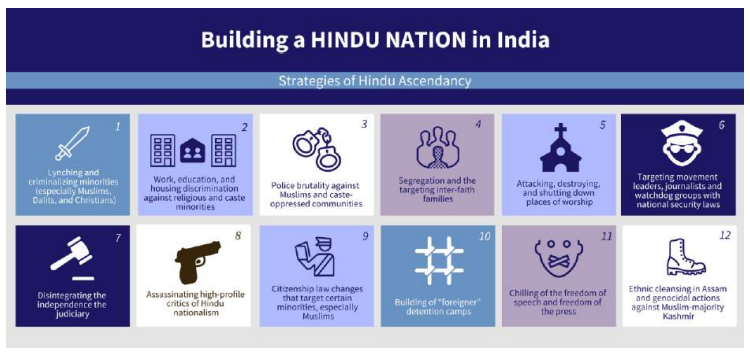 Preliminary findings on the Sangh's pressure and influence work are summarised in Figure 2. The report also highlights some administrative and financial irregularities in the paperwork of certain Sangh-affiliated groups towards enabling further investigation to determine if there is any misconduct and to better understand how such groups function.
Figure 2. Hindu Nationalist Pressure Efforts in the US (selected), 2012-2020.
As of 2020, there are reportedly 222 shakhas (chapters) of the Hindu Swayamsevak Sangh (HSS), the US counterpart of the Rashtriya Swayamsevak Sangh, across 32 states and 166 cities that operating weekly with an estimated 8,880 participants in its youth and family programming, according to tax records and HSS's 2019-2020 annual report. The HSS's work in 2019-2020 involved 426 other organisations and impacted more than 45,000 families in 198 cities.
The VHPA, according to the report, reportedly operates 21 chapters in 14 states; its cultural projects often use different names such as the Swami Vivekananda Family Camp or Hindu Mandir Executives Conference.
The report highlights EVFA's role in pro-BJP electioneering activities of US-based Hindutva leader Ramesh Shah. "The Dharma Civilisation Foundation website and news media reported that EVFA had offered more than $13 million between 2012-2016 toward establishing academic programmes or chairs at the Graduate Theological Union, University of California, Irvine, and University of Southern California with UC Irvine refusing the funds."
According to tax records and its annual reports, "the Uberoi Foundation spent, at least, $561,000 in the US between 2010-2016 toward influencing public school textbooks, establishing university endowments, undertaking teacher training programmes, distributing research grants, developing educational materials and funding the VHPA's Hindu University of America toward saffronising South Asian history".
The HSS-affiliated Uberoi Foundation reportedly gave the Hindu American Foundation (HAF), at least, $142,000, partly to influence the content of California textbooks from 2012-2016, per tax records and annual reports, the report shows.
"According to news and civil society reporting, the US-based Sangh appears to benefit from online abuse and hate campaigns, work-based harassment, where public smear campaigns and petitions are aimed at a faculty member's institution, as well as civil lawsuits and subpoenas that pressure education officials and disincentivise scholars from participating in public processes relevant to their areas of expertise such as public school textbook revisions."
As per websites of the groups and government filings, the "Sangh's efforts to platform and amplify Hindutva priorities in US domestic and foreign policy appear to include briefings and meetings held by groups like the HAF and the Foundation for India and Indian Diaspora Studies; campaign financing through the Hindu American Political Action Committee (HAPAC, headed by HAF leaders) and individual Sangh-affiliated donors; and through direct lobbying by the Indian government."
The report shows that as per the Federal Election Commission filings from 2012 to 2020, HAPAC reportedly spent more than $172,000 towards influencing US elections. Between 2015 and 2020, Congressmember Raja Krishnamoorthi reportedly received more than $117,000 from HAPAC and Sangh-affiliated individuals.
Between 2014-2019, Congress member and presidential candidate Tulsi Gabbard received, at least, $110,000. Between 2018-2020, Congressional candidate Srinivas Rao Preston Kulkarni received more than $95,000. Between 2014-2019, Congressmember Brad Sherman received more than $27,000.
Figure 3: Reported Influence Efforts of Hindu Nationalist Groups in the United States.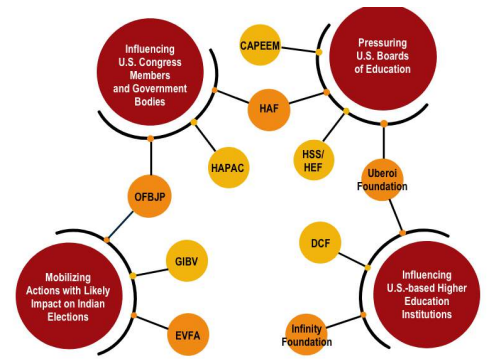 CAPEEM = California Parents for the Equalisation of Education Materials, DCF = Dharma Civilisation Foundation, EVFA = Ekal Vidyalaya Foundation of USA, HAF = Hindu American Foundation, HAPAC = Hindu American Political Action Committee, GIBV = Global Indians for Bharat Vikas, HEF = Hindu Education Foundation, HSS = Hindu Swayamsevak Sangh, OFBJP = Overseas Friends of the Bharatiya Janata Party.
The Sangh-affiliated groups and individuals reportedly protested the State Department's visa denial to Narendra Modi; and stressed the insertion of Hindu nationalist histories into public school textbooks and asserted that the violence against Kashmiris is an "internal matter" of India.
According to Department of Justice filings, the report states that between 2017 and 2020, the Modi government reportedly paid lobbying groups, on average, between approximately $15,000 per month to about $58,000 per month each to forward India's interests on matters connected to US policy and academic institutions.
The hope that the Joe Biden administration will be able to join other democratic countries and coalitions to "urge India to change its trajectory away from authoritarianism and normalised atrocities appears to be fading", the report states.
The report asks whether US government bodies will monitor relevant Sangh groups on US soil, will they vet their political appointees with connections to the Sangh, and how will US universities and state boards of education equip themselves to protect faculty and educators and stand up to Hindu nationalist funding and pressures in the areas of Indian and South Asian history and "Dharmic" or "Vedic" studies?
"Challenging the Sangh Parivar's influence work requires identifying its institutions, leadership, strategies, funding flows, apparatuses and targets of influence and their effects," the report states.
Get the latest reports & analysis with people's perspective on Protests, movements & deep analytical videos, discussions of the current affairs in your Telegram app. Subscribe to NewsClick's Telegram channel & get Real-Time updates on stories, as they get published on our website.
Subscribe Newsclick On Telegram