UP: 7 Labourers From Jammu Die in Meerut Cold Storage Blast, Over 30 Injured
Dozens of potato farmers face huge losses as their crop was damaged in the Daurala cold storage blast, allegedly due to leakage of ammonia gas.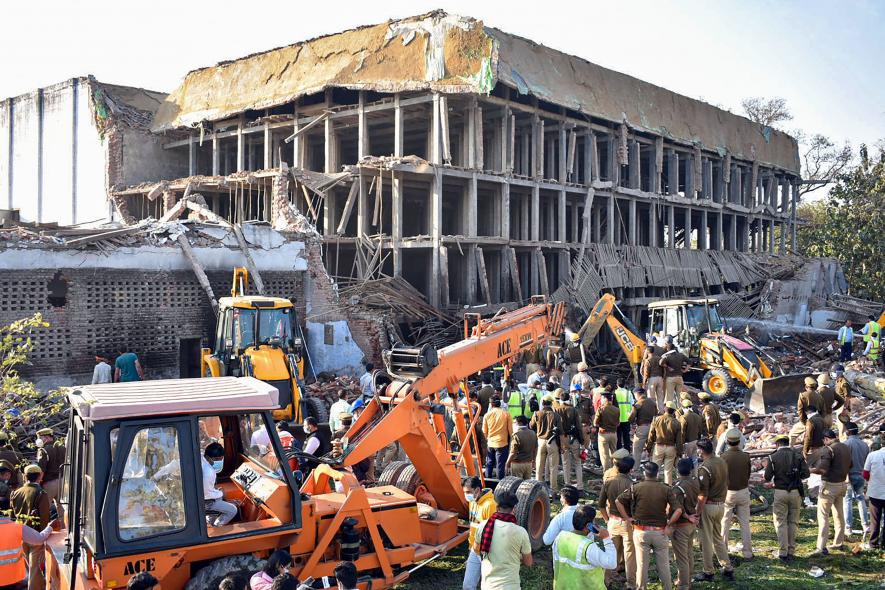 Rescue operation underway after a wall of a building collapsed at Daurala in Meerut, Friday, Feb. 24, 2023. At least 5 people lost their lives in the incident, according to officials. Image Courtesy: PTI
Lucknow: In a tragic incident, at least seven migrant labourers hailing from Jammu and Kashmir were killed and more than 30 sustained injuries after a compressor exploded in cold storage in Uttar Pradesh's Meerut district on Friday. 
The deceased have been identified as Balwant, Baldev, Balbir Singh, Sat Pal, Ramesh Lal, Kalu — all residents of Udhampur and Hoshiywar Singh of Ramban.
The labourers had come to Meerut to pick potatoes in the cold storage. Most of them were aged between 35 and 50 and were the sole breadwinners of their families.
According to the police, the incident took place in Daurala town. The deceased were inside the cold storage when a wall collapsed on them during the explosion. However, preliminary investigation revealed that the incident took place allegedly due to leakage of ammonia gas inside the cold storage that was used to store potatoes. 
District administrative and police officials along with a team of the National Disaster Response Force (NDRF) have rushed to the spot, the police told reporters, adding that 27 people had been rescued from under the rubble and efforts were on to find others. The injured labourers have been shifted to a private hospital in Meerut, said police.  
"The roof collapsed after an explosion in the cold storage. More than 18 labourers have been rescued till now, 12 injured were admitted to hospital. As per locals, 25 labourers were inside the cold storage when the incident took place. We are confirming this. The rescue process is underway," Deepak Meena, District Magistrate, Meerut, told reporters. 
He further added, "On Friday afternoon when around 40 labourers were working, the cylinder of the refrigerator blasted, leaking ammonia gas. Owing to the blast, the shuttering of the lintel came down leading the roof to collapse."
Ratan Singh, a labourer who along with 27 others landed in Meerut for the first time on Saturday, told NewsClick over the phone: "We had never thought that tragedy will strike us in such a big way. The incident has left us shattered," Singh said, adding "If we don't migrate, arranging two square meals a day will be impossible for us. The incident exposes the vicious circle of poverty in our villages."
When asked about the incident, he said: "We landed at the cold storage early in the morning. Preparations were being made for lunch. The stove was lit. Suddenly, there was a loud noise and the roof fell. We were buried under the debris, that's all I remember. Many of our friends are injured, they are hospitalised. Some have even died." Singh said he had come to Meerut to pick potatoes in the cold storage but was now fearful of future uncertainty about his livelihood.
 Kakaram, another labourer from Jammu, told NewsClick: "All of us had arrived just a day earlier in Meerut to work in the cold storage plant, which opened for the first time on Friday after the winter break. We had come here for a month. Our job is to unload potatoes from tractors and we emptied almost four trolleys so far. We were resting when suddenly there was a loud noise. All my belongings are buried under the rubble."
 Jagdish Singh, the contractor who brought the labourers from Jammu, said he had gone outs to bring some essential commodities for the labourers when the massive explosion took place. "Some of the labourers were busy preparing food while some of them were resting. I had come here for work 10 years ago, this was the second time," he added.
According to local residents, the intensity of the blast was such that the sound could be heard even from a distance of a kilometre. Due to the pungent smell of leaked ammonia, nearby residents also complained of trouble in breathing. 
"Despite wearing two masks, we could feel the strong smell which caused a lot of uneasiness," Rajeev, a resident of Daurala, told NewsClick over the phone. 
Janshakti Cold Storage in Daurala is 33 years old and is owned by former Bahujan Samaj Party (BSP) MLA, Chandra Veer Singh. It is located on the Delhi-Dehradun NH 58. About 1 lakh 40 thousand bags of potatoes of more than one thousand farmers are stored in this cold storage, which is built on 10 bighas of land. 
Meanwhile, MLA Singh and his son have been detained by the police for questioning. "Police are probing the cause of the blast and an FIR has been lodged against the owners under relevant sections of the Indian Penal Code," said the police.
A HUGE LOSS FOR FARMERS
 Meanwhile, dozens of farmers who stored potatoes at cold storage reportedly are at a huge loss after the explosion. 
 Rahman, Somveer and Rudali said they were in "deep shock" after the incident. Somveer told NewsClick: "We are ruined. More than 1,000 packets of potatoes of mine were stored there. I don't have any idea about the loss farmers like me have suffered, but we are completely destroyed."
 Another farmer said: "Hundreds of farmers of two-three villages are in shock following the ammonia gas leak from the cold storage leading to the incident. It was not only potatoes that were stored there, but our hard work and savings for the future which were destroyed in one fell swoop."
 According to the farmers, the cold storage runs for nine months in a year. It was about to function from Friday, for which MLA Chandra Veer was coming with his manager to oversee.
Meanwhile, Union minister of state (MoS) for fisheries, animal husbandry and dairying Sanjeev Balyan has blamed the former BSP MLA for poor maintenance of the cold storage. 
Get the latest reports & analysis with people's perspective on Protests, movements & deep analytical videos, discussions of the current affairs in your Telegram app. Subscribe to NewsClick's Telegram channel & get Real-Time updates on stories, as they get published on our website.
Subscribe Newsclick On Telegram