75 Years of Independence: 50% Reservation for Women in Politics Still a Far Cry
What's stopping the Modi government, which claims to be women-friendly, from gifting Women's Reservation Bill in the 75th year of Independence to women?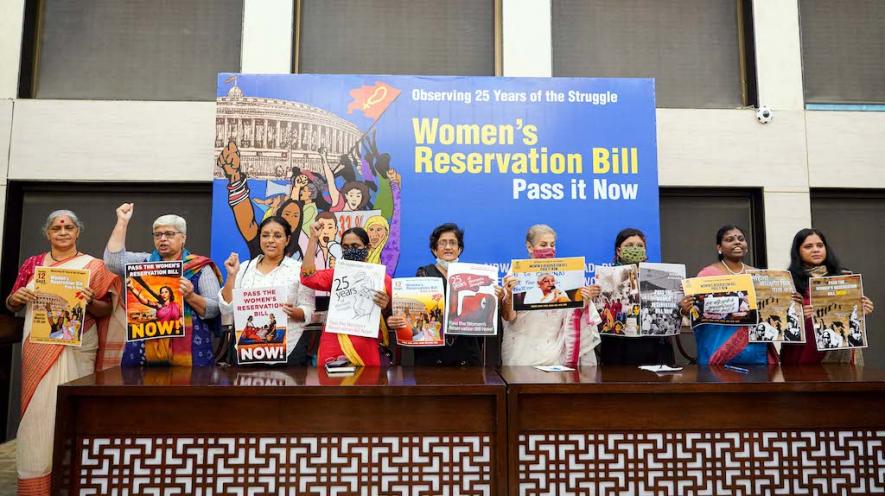 The country is celebrating 75 years of Independence. Programmes like Azaadi Ka Amrit Mahotsav and Har Ghar Tiranga are being organised by the government. But amidst all this celebration of freedom, how free are women in this country? The dominance of patriarchy in our society is such that age-old issues affecting women remain the same today, even though women have made some significant achievements in every sphere of life that are worth remembering.
A discussion highlighting the role of women in society, their successes and struggles, especially those from the marginalised sections, was recently organised by National Federation of Indian Women (NFIW) and Strikal in New Delhi. Those who participated in the discussion included women working in the political and social spheres.
It may be recalled that 2022, along with 75 years of Independence, also marks 100 years of women's participation in parliamentary democracy as well as in the courts of this country. Apart from this, this year also marks 80 years of the historic All India Dalit Women's Conference held in Nagpur. It is important to recall all these achievements of democracy that were handed over to us by our older generations after great struggles.
What have women achieved so far?
Of course, not much has changed at the grassroots level for women, but the torch of struggle that women have lit in the past years is still burning.
Among the speakers, well-known Hindi writer Maitreyi Pushpa, who is also former president of the Hindi Academy, shared her experiences on gender discrimination in the society as well as in the field of literature. She commented on how literary bodies, such as Sahitya Akademi and Hindi Academy are dominated by men and women are not allowed to stick around long enough in such posts.
Pushpa said there "is no democracy for women, they have no country, no caste. They are a distinct section among themselves."
Also participating in the discussion was Delhi's Social Welfare Minister Rajendra Pal Gautam, who said women had got representation in village councils and panchayats, but their entry into Assemblies and Parliament was still a far cry. He said women needed to recognise their own strength and come out of the shadows of male family members as well of the RSS agenda behind the current regime and find their own sky.
 Women MPs Raise Demand for Bill in One Voice
The programme saw women MPs  -- Congress's Rajya Sabha MP Rajni Patil, Nationalist Congress Party MP Fauzia Khan and Vandana Chauhan --  in one voice demanding that the Narendra Modi government should get the Women's Reservation Bill passed in Parliament. On this occasion, the women MPs said it would have been nice if the government had given this 'gift' to women while celebrating 75 years of Independence.
Recall that in 2010, this Bill was passed by the Rajya Sabha and was hanging in the Lok Sabha. Since then, more than a decade has passed, but this Bill has not emerged from the manifestos and election promises of political parties to become a law.
D Raja, general secretary of Communist Party of India, spoke on the existing class, caste and gender discrimination created by patriarchy and accused the ruling BJP, which is "under the control" of RSS, which wants to introduce Manusmriti in the country. He reminded the gathering that Manusmriti, which was burnt by Babasaheb Ambedkar, was the same in which it has been said that women should live as subjects of men for life.
He called upon women to unitedly demand their right for representation.
Annie Raja, CPI leader and general secretary of NFIW, remembered the historic All India Dalit Mahila Conference in Nagpur. She said that it was very easy to form a separate party for women but it was difficult to keep it alive in the system of this country. She said women today understand their rights and hence now half the population was demanding 50% share in politics, not just 33%.
Need for More Women Judges
It is worth noting that the issue of gender equality in the judiciary has been in the headlines for a long time. Last year, for the first time in the history of the Supreme Court, it was historic for three women to take oath for the post of Justice. Many Chief Justices, such as NV Ramana, have talked about increasing the number of women lawyers, so that the status of women in the judicial system can be improved.
Notably, till now only eight women have been appointed as judges in the Supreme Court of India. In 1989, Justice Fathima Biwi became the first woman judge of the Supreme Court. Justice Indira Banerjee is the only woman among 34 judges of the Supreme Court before new appointments were made.
Of the 25 High Courts across the country, only one Telangana High Court had a woman, Justice Hima Kohli, as the Chief Justice, who has now reached the Supreme Court. There are a total of 661 judges in these High Courts and only 72 of them are women. There are no women judges in the High Courts of Manipur, Meghalaya, Bihar, Tripura and Uttarakhand.
Women's Participation and Struggle in Politics
If we talk about participation of women in politics, then the government has so far adopted an ambiguous attitude toward increasing the representation of women. The country has got its first tribal woman president, and the ruling BJP is trying to reap political capital from her identity. That's about it.
The BJP does not tire of listing out the work done by the party and the government for women, be it the Ujjwala scheme or naming women in housing schemes. But, the fact is that today BJP is running a government with absolute majority on its own, yet the age-old demand for 33% reservation of women in politics is nowhere on its radar and has not been made into law. The Bill – the biggest fight for women's rights so far – has not been paid even lip service by BJP, leave alone making it a law.
Recall that in 1996, the Women's Reservation Bill was first introduced by the H.D Deve Gowda-led government as the 81st Constitutional Amendment Bill in Parliament. But Deve Gowda's government lost its majority due to which the Bill could not be passed.
Then, in 1998, the government of Atal Bihari Vajpayee again introduced this Bill in the Lok Sabha. But due to different ideologies in the NDA coalition government, the Bill faced heavy opposition. It was then reintroduced in 1999, 2002 and 2003, but in vain.
In 2008, the Manmohan Singh-led UPA government introduced in Rajya Sabha the 108th Constitutional Amendment Bill related to 33% reservation for women in the Lok Sabha. Two years later, in 2010, despite all kinds of protests, the Bill was passed in Rajya Sabha, but even though the current government has absolute majority in the Lok Sabha, it has not been passed.
Since then, this Bill has been lost somewhere in the official pages, whose need was not felt in the male- dominated politics of India.
 Due to the introduction of the Women's Reservation Bill in the Rajya Sabha, it is
still alive and the present Central government can easily get it passed if it has the political will. But, BJP, which talks a lot about women's empowerment, does not seem to have any such intention or inclination for now.
Get the latest reports & analysis with people's perspective on Protests, movements & deep analytical videos, discussions of the current affairs in your Telegram app. Subscribe to NewsClick's Telegram channel & get Real-Time updates on stories, as they get published on our website.
Subscribe Newsclick On Telegram