75th Anniversary: What Do Indians Want?
Here are some key policies that are needed by the people, but the Modi government doesn't think so.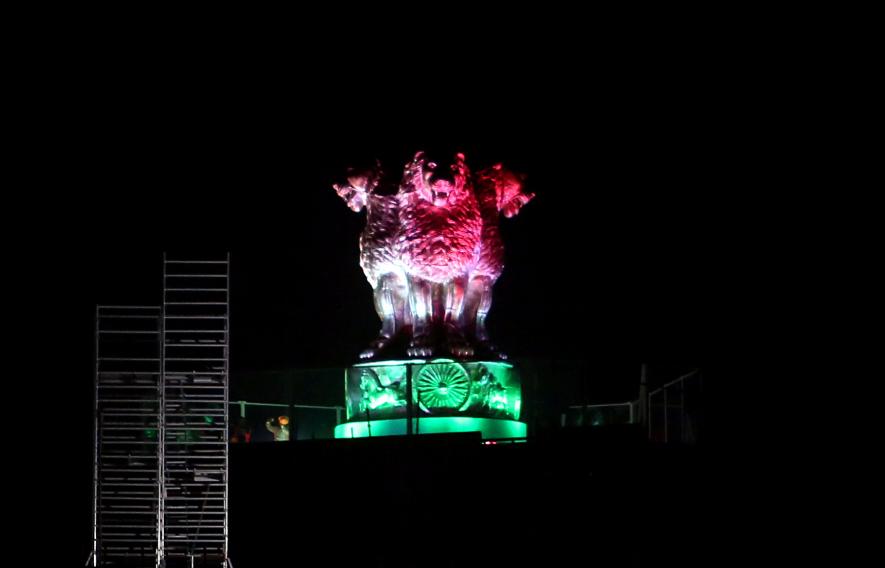 National Emblem cast on the roof of the New Parliament Building, lit up in tricolour on the eve of 76th Independence Day, in New Delhi on Sunday.
As you read this, Prime Minister Modi would have delivered his address to the country from the Red Fort in New Delhi and probably announced a few more programmes or schemes, imbued with the customary patting one's back on having done so much.  In the run up to this 75th Anniversary of Independence, the narrative of achievements has been all pervasive, laced with the stress on putting up the tricolour to show one's patriotism. The people are of course happy at the fact that 75 years ago, the British were finally thrown out. But today's life is hard and distressing for too many Indians for them to really savour this freedom. 
What can be done to really lay the foundations of a strong and prosperous country? The people need to be prosperous, united and imbued with modern thinking. Here are some major policies that can take India in that direction. These policies and measures would require a drastic change from the present direction under PM Modi's stewardship. But that will be decided in due course, when the time comes for electing the government.
People's Welfare 
Some immediate measures are necessary to improve the economic condition of the people who are reeling under multiple blows of price rise, hunger, joblessness, costly healthcare and education, and lack of basic human necessities like drinking water, housing etc. Hence, the following needs to be done immediately:
Universalise Public Distribution System: Supply all essential commodities; cover whole population; 

Basic Amenities: Provide safe drinking water, sanitisation and housing for all.

Employment: Provide jobs for all; expand work and increase wages under MGNREGA; enact urban job guarantee scheme; provide unemployment allowance.

Scrap New Education Policy: Increase Central allocations on education to 6% of GDP; regulate private educational institutions; revamp syllabus and curriculum to strengthen Constitutional values and scientific temper; eliminate digital divide in education.

Universal Public Health Care: make it govt funded; increase central expenditure on health to at least 5 per cent of GDP; reduce prices of essential drugs; regulate private health facilities.
Safeguard Economic Sovereignty
The Modi government has severely eroded economic sovereignty by reckless privatisation of the country's natural and industrial resources and by inviting predatory foreign capital to penetrate important sectors of the economy. This is accompanied by withdrawal of public funding, which means large scale distress for the people – now and in the future. What is needed is the following:
Reverse privatisation of PSUs and government departments; Scrap National Monetisation Pipeline;

Govt. agencies should provide affordable services like water, electricity, public transport, health and education; 

Promote MSMEs;

Tax the super-rich; 

Hike public investment to build much needed infrastructure, generate jobs and boost domestic demand; 

Implement land reforms; 

Develop agriculture through cooperative farming, production and marketing, strengthen India's food security.
Strengthen secular, democratic, federal character of the Republic 
Never before since Independence has India seen such a systematic attack on the unity of people by bringing religious bigotry into mainstream politics by the Sangh Parivar and its political wing, the BJP. This is damaging the fight against anti-people policies and also diverts attention from basic issues, besides posing violent threat to minorities, Dalits, Adivasis and under privileged sections. The three pillars of the Constitution – secularism, democracy and federalism – are under threat as centralisation of powers and destruction of democratic institutions is being done relentlessly. Hence there is need to include secularism, that is, separation of religion from the state and politics, as a Constitutional tenet. The government should ban campaigns of hate and violence based on communal polarisation as also all illegal private armies and vigilante groups. A stringent law against lynching should be passed an implemented. The life, liberties and rights of all religious minorities should be steadfastly protected. The system and state institutions should be cleansed of communal personnel inducted by the present regime. The discriminatory CAA  should be repealed and the proposed NPR/NRC abandoned.
To safeguard democratic rights as guaranteed by the Constitution, UAPA, the sedition provision in IPC, AFSPA and National Security Act (NSA) should be repealed and the death penalty abolished. Electoral reforms including introduction of proportional representation with partial list system should be brought in and the Electoral Bond Scheme scrapped. 
Centre-State relations should be recast with more powers to states. Fiscal federalism needs to be strengthened by sharing central surcharges and cesses which are presently not shared with States. The Inter-State Council, Planning Commission and National Development Council should be revived. Full statehood of J&K with its autonomy should be restored and abrogation of Articles 370/35A should be repealed.
Working Class and Peasantry
The working class and peasantry have suffered the most under the present regime, although the history of this exploitation stretches far into the past. In order to ensure a life of dignity for working class families, a statutory minimum wage of not less than Rs. 26,000 per month for unskilled workers, which is linked with the Consumer Price Index is essential. The four Labour Codes should be scrapped, all workers should get guarantee of social security.  
For farmers, statutory MSPs for all crops and all farmers on the basis of the C2+50 per cent formula must be established. There should be a one time complete loan waiver by the Central government so that the unbearable indebtedness is done away with. Agricultural workers should come under the protection of a central law on wages and social security.
Social Justice
Under the Modi government, there has been an uptick in discrimination and violence against Dalits and Adivasis while central allocations have remained short of the norms. Caste oppression continues to flourish and it is often encouraged by ruling parties. While fighting to end caste oppression, special measures are needed to ensure basic human rights to Dalits and Adivasis. A central legislation for special component plan for SCs and an ST sub-plan with an empowered committee to monitor its implementation should be brought in. The Constitutional and legal provisions for Adivasi rights to forest lands, livelihood and culture should be protected. Reservations of jobs in private sector should be ensured through law. Manual scavenging should be strictly abolished through legal means and stringent action taken against this practice as well as any forms of untouchability. The Forest Rights Act should be strictly and speedily implemented. A caste census to enumerate OBCs must be carried out.
Women's Rights
Women's rights have taken a blow under the twin onslaughts of the regressive ideology of the Sangh Parivar and BJP on the one hand and the neoliberal economic policies on the other hand. Women's employment has continued to dwindle while their wages remain abysmal and below those of men doing the same work. Special efforts must be made to provide jobs to women as part of employment strategies. Violence against women continues unabated, with 30% women reporting physical and sexual violence according to the latest NFHS-5. This needs to be addressed both legally as well as through mass awareness and rooting out patriarchal mentality through mass effort.
Environment
The continued dilution of environmental protection laws should be stopped. Energy equality for all must be ensured and conservation of forests, water resources, wetlands and mountains and other fragile regions should be given priority with participation of people. Renewable energy should be promoted  and all types of pollution should be regulated with strict action against violators
Get the latest reports & analysis with people's perspective on Protests, movements & deep analytical videos, discussions of the current affairs in your Telegram app. Subscribe to NewsClick's Telegram channel & get Real-Time updates on stories, as they get published on our website.
Subscribe Newsclick On Telegram