87% of Service Workers in the US South were Injured on the Job Last Year
Southern service workers allege that South Carolina's Occupational Safety and Health Administration discriminates against Black workers.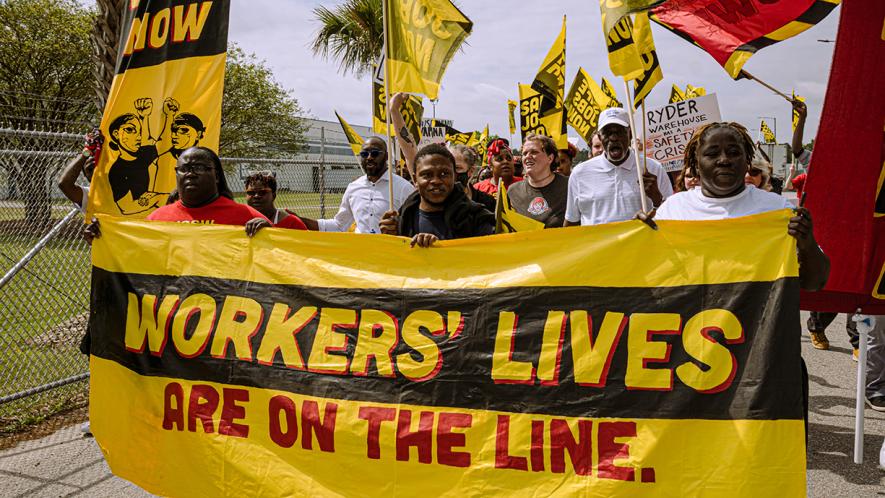 Service workers on strike in Columbia, South Carolina. (Photo: USSW)
A March survey of 347 service workers in the US South found that a shocking 87% were injured on the job in the last year. The workers surveyed came from eleven states across the "Black belt," or Southern states with historically large Black populations: North Carolina, South Carolina, Alabama, Tennessee, Georgia, Virginia, Louisiana, Florida, Texas, Mississippi, and Arkansas. Workers organized under the Union of Southern Service Workers filed a landmark civil rights complaint against South Carolina's Occupational Safety and Health Administration (SC OSHA), alleging that the agency "discriminates by disproportionately excluding black workers from the protection of its programmed inspections."
The survey, conducted by the Strategic Organizing Center, laid bare the shocking reality of the service industry in the US South, composed of principally Black workers. Of the 87% of workers that had been injured on the job, most had been injured "from lifting or carrying boxes, garbage or other items or from falling boxes and/or merchandise." The next two most common types of injuries/illnesses were "cuts by knives, slicers, box cutters or other sharp tools" and "heat-related illness due to broken or malfunctioning air conditioners." 
More than half of survey respondents reported observing serious health and safety standards at work, the most common being "improperly stored boxes and merchandise," "minimal, inadequate or malfunctioning exterior lighting… and interior lights that automatically turn off," and "blocked aisles, passageways or fire exits." 42% of workers surveyed had experienced some form of harassment or violence, the most common types being verbal abuse and threats as well as sexual harassment. 
According to the survey, most workers worried about their personal safety on the job, most believe that their employer prioritizes profit over safety, most do not raise safety issues for fear of retaliation, and the vast majority (72%) believe that their employer's attitude "places customer satisfaction above worker safety."
This is where OSHA comes in. The survey reported that "70% of southern service worker respondents did not report violent and threatening behavior to their app-based companies for a variety of reasons." The data indicates that workers often fear retaliation to avoid enforcing safety rules themselves, something they shouldn't have to do in the first place. Service workers need OSHA, whose job is to step in to enforce safety regulations. But in the South, OSHA is not doing its job, workers say. As USSW reports in their complaint, "from 2018 to 2022, SC OSHA conducted no programmed inspections in the food/beverage and general merchandise industries, and only one such inspection in the food services and warehousing industries." These industries disproportionately employ Black workers. In fact, in four of the last five years (excluding 2020), SC OSHA conducted only one programmed inspection in the fast food, restaurant, warehouse and retail industries combined.
However, SC OSHA enforces the rules differently in disproportionately white industries. "SC OSHA neglects key industries whose workforce is 42% black employees, while focusing the vast majority of its programmed inspections on industries made up of only 18% black workers," the complaint details.
In conjunction with their complaint, USSW workers went on a one-day strike across three states (Georgia, South Carolina, and North Carolina) yesterday to fight the dangerous trend of unsafe service industry workplaces. The date, April 4, marked the anniversary of Martin Luther King Jr.'s assassination. He was killed in Memphis, where he had been fighting alongside sanitation workers who were on strike against unsafe conditions that had led to gruesome workplace deaths.
"I have seen workers get hurt because Ryder Corporation doesn't fix safety hazards or give us proper training. Last year, I heard somebody crying for help and found one of my coworkers crushed under a forklift, screaming in pain. She couldn't feel her legs— I had to tell her both legs were indeed broken," said Marion Richardson, a forklift operator at Ryder warehouse in Columbia, South Carolina, who recently filed OSHA complaints alongside his coworkers. 
"After that, Ryder never added any proper safety training. And since then, two more workers have also broken their legs at our warehouse. More workers are going to be hurt if we don't get some help from OSHA to fix this problem!"
Get the latest reports & analysis with people's perspective on Protests, movements & deep analytical videos, discussions of the current affairs in your Telegram app. Subscribe to NewsClick's Telegram channel & get Real-Time updates on stories, as they get published on our website.
Subscribe Newsclick On Telegram