'96': Another Celebration of Arranged Marriage in the Name of Love!
The popular Tamil movie portrays platonic love as divine and upholds the age-old notion of caste-based patriarchal marriage while looking down upon 'worldly' love and its realisation.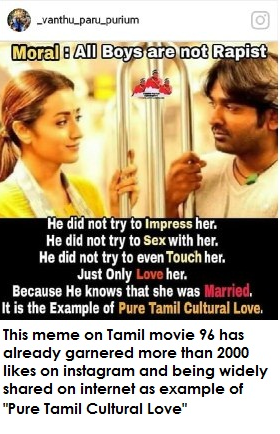 The Tamil movie '96', which was released recently has not only become one of the biggest box office hits of 2018, but has also acclaimed to be in the list of one of the most memorable films which portrays (heterosexual) love in its ideal form. It is being widely viewed even by Tamil diaspora and is doing very well in cities like Chennai.
The general audience reaction to this film has been that it shows love in a 'decent' manner. Most of the reviews of the movie are very positive, as it shows a different view than the trend in Tamil cinema that portrays stalking or harassment as love. This is indeed welcome.
This movie also falls in that rare case of Tamil cinema which does not hesitate to explore the past love life of a married woman. Finally, and most importantly, there seems to be a consensus among the critics in acknowledging the movie as a celebration of ideal love, as it rises above politics or ideology or praxis.
Is that really so? Does the film really celebrate love? Does this film uphold love even when it ends in tragedy? What is the notion of 'decency' that is so welcoming to the audience and critics alike? And what is in it that convinces the audience? Should all forms of love be accepted uncritically? In the words of anti-caste crusader and iconic social reformer Periyar, "Can we say that platonic love is superior to physical love? Can true love remain unperturbed even where incompatibility creeps in physically or mentally?"   
The contention here is that the movie ultimately celebrates arranged marriage (de facto caste-based patriarchal family) and in the name of true love upholds the notion of chastity or purity of women's body and celibacy. I would like to argue that like many other love stories in the past, this film also eulogises a certain form of love, namely, platonic eternal love, while at the same time looks down upon another form of love-- amorous worldly love.  This is so because the former kind of love doesn't threaten the existing oppressive structures, like caste and patriarchy, while the latter does.
Basic Storyline: Upholding Caste-based Arranged Marriages   
In order to understand this, let us first cursorily go through the storyline of the movie and not the cinematic aspects of it. The story revolves around two main characters, Ram and Jannu. Both get attracted to each other during their school days in Thanjavur. A sudden financial instability in Ram's family leads to their separation as his family moves to Chennai. They meet again after 22 years in the reunion of old students. A large part of the film is about the time they spend together that one night. They reminisce about all their life events from their time of separation and with heavy heart take leave of each other again as Jannu has to catch a flight the same night to get back to her married life in Singapore. The film ends with Ram cherishing the memories of Jannu.
As far as working on their attraction is concerned, during college days, Ram tried to reach out to Jannu who was studying in a women's college, but it was a failed attempt due to miscommunication, which they realise only when they meet after 22 years. Jannu later agreed to an arranged marriage within her caste because her parents were already disappointed with her elder sister's love marriage. Jannu recalls how she was in love with Ram and waited till the last moment of her marriage for a miracle. A miracle, that Ram would come and take her away. Other than this, no attempt from her side to find Ram is shown, even though Jannu is shown to be far more extrovert than Ram in their school days and also when she meets Ram during the reunion.  
Thus, the director builds up a situation to justify their separation – in the school phase due to financial instability of the boy's family and miscommunication during the college phase. In the last phase, though Ram is single and Jannu married to someone else, the film clearly shows that they are still in love with each other's present self. There is a scene when Ram's students see them in a restaurant, and Jannu role-plays as Ram's wife, sharing their beautiful love story and how they are living happily. She even says that Ram has been the most important person in her life not only in the past but even now. Ram is projected as single and practising celibacy. He is still madly in love with her and has not been able to move on. There is a scene where Jannu asks Ram if he is still a virgin and Ramachandran (Ram) acknowledges with all shyness that it is so because he is still in love with Janaki Devi (Jannu).
Even though both acknowledge their love for each other, they never choose to work on it. Jannu in her conversation about her married life says that initially she was unhappy with the marriage but slowly reconciled to it as her husband 'understands' her, giving her a "peaceful" family life while being a good father. Ram doesn't want to work on it, though he still loves her deeply because she is married. He also laboriously avoids any physical contact or any situation with her that could possibly spur the desire in them to think about realising their relationship. There is a passing scene where Ram is shown paying respect to her Thaali (prayer tray) and blessing her wholeheartedly, when she is asleep. Both the characters, though deeply in love with each other, are shown not letting any of their action bring kalankam (loss of purity) to the married life of Jannu. This implicitly endorses the age-old patriarchal idea of woman as the possession of the man to whom she is married, which was recently hotly debated in light of the Supreme Court ruling on de-criminalisation of the "adultery" law.     
When the heroine clearly says that her married life is "peaceful", it basically upholds the idea of a family-life without violence. Through this the filmmaker, even if unintended, ends up conveying that if an arranged marriage or any relationship for that matter is without violence, it is a very big thing in itself. So live with it. One shouldn't aspire for a family, marriage or relationship based on love, joy and a healthy sexual life. This subtly perpetuates a system which upholds caste, patriarchy, submissiveness of the female self. It also upholds the notion that after giving birth to a child, a woman's life should be anchored around the child. So when she says the husband is a good father to the child that is the end of a woman's life. The concept that when a woman gives birth to a child she becomes a complete woman is underpinned very well. Thus, for the rest of her life she has to fulfil the role of being nothing but a mother.
Love: Platonic Versus Amorous
The film portrays true love as something which doesn't aspire for happiness and gratification. True love, according to the movie, sacrifices itself for a greater 'good' of this society; in this case for a "peaceful" caste-based patriarchal family where the wife should remain content with a man who is a good father to her child and understands her, even though he may not be a good husband. Although caught up in a love-less peaceful marriage, she shouldn't aspire to go for fulfillment and realisation of love even when circumstances allow. If that is so, it would imply that building a new family based on love or relationship would break the existing institution of arranged marriage, which is very clearly shown not as an option (this is precisely where the caste and patriarchal society sustains). Obviously, the duty of a mother to sacrifice her amorous love for her child only adds to the idealisation. It is beyond the scope of the movie to even engage with the idea of a step-father showering similar affection as any father would do to a child, and that a mother could be a mother, anyway, irrespective of her marital status.
In this context, it is pertinent to invoke Periyar on love, "Love, affection, desire, friendship, etc., are for one's happiness and gratification and where there is no happiness and gratification it is imposture to pose oneself as a true lover." The ideal love, according to our patriarchal caste-based society is platonic and eternal, based on the idea of a soul mate. This ideal love need not be worldly, which any human would want to realise and live in their lifetime.
That worldly love may go away with time or change towards another person is something beyond the purview of this kind of cinema as it considers worldly, amorous love itself as something "indecent". Again, wonderfully explained by Periyar, "They say love is divine and nothing else could match it. They further say that love blossoms between a man and a woman only once and it remains unchangeable thereafter. According to them if love shifts from one person to another it is not love at all but lust and it is to be branded as "whoring". They believe that true love is fixed and one who loves truly would never think of another with desire, longing or dotage. In the name of love they bind one to another irretrievably."
It is clear that this movie has chosen to uphold eternal platonic love at the expense of worldly amorous love as ideal, and so its non-realisation and tragic death is also a celebration of ideal love without threatening the existing institution of arranged marriage, which as we know, de facto, is mostly caste-based. The concept of platonic eternal love has been always celebrated (and amorous worldly love looked down upon) as it could co-exist with oppressive structures like caste-based patriarchal marriage.
How is that we could accept a tragic end to love but not to a caste-based patriarchal arranged marriage?
(The writer is a Doctoral Scholar at the Madras Institute of Development Studies, Chennai)
Get the latest reports & analysis with people's perspective on Protests, movements & deep analytical videos, discussions of the current affairs in your Telegram app. Subscribe to NewsClick's Telegram channel & get Real-Time updates on stories, as they get published on our website.
Subscribe Newsclick On Telegram