A Graphic Book Rekindles Spirit of Anti-CAA Protests
Exploring Ita Mehrotra's visual grammar in 'Shaheen Bagh: A Graphic Recollection', a book that helps the iconic protest site come alive again in difficult times.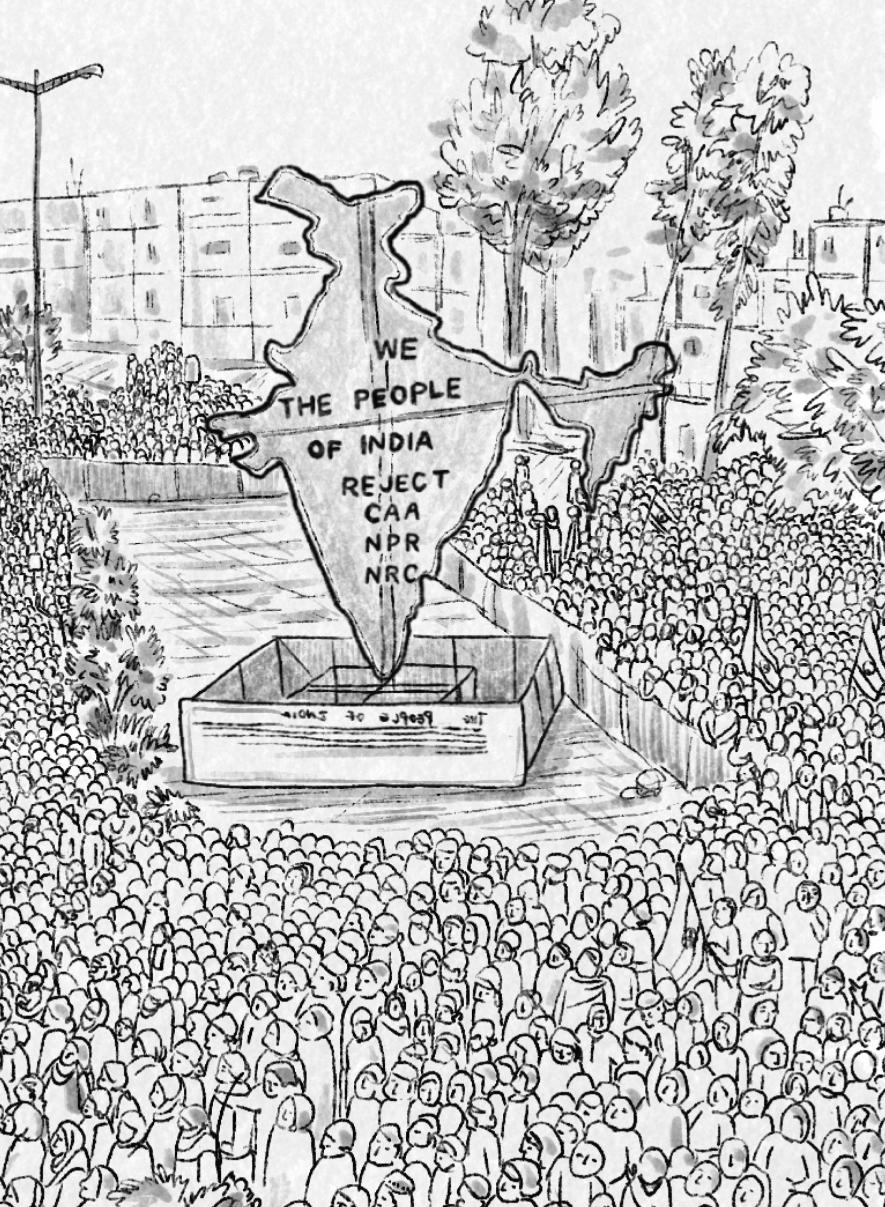 Map of India installation at Shaheen Bagh
In December 2019, to register their protest against the anti-citizenship laws and paramilitary crackdown on students in Jamia Millia Islamia, Muslim women occupied a stretch of road at Shaheen Bagh. Their 101-day sit-in protest ended only due to the nationwide lockdown to curb the COVID-19 outbreak. The eerie silence that engulfed the country presented a golden opportunity to the government, Delhi Police and paramilitary forces, who began 'sanitising' the Shaheen Bagh site—bringing down art installations, painting graffiti white.
But, by doing this, was the State able to eradicate the memories of Shaheen Bagh, too? No. Ita Mehrotra's Shaheen Bagh: A Graphic Recollection (Yoda Press, 2021) is a testimony to the fact that, no matter what, memory shall remain the primary site where cultural citizenship gets constructed, and the state has little to no control over it.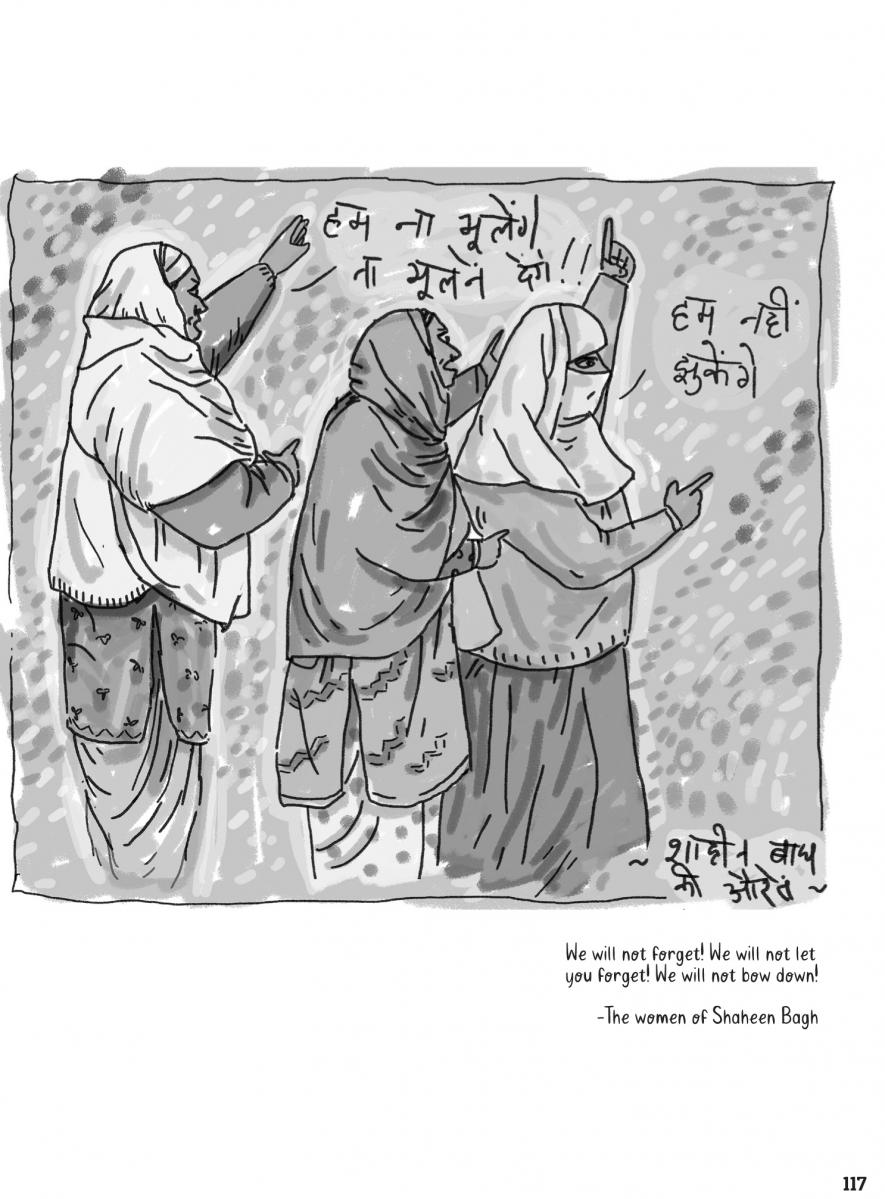 The dadis, didis and nanis of Shaheen Bagh
Can dissent be wiped out?
In the foreword, Ghazala Jamil submits that "nations are not born but are painstakingly and deliberately built". From here on, four sections of the book exhibit the spirit of the nationwide protests that rejuvenated the soul of India, and the increasing number of threats that have marred its pluralism. Mehrotra's sketches illustrate both why and how Shaheen Bagh occupies a permanent space in our collective memory.
Shaheen Bagh wasn't "just an iconic sit-in," as Jamil puts it. It was an "intervention", in the words of Soumyabrata Choudhury from his book, Now it's Come to Distances: Notes on Shaheen Bagh and Coronavirus, Association and Isolation (Navayana, 2020).
According to him, it engineered an atmosphere in which "wherever the thought of justice begins to exist, Shaheen Bagh will begin to exist." As India witnesses injustices yet again, and in the absence of mobilised sit-in protest sites, Shaheen Bagh has re-emerged as a site of resistance and come alive—in the form of this book.
Deftly capturing India's pulse
Several stories run parallel in this book, each mimicking the protest sites that peppered the country in 2019, all demonstrating a different perspective from which to view such a protest.
For a family that has lived and worked in Shaheen Bagh for a long time, it was impossible to reconcile with what happened in December 2019, once the sit-in began. Several contributors to this book echo the sentiment that after the protests began, the privately nurtured bigotry against them started being celebrated by people in power and propagated by the television media. One of them says, "I used to be a friend and now you call me a traitor."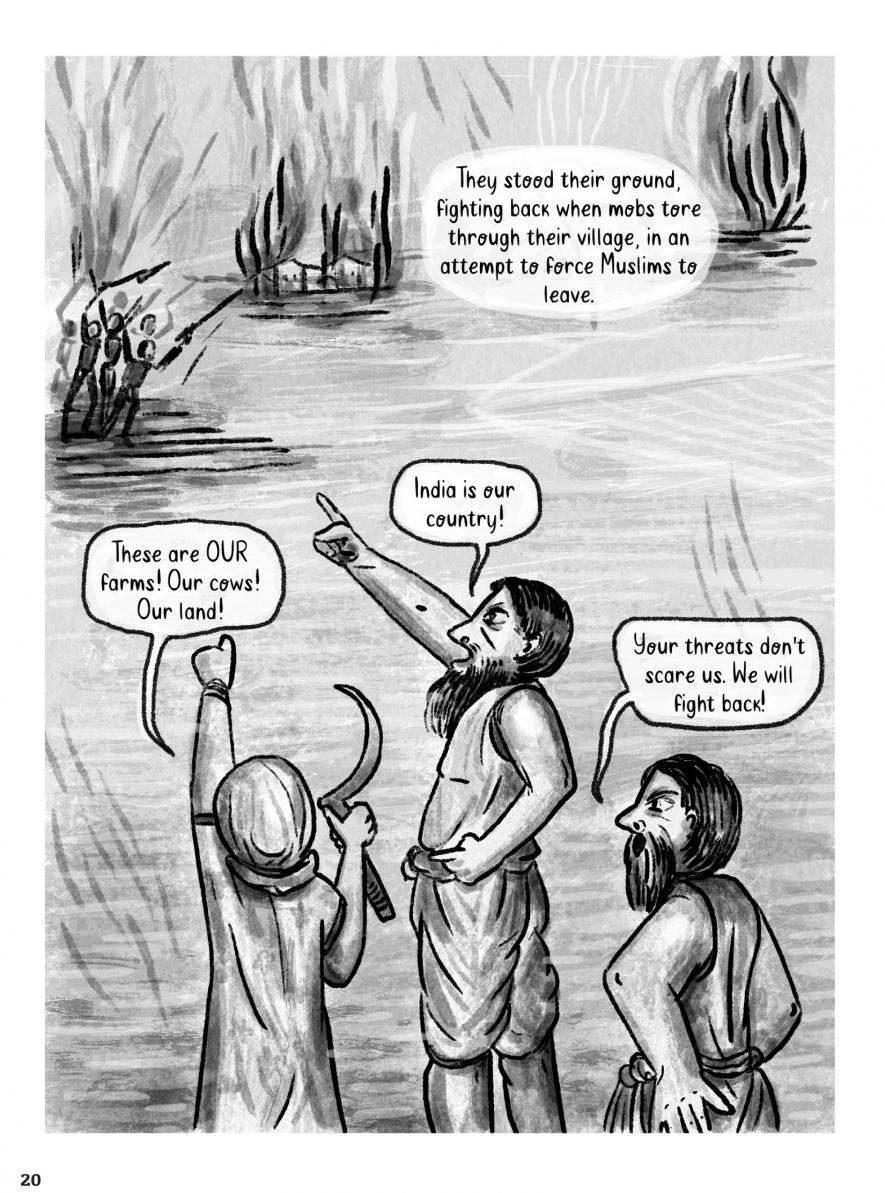 The government and other powerful actors and their support systems continue to brand anyone who raises their voice or dissents with their propositions as anti-national. They demand that Muslims prove their citizenship. But the people of India converted these state-sponsored threats into an opportunity to create art.
One hilarious poster finds space in the book: "Yahan pichle saal ki sardi ki topi nahi mil rahi. Inko 1970 ke papers chahiye?!" (We are unable to find winter cap from last year, and they want papers from 1970!)
Busting myths and rumours
The book establishes that the ongoing "fight is about the poor, the homeless, the jobless, the voiceless—those who might not, for one reason or another, have the papers to prove their identity." But this fight was dutifully misrepresented by large sections of the media—which radiated mixed signals everywhere. It happened because the movement was led by Muslim women, who, many feel, do not have any agency to organise and inspire nationwide protests.
There were rumours that women are getting paid to protest, or eating biryani at the sites, or, an extraordinary accusation, that children's kidneys were sold there.
Commenting on these exceptional protests, Zoya Hasan writes in Shaheen Bagh and the Idea of India: Writings from a Movement for Liberty, Justice and Equality (Speaking Tiger, 2020), "We have never seen such a sustained and collective pan-Indian civil society mobilization dominated by women, not even during the freedom movement."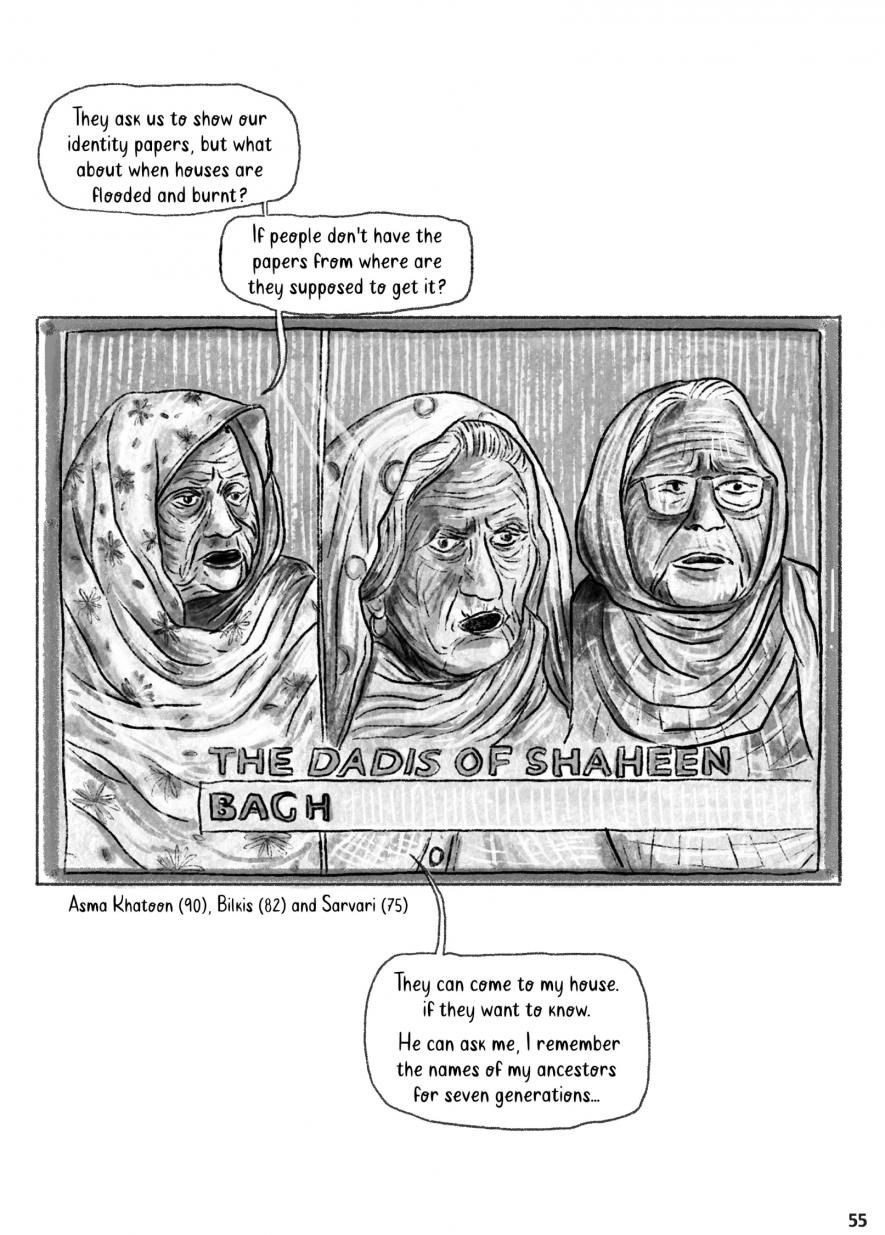 Asma Khatoon, Bilkis and Sarvari
Dadis and nanis of Shaheen Bagh
The attendance of the eighty- and ninety-year-old dadis and nanis of Shaheen Bagh through the brutal Delhi winter gave the sit-in momentum. Their unwavering commitment to the movement became clearly visible.
Bilkis (82) got included among the 100 most influential people of 2020 by Time Magazine. "He can ask me, I remember the names of my ancestors for seven generations…," she challenged the prime minister. Somehow, the prevailing establishment does not find anything questionable in uprooting a woman in her late nineties, whose generations have lived in India, from a place that is rightfully hers.
Bilkis's and others' voices induce a sense of euphoria through the visual grammar that Ita deploys. It makes you want to keep turning the pages, and for anybody (like me) who visited the protest sites, the visual language can be overwhelmingly emotional.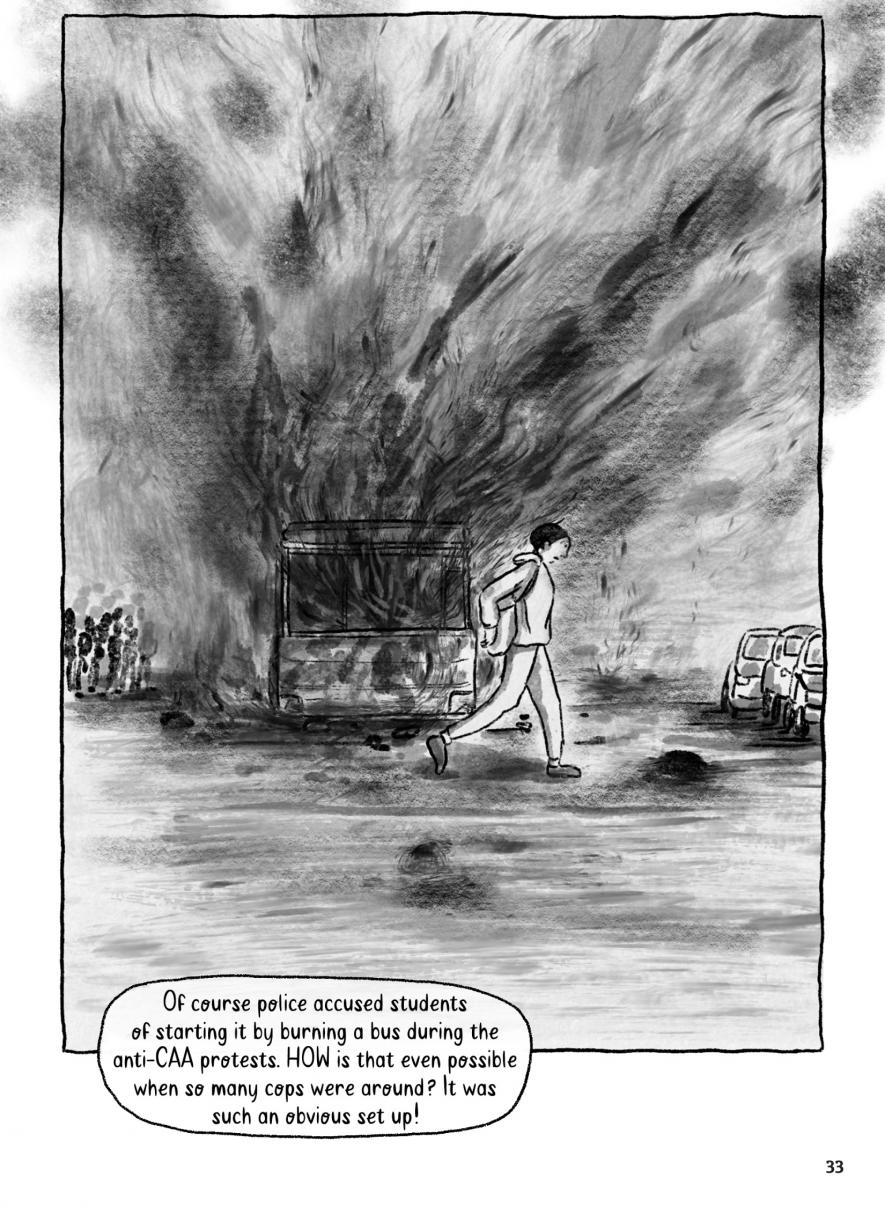 The anti-CAA protests fuelled countrywide protests
Why this book matters
An intervention like Shaheen Bagh must be preserved. For that, we not only need more empathetic researchers like Ita but also action.
Writer and critic Olivia Laing writes in Funny Weather: Art in an Emergency, "Empathy is not something that happens to us when we read Dickens. It's work. What art does is provide material with which to think: new registers, new spaces. After that, friend, it's up to you."
This book is that "work".
The author is an independent journalist. The views are personal. All illustrations: Ita Mehrotra, Yoda Press.
Get the latest reports & analysis with people's perspective on Protests, movements & deep analytical videos, discussions of the current affairs in your Telegram app. Subscribe to NewsClick's Telegram channel & get Real-Time updates on stories, as they get published on our website.
Subscribe Newsclick On Telegram