How India's Brightest Minds Were Co-opted to Run a High-Tech Campaign for Modi
The objective of the NGO was to work with acid-attack survivors as a precursor to building a network of influential supporters who could be translated into votes as the 2014 Lok Sabha elections drew close.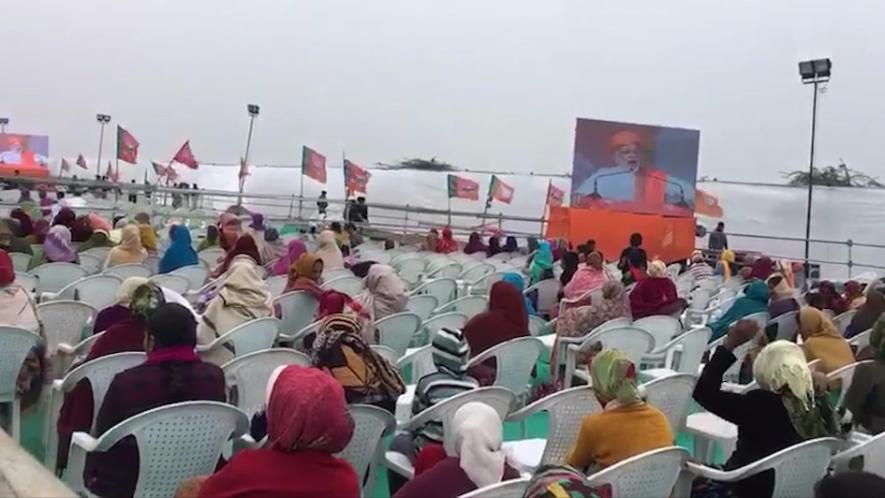 Representational image. | Image Courtesy: The Quint
New Delhi: As Prime Minister Narendra Modi seeks re-election, the story of Prashant Kishor, Citizens for Accountable Governance (CAG), and Association of Billion Minds (ABM), reveals how some of the country's brightest minds, educated in institutions like the Indian Institutes of Technology (IIT), were co-opted into running a high-tech propaganda mission for one man -- Narendra Modi.
According to a recent investigative article in HuffPost India , it all started when Prashant Kishor, Modi's campaign research advisor, suggested they start a women's empowerment NGO as part of a discreet voter outreach programme following the then Gujarat Chief Minister's successful run for Prime Minister in the 2014 Indian election.
As per the story in HuffPost India, Kishor's job was to use voter data and poll research to professionalise the Bharatiya Janata Party's (BJP) ground game and its online presence on social media platforms like Facebook, Twitter and WhatsApp.
The objective of the NGO was to work with acid-attack survivors as a precursor to building a network of influential supporters who could be translated into votes as the 2014 Lok Sabha elections drew close but, without having any visible connection to Modi, Kishor or BJP.
From Sarvani Foundation to ABM
On August 10, 2013, the Sarvani Foundation was registered in Ahmedabad with a former Jet Airways flight attendant and former sales support specialist for Adobe listed as its owners. One owner was the wife, and the other was the sister of a graphic designer in Kishor's employ.
As Modi won the 2014 elections and Amit Shah was named the party President, Kishor and the BJP parted ways soon. The Foundation never got going and lay dormant for three years, company records show, only to be revived soon after BJP suffered a shock defeat in the 2015 Bihar Assembly elections.
The Sarvani Foundation, which was now renamed the Association of Billion Minds, tasked Dipak Patel, a discreet Gujarati businessman, and Himanshu Singh, a 31-year-old former McKinsey consultant, with assembling IIT engineers, consultants, lawyers and young professionals to become BJP party president Shah's personal election consultancy unit.
"Since then, the Association of Billion Minds or ABM, is a big reason why most of Modi's tenure has felt like one eternal election campaign" as per Huffington Post India.
This secretive quorum of nerds has been tasked with running sophisticated misinformation campaigns to spread fake news and false claims on social media and WhatsApp and in staged conversations in public gatherings by the ruling party, says the report.
Even as the BJP has maintained a public distance from the firm, ABM's campaigns — which are often communal and divisive — are ramped up on the eve of critical elections and throttled down in the interludes between polls.
How ABM works
ABM has a team of at least 161 full-time employees in 12 regional offices across India. It provides BJP with feedback on its key political moves, helps shortlist candidates for vital elections, and manages a throng of paid field workers who introduce themselves to party cadre as "Amit Shah's team".
This group conceives, designs, executes and memeifies many of the party's campaigns — including "Main bhi Chowkidar", "Nation with NaMo", and "Bharat Ke Mann Ki Baat" — and makes them viral across a network of Facebook pages with millions of followers. These are coordinated online and offline campaigns in which speeches, rallies and public events in the physical world are quickly turned into digital content for online platforms. The pages are designed to look like Modi fan pages, rather than the work of ABM or the BJP, the report says.
Even though this is not specific to BJP, it is just simply better funded and organised than the Opposition. What proves this, is the fact that two ABM-managed pages are the top two biggest spenders on Facebook. This was disclosed as a fact once the social network rolled out its advertiser transparency campaign in February 2019.
ABM plays a role in every aspect of BJP's election planning. The firm compiles detailed dossiers on potential candidates from each constituency, prepares booth-level political intelligence reports, plots out routes for teams canvassing for votes, runs polling day war-rooms, and designs and manages online propaganda campaigns. This was found after HuffPost India analysed hundreds of pages of company records, election expenditure statements and website registries, and interviewed 20 people, including former and serving ABM employees, former associates of the company's founders, and on-ground staff.
Even though ABM is not the only such firm employed by BJP, it is certainly the most secretive, having a deep relationship with Shah.
Fake News and ABM's Network of Pro-BJP sites
Fact-checking website BOOM Live identified a number of websites like Express Bangalore, Bangalore Herald, Bengaluru Mirror and Bengaluru Times, posing as news outlets. These pages "peddled political propaganda" and posted "inflammatory content" directed at non-BJP parties.
One such website, Bangalore Herald, was redirecting to Bharatpositive.in, a website and Facebook page with close to one million followers that consistently publishes pro-BJP content and fake news directed at the ruling party's opponents.  In November 2018, for instance, Bharat Positive published a Facebook post claiming that money donated to the family of an eight-year-old Muslim girl, who was brutally gang-raped and murdered, had been stolen by Shehla Rashid, a vocal opponent of Prime Minister Modi. The claim was proved false.
By using website registry records and interviewing one current and one former ABM employee, HuffPost India claims to have established that Bharatpositive.in, and its Facebook page, are managed by ABM.
The consultancy registered at least two more websites with addresses intended to look like legitimate newspaper sites. Website registry records show that bangaloreherald.in and bengalurumirror.in are also owned by ABM. Apart from these, ABM runs at least seven other popular pages for the BJP: Bharat Ke Mann Ki Baat (300k likes), Nation With NaMo (1.1 million likes), Phir Ek Baar Modi Sarkar (2.7 million likes), Mahathugbandhan (480k likes), India Unravelled (152k likes), My First Vote For Modi (74k likes) and Modi11, a new page launched last week, it said.
These pages post heavily edited and doctored videos that misrepresent the Opposition and its leaders and these videos then garner millions of views. This was even confirmed by a current ABM employee saying "these are optimised for virality."
ABM-managed Facebook pages go to great lengths to conceal their connections to India's ruling party. Three ABM-managed Facebook pages — Nation With NaMo, Bharat Ke Mann Ki Baat andMy First Vote For Modi — the only indication of their connection to BJP is their listed postal address, which maps to the BJP headquarters in Delhi.
These sites create the appearance of a vibrant online community of independent Modi supporters that are, in reality, a team of ABM employees paid to put up post after post about the many virtues of the Prime Minister.
Earlier this week, Facebook removed hundreds of pages and accounts for "coordinated inauthentic behavior" that were run by supporters of both BJP and Congress.
Data Analysis for Political Campaigning
Sahana Udupa, who teaches digital politics at the University of Munich, said using data analytics companies for political campaigning "has caused devastating effects across the world and the collusion between data surveillance capital and political power is deeply damaging for democracy, since voters' behavioral patterns are traced, plotted, predicted and played upon in surreptitious and covert ways."
"A voter can recognise a roadside billboard coming from a political party, and trace an advertisement in newspapers and television to their sponsors," she said. "But the silent work of algorithms and analytics is hard to recognise without sustained investigative exposés. They largely go unaccounted."
HuffPost India said it believed "When Prashant Kishor first drew young middle-class professionals from India's elite universities into the Modi campaign, the promise was to "clean-up" politics. Implicit in this promise was the misguided notion that salaried professionals were apolitical and were answering a higher calling in their quest to help Modi."
In interviews with HuffPost India, many former ABM employees seemed disillusioned by what they had helped build. "We went there as enthusiastic learners, to work in a startup, to bring in professionalism into politics," one former employee said. "But we ended up bringing politics into our profession."
All of HuffPost India's ABM sources requested anonymity, citing non-disclosure agreements that forbid them from discussing their work with the company.
Also Read: Facebook Downplayed BJP-linked Fake Accounts, Reveals Blog by FB Top Gun
Get the latest reports & analysis with people's perspective on Protests, movements & deep analytical videos, discussions of the current affairs in your Telegram app. Subscribe to NewsClick's Telegram channel & get Real-Time updates on stories, as they get published on our website.
Subscribe Newsclick On Telegram