AMU Students Oppose Administration Decision to Conduct Online Examinations
'We have failed to recognise the fact that most of our students left for their homes during the pandemic in an extraordinary situation. They might not have even their books and their study materials with them,' said an AMU professor.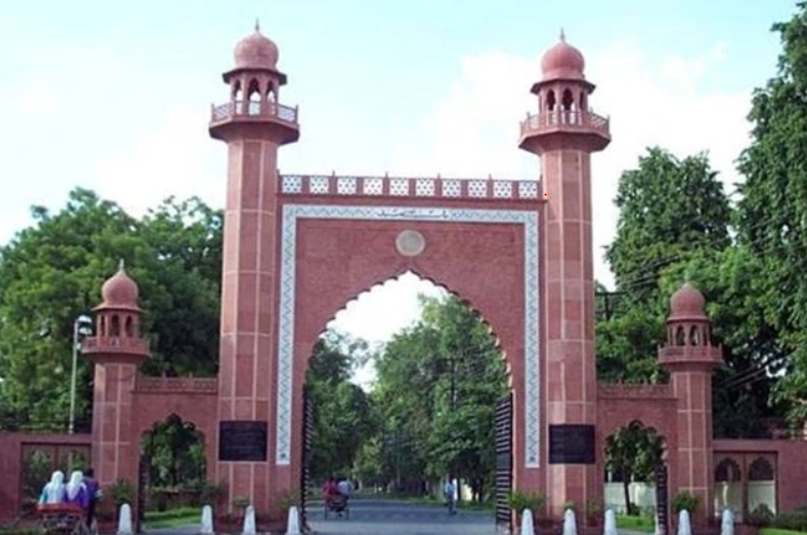 Lucknow: Students of the Aligarh Muslim University (AMU) have voiced their concern after the university administration decided to conduct online examinations. The students have cited a lack of access to the internet, books and quality study material as reasons. The students, under lockdown in different parts of the country, also mention a dearth of laptops and computers as major concerns, and are vehemently opposing the idea of online examinations.
The matter first took a turn after Aftab Alam, a professor at AMU's political science department, came out openly against the university's decision. Following his resistance, resident students have now refused to vacate hostels and return to their homes, citing connectivity issues in their home districts.
Alam has been served with a warning after he expressed his reservations over holding online open-book examinations. He cited last-mile connectivity issues that could rob many students of an equal opportunity.
"We have failed to recognise the fact that most of our students left for their homes during the pandemic in an extraordinary situation. They might not have even their books and their study materials with them," he told NewsClick.
Alam said that there are also numerous students who are handicapped without smartphones, laptops and access to a stable, fast internet connection. He said the students may face difficulty in scanning and uploading their answers on plain sheets of paper, which is dependent on the quality of their smartphone and internet connectivity, and on the load on the AMU server system.
The possibility that the server may not be able to handle the sudden influx of data, and that the internet speed may fluctuate, cannot be ruled out. It could deprive many students who would not be able to upload their answers on time, he said.
At the moment, there are about 800 students stranded in different hostels in AMU, and the university administration had asked them to vacate the hostels by June 15, in light of summer vacations and the COVID-19 pandemic.
The students claimed that they had informed the authorities about their inability to leave under the current circumstances in writing, but to no avail.
"I live in Islam Nagar, which is one of the most backward areas of West Bengal. My native place does not have proper internet connectivity, and it has been further hampered by the Cyclone Amphan. If I go back, I will not be able to take examinations or remain connected," said Khurshid, an AMU student.
He said that students from Kashmir face similar problems and that they had already informed the administration about their problem.
"As of this moment, I'm in a rural area of Kashmir, where, I have to find a suitable spot in my home, which has connectivity, even to tweet. How can the university expect me to appear for online examinations with such internet access?" asked Ruwaifi, another AMU student. Ruwaifi, who is from Kashmir, told NewsClick that online examinationss are next to impossible for Kashmiri students, in a region where 4G services have been banned and where the internet is blocked without any prior notice.
The AMU plans on holding online open-book examinations after July 10.
AMU proctor, Mohd. Wasim Ali, said that no student was being forced to vacate the hostel. "It was just an advisory and maybe the tone and tenor of the provost sent a wrong message to the students," he said. Ali said that the decisions were taken keeping the health and the career of the students in mind.
Opposing the online examinations, former President of the Aligarh Muslim University Students' Union (AMUSU), Abdul Hafiz Gandhi said: "I oppose the online exams due to there being an urban-rural digital divide; all the students do not have laptops or tablets. Internet connectivity is also problematic in remote areas. Students of disturbed areas would be at a loss," he added, saying that computer literacy is also a challenge.
Another former AMUSU President, Maskoor Ahmad Usmani, said the decision is discriminatory. He said that it was "biased" since it would not provide equal opportunities to all the students. "A large number of students in the university come from rural backgrounds, where internet facility is not available. In many places, the internet speed is very poor. Students do not have computers and even electricity is not available all the time. Many students do not have multimedia phones. If we talk about Kashmiri students, they have only had 2G internet speed in Kashmir for a long time," Usmani added.
"The university should have taken a decision only after taking all these situations into account."
Get the latest reports & analysis with people's perspective on Protests, movements & deep analytical videos, discussions of the current affairs in your Telegram app. Subscribe to NewsClick's Telegram channel & get Real-Time updates on stories, as they get published on our website.
Subscribe Newsclick On Telegram