Haryana: ASHA Workers' Demand for Risk Allowance Remains Unmet Even After Two Weeks Strike
The workers union has also given a call to extend the strike till August 26 and gherao the Haryana Vidhan Sabha on that day when the state Assembly's monsoon session is set to begin.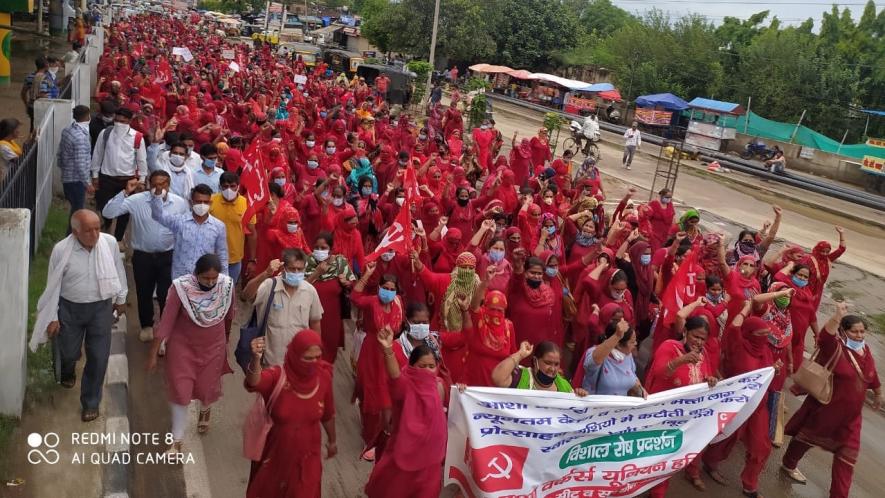 The all-female primary frontline health workers in Haryana have reached a breaking point as their grievances remain unaddressed even after submitting numerous memorandums, staging a gherao of the state's health minister residence and, above all, striking work for more than two weeks now amid the raging pandemic.
The 20,000-odd Accredited Social Health Activists – or ASHAs – have been on strike since August 7 in the state. Their demands include: timely monthly payments, which must incorporate an additional risk allowance of Rs. 4,000 for the workers – officially termed as "volunteers" - who are currently engaged in contact tracing of COVID-19 patients, facilitating access to virus testing and spreading community awareness among others.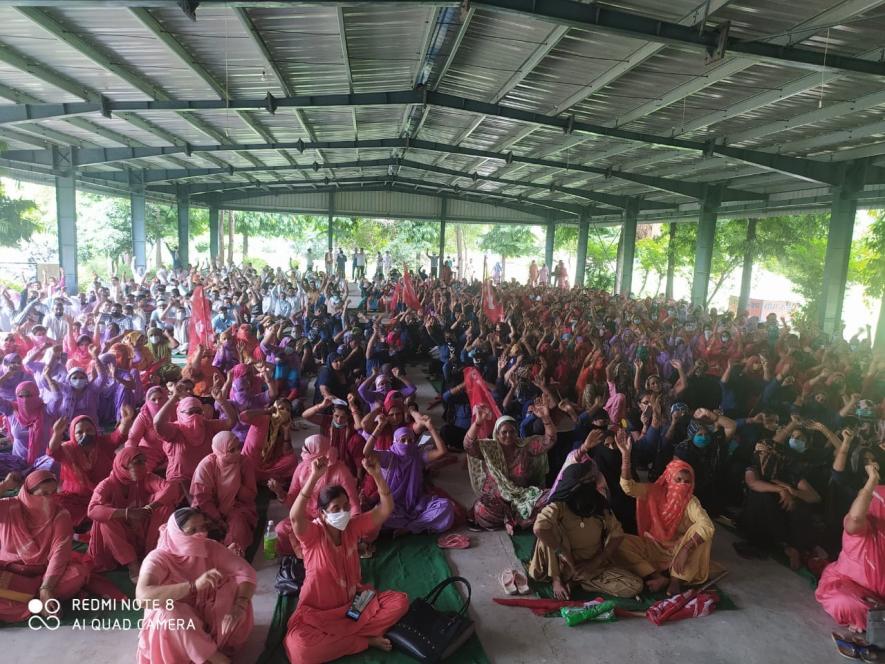 This work, which health activists and even the state government, have hailed time and again as a 'tremendous effort' in combating against the pandemic, are being carried out along with the routine activities of a health volunteer which involves providing maternal and child health care, immunisation and other services.
Given the significance of their service, they continued to work even amid the much-reported risks of the infection, however, their demands remain unmet by the Bharatiya Janata Party-Jannayak Janta Party coalition government even after days of sustained protests.
On Friday, August 21, the residence of Haryana Health Minister Anil Vij in Chandigarh became a protest spot for the thousands of ASHAs who, clad in violet saris, came to press their demands from the nearby districts. They, however, found Vij unavailable for an interaction.
Days prior to this, a meeting which was attended by state health department officials, National Health Mission (NHM) – of which ASHAs form a key component – state director and representatives of ASHA unions, failed to make the state governments accept the demands.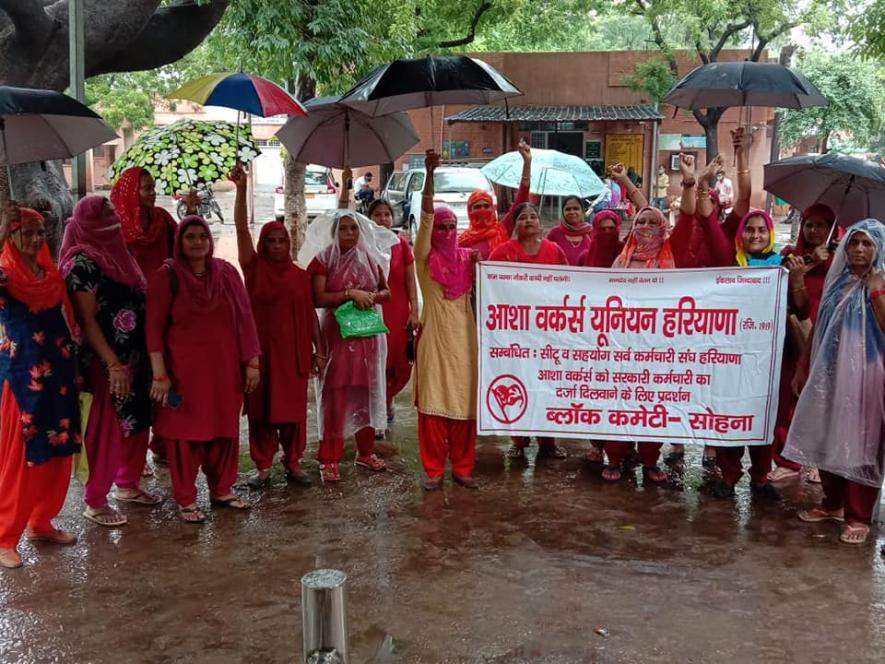 The Haryana government has made it clear that "the concerns of the ASHAs doesn't worry it much," believes Ranjana Nirula, convenor, All India Coordination Committee of ASHA Workers. "But that won't stop the agitation of the many ASHAs, who are today faced with increased workload and decreased incomes – despite working day and night to combat COVID-19," she told NewsClick.
Against this backdrop, the Centre of Indian Trade Unions (CITU)-backed union, that is leading the protests, has decided to extend the work strike till August 26. A call has been given for that day to gherao the Haryana Vidhan Sabha – which will also coincide with the commencement of the state Assembly's monsoon session this year.
Also watch: Indian Healthcare Stands on the Shoulders of ASHA and Anganwadi Workers
Satnam Singh of Jan Swasthya Abhiyan (JSA), the Indian chapter of People's Health Movement (PHM), a global network of health activists and civil society organisations, told NewsClick that the continuation of the strike of the ASHAs will also hold grave consequences for the already dwindling health infrastructure in the state.
"ASHAs have been significant in ensuring accessible healthcare for the rural community for many years. In recent times, they have further proved their worth by being at the forefront in assisting the state government to fight COVID-19 – at times by even risking their own lives," he said. He added that, with them being on a strike, already the measures meant to restrict the spread of virus must have taken a "bad hit".
Their demands which include a risk allowance are "completely legitimate", Singh, who is based in Haryana, said. "This is imperative, even more so when protective gears were in inadequate supply to these women," he added.
Earlier in the month, ASHAs along with other scheme workers went on a two-day strike, jointly called by the ten central trade unions, across the country.
Among the millions who staged the strike were also Sunita, 40, who is an ASHA volunteer based in Haryana's Sonipat district. Following the pandemic outbreak, life, as she knew, has taken a tumble. Her monthly income (paid to her only in August of the last three months) has decreased because the lockdown restrictions in place meant that many of the tasks (a total of 66) – for which she would have earned an incentive – were now stopped. This, however, didn't mean less work, at all.
"I have been doing daily rounds of survey in my area, collecting information on various points as demanded by the government," she told NewsClick, adding that harassments and even threats were common from the residents in the process.
Similar was the experience of Sudha, 40, another ASHA volunteer who is based in Faridabad district. "The initial days were tough – because we were not trained properly in this work and were also not given any masks or sanitiser," she said. 
Both the ASHA volunteers, who are observing the strike even now, carry the complaint of being "neglected" at the hands of the state government, who echoed that "it has not done enough to take care of them".
They are currently receiving their fixed monthly "honorarium" of Rs. 4,000 along with Rs. 3,000 from the NHM funds – a COVID-19 incentive plus Rs. 2,000 for their routine activities. An additional 50% incentive on their monthly earning, which the state government had introduced since 2018, has, however, been stopped.
"Surviving on such low income is getting tougher day-by-day," Sudha, who is a single-mother of two, said, adding that there's "no other option" left but to protest. She added, "Our voices are only getting stronger; the government must listen."
Also read: COVID-19: 'Workload of ASHAs Increased, But Incomes Reduced'
Get the latest reports & analysis with people's perspective on Protests, movements & deep analytical videos, discussions of the current affairs in your Telegram app. Subscribe to NewsClick's Telegram channel & get Real-Time updates on stories, as they get published on our website.
Subscribe Newsclick On Telegram