Abolition of Article 370: Propaganda Versus Truth
The BJP-RSS is twisting facts to suit their ultra-nationalist agenda.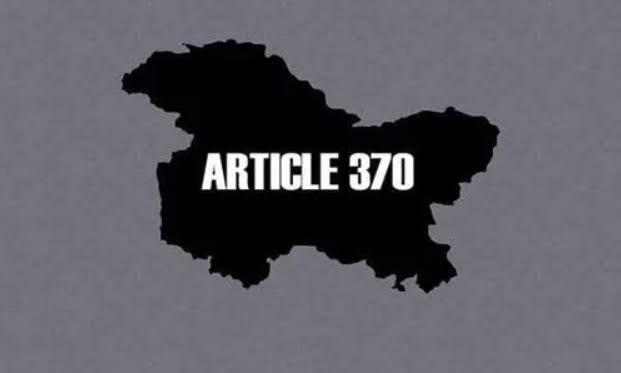 The abrogation of Article 370 and Article 35A has been accompanied by propaganda to justify these drastic steps taken by the Bharatiya Janata Party (BJP) government. As such, this has been on the agenda of Rashtriya Swayamsevak Sangh (RSS) all through and is part of the triad of Hindutva agenda, along with Ram Temple and Uniform Civil Code. The argument being put forward is that due to this special provision for Jammu & Kashmir, the state has remained undeveloped, as outside industrialists could not buy land there and bring in vikas (development). Also, it has been alleged that this clause promoted separatism in the region and has been the cause of turmoil in the region.
All this forms the part of the propaganda blitz launched by BJP. As a part of the mass contact programme, BJP working president, JP Nadda, released a video on September 4, 2019, justifying the abolition of the special provisions for the state and bifurcation of the state into two Union Territories. The 11-minute video concludes with the speech of Prime Minster Narendra Modi saying that the country's first Prime Minister, Jawaharlal Nehru, committed a historic blunder on Kashmir; to which BR Ambedkar and Sardar Patel had strong opposition.
On Article 370, the video says that Sardar Patel successfully merged 562 princely states into India, but Nehru decided to handle Kashmir himself and created the blunder of giving special status to the state leading to all the problems. Most of the part of BJP's statement is far from truth; they pick up one small part of the truth and twist it to suit their ultra-nationalist agenda.
BJP's Twisting of Facts
To begin with, why did Nehru have to handle the Kashmir issue himself? Patel handled all other princely states as those were within the geographical boundaries of India; none of those was attacked by any other foreign power, i.e. Pakistan. Since Kashmir has boundaries common with India and Pakistan, Nehru as Prime Minster and Foreign Minister was duty bound to take responsibility of the issues related to Kashmir.
India was forced to intervene into Kashmir affairs, as it was attacked from the Pakistan side and Kashmir's king, Hari Singh, urged upon India to send the Army to quell the Pakistani attack. In none of the other princely states could Pakistan play such a military role which created such a situation in Kashmir.
In matters of Kashmir, Pakistan was also trying to follow the 'Two Nation theory', as Kashmir had a Muslim majority. As far as Nehru and Patel are concerned, on the handling of Kashmir, i.e. accession treaty, Article 370, declaration of cease #fire and taking the matter to United Nations is concerned; both of them were on the same page, as revealed by the Ten Volume Correspondence of Sardar Patel, meticulously edited by the renowned journalist Durga Das.
On nature of intervention in Kashmir, Sardar Patel said at a public meeting in Bombay on October 30, 1948: "Some people consider that a Muslim majority area must necessarily belong to Pakistan. They wonder why we are in Kashmir. The answer is plain and simple. We are in Kashmir because the people of Kashmir want us to be there. The moment we realise that the people of Kashmir do not want us to be there, we shall not be there even for a minute… We shall not let the Kashmir down". (Hindustan Times, October 31, 1948)
Quoting from Patel's correspondence constitutional expert and columnist AG Noorani points out that the allegation by Rashtriya Swayamsevak Sangh (RSS) that in matters of ceasefire, Patel was not being taken into confidence, is wrong. Noorani says "Volume one of Patel's correspondence belies the charge that Patel was not taken into confidence. In that event, he was man enough to resign from the cabinet."
Article 370 did not drop from heaven. It was the outcome of serious deliberations in the Constituent Assembly (CA). For the explicit purpose of drafting this Article, Sheikh Abdullah and Mirza Afzal Baig were made part of the CA. It was primarily Patel, Ambedkar, Sheikh and Mirza Baig who contributed to the formulation of this provision. To say that Ambedkar opposed it or Patel did not approve it, is the height of falsehood.
Noorani also points out that it was Patel who moved the resolution of Article 370 in the CA, as Nehru was away to the US on an official trip. Patel's letter to Nehru on February 25, 1950 shows that they both had a similar opinion on taking the matter to the United Nations, and they both held that the international body should take a call on that.
As far Ambedkar is concerned, Vice President Venkaiah Naidu and central minster Arjun Ram Meghwal, in their articles, have given a quote in the name of Ambedkar. Their quote says that in a conversation with Sheikh Abdullah, Ambedkar said: "You want India to defend Kashmir, feed its people, and give Kashmiris equal rights all over India. But you want to deny India all rights in Kashmir…" This quote is not part of any official record. It was part of a speech by Balraj Madhok of the Bharatiya Jansangh (predecessor of BJP), which was picked up by RSS-run papers, Tarun Bharat and Organiser. As such, Ambedkar had also opined that the Muslim majority part of Kashmir should go to Pakistan. He was a strong supporter of plebiscite and Patel himself had gone for the same in Junagadh.
As far as development of Kashmir is concerned, the first point we should note is that Kashmir is much ahead of national averages as far as social indices of development are concerned. Article 370 in no way stood in the path of development in that sense. Incidentally, while Article 370 has being targeted, Article 371 with similar provisions in the North Eastern states is promised to be retained as it is, as per the latest statement by BJP president and Home Minister Amit Shah.
BJP's present propaganda of distorting contemporary history is also trying to defame Nehru. Nehru is their prime target. As the 'Architect of Modern India', Nehru laid the foundations of pluralism and scientific temper, the values that RSS-BJP wants to do away with.
Ram Puniyani is an author and social worker. The views are personal.
Get the latest reports & analysis with people's perspective on Protests, movements & deep analytical videos, discussions of the current affairs in your Telegram app. Subscribe to NewsClick's Telegram channel & get Real-Time updates on stories, as they get published on our website.
Subscribe Newsclick On Telegram