Activists Flag 'Erosion of Confidence' in MGNREGA for Drop in Job Demand
Kicking off a 3-day nationwide campaign on Wednesday, NREGA Sangharsh Morcha cited "derisively low budget allocation" and "long delays in wage payments" as reasons for turning many rural workers away from the employment guarantee scheme.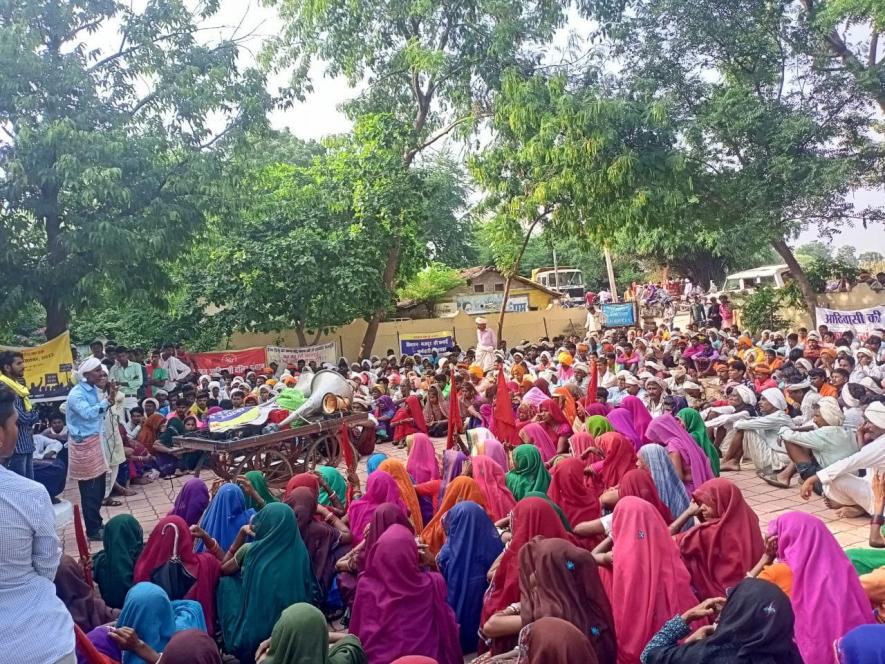 A 3-day nationwide campaign namely, "Kaam Do Abhiyan" was launched on Wednesday. Pic from Madhya Pradesh. Courtesy - NREGA Sangharsh Morcha
New Delhi: Days after the Centre cited the drop in demand for work under the Mahatma Gandhi National Rural Employment Guarantee Act (MGNREGA) to suggest stability in the labour market, rural workers and social activists, as part of a three-day nationwide campaign, attribute the said decrease to inadequate funding for the scheme.
The lack of available funds with the States has led to the lesser generation of person-days of work, along with delays in wage payments, they say. This has, subsequently, resulted in an "erosion of confidence" of the job-seekers in the scheme, according to them.
"Derisively low budget allocation, unremunerative NREGA wages, coupled with long delays in wage payments, withholding wages have turned many rural workers away from the employment guarantee programme," said NREGA Sangharsh Morcha (NSM) in a statement, as it began a three-day nationwide campaign namely, "Kaam Do Abhiyaan", on Wednesday.
The morcha is a national-level network of organisations and activists who work with labourers of the rural employment guarantee scheme. Under the campaign, thousands of rural workers will be carrying out demonstrations at village and district levels in 13 States including Andhra Pradesh, Bihar, Chhattisgarh, and Gujarat, among others.
Aimed to guarantee the 'right to work' in rural areas, MGNREGA is a scheme under which at least 100 days of wage employment in a financial year is provided to at least one member of every rural household whose adult members volunteer to do unskilled manual work.
The morcha argued that while MGNREGA played a crucial role in supporting the rural population during the Covid-19 pandemic, "it has instead become fruitless, exploitative labour, where workers who have put in honest hard work, have to wait for their wages endlessly." 
That said, it demands immediate allocation of additional funds to the scheme, with State governments to be directed to first clear their pending liabilities.
Campaign Continues for Second Day
Saying that the campaign has continued for the second day on Thursday, Apurva of NSM told NewsClick that close to 65% of the budget of MGNREGA has already been spent in the first five months of the ongoing fiscal. "The financial statements also show that 16 States are already having a negative balance," she said.
The data available on the MGNREGA website shows that, as of Thursday, the States that have a negative net balance, include Madhya Pradesh, Chattisgarh, Karnataka, Kerala, Maharashtra, West Bengal, along with others. 
In 2022-23, the Narendra Modi –led Central government kept the budgetary allocation for MGNREGA at Rs. 73,000 crore, which is 25% lower than the previous year's revised estimates at Rs. 98,000 crore. 
Multiple media reports then flagged that the scheme's financial statement for 2021-22 already shows a negative net balance – something which was also highlighted by the Peoples' Action for Employment Guarantee (PAEG), a coming together of researchers and activists.
"The fund crunch for the scheme means that not only is there a massive delay in wage payments, there will also be the lesser generation of person-days of work," Apurva, speaking from the national capital, argued. "Delays in wages are also leading to erosion of confidence of the rural workers in the scheme. This is driving down the demand for work in MGNREGA."
Latest data showed that household demand for work under the rural employment guarantee scheme, which was hiked steeply during the Covid-19 pandemic, fell 41.2% in August to 1.58 crore this year against 2.70 crore in the same month last year – pushing the figure much closer to the pre-pandemic level when household demand for work stood at 1.45 crore in 2019-20.
Likewise, month-on-month work demand under MGNREGA last month was also the lowest in this fiscal, with household demand declining by 22.5% in August compared to July.
The drop in work demanded under MGNREGA  was cited by the Union Finance Ministry earlier in September to claim that the unemployment rate in the rural areas is possibly reduced. The fall, "can [also] be attributed to a pick-up in agricultural and non-agricultural activities coupled with the end of reverse migration resulting from increased employment opportunities in industrial/ urban areas," the finance ministry has said in its economic review for August.
The observation, however, hasn't gone down well with members of NSM, with Apurva on Thursday underlining that unemployment rates in rural areas actually registered an increase. She pointed to the figures published by the Mumbai-based Centre for Monitoring Indian Economy (CMIE), which showed that rural unemployment increased to 7.7% in August.
West Bengal: Wages Not Paid Since Dec. Last Year
Meanwhile, Anuradha Talwar of Paschim Banga Khet Mazdoor Samiti told NewsClick on Thursday that in West Bengal, there is also a need to firm up the implementation of the MGNREGA and put an end to "systematic corruption" to ensure that workers get their basic entitlements under the scheme.
"Members of our union will be filing FIRs against the program officers in 25 police stations of seven districts, accusing them of cheating MGNREGA workers of their wages. Wages have not been paid to MGNREGA workers in the State since December last year due to conflict between the Centre and the State government over implementation problems and corruption," she said while speaking to NewsClick in a telephonic interview.
In response to a question last month, the Union Ministry of Rural Development informed the Rajya Sabha that West Bengal was the only State in the country that had received no funds for 2022-23 from the Centre under MGNREGA. 
The Centre cited "non-compliance of directives of the Central Government," under Section 27 of the MGNREGA, 2005, for stopping the funds, according to a report published in The Hindu. According to the said section, the Centre may stop the release of funds to the scheme and institute appropriate remedial measures for proper implementation within a reasonable period of time. 
Calling the move "unjustified," Talwar on Thursday demanded immediate release of funds. "Genuine workers are the collateral damage in this strange war between the two governments," she said.
Get the latest reports & analysis with people's perspective on Protests, movements & deep analytical videos, discussions of the current affairs in your Telegram app. Subscribe to NewsClick's Telegram channel & get Real-Time updates on stories, as they get published on our website.
Subscribe Newsclick On Telegram