After COVID, Ukraine War Hits Global Aviation
The repercussions of this conflict have led to immediate concerns about longer trips, an increase in fuel expenses, and its impact on freight traffic as the global supply chain has been disrupted significantly.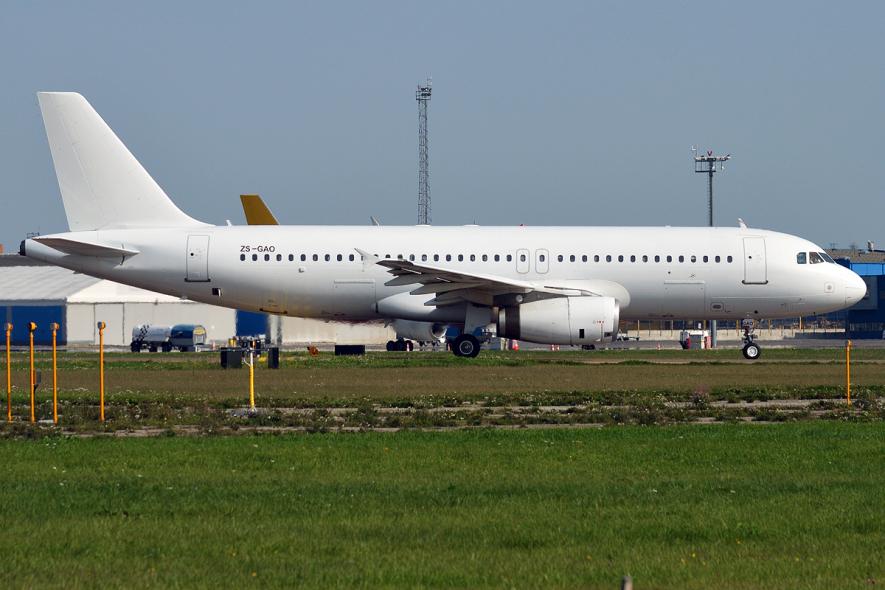 Representational Image. Image Courtesy: Wikimedia Commons
The years 2020 and 2021 were extremely challenging for domestic and international aviation and tourism, courtesy of the pandemic. The aviation industry turned all hopes to 2022 as the pandemic began progressing to endemic in many parts of the world. But then came February 2022, when Russia declared war against Ukraine. While COVID has turned out to be one of the biggest humanitarian catastrophes in history and a dampener for the global economy, the war has also sent shockwaves to the economies beyond the Russian-Ukrainian territories and impacted many sectors, including tourism and travel.
With the closure of the Russian airspace for airlines belonging to the United States (US), Canada and European nations, flights to some major destinations in these areas and India have become longer. Standing at crossroads, the airline industry has been bracing for the aftermath of the war as the global aviation map has been redrawn. Geographically, Russia has always been a major nation for global aviation as its airspace provides vital Asia-Europe corridors. This was a major advantage for the airlines to save money and fuel. The repercussions of this conflict have led to immediate concerns about longer trips, an increase in fuel expenses, and its impact on freight traffic as the global supply chain has been disrupted significantly.
Longer flights mean greater fuel costs. Additionally, the effects have included large-scale cancellation of flights and increased use of longer alternate routes. But on the flip side, a positive effect has been a recent decision by the Kazakhstan government to triple the usage of its vast airspace for alternative routing of flights.
With Russian airspace remaining closed to airlines from close to 40 countries, flights are being rerouted or cancelled on a large scale, particularly in Europe. The enormous land mass of Russia means large detours for many airlines that serve destinations requiring overflights on the Russian airspace. According to a recent study by the global airlines body, International Air Transport Association (IATA), Europe-Asia and Asia-North America were the most heavily impacted markets or routes. The flights impacted were particularly between the US and Northeast Asia, Northern Europe and most of Asia.
Following the start of the conflict, the demand for air travel to Europe had fallen on certain routes due to heightened uncertainty. The ticket sales for trips from the US to Europe were at 73% of 2019 levels from February 15-20 this year which fell to 65% of 2019 values in the first week of March. This was followed by a rapid rebound to around 74% from March 12-15, showing that the fall in travellers' confidence was limited, the IATA study showed. Overall, it said the deterioration was larger and the subsequent improvement weaker regarding travel to Eastern Europe.
The closure of airspace has directly impacted travel duration, making travel time between the US and the European countries and to and from South Asia nearly 90 to 180 minutes longer than before. Russia's flagship airline, Aeroflot, has announced halting all its international flights, except those to Belarus, and the country's second-biggest airline, S7, has also suspended its international operations. Many non-Russian airlines are having to make diversions to avoid flying through Russian airspace, with some European companies cancelling their flights to Asia altogether. Finnish airline Finnair had initially cancelled its flights to Japan, China and South Korea but has since resumed journeys to Seoul, Tokyo and Shanghai, taking a route that avoids Russian airspace. The longer routes, as well as the flight diversions, have a significant impact on costs, including fuel prices the air tickets.
The Ukraine war has also caused oil prices to spike, temporarily surpassing the USD 130/barrel mark. This hike in fuel costs has added further pressure on the aviation industry, which is only slowly recovering from months of pandemic-related travel restrictions. Many flights from the US to South-East Asia are routed via India, causing diversions in long-haul services between Europe and East Asia, leading to more layover time, and bringing up India's likely geopolitical positioning in the upcoming years.
The cancellation of flights, the longer routes, the higher fuel costs and rising inflation are only some of the reasons behind the increase in air ticket prices. Data from Google Flights shows that the prices of flights out of Russia are soaring following the sanctions. As a result, Russians looking to travel to Europe are often faced with unaffordable prices for their tickets. This is also harming several touristic destinations favoured by Russian tourists. Meanwhile, a number of leased Russian planes have been recalled or seized because the EU sanctions cut off the supply of aircraft parts and technology to that country and consequently its ability to insure planes. This has impacted the Russian air travel industry as a whole.
If we just concentrate on the two warring nations, Ukraine accounts for 3.3% of the total air passenger traffic in Europe and 0.8% of total traffic worldwide. Russian domestic traffic accounts for 5.7% of European traffic in 2021 and 4.5% of global revenue passenger kilometres (RPKs). RPKs measure air passenger demand in a given market, calculated by multiplying the number of paying (or revenue) passengers aboard an aircraft by the distance it has travelled. Revenue passengers do not include airline employees, kids and babies who do not take their seats and passengers who buy tickets from miles they earn from previous flights, among others. Even though a relatively small portion of global traffic directly involves Russia or Ukraine, the war and associated sanctions have had global implications for the airline industry.
The Ukraine war has caused huge volatility in oil prices. In a recent statement on the issue, IATA Director General Willie Walsh said, "When we made our most recent industry financial forecast last autumn, we expected the airline industry to lose USD 11.6 billion in 2022 with Brent crude at USD 67/barrel and fuel accounting for 20% of costs. The oil price has spiked to near USD 130/barrel. And it has been volatile within the USD 95–110 range. As fuel is an airline's highest variable cost, absorbing such a massive price hike just as the industry is struggling to emerge from the two-year COVID-19 crisis is a huge challenge. If the oil price stays that high, then over time, it is reasonable to expect that it will be reflected in airline yields."
It is difficult to predict how this long-drawn war will play out, but the implications for aviation globally are significant even if the direct market impact is limited, he said.
However, it is interesting to note that the gloomy situation due to the heightened pressure of growing oil prices has been checked by the heavy rush of passengers this travel season. This is due to the pent-up demand for air travel following the two years of travel ban and government-mandated restrictions worldwide. The IATA has estimated that the global aviation industry losses are expected to reduce to USD 9.7 billion this year from nearly USD 180 billion in red ink in 2020-21.
IATA's economic analysis said, "We revised our 2021 net loss estimate from USD 52 billion to USD42 billion, which is a significant improvement compared to the net loss of USD 138 billion in 2020. For 2022, we are now forecasting industry losses to shrink to USD 9.7 billion compared to our October forecast of USD 12 billion. .... Although our industry has been impacted by war in Europe and there are broad-based global cost increases as well as severe capacity constraints in many areas, airlines are getting closer to profitability in the year ahead."
In line with this prediction, strong passenger demand supports expectations for recovery to pre-COVID-19 traffic levels by 2024, with a possibility of profitability in 2023, as travel barriers fell in most regions. However, at the same time, airline debt levels have soared as carriers borrowed to stay aloft during the pandemic crisis. Hence, the industry will continue to face financial challenges, the IATA study said. It also showed that in the post-pandemic world, major travel hubs were experiencing staff shortages, causing delays and disruption in flight operations. The staff shortages resulted from the job losses during the pandemic when airline and airport employees were laid off due to the practical closure of aviation activities.
While there are no global estimations for the global job losses, the IATA study provided some indications. It showed that direct employment in the sector was expected to reach 2.7 million this year, up 4.3% on 2021, with the industry rebuilding itself from the significant decline in activity in 2020. Employment is still, however, somewhat below the 2.93 million jobs in 2019 and is expected to remain below this level for some time, it said.
Labour is the second highest operational cost item for airlines, after fuel. It also pointed out that the time required to recruit, train, complete security/background checks and perform other necessary processes before staff are "job-ready" was presenting a challenge for the industry in 2022, which was acting as a constraint on an airline's ability to meet rising passenger demand immediately. Besides, there have also been strikes and agitations by aviation and airline workers, including pilots, especially in Europe and North America, demanding higher pay and perks. Among the major airlines hit by strikes have been German national carrier Lufthansa, SAS (Scandinavian), British Airways and Delta Airlines of the US, at the height of the peak summer travel season.
Summing up the industry's travails through the pandemic, Qatar Airways Group CEO Akbar Al Baker recently said, "There is no doubt that the pandemic is the biggest challenge in our lifetime. It shut down the entire industry and brought the world to a grinding halt. Our industry is fragile. We learned that, at short notice, so many things can happen that directly affect aviation. We have seen this before --with MERS, SARS, bird flu and political upheavals. Aviation must be even more resilient and agile in the face of such calamities. And leaders in the industry must adapt to unrolling circumstances to survive."
The writer has extensively covered internal security, defence and civil aviation for the Press Trust of India for three decades. Views are personal.
Get the latest reports & analysis with people's perspective on Protests, movements & deep analytical videos, discussions of the current affairs in your Telegram app. Subscribe to NewsClick's Telegram channel & get Real-Time updates on stories, as they get published on our website.
Subscribe Newsclick On Telegram