Amid Protests and Social Media Trends, are SSC GD Aspirants Victims of Negligence?
Despite the announcement of 60,000 vacancies under the SSC GD, 30% of positions remain vacant. But the Central government seems in no hurry to fill these posts citing a technical rule, thereby cutting the access of thousands of youngsters from much-needed employment.
Staff Selection Commission General Duty (SSC GD) was a vacancy notification brought back in the year 2018. Back then, the Union government had introduced 60,000+ seats for the age group 18-23. The completion of the vacant positions remains pending to date. On February 9, 2022, around 1,200 students of the SSC GD from across the country gathered in the national capital seeking justice. The students have been protesting for over a year now and still await a proper response from the Ministry of Home Affairs (MHA).
WHAT IS THE ISSUE?
Students had come prepared. If they do not receive a proper response, they would take to the streets and protest against the Central government. In 2018, the notification was released. Any government exam process has to be completed within a tenure of 9 months. However, SSC GD's recruitment process is as slow as it could get. Three rounds of physical and written tests took at least three years to complete. The process, which began in 2018, ended in 2020.
Even after this, it took another whole year for the government to release the final merit list of students. Now, of the total 60,000 (approx.) vacancies available, 30% of students did not respond to the joining letter considering that they had cleared some other exam or had started working in someplace else. The students that decided to hold protests are the ones who demand the completion of those 30% seats.
It is not the first time that the streets of the national capital have witnessed a protest by these students. The age group for these exams is 18-23 years. However, because the recruitment process took four years to conclude, many students are now overaged and will not qualify for no fault of theirs. Most of the students protesting right now in Delhi are such who have crossed the age limit.
Nityanand Rai, Minister for Home Affairs (State), had even said in Parliament that a total of over 1,00,000 posts in the CRPF CAPF were lying vacant. He even urged the government to look into it, but it has all gone in vain. This happened back in October 2020. Even then, the final merit list that was prepared had selected only 55,000 students. "In the first place, the government did not complete the vacancies released by them, which were supposed to be 60,210 in total. And on the other, no affirmation was given to complete at least the 30% of seats that stood vacant of the devised merit list by the State. Are we not the rightful applicants to complete these vacant 30% seats? Are we not the next in line even as per merit? We only demand to divide the leftover seats across the country. Is that too much to ask for?" questioned Sushil, another aspirant of SSC GD from Bihar.
HISTORY
Be it the issues of RRB NTPC or SSC GD, or any other government exam, the candidates have completed all their exams and are waiting to join. From Twitter trends to on-ground protests, these students have done it all. However, they allege that the government has always turned ignored towards them. Rajat Yadav, national general secretary of Yuva Halla Bol, a youth movement that fights for the issues of unemployment, spoke to this reporter about the previous protests and the police brutality.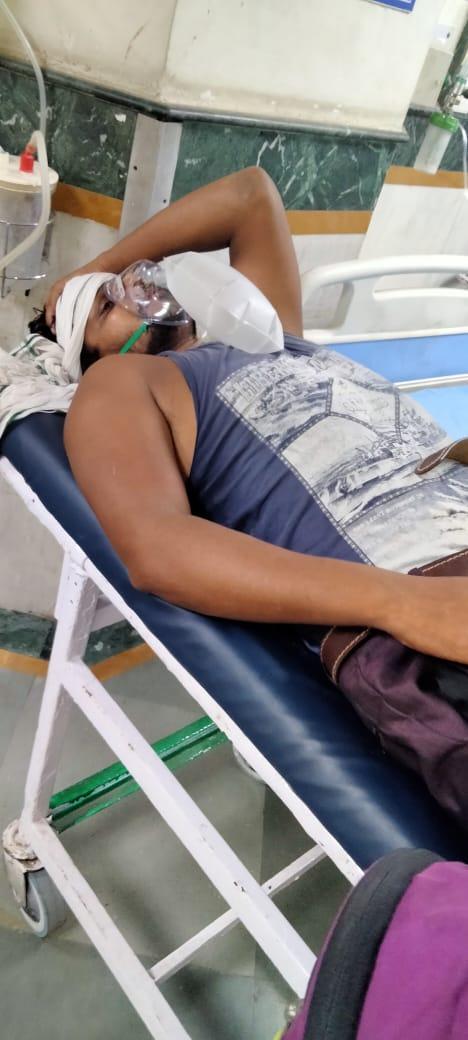 He narrated, "This is not the first time the police have behaved this way. Back in July 2021, we were protesting at Jantar Mantar while the Parliament was in session, and Kisan Sansad was also going on. We were asked to leave on a commitment that post-August 15, the police administration would arrange a meeting with the Home Ministry. When we returned after the 15th and were still denied, we decided to take to the streets. The police did a lathi charge in which four boys and two girls even got injured. We were all taken to the Mandir Marg police station later, where the SHO spoke to 8 of us who were detained. He continuously alleged that I provoked the students and threatened to file charges against me. However, our legal team came in and the issue was resolved."
Continuously being detained, harassed by the police, and no outcome in their favour, the students were in grief, and a sense of fear was instilled in them. Due to this, the protests had been halted since then until December 2021 and now in February 2022.
PROTESTS AFTER A WAIT OF 45 DAYS
"In December 2021, when we were protesting at Jantar Mantar, we were told that in 45 days, the MHA would come up with a solution for us. However, on February 8, when we came back, we were denied any help. When our delegation came back with a negative response from the SSC office, all candidates were in complete anguish and wanted to revolt," said Sunil Lamba, a candidate from Bihar. Following the mobilisation at the Rajiv Chowk metro station, 1,200 students decided to march towards Jantar Mantar. However, Delhi police came with buses to stop them, saying they did not have permission to protest.
When the students did not stop after the administration asked them to, at least 400 students were detained by the police and were taken to Mandir Marg police station. The students tried appealing on social media but were kept detained until 10 pm in the night, after which they were released. Birendra Chandravanshi, in a conversation with this reporter regarding the further move by the candidates, said, "We are no longer going to bear with the negligence meted out to us and will continue our protest. Since we were detained just yesterday, we will not take any coercive action right away. However, at no cost should the government think that we will stop. We shall not leave Delhi until our demands are met and our vacancies completed."
"We have met with the representatives of MHA and SSC over three times now. However, every time we have had a meeting with them, all we have been given is verbal assurances. Last year in December, our delegation met with a panel of 9 people, including the joint secretary of MHA and two officers of SSC GD. Apart from this, the DIG of CRPF was also present in the meeting. We were told that in 45 days, our vacancies would be filled," said Chandravanshi, who was a part of the delegation that met with the MHA and SSC officials. When the SSC GD had released a notification back in 2018, it was told that the posts for at least 55,000 students would be given. On December 21 2021, these applicants had gathered at Jantar Mantar demanding the MHA to complete the allotment where ACP Dinesh Kumar told them from Parliament Street police station that in a conversation with the MHA, they had been told that in tenure of 45 days, the MHA would respond to the students' demands.
Birendra Chandravanshi narrated, "When we spoke to the chairman of SSC, he said that no changes could be made to the rules. They said that it is not up to them to make changes. They are just a testing agency, and directions will have to come from the MHA." The students have one complaint, time and again that they have tried to make appeals; every time they have been given verbal assurances and dates as to when their demands would be met. However, none of these assurances has proven to be true.
"It has been a year, and we have been left astray. Even before this, in 2021, we have met with them. Time and again, they have said that they are just a nodal agency, go to MHA. On the one hand, they say this, and on the other, they completely deny taking any further candidates," he lamented.
RECRUITMENT IS THE ONLY HOPE
"My father is a daily wage labourer; I have been waiting for SSC GD recruitment to make my family's conditions better. I too work on a wage basis at construction sites to make my ends meet," narrated Sunil Lamba while expressing his grief to this reporter.
The students say that they have no other option but to continuously protest and keep nagging and urging the government to meet their demands. Many of these students come from deplorable financial conditions and need a job to meet their family's needs. Unable to get a private job and the social stigma to add on, government jobs seem to be their only rescue. And now that they have been waiting for around two years after completing the recruitment process, there appears to be no escape.
Hrishi Raj Anand is an independent journalist based out of Delhi. His views are personal.
Get the latest reports & analysis with people's perspective on Protests, movements & deep analytical videos, discussions of the current affairs in your Telegram app. Subscribe to NewsClick's Telegram channel & get Real-Time updates on stories, as they get published on our website.
Subscribe Newsclick On Telegram