Anganwadi Caregivers: Divided in Honorarium, United Through Struggles
Thousands of anganwadi women fromacross states have reached the national capital to participate in a four-day 'Mahapadav' to get their demands heard.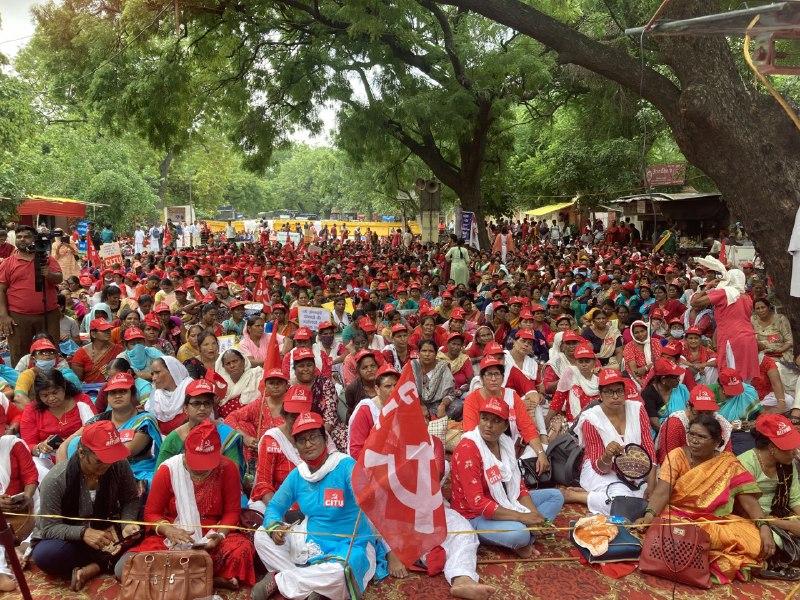 Anganwadi caregivers from across the country reach the national capital on Tuesday. Image clicked by Ronak Chhabra
New Delhi: Gulshan Singh wakes up at five in the morning, every day. After completing her daily household chores, she reports to her workplace at around 9 a.m. On some days, her work gets finished by 4 p.m. Yet, often there are days when work keeps her busy till 10 p.m at night – even when she's at home.
Gulshan Singh hails from a village in Maharashtra's Gadchiroli district. Her daily work routine doesn't look any different from most of the country's female workforce. Looking after her husband and two children, the 44-year-old faces the double burden of longer working shifts and unpaid care work at home.
However, there's a catch, her house is not the only place where Singh's labour goes unrecognised. "I am not even classified as a worker at my workplace," she told Newsclick on Wednesday. She is an anganwadi worker.
Singh is not alone. There are close to 27 lakh anganwadi workers and helpers in the country, whose work is considered "honorary" and not "equivalent to employment."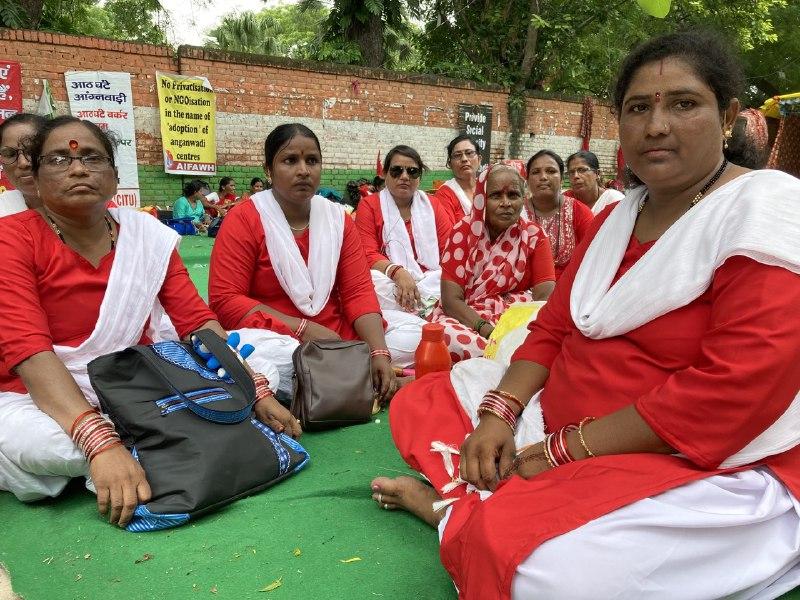 Savitha Rathore (first from right) lamented on Wednesday over her meagre monthly honorarium. Image clicked by Ronak Chhabra
On Tuesday, thousands of these women from across 18 States and Union Territories of India, reached the national capital at the call of the All India Federation of Anganwadi Workers and Helpers (AIFAWH) to participate in a four-day 'Mahapadav'.
Their major demands included the nationwide implementation of a recent Supreme Court judgement that entitled the all-female workforce to gratuity, a basic social security measure. This is crucially tied to the larger demand of these women, associated with anganwadi services, to be classified as a 'worker'.
Staying put barely a kilometre away from Parliament, when the Monsoon Session is underway, Kalpana Mandal, an anganwadi worker in West Bengal's North 24 Parganas district, hoped on Wednesday that the voices of anganwadi workers and helpers would reach Sansad Bhawan.
"The anganwadi women in Bengal have been staging multiple demonstrations for many years, more so since [COVID-19] pandemic. We have to protest even for our basic rights," the 57-year-old told NewsClick. In the service for the past 32 years, she said:"For how long should we continue like this?"
A similar grievance was heard on the lips of nearly every anganwadi worker and helper, from states such as Punjab, Haryana, Gujarat, Karnataka, Tamil Nadu, Bihar, Himachal Pradesh, and Jammu & Kashmir, among others.
The women unanimously complained that the surge in prices of essential commodities, driven by the latest upward trend in inflation, was making it difficult for them to make ends meet – and that the Centre must urgently implement the recommendations of the 45th and 46th Indian Labour Conferences which had suggested minimum wages and pension, among others, for the anganwadi workforce.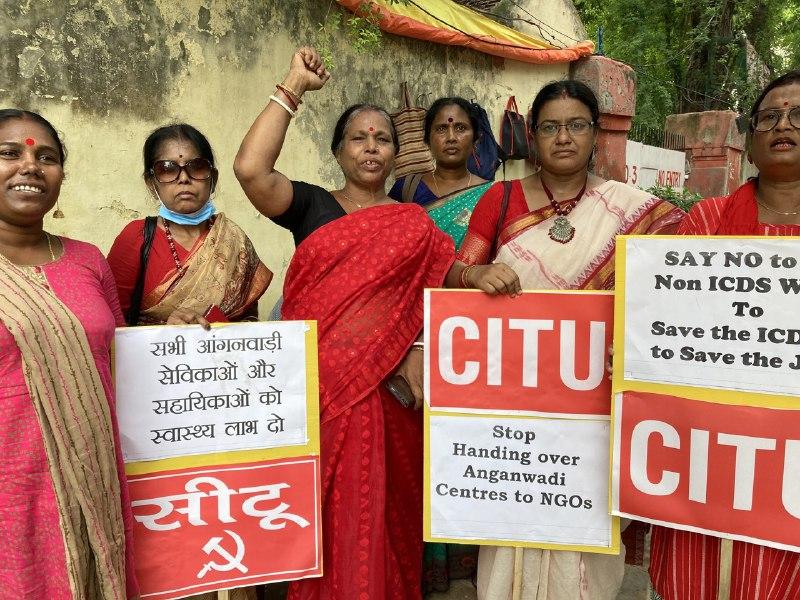 Kalpana Mandal (whose one hand is in the air) hoped that the voices of anganwadi caregivers would reach the Parliament. Image clicked by Ronak Chhabra
"For close to eight hours of work every day, my monthly payment is nothing more than a meagre Rs.10,000," lamented Savitha Rathore, an anganwadi worker in Karnataka's Bidar district. "Out of this, the contribution made by the Centre amounts to Rs. 4,500; it is Rs. 2,250, in the case of a helper," the 44-year-old added.
The rest of the amount is to be contributed by the respective state governments. Hence, a non-uniform honorarium is paid to the anganwadi workforce in the country.
"For the anganwadi women of Jammu & Kashmir, the irregular payment of honorarium is a very big issue," Suriya Jaben, 42, an anganwadi union leader from the newly formed Union Territory (UT) told NewsClick on Wednesday.
"Ever since 2019 (when Article 370 was abrogated and J&K was divided into two UTs), the situation has somehow only got worsened. When we confront the officials, they cite lack of funds. Even to this date, payment of last four months is pending," she added.
However, the labour of anganwadi workers and helpers is not bereft of any appreciation for their contribution to supporting a local community at the ground level.
Under the Central government's erstwhile Integrated Child Development Scheme– now known as Saksham Anganwadi and Poshan 2.0 scheme – the caregivers are tasked to deliver basic nutrition, health, and early childhood care and education services to its beneficiaries, including pregnant women, lactating mothers, and children under six years of age.
Recognising their contribution to the fight against the COVID-19 pandemic, Prime Minister Narendra Modi had lauded them last year along with other scheme workers in the country, including ASHAs and ANMs.
But the PM's praise has amount to nothing, if the government is not addressing the issues raised by those being lauded," said a 48-year-old Smita Thakur.
According to Thakur, an anganwadi worker from Himachal Pradesh's Shimla district, the caregivers have been registering their protest against the mandatory use of the Poshan Tracker mobile application for many years, but to no avail. The tracker is one of the important pillars of the Poshan Abhiyan, launched in 2017, and helps the government monitor services delivered at over 13 lakh anganwadi centres across the country.
The forum has argued that the Centre has made the use of technology mandatory for real-time tracking of beneficiaries without making necessary arrangements for the same beforehand.
"No one is against the Poshan Tracker app but the workers must be provided with a good mobile phone and adequate money for data recharge," said Thakur, adding that workers in her region (HP is a hill state) also face network issues while operating the app, meaning the former risks losing their incentives in case data is not filled up on time.
Under the Poshan Scheme, the Centre has announced a performance-linked incentive of Rs. 500 for the anganwadi workers.
However, ironically, instead of addressing these issues, anganwadi caregivers fear their protests to raise demands will now be met with a heavy-handed approach by the administration. Earlier this year, 975 workers and helpers in Haryana and 991 in Delhi had to face termination after strike actions were staged in their respective states by their unions to press for wage hike.
The said cases of terminations, flayed by the forum as "illegal", came around the time when earlier this year, the Centre, taking note of "incremental increase in protest by these [anganwadi] workers since 2020", instructed the state administrations to ensure no involvement of workers and helpers in strike actions, according to a letter dated March 29, signed by Aditi Das Rout, joint secretary, Union Ministry of Women and Child Development.
"We stand together with those who had to lose their job in Haryana and Delhi," said Amritpal Kaur, 40, an anganwadi caregiver, hailing from Punjab, on Wednesday. "Such attempts by the administration only make us stronger and bring us together," she added.
Get the latest reports & analysis with people's perspective on Protests, movements & deep analytical videos, discussions of the current affairs in your Telegram app. Subscribe to NewsClick's Telegram channel & get Real-Time updates on stories, as they get published on our website.
Subscribe Newsclick On Telegram