Anti-CAA Protests: How Assam Stands at Crossroads Between Regionalism and Secularism
Even as AASU and other organisations have managed to keep protests across the state peaceful—barring a few exceptions—many fear that if CAA is not scrapped, the movement could turn into something like the Assam Movement of 1980s.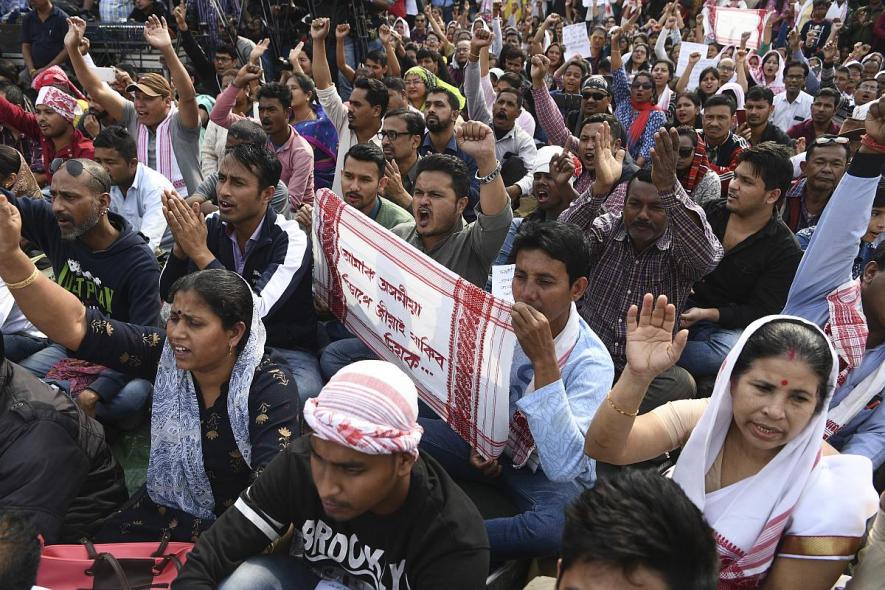 Image for representational use only.Image Courtesy : The Statesman
While there has been a wave of protests across states in India against the contentious Citizenship Amendment Act (CAA), 2019, Assam, the gateway to the Northeast India, is also witnessing one of the strongest anti-CAA-cum-BJP movement. It is reminding one of the 1980s Assam Movement, a well-organised and "spontaneous" people's movement. However, there is slight difference between the anti-CAA movement in the rest of India and that in Assam. While in the heart of the Northeast India, the movement is primarily against the alleged "infiltrators" a.k.a. 'Bangladeshis'— both Hindu and Muslims, [albeit apparently in secular spirit] in the rest of India, the movement is purely secular and inclusive in nature.
The exclusionist tide
Reflections of this exclusionist Assamese sentiment can be found in the words of noted Assamese writer and political analyst Prof. Deven Dutta. Attending an anti-CAA rally of the elderly Assamese organised by All Assam Students' Organisation (AASU) in Guwahati on December 23, Dutta said, "Whosoever speaks Bangla, whosoever speaks the Bangla language, even if that man is a citizen of France, even if that man is a citizen of England, even if that man is a citizen of Iraq or China or Japan… Then in that case, even if his mother tongue is Bangla or Bengali, he is not a Bangali, and not an Indian Bangla-speaking person. He is an Englishman or woman, he is French, he is a Chinaman or Chinese or Japanese [who speaks Bangla]. Then why should these people be brought to India and dumped on the people of Assam — destroying their identity, all kinds of identity, the national identity, cultural, educational, literary, and linguistic?"
Prof. Dutta is clearly on the fringe of an ultra-nationalistic Assamese ideology, but despite his views against Bengalis living in Assam, Dutta also touched upon a secular idea of the citizenship issue. "And these all people have to understand that citizenship is not a religious or linguistic matter. Citizenship cannot be a question of religion. It's a question of politics; it's a political question, it's a constitutional question… Why should people be divided along the lines of religion?" he questioned.
Secular tone of AASU, but…
AASU Advisor Dr. Samujjal Bhattacharya, whose organisation is the most vocal against the CAA, even while reiterating his stand, told NewsClick, "See, it's not the question of Assamese or Bengali, or Hindus and Muslims; it's the question of citizens and non-citizens. The movement is against illegal Bangladeshis… This movement is not against Bengalis, Hindus or Muslims; the movement is against illegal Bangladeshis. He may be a Hindu; he may be a Muslim."
However, on the Latasil playground in Guwahati amid public roars and cheers, where AASU is organising one or another protest almost every day, popular Assamese singer Bipin Chawdang was seen singing a song with lyrics, "Dudinor pisot amar Bihu aahi, O chokhur paani puchibo/Eh, Bangladeshor Bongaliye Bihu Mela Paatibo…Dudinor pisot amar deshot Bangla shashon cholibo/ Bangladeshor Gedihotey Kokal Ghurai naachibo." This literally translates to "Soon, we will have to cry and wash our eyes when the Bihu festival comes, as Bangladeshis will celebrate Bihu instead of us. Soon, there will be Bengalis ruling Assam, and Bangladeshi Miyah lasses (Gedihotey) will dance with their hips gyrating and twerking".
Absence of Akhil Gogoi
Another important aspect of the anti-CAA movement in Assam is the absence of Krishak Mukti Sangram Samiti (KMSS) leader Akhil Gogoi, who is one of the strongest voices against the BJP-RSS in the state. On December 12, Gogoi was picked up from Jorhat and has reportedly been booked under the Unlawful Activities (Prevention) Act (UAPA). He was initially sent to the National Investigating Agency (NIA) custody for 10 days, but has now been sent to judicial custody for 14 more days. The absence of Gogoi has created a remarkable vacuum in the secular movement of Assam. AASU has taken the lead, while reportedly is demanding his release as well.
Even as AASU and other organisations have managed to keep protests across the state peaceful—barring a few exceptions—many fear that if CAA is not scrapped, the movement could turn into something like the Assam Movement of 1980s.
The brighter side of the entire anti-CAA movement is that AASU, with 30 other organisations, has been playing cool in the face of the ruling BJP government's inventives sops offered to the people of Assam in the recent past. In this context, Bhattacharya on December 23 quipped, "We will accept everything, but we will not accept CAA."
Also read: CAA Protest Update: Cops Unleash Violence Inside Jamia, 5 Dead in Assam
Meanwhile on December 31, in an interview to News Live— owned by Assam's heavyweight minister Himanta Biswa Sarma's wife—former presidents of Asom Sahitya Sabha, the apex body of Assamese intelligentia, Dr Nagen Saikia and Dr Lakhinandan Bora have called for the formation of a new regional political party in Assam and have urged AASU to take initiative.
Contention around implementation of Clause 6 of Assam Accord
The most important of these sops offered by the BJP government is implementation of the Clause 6 of the Assam Accord, which says, "Constitutional, legislative and administrative safeguards, as may be appropriate, shall be provided to protect, preserve and promote the cultural, social, linguistic identity and heritage of the Assamese people." The definition of who is an Assamese is, however, remains shrouded and so is the definition of Khilonjiya, which is translated into English as "indigenous".
While the BJP government has been calling the Clause 6 to be the "soul of the Assam Accord," AASU advisor Bhattacharya—who had initially refused to be a part of the committee set up by the government in January 2019, but joined a July 2019 high-level committee led by Justice (Retd) Biplab Kumar Sarma—said, "They are saying that the Clause 6 of the Accord is the soul of the Accord. But we say that the Clause 5 talks about 'detection', 'deletion' and 'deportation'. In fact, irrespective of Clause 5 or 6, each clause is the soul of the Accord."
On the other hand, unlike AASU, All Assam Minority Students' Union (AAMSU) has objections over the term Khilonjiya itself. Apart from this, some are of the opinion that it may not be easy to implement the Clause.
Incidentally, there is only one Muslim member in the high-level committee: noted Assamese journalist Wasbir Hussain. No one from Barak Valley—Assam's Bengali zone—has found a place in the committee.
AAMSU Advisor Azizur Rahman said, "We don't have any objections to the implementation of the Clause 6. We want it to be implemented. However, after setting up the high-level committee, they had published a notice as well, on August 22. After reading it, we have a feeling that the Assam Accord itself is being re-written. The Accord said that the Assamese people would be given a constitutional safeguard, but this high-level committee is saying that the 'indigenous tribal', 'indigenous Assamese' and 'other indigenous people of Assam' (will be safeguarded). They've created three categories now for which the GoI will provide the constitutional safeguards. Our question is: where did they get this word 'indigenous'? This word is not there in the Assam Accord, nor is it there in any [other] law of India, and not even in the Constitution of India."
Talking to NewsClick, Hafiz Rashid Ahmed Choudhury, senior advocate and chairman of the Bar Council of Assam, Nagaland, Mizoram, Arunachal Pradesh and Sikkim, also spoke about the controversy surrounding the word 'Khilonjiya' or 'indigenous'. Choudhury said, "Basically, from Clause 6, what we understand is that it is only for the people who are living in Assam permanently. It is for them. But now the question is: what is the definition of the Assamese people? In the Clause 6, it is the Assamese people. Now, they are changing it to indigenous people. Now this Clause-6 committee, headed by Justice Biplab Sarma, has invited suggestions from people about inclusion of Khilonjiya or the indigenous people."
"But if you are implementing the Assam Accord, it cannot be Khilonjiya; it should be Assamese people. And by Assamese people, as per Assam Accord, in my understanding, it will be all the persons who have come or who have been staying in Assam from before 1971, as per the Clause 5." he explained.
Also read: CAA-NRC: Hindutva's Sinister Plot
The lawyer also expressed concern over the rise of a paranoia among the Bengali-speaking people in Assam, especially Barak Valley from where Choudhury himself hails. "So, if you say Assamese people, it has a different meaning; it comes under the Assam Accord. But if you say that it's not for the Assamese people, it is a cause of fear psychosis for the Bengali-speaking people. Bengalis are both Muslims and Hindus. So, the Bengali people are afraid of getting deprived of other things because of this Clause 6. But ultimately, it is a question of law and the Constitution is there," said the Gauhati HC Bar Council chairman.
It (anti-CAA movement) should call for unity of all: LDM
Despite a mixed response from Assamese intelligentsia and common people, including singers such Chawdang, the Left–Democratic Manch, (LDM) Assam—which is a Left-wing political alliance comprising 10 political parties including the Communist Party of India-Marxist (CPI-M), Communist Party of India-Marxist-Leninist, and Aam Aadmi Party, Assam—is also playing a key role in the anti-CAA movement in Assam. When asked if there's any chauvinistic sentiment leading the movement in the state, senior CPI-M leader Suprakash Talukdar said, "This time, the movement is actually taken up by the people. Nobody expected such a response. But particularly the student community took to the streets on its own. Our concern is that the movement should be peaceful. It should be democratic and not divisive. It should call for unity of all. In Assam, we have seen this time that it is not only a question of Assamese people. Muslims in large numbers, Bengalis in large numbers have come forward. In Tinsukia, on December 22, thousands of Bengali people marched and demanded scrapping of CAA."
"This is a welcome development this time, that all the organisations are calling for unity of the people of Assam. This is very important. On all the platforms, I have seen that they are being very careful—that Hindu–Muslim unity should not be disturbed. Unity between Assamese and Bengali should not be disturbed. It should not be an anti-Bengali movement. So, this time, there is a difference," he added.
An alliance of 22 other organisations in Assam has also raised an appeal: "No CAA, No NRC". These organisations include the All Adivasi Students' Association (AASA), Forum for Social Harmony, New India Trade Union Initiative, Jharkhandi Adivasi Sangram Parishad and AAMSU among others.
This is the first time that AAMSU, primarily a Muslim-dominated organisation, and Adivasis (tea tribes) have come together for a singular appeal. Muslims, along with the Adivasis, comprise a significant portion of Assam's population. The future of Assam, meanwhile, hangs in the balance.
Also read: Assam Anti-CAA protest: Outright Rejection of Govt Falsehoods
Get the latest reports & analysis with people's perspective on Protests, movements & deep analytical videos, discussions of the current affairs in your Telegram app. Subscribe to NewsClick's Telegram channel & get Real-Time updates on stories, as they get published on our website.
Subscribe Newsclick On Telegram