Mr Chouhan, Just as Stones Wound or Kill, Anti-Muslim Slogans Assault Democracy
Punishing stone-pelters and not agents provocateurs who hurl anti-democratic slogans emboldens Hindutva's taunt-and-provoke politics.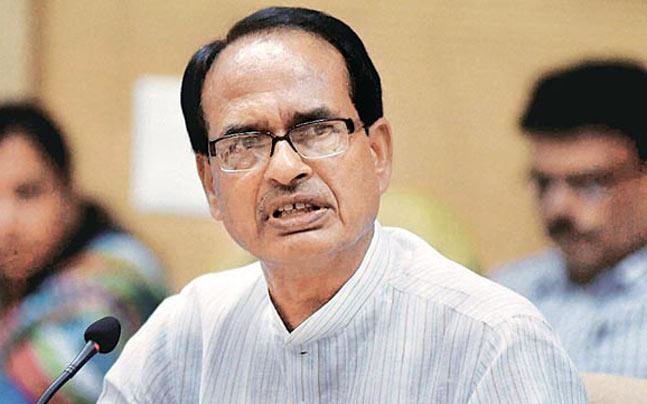 Madhya Pradesh Chief Minister Shivraj Singh Chouhan recently identified the stone-pelter as a threat to Indian democracy and society. People do not pelt stones out of fear or anger; rather, they resort to violence to have their demands accepted, or so Chouhan would have us believe. "If someone raises their issues peacefully, then democracy prevails. But no one has permission to damage public property," he said. The chief minister then went on to explain the implications of weaponising stones: "Stone-pelting is not an ordinary crime, it can kill people, create an atmosphere of terror, chaos, and disrupt law and order."
Chouhan's lecture on democratic conduct has come, ironically, in the backdrop of his state emerging as a new site of Hindutva assertion. In the last week of December, this assertion involved the Rashtriya Swayamsevak Sangh and its affiliates organising processions to collect funds for the Ram temple in Ayodhya, wending their way through Muslim localities, chanting religious as well as abusive slogans, and vandalising houses and mosques. Chouhan has yet to elucidate whether he considers this form of behaviour democratic.
It would seem the stone-pelter emerged as a threat to democracy because of the resistance the Hindu Right encountered at Begum Bagh, a Muslim locality in Ujjain, where its residents chucked stones at the fund-raising procession. Given that the Ram temple in Ayodhya is being built at the site where the Babri masjid had stood before it was demolished on 6 December 1992, the very choice of the route of the procession symbolised Hindu triumphalism. This impression was further bolstered with the processsionists chanting vituperative slogans, including one with sexual innuendo. Soon, stones started to fly around. 
It does not require wisdom to know that stones can wound and kill. Stones can also shatter windowpanes of, say, houses and cars. In a punitive action taken days later, the Ujjain administration demolished a house from where two Muslim women were video-recorded hurling stones at the procession. They had done so, it was later found, from a Hindu-owned house that was adjoining the one that was demolished. The two women did not even belong to the Muslim family whose house was razed. 
Sweep aside the tragedy of that family to ask: Could the residents of Begum Bagh have lashed out with brickbats to prevent belligerent processsionists from entering and raining havoc on their colony? Were they wrong in doubting the violent intent of those who had no compunction in describing them as "Aurangzeb ke aulad" or children of Aurangzeb? Might not the two women accused of pelting stones have been alarmed at the fate awaiting them, because of a sexually-loaded slogan that was also being chanted?
These were some of the questions the Muslim residents of Dorana village in Mandsaur district mulled over the days that the Hindu Right took to organise, through social media, the fund-raising procession. Barring a handful of men, Muslim families decided to leave the village on the morning of 29 December. Hours later, the procession swept through Dorana, with DJs playing music, participants brandishing lathis and swords, chanting slogans, and breaking into houses. 
Mohd Hakim said his house was vandalised, the locker broken, jewellery and cash worth lakhs looted. Umar Mohd Mansoori had his grocery store looted. The Islamic green flag was ripped off the minaret of the village mosque and replaced with the saffron flag, and Hanuman chalisa was recited outside the mosque. The depredation was carried out in the presence of a posse of policemen. The Hindu residents, who are in majority in Dorana, did not intervene.
"We were betrayed by the Hindu residents and the administration," Hakim said to me. "They do not wish to abide by the Constitution. The Supreme Court has given them [Hindus] the site [of the Babri Masjid] to build the Ram temple, the construction of which has already begun. Why do they then have to engage in wanton destruction?" Hakim paused before adding, "They even killed two goats." 
Stones were not pelted at the processsionists in Dorana. There were barely a few Muslims around to do so. 
This was not the case in Chandan Khedi, a Muslim village in Indore district. Shakir Patel says the processsionists swooped down on Chandan Khedi, threatened to evict Muslims and pack them off to Pakistan. Yet violence did not erupt until the minaret of the village Eidgah was attacked, in the presence of policemen, and green flags with Islamic symbols ripped off. "It was then both sides began to pelt stones at each other," Shakir said. On their way out of the village, the processsionists attacked the house of Qadir Patel, set his two tractors on fire, and fired at his family members.
These three narratives from Madhya Pradesh establish why slogans of the Hindu Right menace people. Slogans do not wound or kill people. Or damage their property. But slogans against Muslims, coined to challenge their citizenship or deride their religion, are designed to insult and provoke them into retaliation. They do not have to respond with violence, and fall into the trap of fighting a grossly unequal battle. 
India's past testifies that processions chanting anti-Muslim slogans, passing through Muslim localities, often herald the beginning of a riot. Someone whose religious identity is seldom determined chucks a stone. The culprit is presumed to be a Muslim. A free-for-all ensues. It is this collective memory that has Muslims, in fear, to pelt stones to obviate a scuffle, to not be caught off-guard and defend themselves, often because they do not have faith in the neutrality of the police. 
Yet it is the stone-pelter whom Chouhan has identified as a threat to democracy. It is to counter this threat he plans to enact a law empowering the government to attach the assets of those who damage public and private property, either by pelting stones or other methods. For a chief minister so concerned about democratic conduct, Chouhan should have also lectured on how slogans bristling with hate undermine democracy. He should have perused the pages of history to cite examples of Hindu socio-cultural groups turning communal harmony into a bonfire of hatred, with their insistence on taking processions through Muslim localities and behaving recklessly. 
Here are a few examples for Chouhan to consider, taken from a long list of riots prepared by the Paris-based Sciences Po. Bhiwandi erupted in 1970 because anti-Muslim slogans were shouted as the Shiv Jayanti procession wended through a Muslim locality. The Jitendra Narain Commission held the RSS responsible for creating a "climate conducive to communal violence" that bled Jamshedpur, in 1979. The RSS had then insisted on taking out a Ram Navami procession through a Muslim locality. In 1982, Solapur rioted because a Vishwa Hindu Parishad procession stopped near a mosque and shouted, "Jalado jalado Pakistan. [Burn burn Pakistan]." Bhagalpur killed with barbarity in 1989, because of the insistence of Hindu outfits to carry consecrated bricks to Ayodhya through a Muslim locality. They aggravated the already tense situation by shouting anti-Muslim slogans.
Anti-Muslim slogans may not kill, but these, certainly, do not constitute the language of democracy. It is for this reason that words, whether spoken or written, designed to create ill-will between communities are punishable under section 153A and section 153B, section 295(A) and section 298 of the Indian Penal Code. The Law Commission, in 2017, recommended to the Union government that it should make punishable words intended to cause "fear or alarm", the two emotions the Hindu Right did stoke among the Muslims of Madhya Pradesh. Likewise, those who pelt stones and endanger lives are ALREADY liable to be punished under section 336 of the IPC. A stone-pelter causing death can also be booked for murder. 
For Chouhan to impose an economic cost on stone-pelters but not on those who shout communal slogans warps the very idea of democratic conduct. Hindutva groups will likely be emboldened to pursue their politics of taunt and provoke with greater vigour.
The author is an independent journalist. The views are personal.
Get the latest reports & analysis with people's perspective on Protests, movements & deep analytical videos, discussions of the current affairs in your Telegram app. Subscribe to NewsClick's Telegram channel & get Real-Time updates on stories, as they get published on our website.
Subscribe Newsclick On Telegram