Anxiety Grips Workers as Iron Ore Mines' Auction Throws up New Lessees
'Rightsizing' fear grips thousands of workers as new leaseholders, such JSW Steel of Sajjan Jindal, ArcelorMittal of L N Mittal Group, Shyam Ore are set to take over mines.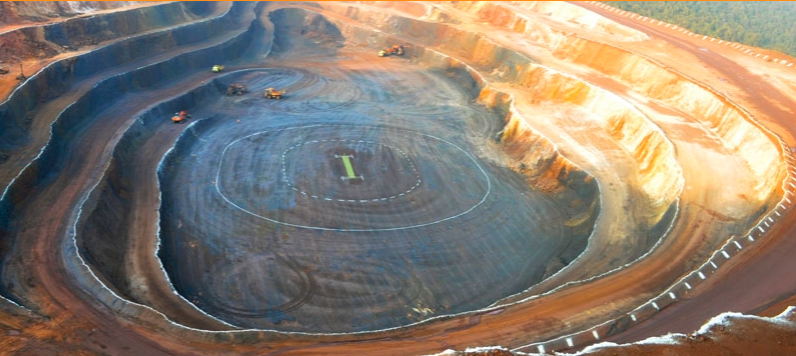 Kolkata: The Odisha government has substantially completed the auction of iron ore mine leases that are due to expire on March 31. The fact that in no case the auction process has had to be annulled, suggests that the exercise has been smooth. 
What is significant is that the exercise has seen the emergence of a good number of new leaseholders, in place of the existing lessees. 
And, here lies the cause for anxiety for the several thousand workers of iron ore mines which are to be operated by the new leaseholders. The workers' anxiety stems from a sense of uncertainty about job security under the new dispensation.
The situation has forced the Keonjhar Mines & Forest Workers' Union (KMFWU), affiliated to All-India Trade Union Congress, to take up the matter with the Odisha government, according to Ramkrushna Panda and Maheswar Rout, president and general secretary, respectively, of KMFWU. 
The two leaders told NewsClick that for them this was a new situation resulting from the Mines and Minerals (Development and Regulation) Amendment Act 2015, which mandated allocation of mineral blocks or grant of mining leases through an e-auction process and made the decades old nomination process part of history. 
Their apprehension is that the new lessees will argue that they will deploy better machinery and equipment for higher productivity and, therefore, there will be a case for them to 'rightsize' the workforce.  In view of this assessment, Panda and Raut said they had already written to chief minister Naveen Patnaik, met state steel & mines minister Praful Mallik and state additional chief secretary for steel & mines R K Sharma conveying the workers' anxiety. 
A list of 29 mines involving close to 24,000 workers has been submitted with the letter to the chief minister. The union leaders have also organised workers' rallies near the office of joint director of mines at Joda. They are demanding that the state government should ask the new lessees to engage the existing workers. Not only that, "the existing workers should be paid full wages till reopening of the mines from the date of their closing, that is, April 1, 2020".
Panda and Raut said they also urged the state government to see that 13 mines lying closed for quite some time for various reasons were re-started before long. Of these, 10 belong to state public sector undertaking, OMC Ltd, and three are under Union government-controlled OMDC Ltd. The OMC mines had on their rolls 11,600 workers. The OMDC mines had a workforce of 3,700, the second list shows. 
About the auctions and the workers'/union's concern about job security, NewsClick spoke to minister Mallik and director of mines, Dipak Mohanty. The minister said the state government would keep a watch on the situation and ensure that workers' interests are safeguarded.
Iron ore mining is an established, decades-old activity in the state, Mallik observed. Asked whether the state was happy about the auction outcome, Mohanty said there was no reason for the state to be happy or satisfied; there had been no case of annulment, that's all. 
It may be mentioned that Union government had notified an amendment to the MMRD Amendment Act 2015, which came into effect from January 10, 2020, to facilitate seamless transfer of regulatory approvals, such as forest and environmental clearances to the new lessees of the operational mines. The amendment provides that in respect of expiring mining leases, a successful bidder in auctions is deemed to have acquired for two years, all rights, clearances, approvals vested with the previous leaseholder.  
The transfer is subject to the condition that the successful bidder will apply and secure all permissions within two years from the date of grant of new lease. The application has to be made immediately but not later than 90 days from the date of issue of letter of intent for continuation of mining beyond two years.
This means a successful bidder has to operate at environmental clearance limits, prescribed for the previous lessee for two years. It has also been stipulated that the successful bidder has to produce in the first two years at least 80% of what the mine actually produced in the preceding two years.
The other stipulations are: The previous lessee shall remove all material, machines, structures etc., that may hamper or act as impediments to mining activity by the new lessee as soon as possible, but not later than 30 days after the issue of a notice in this regard by the new lessee,  failing which the new lessee will be free to remove such obstruction under intimation to the state government "at the cost and risk of the previous lessee". [The new leaseholders are, among others, JSW Steel of Sajjan Jindal, ArcelorMittal of L N Mittal Group, Shyam Ore].
There is clarity about the dos and don'ts by the old and new leaseholders. But, an element of disruption in production, even if for a short period, seems to be in-built in the arrangement. In that event, the workers will lose their wages. They are all from poor families in neighbouring villages, forced by circumstances to make do with very difficult living conditions.  That explains why we have taken advance action to see that they do not have to go without wages even for a day, observed Panda and Raut.
An extract from a contribution in June 2015 publication of International Research Journal of Social Sciences by Himansu Sekhar Patra, Manoj Kumar Meher and Sethy Kabir Mohan is relevant in this context:
It reads: "Odisha ... has vast deposit of wide varieties of known minerals, and is placed at the top ranks in production of some key strategic minerals, such as, coal, iron ore, chromite, bauxite. Unfortunately for Odisha, almost all its minerals are found in the same regions that hold its greenest forests and largely inhabited by the scheduled tribes who traditionally depend on the very same forests and watersheds for their survival. 
Mining in this area, therefore, is not a single 'dig and sell' proposition. It is, in fact, a highly complex socio-economic and environmental challenge; at stake are natural resources as well as people, forests, wildlife, water, environmental quality and livelihoods. The footprint of mining activity on the surrounding environment is an established fact of Odisha".    
Meanwhile, for the record, it may be mentioned that Odisha is a leading producer of chromite, graphite, bauxite, manganese ore, iron ore, sillimanite, quartzite, pyroxnite and dolomite. It is also an important source of coal. 
According to the last published state-wise year-book of the Indian Bureau of Mines under the Union mines ministry, the state hosts the country's sole resources of ruby and platinum group of metals. 
Odisha accounts for the country's 95% chromite, 92% nickel ore, 69%  cobalt ore, 55% bauxite, 51% titaniferous magnetites, 40% limestone, 36% prophyllite, 33% iron ore (hematite), 26% sillimanite, 25% each fireclay and garnet, 25% each coal and zircon and 20% vanadium ore. The IBM publication records that diamond was discovered in the Dharmabandh area of Nuapada district by the state directorate of geology. Deposits of copper ore and lead ore also exist.
Iron ore (hematite) occurs in the Dhenkanal, Jajpur, Keonjhar, Koraput, Mayurbhanj, Sambalpur and Sundargarh districts. Iron ore (magnetite) is found in the Mayurbhanj district. Coal occurs in the IB river valley field, Sambalpur and Talcher districts. Bauxite is found aplenty in the Bolangir, Kalahandi, Kandhamal, Keonjhar, Koraput, Malkangiri, Rayagada and Sundargarh districts. Nickel ore deposits are found in the Cuttack, Keonjhar and Mayurbhanj districts. Chromite deposits of Sukinda and Nuasahi belt constitute 95% of the country's chromite resources.
The IBM Yearbook 2012 (Part I) -- final release May 2014 -- noted that Odisha contributed about 11% of the total value of the national mineral production and had claimed the first position among the states in 2011-12. It has attributed the rich mineral wealth to Odisha's "favourable geological set-up". [As IBM data is very exhaustive, the gap between publication of yearbooks is somewhat longer and data cited may have undergone some changes but not very pronounced, say knowledgeable quarters pointing out that mineral investigation has a long gestation involving categorisation under indicated, inferred, probable, proved etc heads].
The writer is a freelancer based in Kolkata
Get the latest reports & analysis with people's perspective on Protests, movements & deep analytical videos, discussions of the current affairs in your Telegram app. Subscribe to NewsClick's Telegram channel & get Real-Time updates on stories, as they get published on our website.
Subscribe Newsclick On Telegram