Are Two BJP MPs Trying to 'Scuttle' a Sick Company's Resolution Process?
Two BJP MPs have levelled allegations of malpractices against the professional in-charge of the insolvency resolution process of Topworth Steels and Power, an ailing company promoted by Abhay Lodha and Surendra Lodha. Documents with NewsClick suggest that after the resolution professional discovered fraudulent transactions in the company, his dismissal was sought by the two MPs. An exclusive investigation.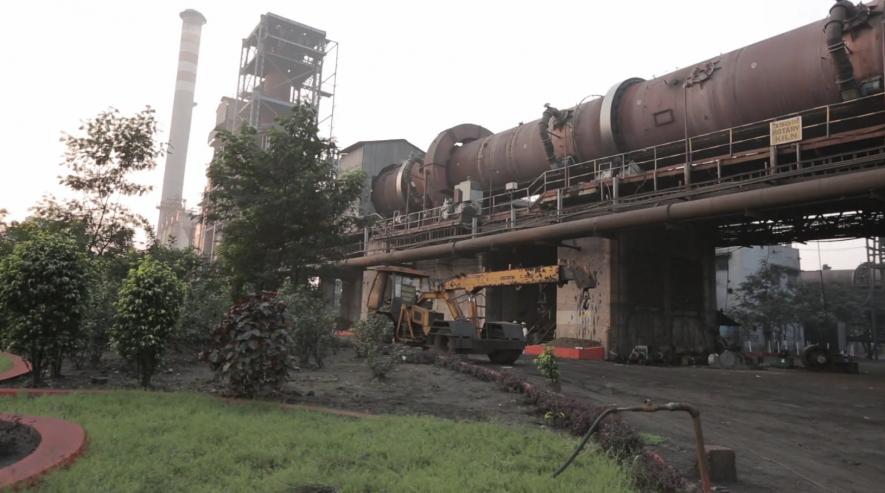 Image Credit: Topworth Steels and Power's website
Bengaluru/Gurugram: On September 23, Annapurna Devi, member of the Lok Sabha from Koderma, Jharkhand, and R K Singh Patel, MP from Banda, Uttar Pradesh, both belonging to the Bharatiya Janata Party (BJP), wrote letters to the Insolvency and Bankruptcy Board of India, levelling allegations of financial malpractices against Sanjay Gupta, the resolution professional appointed by the National Company Law Tribunal (NCLT) to manage the corporate insolvency resolution proceedings for the ailing Topworth Steels and Power Private Limited (TSPPL).
The company, which is the flagship firm of the Topworth group of companies, owes banks Rs 4,392 crore and has been undergoing insolvency proceedings initiated in 2019.
The promoters of the Topworth group of companies headquartered in Mumbai are Abhay Lodha and his uncle, Surendra Lodha. The group manufactures, and trades in, steel and aluminium products, including mining machinery, pipes, tubes and aluminium foil.
The fortunes of the group have deteriorated in recent years. Besides running up debts of over Rs 14,000 crore, several allegations of financial malpractices and fraud have been levelled against corporate entities in the group and their promoters.
The Central Bureau of Investigation (CBI) has filed six first information reports (FIRs) against Topworth group companies and their promoters and several court cases are currently pending. Among other allegations, companies in the group have been accused of fraudulent practices in the use of letters of credit issued by banks.
Topworth Steels and Power chairman Abhay Lodha was arrested by the police in Mumbai in December 2018 on allegations of issuing cheques that had bounced. He was released on bail the same day he was arrested. Still, Abhay Lodha and Surendra Lodha have been largely untouched by the law, unlike some other business tycoons accused of fraud and wilful default in repaying bank loans.
The two were among hundreds of guests present at the wedding reception of the son of Nitin Gadkari, the then national president of BJP, in Nagpur in July 2012. Gadkari is currently Union Minister of Road Transport and Highways as well as Micro, Small and Medium Enterprises in the Narendra Modi-led BJP government in New Delhi.
Several companies in the Topworth group companies have not been able to repay their loans for the last four years. Nine companies in the group have had lawsuits instituted by their creditors. These cases have been admitted by the NCLT and insolvency resolution proceedings are going on in seven group companies.
According to documents relating to the resolution process of TSPPL that are with NewsClick, a financial review conducted by Sanjay Gupta, the resolution professional (RP) for the company, found that TSPPL "diverted funds to its related parties and associated companies."
Before going to the NCLT, banks have to appoint an interim resolution professional (IRP). By the second meeting of the Committee of Creditors (CoC)––the committee comprising financial creditors of the corporate entity in debt––a decision has to be taken as to whether the IRP has to continue as a RP or a new one appointed as a replacement. Why this is significant will become apparent later.
The documents with us suggest that while the IRP, who had taken over operations of TSPPL's steel plant located in Durg, Chhattisgarh, ensured that the plant continues to operate and that workers' salaries and statutory dues are paid, the Lodhas "remained active in the day-to-day affairs of the company without the knowledge or consent of the IRP" and a "campaign is being run...to stop the plant...(and) for restricting the IRP to maximise the asset (value of the company)."
A SCANDAL SURFACES
The audited financial statements of TSPPL reveal that the company "diverted funds to its related parties and associated companies." In 2019-20, 98% of the company's sales were to just two companies and over 90% of its purchases were also from the same two companies, of which the majority was to a single entity, Spartacus Industries Private Limited (SIPL), that "makes all expenses and payments on TSPPL's behalf."
The audit report added: "Due to this arrangement, the entire TSPPL was running at 100 percent capacity with no banking operations throughout the year 2019-20."
It noted that SIPL is associated with the Topworth group as one of its directors is an executive assistant to the group chairman Abhay Lodha. Spartacus Industries had no employees of its own and was being managed by TSPPL employees.
While the company's total recorded sales in 2019-20 stood at Rs 379.63 crore, its bank account indicated receipts of less than Rs 1 crore. Significantly, these sales were made while the company was undergoing resolution proceedings. The amounts realised through the sales would have been payable to TSPPL's creditors, had they been reflected in the company's bank account
RESOLUTION PROFESSIONALS CHANGED
Primus Resolutions, a firm led by Gupta, was appointed RP for the company in July 2020, replacing the IRP Decode Resolvency (DR), a firm led by Mumbai-based cost accountant Dushyant C. Dave, that had been appointed by the NCLT. (This person is different from the New Delhi-based Dushyant Dave, a senior Supreme Court advocate.)
Decode Resolvency was appointed as IRP for TSPPL in February 2020. A source who spoke to the writers of this article on condition of anonymity, claimed: "The IRP immediately identified a large-scale scam wherein the entire turnover of nearly Rs 400 crore a year was diverted through a third party without informing the banks. This money should rightfully have gone to the lender banks."
A petition was filed before the NCLT by Surendra Lodha, seeking the replacement of Dave by another IRP, Kshitiz Chhawchharia, who is the RP managing the resolution process for another Topworth group company, Crest Steel and Power. The petition was dismissed by the NCLT.
The insolvency process of TSPPL commenced on January 29, 2020 but DR headed by Dave was informed about its appointment as IRP on February 28. Dave applied to the Insolvency Professionals Agency (IPA) of the Institute of Cost Accountants of India the same day for an authorisation for appointment (AFA) and the following day, made a public announcement about his appointment as IRP for TSPPL.
The AFA was issued to Dave 21 days later, on March 20. The fact that he had made a public announcement earlier was allegedly a violation of the code of conduct for IRPs, as per the statutory Insolvency and Bankruptcy Code.
Sanjay Gupta replaced Dushyant C. Dave in July and in the same month, Dave was served a show-cause notice by the disciplinary committee of the Insolvency and Bankruptcy Board of India (IBBI). On October 29, Mukulita Vijaywargiya, whole-time member, IBBI, warned Dave that in future he should not accept any new assignment without obtaining an AFA in advance. 
ENTER RULING PARTY POLITICIANS
After Gupta had replaced Dave as RP by the CoC of TSPPL, on September 23, letters were sent by two BJP Lok Sabha MPs to IBBI and one of the insolvent company's creditors, Punjab National Bank (PNB), levelling allegations against Gupta. One letter was from Annapurna Devi Yadav and the other from R K Singh Patel.
Interestingly, both MPs are "turncoats." Singh Patel was earlier a member of the legislative assembly (MLA) of Uttar Pradesh from Manikpur from the Samajwadi Party. Annapurna Devi, too, has switched her political allegiance. She was earlier an MLA from Koderma from the Rashtriya Janata Dal.
The two politicians alleged that Gupta had contracted companies he is "close to" as vendors of raw material and purchasers of finished goods, and that TSSPL was being forced to purchase raw materials at prices higher than those prevailing in the market and sell these at artificially deflated prices thereby causing losses to the firm. They claimed, allegedly based on reports by a whistle-blower, that Gupta was siphoning money to the contracted companies.
According to a report by Anand Singh in the Indo-Asian News Service (IANS), the two BJP MPs quoted the whistle-blower saying Gupta had taken a low assignment fee to get selected as RP and "after being appointed, started replacing auditors and appointing his loyalists as consultants at the company, and even his employee as a legal advisor at Rs 3 lakh per month, in addition to fees for appearance and drafting equivalent to a good counsel."
Instances were cited of purchase of iron ore pellets from Laxmi Steel Industries, Bhilai, and coal imported from South Africa from Raipur-based Animesh Ispat Private Limited, at artificially high prices.
Our e-mail to TSPPL's RP Sanjay Gupta sent on November 30, seeking his responses to the allegations levelled against him, went unanswered till the time of publication. 
CLEAN CHIT TO GUPTA
The members of TSPPL's CoC, however, claimed that Gupta had not done anything irregular or illegal. On the contrary, they expressed their satisfaction with his performance in running the company's plant in Durg, according to an informed source who spoke to the writers of this article on condition that he not be named.
Gupta reportedly stated that although some "miscreants…are attempting to disrupt the operations," he had "been relentlessly working towards ensuring" that operations are "smooth," plant capacity utilisation "enhanced," costs are saved and ensuring that over 1,000 workers who had not been paid salaries for six months were given their dues.
While the members of the CoC made no mention of the letters sent by the two BJP MPs, the minutes of the meeting record that the CoC members said Gupta's reputation was being sought to be "maligned" by "spurious allegations" while profusely praising the RP for keeping the company going, for paying wages to workers and for saving public money. The minutes noted that the CoC "resolved that...(it) stands united with the RP and his team."
Incidentally, in a different context, a representative of the State Bank of India (SBI) had praised Gupta for the manner in which he "successfully handled" the liquidation of another company in the Topworth group, that is, Topworth Pipes and Tubes Private Limited (TPTPL). Gupta had served as the RP of TPTPL and after there were no bidders for the insolvent firm, was then appointed as its official liquidator.
The source quoted earlier told NewsClick: "It is a matter of concern that two MPs belonging to the ruling party, instead of exposing the company's promoters who have been accused of fraud, are tacitly supporting them by trying to remove the RP or making him toe the line."
TOPWORTH'S CONTRIBUTIONS TO BJP
The source alleged: "A deep collusion exists between politicians, certain bankers and promoters of sick companies."
According to information compiled by the Association for Democratic Reforms, a civil society organisation advocating political reforms, companies in the Topworth Group have donated Rs 6.3 crore to BJP over the past decade. The information is based on the records of the Election Commission of India.
Between financial years 2009-10 and 2014-15, the following five companies in the Topworth group made donations to BJP:
TPTPL (Rs 1 crore in 2014-15);
Topworth Urja and Metals Private Limited (Rs 1 crore in 2014-15);
TSPPL (Rs 1 crore in 2014-15 and Rs 15 lakh in 2009-10);
Crest Steel and Power Private Limited (Rs 1 crore in 2014-15; Rs 1 crore in 2013-14 and Rs 15 lakh in 2009-10); and
Akshata Mercantile Pvt Ltd (Rs 1 crore in 2014-15).
What should be noted that while some of these companies went on to be described as "sick" or "insolvent" and defaulted on paying workers' salaries as well as the dues of public sector banks, they contributed to the coffers of the political party in power. 
BJP POLITICIANS' ROLE QUESTIONABLE
While TSPPL has its steel plant in Chhattisgarh, most of the Topworth group's other companies have operations in Maharashtra and Gujarat. However, the two MPs who wrote to the IBBI and the PNB are not from any of these three states.
We sent questionnaires by email and made several phone calls to both MPs between November 30 and December 7, asking them to explain their interest in the case relating to TSPPL, a bankrupt company.
On two occasions, Annapurna Devi answered our call and said she would get back to us. She did not. On a third occasion, a person who called himself her aide, spoke to one of us and asked us to send the questionnaire we had emailed her by WhatsApp, which we did. There was still no response.
We could not reach Singh Patel over the phone. He did not respond to our email.
On November 30, we emailed questionnaires to Abhay Lodha, Surendra Lodha, Dinesh Kumar Khara, chairman of SBI (that leads the consortium of lenders of TSPPL and other companies in the Topworth group) as well as the bank's media contact. Till the time of publication, no responses had been received from any of the persons mentioned. This article will be updated if and when their responses arrive.
MORE ALLEGATIONS AGAINST TOPWORTH GROUP
The Topworth group consists of 14 companies, registered in Mumbai and Nagpur in Maharashtra, besides Chhattisgarh and Gujarat. Its corporate headquarters are in Mumbai. Abhay Lodha resides in Mumbai and Surendra Lodha is from Nagpur.
Between July and November 2018, the CBI registered six FIRs against multiple companies and officials in the Topworth group, based on complaints from branches of the Bank of Baroda (BoB), SBI, and UCO Bank. The FIRs, that are in NewsClick's possession, detail allegations of fraudulent deployment of letters of credit (LCs). They allege that the companies acted in collusion with some bank officials and obtained LCs in an illegal manner to pay suppliers for raw materials.
Ten cases of bounced cheques have also been filed in courts against Topworth group companies by the SBI under the Negotiable Instruments Act. As stated, Abhay Lodha was arrested in Mumbai in December 2018 after the court of the Chief Metropolitan Magistrate issued a non-bailable warrant against him on the basis of a complaint that a cheque of Rs 10 crore for repaying loans had bounced.
On May 31, 2019, BoB issued public notices in the media declaring the directors of two Topworth group companies, including Abhay Lodha and Surendra Lodha, as wilful defaulters.
What is curious is why the country's largest bank, the SBI, which is the Topworth group's biggest creditor, is yet to declare it a wilful defaulter. According to publicly available data gathered from the Ministry of Corporate Affairs' Registrar of Companies, of the Topworth Group's total debt of over Rs 14,300 crore, the SBI has lent it over Rs 8,000 crore.
This leads to another question: Are the actions of two MPs belonging to the India's ruling party tacitly supporting the Topworth group and its promoters, Abhay Lodha and Surendra Lodha?
The authors are independent journalists. Research assistance was provided by Sourodipto Sanyal.
Get the latest reports & analysis with people's perspective on Protests, movements & deep analytical videos, discussions of the current affairs in your Telegram app. Subscribe to NewsClick's Telegram channel & get Real-Time updates on stories, as they get published on our website.
Subscribe Newsclick On Telegram