Arvind Kejriwal, Pratap Bhanu Mehta Do Not Know the Beast they are Riding
Finance capital is not the horse to take to the battlefield to fight for liberal causes, just as the Hindu card cannot be the weapon to vanquish Hindutva.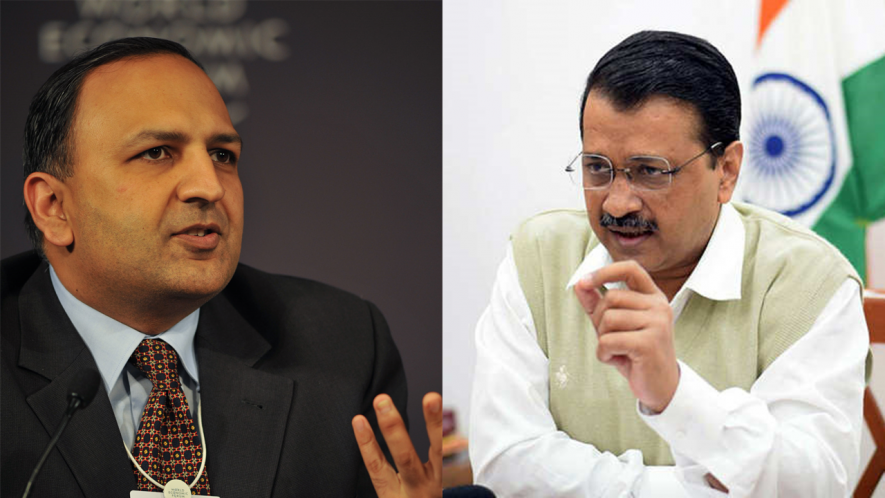 The rising tide of authoritarianism claimed two new victims, even though they were not jailed under fake cases, as has been the fate of a few dissenters. An Act of Parliament snatched much of Chief Minister Arvind Kejriwal's powers, subordinating his constitutional primacy in governing Delhi to that of the Lieutenant Governor, who is a central government appointee. The second victim is public intellectual Pratap Bhanu Mehta, who resigned from Ashoka University, a private initiative in higher education, because of attempts to curb his right to criticise Prime Minister Narendra Modi and his government.
Yet, even as their victimisation should be mourned, it must also be said that both Kejriwal and Mehta failed to comprehend the nature of the beast they mounted. Their fate tells us what methods will not succeed in the fight to protect democratic values—and who will not stand up to uphold them.
Kejriwal has shifted to the Right in order to counter Modi and the Bharatiya Janata Party. He believes their popularity derives from the appeal Hindutva or Hindu nationalism has for Hindus, whose sentiments on this count should not be challenged. It was in pursuit of this strategy his party voted for the reading down of Article 370, and the demotion of Jammu and Kashmir from being a State to a Union Territory, where too the Lieutenant Governor calls the shots. It was hypocritical of Kejriwal to bemoan the snatching away of his powers by Parliament as a "sad day for democracy"—which it indeed was—given his stand on Kashmir.
From not hurting Hindu sentiment, Kejriwal has taken to pandering to it. He did not speak in favour of Muslim women protesting against the Citizenship Amendment Act at Delhi's Shaheen Bagh. His attempt was to not allow the BJP to polarise the electorate. He then invoked Hanuman in the 2020 Assembly elections, but was largely invisible during and after the communal rioting in Northeast Delhi.
Kejriwal has continued to shift further to the Right, promising to bankroll senior citizens wishing to travel to Ayodhya once the Ram temple is constructed. His government has allocated Rs. 45 crore to fly the national flag from 500 towering masts. To the critics of this move, Kejriwal quipped in the Assembly, "Will the tricolour be hoisted in Pakistan if not in India?"
Playing the Hindu card is not just an electoral strategy for the BJP, as it is for Kejriwal. The BJP is engaged in an ideological makeover of India. Hindutva implies, among other things, eroding the federal principle, subsuming regional and linguistic identities, re-establishing the upper caste hegemony, inventing new enemies to turn people insecure, and birthing a highly masculinised state given to centralising governance and smothering dissent and protest.
These tendencies have been reinforced by Kejriwal's wooing of Hindus on the basis of their religious identity. This is precisely why they have not poured out on the streets to protest against the new law undermining democracy in Delhi.
Pratap Bhanu Mehta is among the most followed columnists in the country, highly regarded for the erudition and clarity he brings to his bristling criticism of Modi for eroding democratic and constitutional values. He has paid a price for it, evident from what he wrote in his letter resigning from Ashoka University: "After a meeting with Founders [of Ashoka University] it has become abundantly clear to me that my association with the University may be considered a political liability." He chose to exercise his right to free speech instead of muting himself, as the founders perhaps expected of him.
Mehta was, obviously, stung by the reluctance of founders and donors of Ashoka University to fight for the liberal values which they ostensibly sought to promote by pooling their resources to establish a world-class educational institute.
Mehta was among those who designed the "vision" of Ashoka University. Yet he forgot that the beast he had mounted—founders and donors—largely comprised players in the financial market. They are notoriously averse, at least in India, to risking their wealth to fight for liberal causes which stand no chance to be monetised and, in fact, can be costly to uphold. The total wealth of these founders-donors of Ashoka runs into billions of rupees.
Very simply put, finance capitalists just do not have the guts to take on the state.
It seems the desire to save Ashoka University's reputation to provide liberal education prompted Mehta and Arvind Subramanian, another professor who resigned, to issue a joint statement with the management. There was now no reference to why he had become a political liability which could have been a consequence of only what he wrote—and not what he taught at the university. The joint statement now said the two former professors "continue to believe strongly that Ashoka University should embody a liberal vision and commitment to academic freedom and autonomy." Many were aghast and wondered why Mehta had turned what had been an issue of free speech into one about academic freedom.
This was particularly odd as the university's liberal vision was presumably never imperilled, Ashoka University's Chancellor, Rudrangshu Mukherjee, had asserted. In his letter to stakeholders, Mukherjee said, "Today, when the Founders are being attacked for trying to compromise and curtail academic autonomy and freedom of expression, I find it necessary as Chancellor…to state unambiguously that the Founders have never interfered with academic freedom…"
What then was Mehta's resignation all about—freedom of speech or academic autonomy or both? Gurcharan Das, one of the founders, recently wrote that there was no pressure from the government on the university regarding Mehta's writing. Das said, "Many of the 150 donors of Ashoka, however, were offended by Mehta's weekly bashing of PM Modi and the state. Not surprising, donors are conservative."
Das did not define "conservative", but it would seem the donors do not even share Mehta's fealty to constitutional values—and the university was worried that the funding for the university would dry up. Das insisted, "Still, no one asked Mehta to resign or stop writing."
Mehta's resignation letter shows, however, that the donors and the university's worries were indeed communicated to him. It was an attempt to have him voluntarily break his pen's nib, so to speak. The university knows its credentials would be hurt by accepting that it did not stand up for free speech.
To protect the university's vision, which he helped frame, Mehta seems to have played along. He must have understood by now that if and when Ashoka University's academic freedom is threatened, it would likely cave in. The reason: Finance capital is not the horse to take to the battlefield to fight for liberal causes, just as the Hindu card cannot be the weapon to vanquish Hindutva.
The author is an independent journalist. The views are personal.
Get the latest reports & analysis with people's perspective on Protests, movements & deep analytical videos, discussions of the current affairs in your Telegram app. Subscribe to NewsClick's Telegram channel & get Real-Time updates on stories, as they get published on our website.
Subscribe Newsclick On Telegram