As Food Inflation Hits the Poor, Vegetables and Animal Protein Cut from Diet
Still reeling from the effect of last year's lockdown, the economically weaker sections are suffering the most due to the jump in prices of food items, which is caused by fuel price hike.
Siddhant Chakave, an auto-rickshaw driver from Sonarpada area of Dombivali in Thane, is the only breadwinner in his family of four -- three-year old daughter, one year old son and wife. Amid rising inflation these days, Siddhant is struggling to feed his family. "Mehangai mar rahi hai (Inflation is killing us)," he says, adding, "Look at all prices be it vegetables or fish. We have almost stopped eating vegetables."
Siddhant drives an auto-rickshaw, which needs at least 5 kg gas to run for two days. Now CNG price has reached Rs 50 per kg, costing him Rs 250 for two days. He earns around Rs 500 per day. Excluding the cost of CNG from his earning, Siddhant's monthly income runs into around Rs 15,000. "The auto-rickshaw needs at least Rs 2,000 for maintenance and other things monthly. So, 12 to 14 thousand rupees is my income per month," he said. Now, his wife has to manage the family of four within this Rs 12,000. 
"For me, it has become a tough job to manage things in this amount and buy milk, medicines for children, vegetables, rice, pulses, wheat and all. Also, to look after the electricity bill, TV's cable recharge etc. I am not able to save a penny," said Siddhant's wife Divya Chakave. 
The rising prices of things of daily needs is disproportionately impacting the households of the poor and marginalised class of the country. In Mumbai and Maharashtra, the price of perishable products has seen almost 40 to 50% jump. For example, the following chart shows the increase of vegetable prices as per data taken from Byculla Market of Mumbai -- the city's biggest vegetables and fruit market.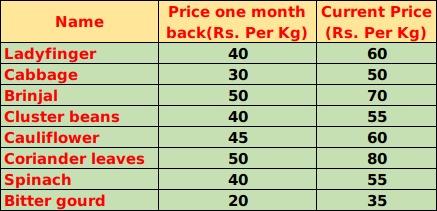 This chart shows that how prices in the retail market has gone up over last one month.
A family tries to cook vegetables at least three times a week, and fish or meat once a week and so on. To buy any of the vegetables for a family of four, one needs Rs 1000 extra with these inflated prices. For the person who somehow survives with Rs 12,000 per month, it would mean a lot to spend Rs 1,000 extra over vegetables. As a result, they drop vegetables or meat from their plates.
The principle reason behind this situation is the rise in petroleum prices. NewsClick spoke to Prakash Patil, leader of the tempo owners' union in Nasik. "We had no option than to up our rates. The vegetables are mainly transported from Nasik, Ahmednagar, Pune, Solapur, Satara, and Sangli districts to Mumbai, Thane, and Pune cities. We waited for almost three months but diesel prices have only been rising. So, we hiked our rates of transportation," he said. 
For a better perspective on the transportation cost, NewsClick spoke to Ulhas Donde of Parner, Ahmednagar. He has two pick-up vehicles, which carry vegetables to Kalyan market every night. His vehicle gives an average of 11 km per litre of diesel. From the village to Kalyan market, the distance is 185 km. So, Donde needs 35 litres of diesel per vehicle every day. The current price of diesel being Rs 89, Donde spends Rs 3150 per trip. 
"I give Rs 12,000 to the driver. Plus EMI of the vehicle is Rs 7,000. So, my cost of running the jeep (the pickup vehicle) for 30 days is 1 lakh 15 thousand rupees. I need to at least earn Rs 1,25,000 per month. So, we increased rates of per trip," he said. "But how much you hike that depends on daily incoming of vegetables," he added. 
Generally, every jeep owner tries to ensure that he gets minimum Rs 500 as profit per trip. So, earlier, the per trip rate was Rs 3,500 from Parner to Kalyan. For Parner to Byculla, it was Rs 4,000. Now, they have increased it to Rs 4,000 for Kalyan and Rs 4,500 for Byculla in Mumbai. This inflates the price of goods it brings - in this case, the vegetables. 
Santosh Mestri is a small-time carpenter works on daily wages for different contractors. He lives in the slums of Badhwar Park, Cuff Parade area of Mumbai. Santosh stays in his 15X10 feet jhopdi with wife, two children and mother-in-law. He earns Rs 400 to 500 on a daily basis, five days a week. So, his maximum earning for a month is Rs 12,000. His wife, Sangeeta also works as a help in three houses near her jhopdi. She earns Rs 4200 per month. Thus, the family's earning is Rs 16,000 per month. 
"We were without work for almost six months last year and had fled to our native place in Konkan. We returned to Mumbai with the hope that everything will go smooth. But these days, there are two serious issue for us. First, there is no work like earlier, and second, this inflation," he said. 
This inflation will have serious consequence regarding nutritious food for the weaker section of the society. The Anna Adhikar Manch has been working for food security for years. Activist Ulka Mahajan of the Manch said that the report they made for 'Hunger Watch' showed the seriousness of the crisis. "The protein procurement from food has gone down. The real reason is that this class can't afford the good food due to inflation. First the lockdown and then this inflation have come as double whammy for the poor. Malnutrition is feared to rise in the next few months. I hope the state government would intervene and provide ration to all the weaker section of people, even though they are not with documents," said Ulka. 
To help this struggling class, no government has come up with any specific scheme. Neither central nor state government. Maharashtra has extended subsidy to the scheme Shiv Bhojan Thali. The poor can get food at Rs 5 at the stalls under this scheme in their localities. "The labour class and other weaker sections can get food at Rs 5. We are giving two rotis, rice, dal and one available vegetable in this thali. It is helping at least one person of a family who goes out for work everyday," said food and civil supply minister Chhagan Bhujbal. "It is true that there is inflation in vegetable and food markets. It is the result of rise in petroleum prices. The solution to this problem only lies with the central government," added Bhujbal.
Get the latest reports & analysis with people's perspective on Protests, movements & deep analytical videos, discussions of the current affairs in your Telegram app. Subscribe to NewsClick's Telegram channel & get Real-Time updates on stories, as they get published on our website.
Subscribe Newsclick On Telegram