Asbestos Poisoning: Raghunath Manwar's Fight for Safer Work Conditions
Manwar now runs an NGO, Occupational Health and Safety Association, campaigning for the ban of asbestos and aid for workers affected by it.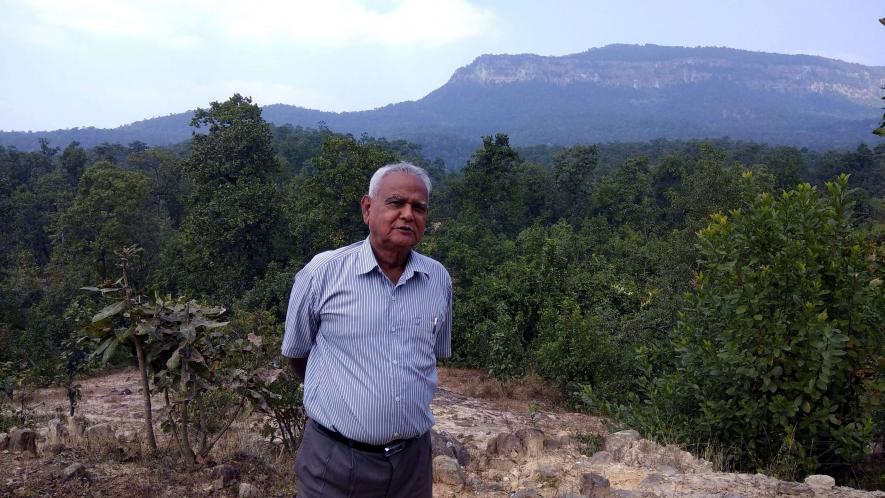 Raghunath Manwar is a worried man. "We must find a way to get the government to abolish fixed term contractual positions for all work routinely performed through the year. Such contracts are ruining our young people, creating huge disparity in incomes, deepening insecurity of those performing work that needs to be done perennially and contributing to the ruin of our economy," he said, sitting in the national capital where he had only recently attended a meeting on the problems created by continued use of asbestos in India. Manwar's concern for those engaged on contracts is a continuation of his long years of activism to protect the rights of workers poisoned by asbestos.
Manwar joined the Ahmedabad Electricity Company in 1963. When he first began work, he had no clue his work would be a world of education, starting him off on a career in activism. He began as a worker maintaining the rail carts that carried coal in the premises of the thermal power plant. Since his position did not pay as much as working on the boiler, he eyed a job in the boiler unit. Besides, he could also get to work overtime and earn a little more while engaged in boiler work.
In 1971, a little after he moved to boiler work, he was astounded to see nine deaths in a span of six months. Among the dead was a welder only 28 years old, five masons who worked on securing the asbestos-lined insulation of the boiler and three fitters. He wondered if those working on the boiler were more prone to dying young, and began to keep records of all deaths in the plant. In the 1970s, asbestos was widely used and the literature related to its toxicity was only beginning to be published.
By 2002, when he was sacked, Manwar had recorded 400 deaths. He kept detailed notes of the causes of death and the names and details of the colleagues who died. "Employment was given on compassionate grounds to a member of the family; so, there were continued relationships between the employer and the kin of the deceased. Although people may have suspected that the death was caused by an occupational illness, there were no complaints," Manwar said.
It was in 1995, when two colleagues, Mangebhai Nathabhai Patel, 42, and Kishen Goplani, 46, were dying that Manwar learned the actual cause of the deaths. The doctor treating Goplani had diagnosed his condition as "occupational lung disease". His wife, Savitriben, was entitled to compensation, and the workers decided to take up this matter.
That was when they were told that Goplani had been earning more than Rs 10,000 per month as salary, and so was not covered by the Employees State Insurance cover. (The salary ceiling for ESIC at present is Rs 21,000 per month).
Responsibility for compensation thus lied with the employer, who was wary of offering compensation because that could set off a series of such demands from other affected workers too.
Among workers engaged in the boiler, turbine and coal yard work, diagnosis of TB was not uncommon. However, even though TB was curable, many of these workers were not getting cured, and steadily declined.
That was when Manwar began to reach out to experts and read more to gain greater knowledge. He first came to know of the harmful effects of asbestos from doctors. "I had no clue at all about the harms of asbestos. While we worked, we would sometimes make balls of the asbestos dust and fling them at fellow workers when we were light-hearted," he says. These days, Manwar is travelling across the country and gathering data on the morbidity caused by asbestos in thermal power plants.
Besides the asbestos dust, workers are affected by heat and noise too, and hearing disability was common. While Manwar was still employed in the thermal power plant, he began to educate his fellow workers. He drew on a report submitted by the National Institute of Occupational Health (NIOH) in 1984, which had conducted a survey of the premises and offered six suggestions:
All workers should be given information about how to protect themselves. They must also be properly equipped with safety gear and ear muffs to prevent illness from high levels of noise. Necessary precaution must be taken to prevent illness on account of inhalation of carbon monoxide and other gases.

Quality of coal used should be monitored and silica laden coal from Dhanbad and other mines should not be used, as there were higher chances of silicosis among workers using such coal.

A doctor, x-ray technician and other support staff must be recruited to ensure industrial hygiene and proper care for all those needing treatment.

Doctors and technicians must be allowed access into the premises of the plant so that they can measure noise, heat, dust and analyze data gathered to ensure standards of industrial hygiene are maintained.

Besides a pre-employment medical check-up, workers must undergo annual medical check-ups. Reports of these must be provided to the workers and any concerns must be clearly explained to them.

International Labour Organisation (ILO) has a 4,500 page four-volume series on different occupational diseases and how these must be diagnosed and treated. This document must be kept in the premises of the plant so workers can refer to it.
Even two years after the NIOH had submitted its recommendations, the plant had taken no action and workers were agitated. That is when Manwar, along with his colleagues, who had formed a safety committee, wrote to the chief justice of the Gujarat High Court with details of the health concerns of workers.
The court took suo motu cognisance of the matter, and hearings began—ultimately, affected workers were compensated by the plant.
Manwar has faced his share of ups and downs in activism. He challenged his sacking in 2002 in court, won the case and was granted compensation. His son was sacked for no other reason than being his son, but that decision too had to be withdrawn and the son was reinstated, after the matter was taken up by the press.
"Workers come together for such issues as demanding hikes in wages and allowances. What is much more important is the fight for conditions of work that do not reduce the span of the worker's life. That is a battle that remains to be fought," said Manwar, who now runs an NGO, Occupational Health and Safety Association, campaigning for the ban of asbestos and aid for workers affected by it. "I'm slowing down with age," he says. "There is still much fighting to be done."
The author is an independent journalist.
Also watch: Indian Gig Workers Are Underpaid and Overworked: No Medical Insurance, No Job Rotation
Get the latest reports & analysis with people's perspective on Protests, movements & deep analytical videos, discussions of the current affairs in your Telegram app. Subscribe to NewsClick's Telegram channel & get Real-Time updates on stories, as they get published on our website.
Subscribe Newsclick On Telegram