Assembly Elections: People Are Angry, But Is BJP Listening?
Joblessness, farmers' distress and workers' insecurity have exposed the BJP's record of bad governance, causing losses to the party in these elections.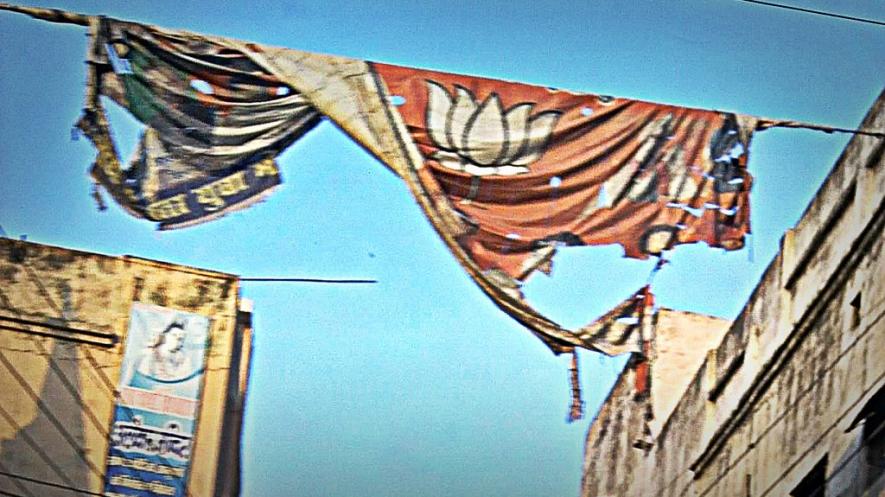 Representational image. | Image Courtesy: flicker
Although the Bharatiya Janata Party-Shiv Sena combine has won a majority in the Maharashtra Assembly elections, and the BJP has emerged as the single largest party in Haryana, the numbers – especially vote shares – reveal speedily shrinking support for the party among the people. Seats are counted for power, but vote shares reveal the real extent of popular support in elections.
Since these were polls for the state Assemblies, it is natural for comparisons to be made with the previous Assembly polls, held back in 2014. But also relevant in understanding people's thinking are the Lok Sabha election results that came out just a few months ago.
Maharashtra
In Maharashtra, both alliances (BJP+Sena and Congress +Nationalist Congress Party) have seen a slide in their respective vote shares compared with 2014. BJP-Sena is down from 47% votes in 2014 to 42% while INC-NCP is down from 35% to 33%. Other parties and independents have zoomed up from 18% in 2014 to 25% this time. [See chart below]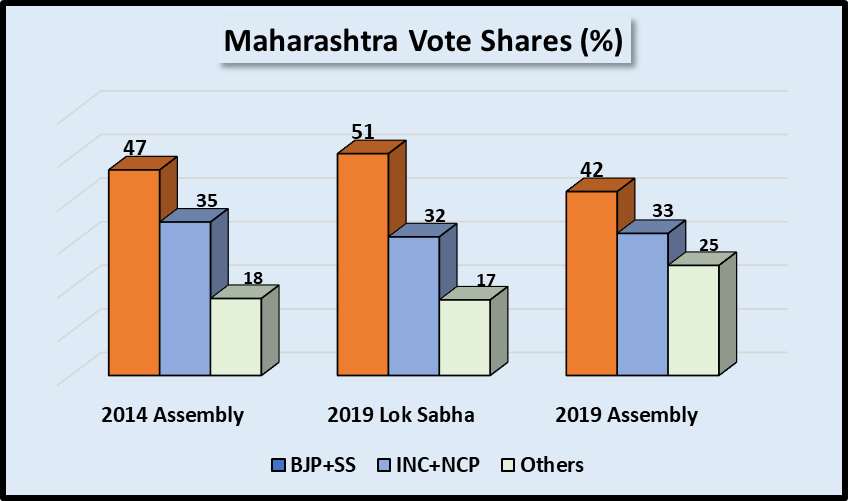 Part of the reason for this is that in 2014, BJP and Sena fought the election separately, as did INC and NCP. So, they would have gathered up votes from many seats where they were not contesting this time. But, despite this, the decline in BJP-Sena's vote share is significant, at about 5 percentage points. Clearly, there is an erosion in its support base.
Now, compare the current Assembly results to the performance of these alliances in the Lok Sabha elections. The BJP-Sena has seen a drastic dip in its vote share from 51% to 42%. That's a huge decline.
Can one compare Lok Sabha election results with those of Assembly? Normally this won't be very useful, but one defining feature of this election campaign was that Narendra Modi and Amit Shah hammered the national issues – Article 370, 'foreigners' issue, national pride and a whole bagful of their rhetoric on so-called nationalism.
What the BJP neglected was the deep economic distress being faced by people in Maharashtra, where farmer suicides continue unabated despite loan waivers, lakhs of industrial workers are facing lay-offs or dismissals, and wage cuts because of economic slowdown, joblessness is growing and the BJP-led state government has been seen as groping in the dark, clueless about what to do.
These harsh realities counter-weighed all the rhetoric. Interestingly, the Shiv Sena has been openly critical of the Modi government (despite being an ally) for its disastrous decisions, such as demonetisation and its failure to control joblessness. They have not lost as much as the BJP in terms of seats.
Haryana
In this state, the BJP's fall has been more dramatic. Compared with the 2014 Assembly elections, it increased its vote share – from 33% to 36%. But compared with the Lok Sabha polls of earlier this year, its vote share has dropped by a staggering 22 percentage points. [See chart below]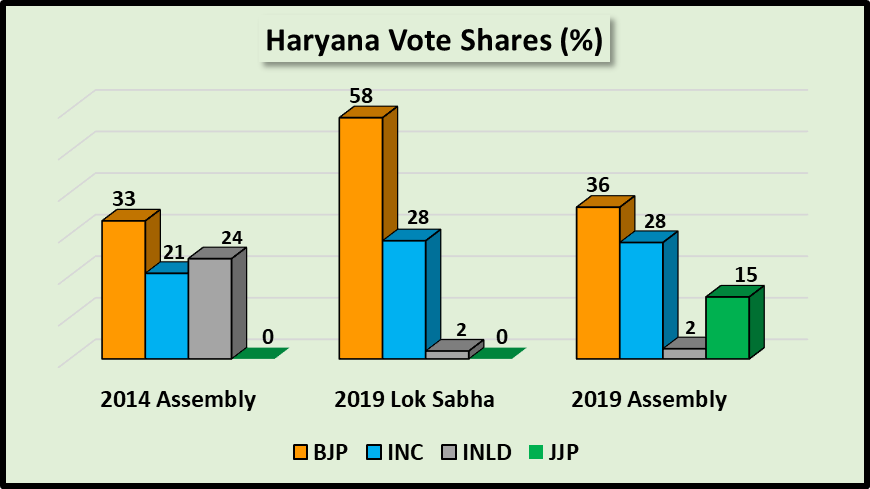 Haryana had the highest unemployment rates among major states in the country, at about 20% in September, according to CMIE estimates. That's more than twice the average for the country. It is part of the food bowl of the country, and yet farmers are unhappy because of insufficient returns.
These deep economic crises have fuelled demands for reservation even amongst the otherwise well-heeled jat peasantry, and during the incumbent BJP rule, a violent agitation broke out, leaving scars on the community that had voted for the party.
But, as the results show, the ground has shifted not just among jats but even other communities, including the Punjabis. This over-arching shift away from BJP is due to the bad governance of the Manohar Lal Khattar-run state government coupled with the disastrous policies of the Modi government at the Centre.
It must be mentioned that in Haryana, the third party, Indian National Lok Dal (INLD), led by OP Chautala, collapsed with the patriarch behind bars in a corruption case and the family split. One faction of the family, led by his grandson, floated a new outfit, Jannayak Janta Party (JJP), which has successfully consolidated the erstwhile INLD support base to some extent, getting 15% votes. This is also an anti-BJP vote, as JJP and its leader, Dushyant Chautala, criticised BJP throughout the election campaign.
National vs State Elections
Unlike earlier, when state elections held a short while after Lok Sabha elections usually exhibited a continued trend of victory for the party that won the national election, trends have changed now. People are more discerning and do make a distinction between national and state elections.
This happened (in reverse) in Madhya Pradesh, Jharkhand and Chhattisgarh where state elections held in 2018 saw Congress unseating the ruling BJP in all three, but then in the Lok Sabha elections, BJP beat the Congress. In the current election, both states had voted heavily for BJP+ in the Lok Sabha but have withdrawn in the Assembly polls. This is now being peddled by BJP and Sangh bigwigs as the excuse for the bad showing.
But this is a sign of delusional thinking. As mentioned earlier, BJP's campaign was focussed on national issues and they brushed local issues under the carpet. The people have rejected them for this trickery – and asked them to concentrate on governance and better policies. Today, this message is coming in some states. Tomorrow, it will come nationally.
Get the latest reports & analysis with people's perspective on Protests, movements & deep analytical videos, discussions of the current affairs in your Telegram app. Subscribe to NewsClick's Telegram channel & get Real-Time updates on stories, as they get published on our website.
Subscribe Newsclick On Telegram