Assembly Elections 2019: BJP's Pseudo-Nationalist Crutches
BJP's deafening silence on the economic crisis was matched by its reliance on Kashmir, militarism and caste politics.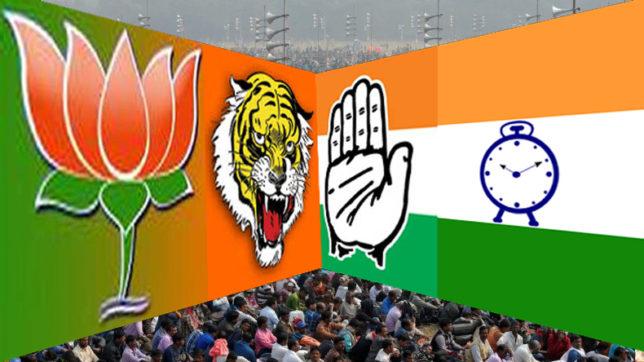 As polling ended for the Maharashtra and Haryana Assemblies, and for bypolls for 51 Assembly seats scattered over various states, and a sole Lok Sabha seat, one of the strangest elections process ends. 
Its defining feature? The ruling party's almost exclusive dependence on its own brand of 'nationalism' at the top and casteist arithmetic at the bottom. Forgotten were slogans of 'achhe din' and 'sabka saath, sabka vikas', of populist schemes and development. Local leaders talked about such things as background, as fillers. But Narendra Modi, Amit Shah, Rajnath Singh or Yogi Adityanath concentrated on abrogation of Article 370, teaching Pakistan a lesson, throwing out so-called foreigners, enhancing the country' prestige in the whole world, and so on.
Is there anything wrong with such 'nationalistic' pride? Shouldn't the country's prestige be burnished? Shouldn't the country's people be united and integrated? Of course, that should happen.
But the tragic reality is that all these claims are not true. That is why the Bharatiya Janata Party (BJP) campaign is a campaign of deception that is dangerous for the country and its people. Let us look at why this is so.
Pseudo-nationalism
The abrogation of Article 370 has not integrated the Kashmiri people with the rest of the country. If that was the case, then why is the whole valley in lockdown for over two and a half months, with schools empty, markets empty, tourism collapsed and apples rotting in orchards? Why is there a communication shutdown? All indications are that the Kashmiris, having lost all hopes, have been pushed into the arms of more alienated thinking. 
Nor has India taught any lesson to Pakistan. What the people of both countries want is peace and fraternal friendship. But the governments of both India and Pakistan keep whipping up the rhetoric of enmity in order to perpetuate their own rule in their respective countries. Sabre rattling and the so-called surgical strikes only help the government across the border and hardline fundamentalists on both sides. By portraying these as signs of 'nationalism', the BJP has actually weakened the country. War preparations and, maybe, an actual war, is a dangerous ploy with multiple foreseeable and unforeseen repercussions for which the country's people will have to pay in the future. 
All the talk of throwing out foreigners from India is meaningless because the real foreign refugees are only a small number and existing laws can deal with that. But the BJP is drumming up the National Register of Citizens (NRC) issue to create a false sense of outrage and injustice that it wants to direct towards the minority communities in India, who are not foreigners but Indians. This will create an atmosphere of hatred and animosity in the country that will again exact a heavy toll from the people.
This is one side of the story. The other side is even more sordid. The Modi government has given out key defence production contracts to foreign companies, and even to their indigenous cronies, such as Anil Ambani's company. It is acquiring armaments and aircraft in reportedly shady deals from foreign companies. It has tied itself to the apron strings of the gigantic US military establishment through multiple agreements. It has integrated its intelligence establishment with US counterparts. In short, it has compromised national security at a rapid pace, handing over key aspects to foreign arms monopolies and US who can exercise immense power now on the country's defence posture.
By privatising large swathes of the country's national resources – both natural resources as well as production capabilities – it has weakened the country's self-reliant position. Recently, the Modi government announced 100% foreign direct investment in coal, which follows upon such open invitations for a whole range of sectors from oil and natural gas to banks and insurance sectors. Simultaneously, it has sold off a record number of public sector units to private parties. Is this going to strengthen or weaken the country? Is this nationalism and patriotism?
Silence on Economic Crisis
Hand in hand with this weakening of the country's sovereignty, the Modi government has led the country into economic ruin. Unemployment is running at record levels, the current economic slowdown has led to lakhs getting thrown out of jobs, farmers and agricultural labourers have become paupers, job security has vanished, malnutrition levels continue to be high, welfare schemes are being squeezed for funds. 
This is not only causing immense hardship for toiling people in the country, including the middle class, but has affected economic growth also with dim prospects of getting out of the ditch. 
Yet Modi and BJP leaders went through the whole election campaign without so much as a mention of this mass hardship. Hearing their speeches, one would have thought that there were no economic issues disturbing the people. 
Are they unaware of the economic disaster that the country is going through? Are they unaware that farmers' suicides in Maharashtra have increased by 73% under the five years of BJP-Shiv Sena rule compared with the previous five years, as reported recently. 
Are they unaware that in Haryana the huge automobile and auto-component industry has suffered a disastrous blow in the current slowdown with over one lakh jobs estimated to have been lost in a few months. Even the CMIE data for May-August 2019, immediately preceding the slowdown, shows that Haryana has over two million jobless with over half of them graduates. Yet, Modi-Shah and the state chief minister ML Khattar are silent about all this.
Caste Calculus
While all this grandstanding is going on at the top levels, in public meetings of top leaders, propagated assiduously by a craven mainstream media, at the ground level, the BJP has hammered out what it thinks are good caste-based equations. 
Marathas form its backbone in Maharashtra along with sections of dalits and most upper castes. The reservation issue, the Bhima Koregaon incident etc. have been manipulated to build this caste equation. 
Similarly, in Haryana a section of jats along with the Punjabi community and upper castes have been apparently joined together through careful seat distribution, reservation promises and patronage politics. 
Of course, all this has been done even as tall claims about rising above caste divisions are made in election propaganda.
Will all this work and deliver victory for the BJP yet again in the two Assemblies? All reports on people's reactions suggest that the counter- attack from Opposition (which is Congress, and also Nationalist Congress Party in Maharashtra) has been weak. This is reflected in repeated reports that people criticise the Modi government or the respective BJP governments in the two states for its multiple failures – but are unable to find an alternative.
If the BJP wins these elections, it will not be a mandate for its pseudo-nationalism and its economic policies. It will be because the Opposition Congress didn't step up.
Get the latest reports & analysis with people's perspective on Protests, movements & deep analytical videos, discussions of the current affairs in your Telegram app. Subscribe to NewsClick's Telegram channel & get Real-Time updates on stories, as they get published on our website.
Subscribe Newsclick On Telegram