Assembly Polls 2021: Modi's Golden Boat is Going Nowhere
The campaign machine is working tirelessly but BJP may end up not much better than in 2016.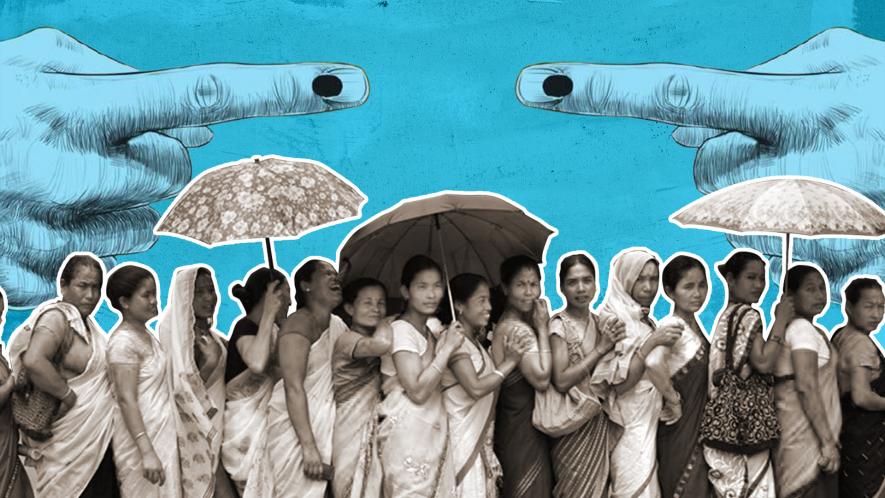 In a famous moving poem called 'Sonar Tori' (Golden Boat), Rabindranath Tagore had described how a lonely farmer is waiting at the shore of a raging hissing river for someone to take his harvest; and amidst the teeming rain, a golden boat arrives, takes his harvest but refuses to take him along.
Gurudev, of course, was talking of deeper philosophical questions but – with apologies – one can see the similarity to the frenetic election campaign of the Bharatiya Janata Party (BJP), led by Prime Minister Narendra Modi, for the current round of Assembly elections.
The wall to wall coverage of public meetings and road shows, the promises of 'vikas' (development),  the references to local culture, the not-so-veiled religious allusions, the mocking of opponents, the heady praise for one's own achievements – all the ingredients are there, lubricated, packaged and delivered en masse, thanks to untold resources in the war-chest.
But this has happened earlier, too – remember Madhya Pradesh, Chhattisgarh and Rajasthan in 2018 or Karnataka, or even Bihar most recently? It all came to nothing. Except in Bihar, where BJP scraped through, it lost elsewhere.
In this round of elections, things are worse – far worse. As the chart below shows, in two of the states going to polls now, BJP got just about 10% of the votes in the last Assembly elections held in 2016. These were West Bengal and Kerala. It managed to secure just one seat in Kerala out of 140 Assembly seats while in West Bengal it got a mere three seats out of 294.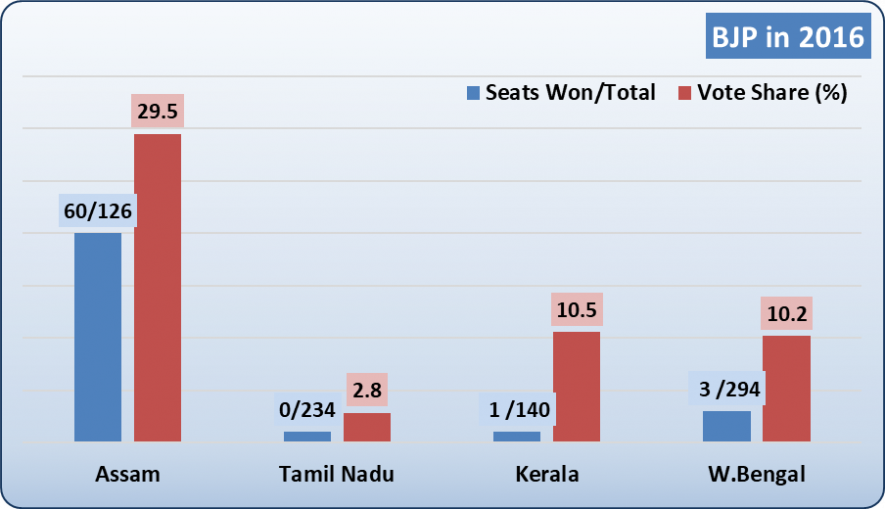 In Tamil Nadu, BJP fared far worse. It got just 2.8% of the votes polled and did not win even a single seat. It was only in Assam that the BJP met with success, getting 60 seats in the 126-member Assembly and forming a government with its allies. It got just short of 30% of the votes polled, not a very comfortable mandate.
So, clearly it had a lot of work to do in the five years since then. Perhaps, its present overbearing confidence has something to do with the 2019 Lok Sabha elections where – barring Kerala – it did well in all these states, whether on its own or (as in Tamil Nadu) through its senior partner.
Of particular note was its success in West Bengal, where it got 40% votes and won 18 of the 42 Lok Sabha seats. In fact, Home Minister Amit Shah said as much – they are envisaging over 200 seats in Bengal only because of the 2019 Lok Sabha outcome.
But this is all pies in the sky. In recent years, voters have made a clear distinction between Assembly elections and Lok Sabha elections. See the results in MP, Chhattisgarh and Rajasthan or even Delhi. They voted for BJP in Lok Sabha but for an Opposition party in Assembly polls. So, not much can be drawn from the fact that voters in Bengal gave a boost to BJP in 2019.
But there is more to the story of BJP's woes than this electoral number munching.
Disillusionment
Over the years, but especially in the past two years, there is a growing disillusionment with the BJP's government in Delhi. This is primarily because of the economic crisis that the Modi government is directly responsible for. They have made things worse for themselves by making wild promises like delivering 2 crore jobs every year – joblessness hit a 45-year high in 2019, then shot up to nearly 24% during the total lockdown last year and is now simmering at 6-8% every month, as per Centre for Monitoring Indian Economy or CMIE survey reports.
The worst of these failed promises – with devastating results – has been that of doubling farmers' incomes by 2022. Not only is this a bridge too far, the Modi government's servitude to corporate interests is of such monumental proportions that they have attempted to corporatise agriculture through the now infamous three farm laws, thus effectively burying any chances of increasing farmers' incomes.
Likewise, the devastation of the MSME (medium, small and micro enterprises) sector, due to first demonetisation and then by goods and services tax or GST, has seriously eroded the BJP's earlier base among small business persons. It has also lost the earlier support from middle class public sector employees due to its blind insistence on privatising the bulk of public sector enterprises. It has alienated professionals like teachers and healthcare personnel due to similar erosion of job security.
The BJP's economic policies, combined with its ideological moorings in upper caste supremacy, has embittered big sections of dalits and adivasis, the latter particularly because of snatching away of forest lands for corporate exploitation.
These and many other factors have now acquired an across-the-board sense of disillusionment and discontent. The vaunted Modi magic is just a pale shadow of itself because people are not convinced any longer. People look at Modi and his BJP as the Golden Boat – it takes from them but leaves them behind.
Divisions
Besides these disastrous economic policies, the Modi government has taken to implementing the Rashtriya Swayamsevak Sangh (RSS) agenda with gusto after its re-election in 2019. This has meant an increase in the pace of violence and marginalisation of minority communities – from changed citizenship laws to new laws against inter-faith marriages (reminiscent of the Nazi era); from repeated threat of deportation of so-called illegal immigrants to prevention of religious observances or customs; and the repeated raking up of the canards about one minority community taking over the country due to its alleged high population growth, etc.
This has been the lynchpin of BJP's election campaign in recent years, and it continues in this round too – see the repeated references to Jai Shri Ram, and who supports it or not, the references to Maulanas and Judases, the vilification of one community for criminal activities, and the claims of representing the majority Hindu community.
Does this work? Does this pull votes? As the Delhi Assembly elections showed, even the most brazen communal campaign did not help BJP win the election and they suffered a resounding defeat. But the long- term harm it does to the social fabric, especially in such states like Kerala, Bengal and Assam with high minority populations, is incalculable. And if the efforts at communal polarisation do work to some extent, then the damage in coming days to peoples' interest will be worse.
Crutches
The only things saving BJP from complete rout and disaster are: its proficient propaganda machinery, its huge resources, its policies of doles – and a weak and bumbling Opposition.
The first two – propaganda and resources needs no comment. The policies of dole are magnified to larger than life proportions – sometimes even with lies, as was revealed in the case of a woman construction worker who featured in a BJP advertisement as a beneficiary of the government's housing scheme. In reality, she was a construction worker and had herself got no house – she stayed on rent.
But, the distribution of some foodgrain during the pandemic, the provision of LPG connections, the dwelling units, and such other schemes which reach only a fraction of the needy has been weaponised to build an image of a government that takes care. This may work sometimes, but invariably fails afterwards. That's why the losses in states where it ruled. The only factor decisively working for Modi and BJP is a fragmented and weak Opposition.
This is nowhere more readily demonstrated than in states where a viable Opposition exists. And in the current round of elections, this Opposition is there – alive and kicking. That is why it is almost certain that BJP will lose in Kerala and Tamil Nadu. It is likely to lose in West Bengal though the ruling Trinamool Congress has become so steeped in corruption that it will suffer a blow. In Assam again, the Opposition is still somewhat fragmented, though not as badly as last time. And the state BJP government has not been too popular during the distressing past years.
Hence a tough challenge awaits BJP.
On balance, it appears that Modi and BJP are not going to be anywhere much different from where they were five years ago. If that's what happens, then it would be a severe indictment of their policies and ideology both.
Get the latest reports & analysis with people's perspective on Protests, movements & deep analytical videos, discussions of the current affairs in your Telegram app. Subscribe to NewsClick's Telegram channel & get Real-Time updates on stories, as they get published on our website.
Subscribe Newsclick On Telegram