At Protest Sites, Tributes Pour in for Pulwama Martyrs, Deceased Farmers
"Those in power claim to be nationalists. They could be nationalists in their own way; but if it is a democracy, they are not
nationalists at all. They are dictators and fascists," said Wing Commander (retired) Anuma Acharya.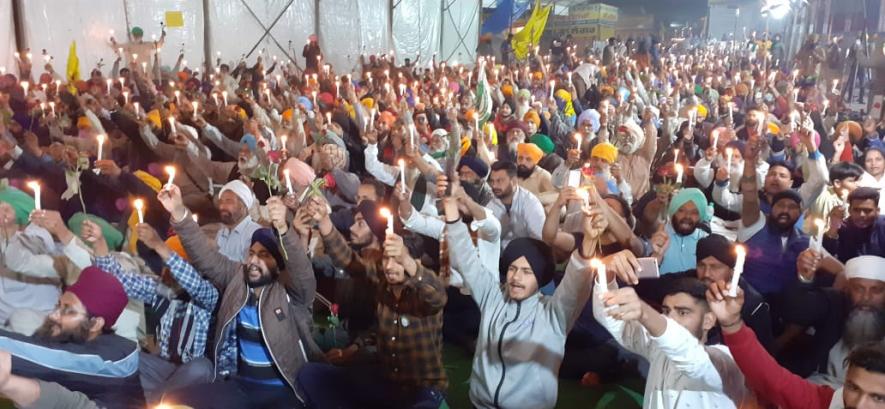 Singhu/Tikri/Ghazipur: Protesting farmers from across the country on Sunday observed a remembrance day for the 44 jawans who were killed in a militant attack on a CRPF convoy in Kashmir's Pulwama on February 14 in 2019. The call was given by the Samyukt Kisan Morcha (SKM), the umbrella body spearheading the ongoing agitation against the three contentious farm laws.
In tribute to the martyrs, a candlelight march was held at the border protest camps in Delhi -- Singhu, Tikri, Ghazipur. Similar events were held countrywide, including at the Rajasthan-Haryana borders near Shahjahanpur, where another group of farmers has been camping.
Ghazipur: 'PM Reacted After 4 Hours...Why?'
The Pulwama attack was not just a security failure, but an assault on the sovereignty of the country, said military veterans who had assembled at the Delhi-Uttar Pradesh Ghazipur border.
An ex-serviceman who was part of the Kargil battle said: "Prime Minister Narendra Modi was in Jim Corbett Park, shooting for an episode (Man Vs Wild) of Discovery channel. It took him four hours to give his first reaction to the attack. Why? Was it that he was composing himself on how to break the news on something that was already planned and had come through?"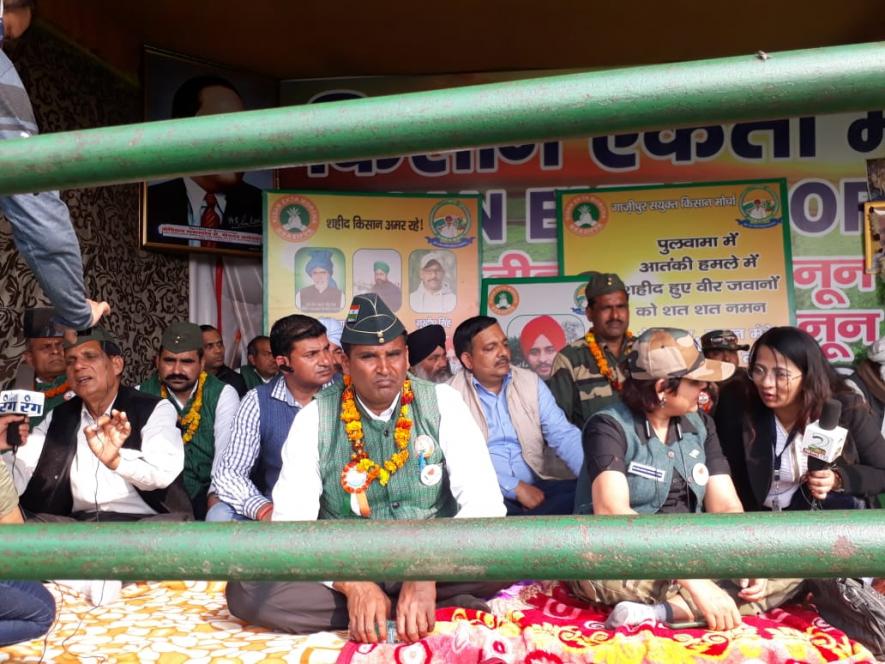 Several in the gathering believed that it was a "staged operation" aimed at taking political gains.
"Those who were beneficiaries of Pathankot, Uri and Balakot strikes are also the beneficiary of the Pulwama attack. They should hang their heads in shame," said another war veteran.
Wing Commander (retired) Anuma Acharya called the government a group of "dictators" and "fascists".
"Those in power claim to be nationalists. They could be nationalists in their own way; but if it is a democracy, they are not nationalists at all. They are dictators and fascists. We should not mince words when we have to call spade a spade," she said.
Subedar (retired) Guru Charan Singh said calling farmers -- who also comprise those who have defended the country -- anti-nationals is like an "abuse". He said it is easy to fight external aggression, but difficult to deal with "internal aggression".
"I was a farmer before joining the armed forces and I am a farmer after my retirement. So, calling us anti-nationals is like abusing the defence forces. Those who are branding us are, in fact, traitors who want to hand over the agriculture sector to the big corporates, as they are doing with other national assets such as airports, railways, etc. These laws have been drafted to safeguard the interests of big industrialists and leave our fates at their mercy," he alleged.
Singh said the government was lowering the morale of the young men defending the country on its borders by forcing their elders to sleep on roads in the bitter cold and die. "The government is pretending that it is unaware of a looming threat," he said. (Tarique Anwar)
Singhu: 'Tribute Paid to Jawans and Farmers Who Died'
At Singhu, a march that began from multiple starting points at 7 in the evening across the protest area that stretched for nearly 10 km, culminated at the numerous dias where the congregation was addressed by leaders.
"More than 50,000 packets of candles are being distributed over here," Paramjeet Singh, 50, from Jharkhand, who was volunteering for the same earlier in the day, informed NewsClick.
While the procession was called by SKM to pay tribute to the slain jawans, it also turned into a moment to remember those who lost their lives during the farmers' protest.
SKM condemned the government's "unashamed" admission in Parliament that it had no data of the number of farmers who had "sacrificed" their lives in the ongoing movement. SKM is maintaining a blog site where such data is readily available "if the government cares". "It is the same callousness which has resulted in the loss of lives so far," it said.
Nearly 250 farmers among those who are squatting at the outskirts of the national capital have lost their lives so far, many of them due to being exposed to harsh climatic conditions during the prolonged protests since November.
Also watch: What is the Meaning of Gandhiji's Disappearance From the Chauri-Chaura Incident
Meanwhile, in a massive mahapanchayat at Indri in Karnal district of Haryana, SKM leaders said that BJP's days were numbered as more and more farmers were stepping forward. More farmers are expected to join the protest sites in the coming days and make the movement formidably strong, it said.
With a rose in one hand and a candle in another, the unity that was being reinforced between a jawan and a farmer was captured perfectly by the "Jai Jawan, Jai Kisan" slogan.
"This has been our slogan since the beginning and this is the message that we want the government to understand," said a 53-year-old Balwant Singh from Karnal. 
Gurpreet Kaur, in her 20s, from Shaheed Bhagat Singh Nagar in Punjab, said: "There are jawans who stand at the national borders to protect the country and then there are us who are made to sit at a different 'border' to ensure that the countrymen are fed properly."
Major Singh Pannuwal, general secretary, Kul Hind Kisan Sabha - Punjab, seconded the view and added, "The farmers earlier also tried to showcase this unity with the tractor parade."
He said jawans at the borders are from the "families of farmers and workers", and that is why it was more like "a moral duty" to remember those who lost their lives.
Echoing similar sentiments, Satnam Singh Ajwala, president, Jhamuri Kisan Sabha, didn't mince words while attacking the Modi government for extracting "political benefit" from the Pulwama attack.
The Pulwama incident took place in the year when general elections were held in the country, in which the Bharatiya Janata Party (BJP), riding high on the nationalist emotions, swept the polls.
"They [the then BJP-led Central government] brought demonetisation, and then GST (goods and services tax); but it was only sad events like Pulwama out of which political benefits were reaped by BJP that gave them a win," he said.
"Varna toh jeet hi nahi sakte the (They could not have won otherwise)," Ajwala added. (Ronak Chhabra)
Tikri: Local Residents Join Candlelight March 
At the Tikri border as well, with clenched fists and raising slogans of 'Inquilab Zindabad' and 'Kisan Mazdoor Ekta Zindabad', the participants started their March from Bahadurgarh Intersection and moved towards Pakora Chowk and came back. The march was joined by local residents in large numbers too.
Sumit Singh from All India Kisan Sabha, Haryana, said the programmes being organised today in cities and rural areas aim at exposing the nefarious design which led to confrontation between the farmers and jawans. He adde:, "The BJP government first tried to create a rift by digging trenches and putting barricades when the farmers were approaching Delhi to register their protest against the farm laws. Similar plans were exposed when the government with the connivance of certain rogue elements and 'godi media' (lapdog media) tried to put them against each other. The second thing we wanted to highlight is that the victim families are still awaiting justice after the attack because the government could not undertake a transparent inquiry. Third, the text messages revealed by Mumbai Police in a WhatsApp chat revolving around (TV anchor) Arnab Goswami has made the matter fishy. So, we are also demanding an independent and transparent inquiry."
When asked about momentum of the movement, as the state has seen multiple mahapanchayats or mammoth rallies of farmers, Singh said: "The good part is that we are being supported by people running small businesses who have traditionally not been part of any movement; they are donating money and making provisions for the people participating in the movement."
Ramchander Sehnal, former district councillor, who was arrested by the Haryana government ahead of the movement on November 26, said that the number of agricultural and industrial workers participating in the movement has significantly increased.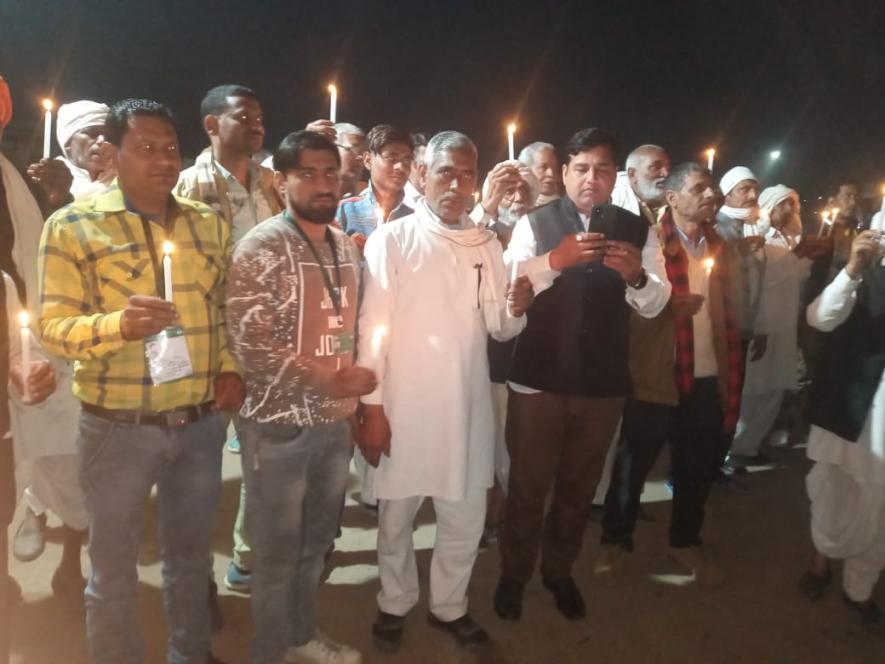 Speaking with NewsClick, he said: "Workers also understand the fact they too will face food insecurity once the farm laws are rolled out. In the Budget 2021-22, the Centre has reduced the allocation for food security and MGNREGA(rural job guarantee scheme). The district Fatehabad, from where I hail, the agricultural workers have been protesting because they hardly get 5 to 6 days of work under MGNREGA. So, they also know that their share of rations will evaporate. We took trains to come here because no one could afford any other mode of transportation. Still, they have resolved to come along in large numbers in the coming days."
A candle light march was also organised at the Palwal protest site where more than 150 people participated and paid their tribute. (Ravi Kaushal)
Also read: Jan 26 Violence: Farmer Unions Demand High-Level Judicial Probe
Get the latest reports & analysis with people's perspective on Protests, movements & deep analytical videos, discussions of the current affairs in your Telegram app. Subscribe to NewsClick's Telegram channel & get Real-Time updates on stories, as they get published on our website.
Subscribe Newsclick On Telegram