The Scent of Power: A Timeline of BJP's Power Grab in States
Rajasthan's current political turmoil is the 11th time in six years that the BJP has tried to grab power in a state without getting a mandate in elections.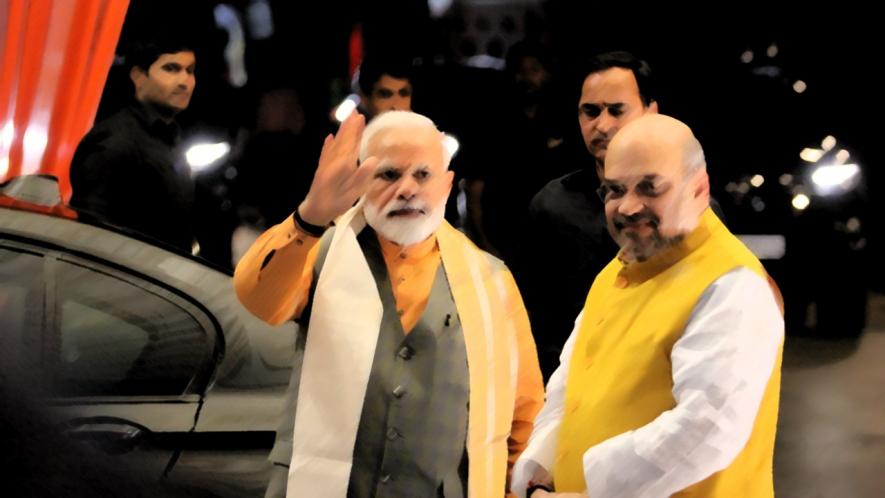 Representational image. | Image Courtesy: The Print
A not-much-noticed sidelight of the tiresome political dangal playing out in Rajasthan was that right in the middle of it, the Income Tax department raided over 43 homes and offices in four cities related to three individuals. What's that got to do with the feud between the two Congress leaders, former deputy Chief Minister Sachin Pilot and Chief Minister Ashok Gehlot? It turns out that those who were raided were all Gehlot supporters. This was the invisible hand of the Bharatiya Janata Party at work, creating a scare among Gehlot supporters to help push the government over the edge. It hasn't worked – as of now – with the rebellious Pilot not having enough numbers to reduce the effective strength of the Assembly and allow BJP to grab the reins. It had earlier worked in Karnataka, then in Madhya Pradesh. But the game is not over yet in Rajasthan.
Needless to say that the opportunity to do all this is provided repeatedly by a moribund Congress party that is riven by dissensions, factionalism, and unable to mobilise its own organisation, leave aside people, on a coherent platform. Between the Congress and BJP, the people are staring at a bleak and forbidding future, a deadly glimpse of which is visible in the ongoing pandemic and the monumentally misconceived way in which it is being handled. 
Below is a list of 11 such plots to dislodge an elected non-BJP state government and replace it with a BJP one. Rajasthan was the eleventh in this series. As you can see, the BJP has used bribery, threats, friendly Governors, horse-trading, and a bagful of dirty tricks to seize power in these states despite the people's mandate going against it. It's a lethal combination of hubris and the lure of political power, evident in the no holds barred tactics deployed, which include directing central government agencies like CBI, IT department and ED, or police cases, misuse of law and violations of Constitutional norms.
Here is how BJP has grabbed power in various states since 2014 without winning a majority (going backwards in time):
1. Rajasthan (2020): As of date, a failed attempt to dislodge the Ashok Gehlot-led Congress government like in Karnataka and MP. 
2. Madhya Pradesh (2020): Following the Karnataka model, a segment of Congress MLAs was wooed away, reducing the effective strength of the Assembly after which the BJP government was sworn in. The breakaway Congress leader, former MP Jyotiraditya Scindia subsequently got a Rajya Sabha nomination from BJP.
3. Maharashtra (failed attempt) (2019): This too turned out to be a two-part potboiler. 
Part 1: The ruling BJP-Shiv Sena won a majority in the Assembly elections but the two fell apart on who would get the chief ministership. After weeks of frantic parleys, hiding of MLAs in hotels and a spell of President's Rule, a rather strange alliance between Sena, Congress and Nationalist Congress Party (NCP) was hammered out on November 22 night. But early next morning, the BJP coaxed Ajit Pawar of NCP to quit the Opposition alliance and join with BJP, supposedly with 54 MLAs. In a secretive ceremony, Governor BS Koshyari (former BJP chief minister of Uttarakhand) swore in the two-member government. 
Part 2: Within hours, this government had fallen because there was nobody with Ajit Pawar. He went back to NCP, and a new government led by Uddhav Thakeray of Shiv Sena was sworn in. 
4. Haryana (2019): In the recently held Assembly elections, the incumbent BJP government led by Manohar Lal Khattar lost its majority, getting 40 seats in the 90-member House. It lured the new Jananayak Janata Party into a post-poll tie-up even though JJP had severely attacked the BJP in its election campaign. JJP leader Dushyant Chautala was made deputy chief minister and BJP was back in power.
5. Karnataka (2018-19): The power grab in Karnataka played out in two parts. 
Part 1 (failed attempt) - 2018: BJP won 104 MLAs in a 224-member Assembly, missing out on the majority mark. But the former Gujarat BJP MLA Vajubhai Vala, in his new role as Governor of the state, invited BJP leader BS Yediyurappa to form the government, ignoring the larger Congress-Janata Dal (Secular) alliance. The Supreme Court intervened and called for a floor test the next day. Yediyurappa resigned rather than face defeat on the floor of the House and a new Congress-JD(S) government was installed after a six-day long BJP rule.
Part 2 – 2019: Presenting a new model for grabbing power, the BJP got 13 Congress, 3 JD (S), and one Karnataka Pragnyavantha Janatha Party MLA to resign from the Assembly bringing down the strength of the House and thereby getting a majority in it. The Congress-JD (S) coalition government fell and the Yediyurappa-led BJP regained power. 
6. Meghalaya (2018): BJP won just two seats in the 60-member Assembly. But it struck a post-poll alliance with the National People's Party to become part of the government. Again, a helpful Governor, Ganga Prasad, a former BJP MLC from Bihar, helped.
7. Manipur (2017): BJP won 21 seats out of 60 while the Congress got 28. But the BJP won over two local parties National People's Party and Naga People's Front and a lone MLA from its ally Lok Janshakti Party to claim the government. The Governor Najma Heptullah, a former BJP MP, helped along by inviting the BJP-led alliance first to form the government.
8. Goa (2017): BJP won just 13 of the 40 total seats. They cobbled up a coalition after results were announced with small local parties that had openly contested against them and formed a government even as the single largest party. The Congress had to sit in opposition with 17 seats.
9. Bihar (2015): In Assembly elections, the BJP got just 53 seats and 2 went to its allies in a 243 member House. It was a sound drubbing, delivered by the Rashtriya Janata Dal-Janata Dal (United)-Congress alliance which got a whopping mandate of 178 seats contesting as a pre-poll alliance. Yet, BJP broke up the alliance, lured away JD(U) and its leader Nitish Kumar, and in July 2017, formed a coalition government. 
10. Jharkhand (2014): BJP won 35 seats and its ally All Jharkhand Students Union 5 seats in the 81-member Assembly. They were just short of the majority. So, again they won over some independent members and lured 6 out of 8 MLAs of the Jharkhand Vikas Morcha to gain a majority. 
11. Arunachal Pradesh (2014): BJP won 11 seats, Congress 42, People's Party of Arunachal 5, and Independents 2. Over the course of two tumultuous years, the numbers changed to: BJP 48; Congress 1; PPA 9; Independents 2! Wholesale defections, a spell of President's rule, death of an ex-CM, Supreme Court's intervention, recall of a reluctant governor and four chief ministers later, the BJP finally grabbed power!
Also read: Unfair & Unlovely: Myth of a Good Corporate Citizen
Get the latest reports & analysis with people's perspective on Protests, movements & deep analytical videos, discussions of the current affairs in your Telegram app. Subscribe to NewsClick's Telegram channel & get Real-Time updates on stories, as they get published on our website.
Subscribe Newsclick On Telegram